Delicious Cookie Recipes
Looking for a new cookie recipe to try? You're in the right place! With over 100 cookie recipes to choose from, step-by-step instructions and mouth-watering images, you're sure to find a new favorite family cookie recipe.
Baking the perfect cookie may sound tricky, but we're here to give tips and troubleshoot your problems!
What is a cookie?
The base of a cookie is generally made up of flour, sugar, eggs and some type of fat such as butter.
In America, asking "what is a cookie" seems like a silly question. We grew up knowing and loving the small round sweet treats filled with chocolate chips or M&Ms.
But in some countries, round crisp "cookies" are actually called biscuits.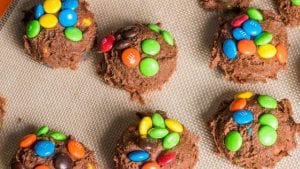 Cookie Troubleshooting
Below you'll find articles to explain some key cookie making tips.
Bakery-Style Cookies
When we are traveling to new cities, I always look for the best cookie bakers. Big, soft, overstuffed bakery style cookies are what my dreams are made of. Bakery style cookies are delicious, but if you can make them at home? Even better!
Here are our top Bakery Style Cookie Recipes
Brownie Cookies
Cookies from scratch are of course delicious, but what about when you need something quick? Use a brownie mix (or even a cake mix) to make a quick cookie base.
Cut Out Cookies
The holidays are a great time to make cut out cookies. The kids will love to help roll, cut and frost them. Cut out cookies are generally a great make-ahead cookie. You can freeze them unfrosted, then frost them right before the day you want to share them.
Looking for new cookie recipe to try? Find our latest recipes below.