Satisfy your chocolate cravings with this Delicious Chocolate Bread Pudding without feeling guilty. A great recipe to satiate your love for chocolates.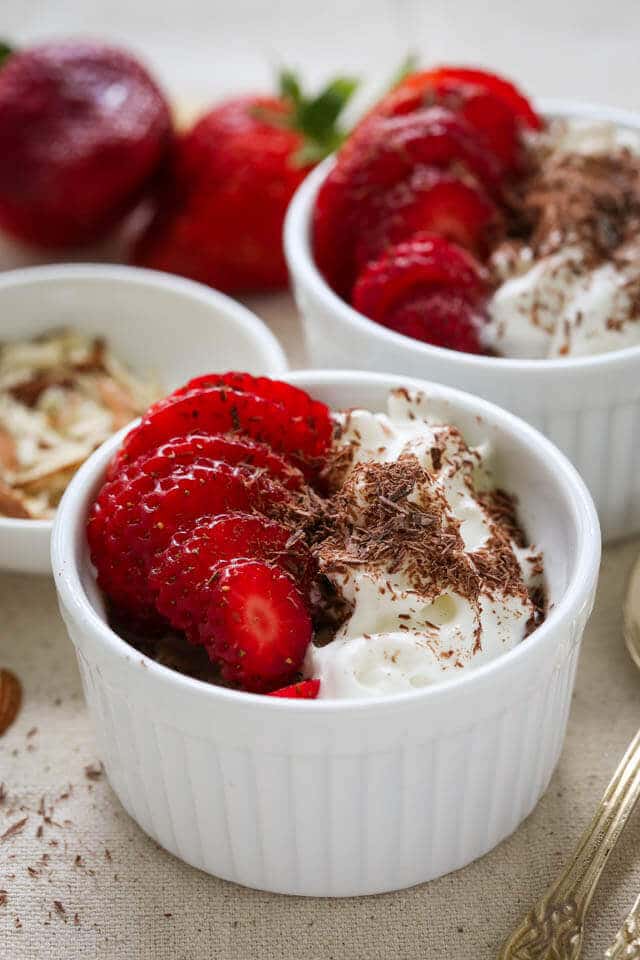 Do you love chocolate? You might wonder what sort of a question is this. Huh! who on earth doesn't love chocolate. YES! very true. There is hardly anyone who would say NO to chocolates. I have friends who can devour bars of chocolate and chocolate-based foods any time of the day.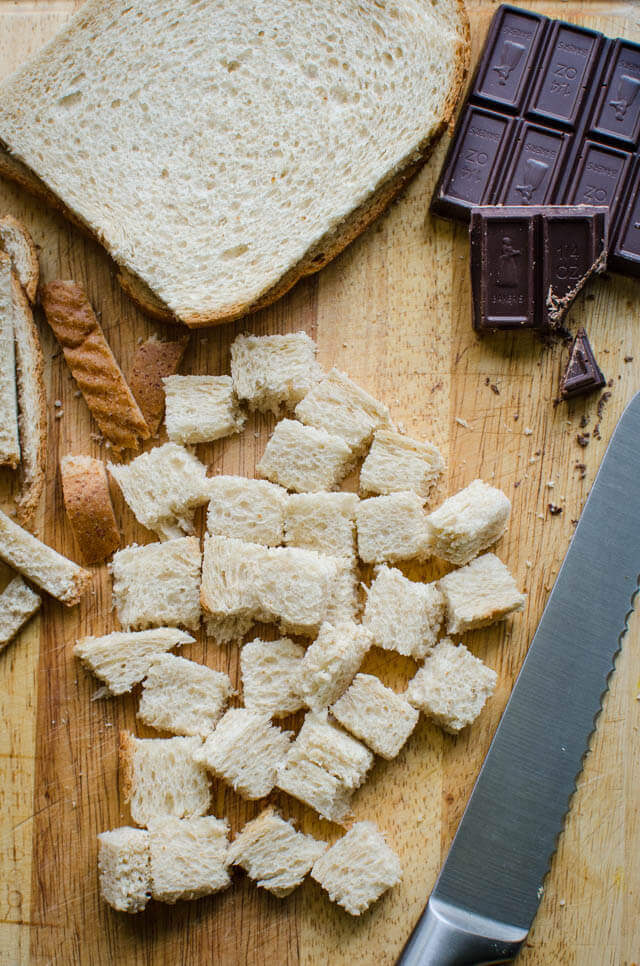 Therefore, for all those chocolate lovers out there I am sharing with you, my favorite chocolate bread pudding recipe. A perfect dessert to indulge in chocolate. It's a (sort of) healthy dessert for (almost) guilt-free eating :P.
I first tasted bread pudding when I accompanied Tushar to a conference in Detroit last year. And, I absolutely fell in love with it. Since then, I've always wanted to prepare a healthier version of bread pudding for us. However, I failed miserably in trying this recipe (don't even ask how they turned out). And the reason was I was trying to make the most healthiest bread pudding on earth! But then I realized that desserts cannot be the 'healthiest' if you want to enjoy them. I feel, at times it is a good idea to treat yourself to 'sweet' things of life for leading a healthy lifestyle.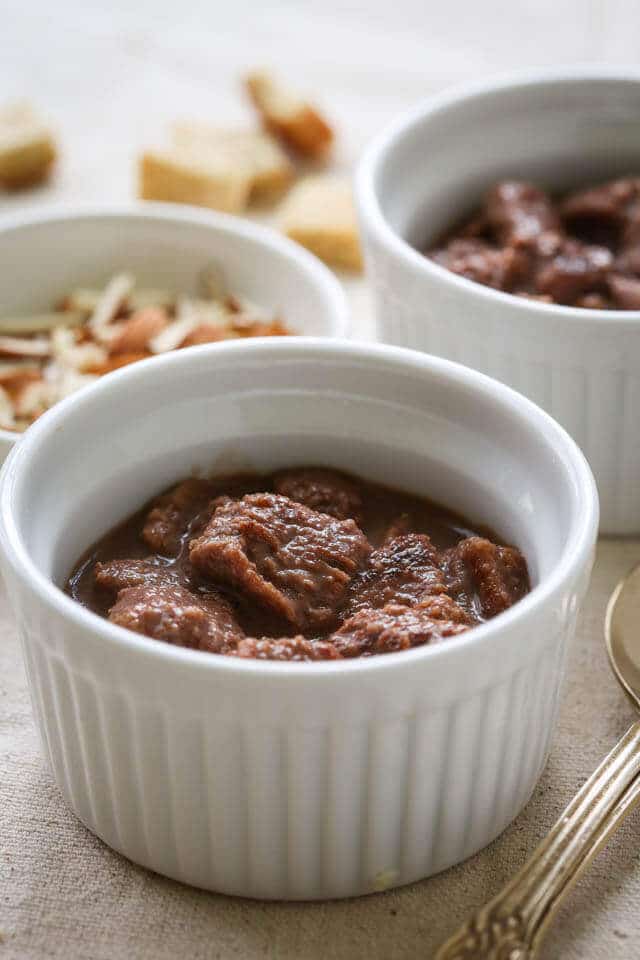 How to make Chocolate Bread Pudding?
This bread pudding is very easy to prepare. Toast some diced bread into an oven to get a nice light brown color and toasty flavor. Then, prepare the chocolate liquid base for the pudding using milk, cocoa powder, and semisweet or dark chocolate. Add toasted bread and mix well. Serve warm or chilled. Before serving, garnish it with some whipped cream, fresh fruits, and nuts for added crunch before serving.
To make this pudding healthier without compromising on taste, I used oatmeal bread, low-fat milk, dark chocolate, and some fresh strawberries to boost its nutritional value.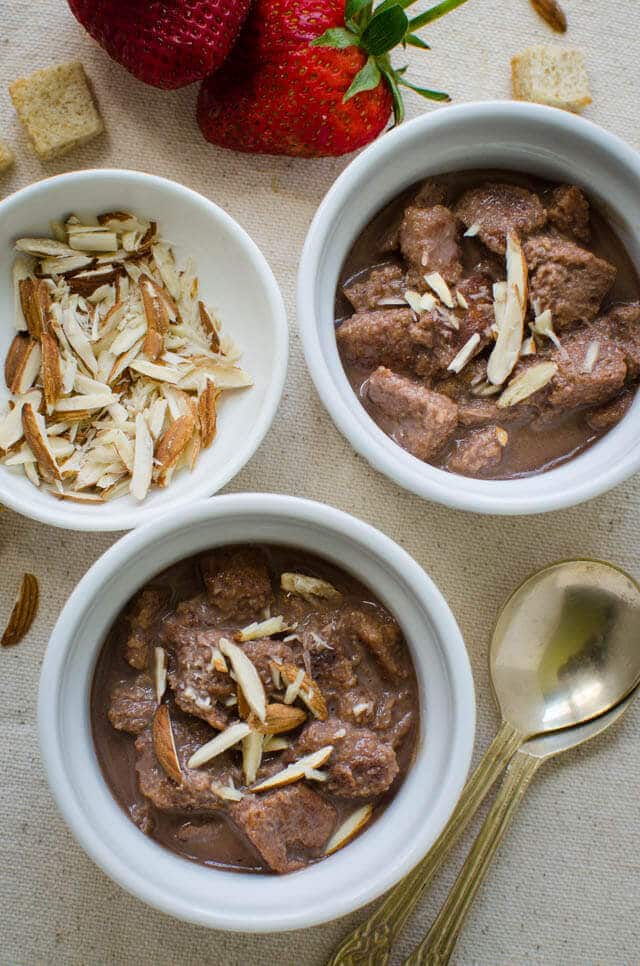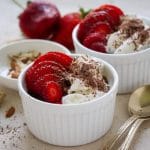 Chocolate Bread Pudding
Satisfy your chocolate cravings with this Delicious Chocolate Bread Pudding without feeling guilty (almost!). A great recipe to satiate your love for chocolates.
Ingredients
3

bread slices cut into 1/2" pieces

(I used oatmeal bread)

1

cup

milk

(low fat or whole)

2

Tablespoon

cocoa powder

1/2

Tablespoon

butter

3

Tablespoon

granulated sugar

1/2

teaspoon

vanilla extract

1/4

cup

almonds roughly chopped

1

cup

whipped cream

8-10

fresh strawberries

1

oz

. dark or semisweet chocolate
Instructions
Preheat the oven to 400F.

Spread bread cubes on a baking sheet and toast them in the oven for 12-15 min.

Meanwhile heat milk in a small saucepan on low to medium heat.

Add butter, cocoa powder and mix until well combined. Simmer the mixture for 2-3 min.

Turn off the heat. Then add chocolate, sugar and vanilla extract. Mix well until chocolate and sugar melts completely.

Then add toasted bread and mix to coat the chocolate sauce.

Serve warm or chilled.

While serving add chopped almonds and top it up with some whipped cream and fresh strawberries.
Recipe Notes
Keep a watch on the bread cubes towards the end of baking to avoid burning.
Nutrition Facts
Chocolate Bread Pudding
Amount Per Serving
Calories 289
Calories from Fat 135
% Daily Value*
Total Fat 15g 23%
Cholesterol 21mg 7%
Sodium 151mg 6%
Potassium 332mg 9%
Total Carbohydrates 32g 11%
Protein 7g 14%
* Percent Daily Values are based on a 2000 calorie diet.