This creamy tomato pasta is perfect for lunch or dinner. It is healthy and made without dairy cream yet, it is super delicious. I am sure you're gonna love it!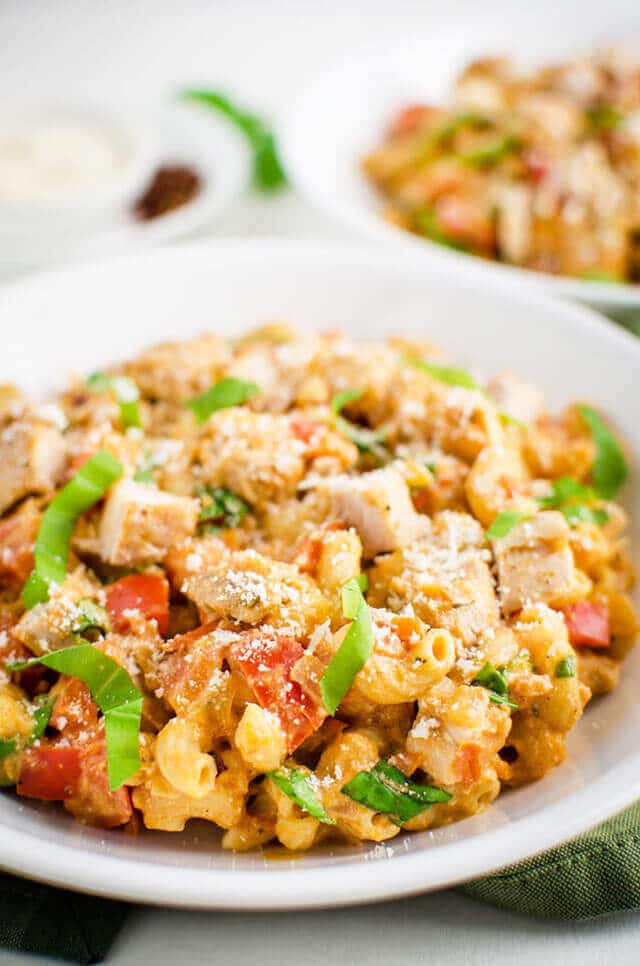 You might wonder what have I used to make it creamy. Instead of using dairy cream, I used homemade cashew cream. This cashew cream really gives the tomato sauce a nice creamy texture and you won't be able to tell the difference with dairy cream. I guess these days I am a bit obsessed with cashew cream. If you happen to visit my blog, you'd find recipes such as cream of broccoli soup, cream of cauliflower soup etc. where I used cashew cream as the featured ingredient.
Now you might wonder: why cashew cream? It very closely resembles regular dairy cream in terms of texture and color. Moreover, it is healthy as cashews are a good source of healthy fats with no cholesterol. As you can see, it's a win-win–no compromise on taste, without any unhealthy fats from regular cream and a great substitute for our vegan fans out there!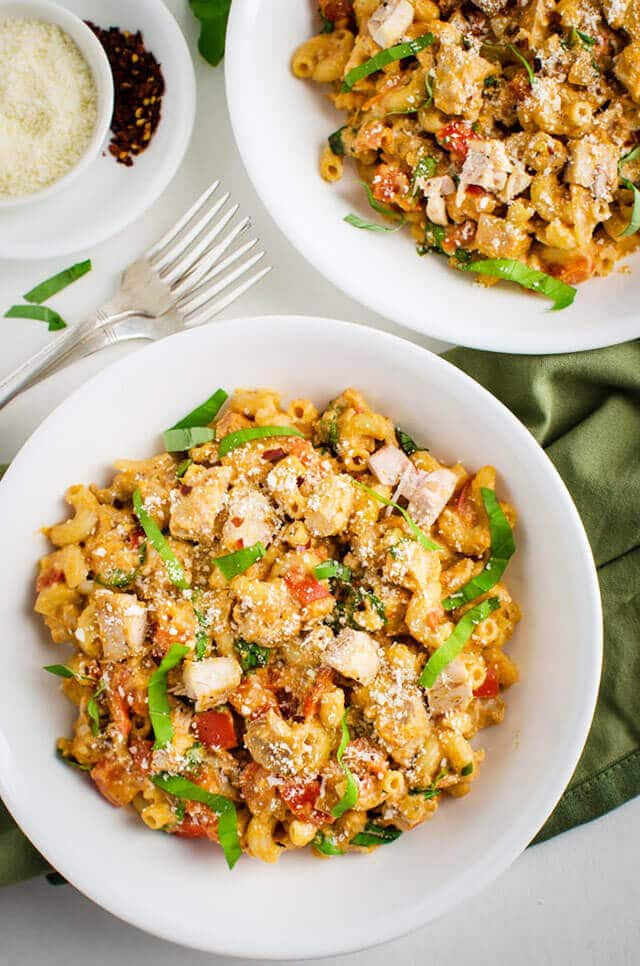 Enough about cashew cream! Let's focus on an another essential ingredient of this recipe: pasta. We always try to incorporate whole grains instead of refined grains into our diet. Refined grains such as bleached wheat flour, semolina etc. are stripped off their fiber and other essential nutrients that significantly reduce their nutritional value. Which is why, whenever we get a chance, we use whole grains. We feel that making healthy choices is not difficult and sometimes they are as easy as swapping regular pasta with whole grain based pasta into your favorite recipe.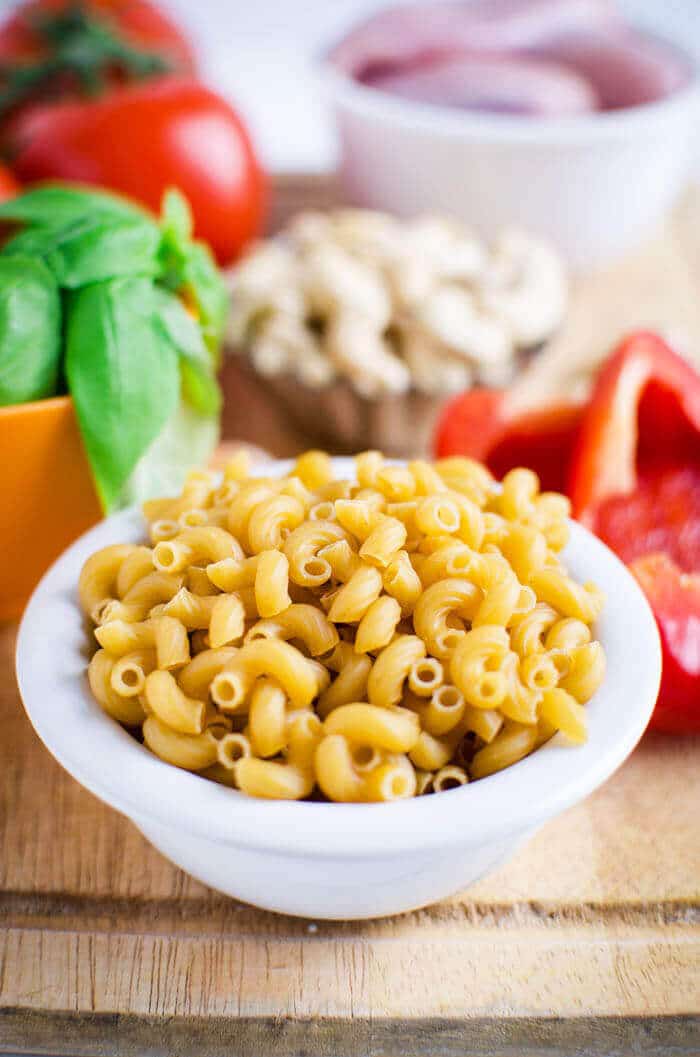 How to make creamy tomato pasta…
Cashew cream is the primary ingredient that makes this dish creamy. To prepare cashew cream, soak cashews in warm water for at least an hour and then, blend it with some water in a blender into a fine creamy paste.
Prepare fresh tomato cream sauce with some garlic, chopped onions and fresh tomatoes. I also added chopped red peppers to boost its nutritional value. For flavors, use mixed Italian spice, fresh basil, and parsley. If you want to cheat on this recipe, add some fresh mozzarella cheese after adding cooked pasta and sautéed chicken. To make it even tastier, add parmesan cheese. A step-by-step instruction is given below to prepare this dish.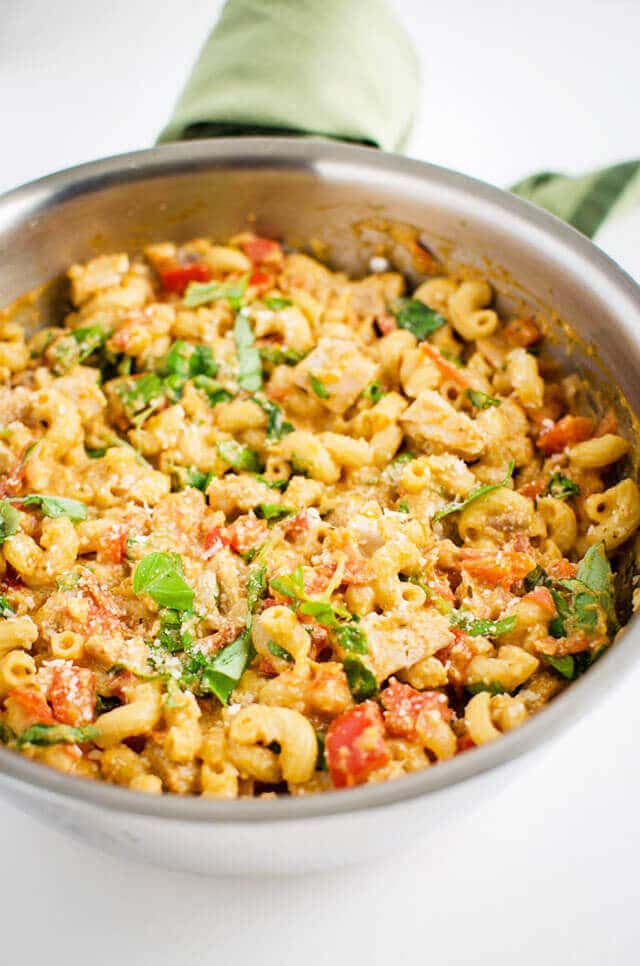 Very important: when you decide to make this creamy pasta recipe, soak cashews well in advance. Nothing is more frustrating when you enter the kitchen to make this dish, with full excitement, and realizing that you forgot to soak cashews. Lesson learned!
Creamy Tomato Pasta
This creamy tomato pasta with chicken is perfect for lunch or dinner. It is filling, healthy and made without dairy cream yet it is super delicious.
Ingredients
2

cups

whole grain based pasta

I used whole wheat pasta

1

lb

boneless skinless chicken breast or thigh

cut into bite size pieces

4

pieces

medium to large tomatoes diced into small

1/3

cup

cashews

soaked in 1/2 cup warm water for at least 1 hr

1

red bell pepper diced into small pieces

leaves

a handful of fresh basil

1

onion finely diced

1 1/2

tsp

mixed Italian spice mix

2

tbsp

finely chopped parsley

1

tsp

minced garlic

1/4

cup

parmesan cheese

2

tsp

olive oil

salt and pepper
Instructions
Heat oil in a large skillet over medium to high heat. Add chicken and cook for about 6-8 min or until all water evaporates. Keep aside once cooked.

In the same pan add minced garlic and sauté until fragrant for about 30 sec on medium heat.

Add onion and cook until translucent for about 2-3 min.

Then add tomatoes and cook covered for about 10-15 min on low heat

Meanwhile, cook pasta according to package instructions and set aside

Prepare cashew cream by blending soaked cashews with water in a blender to a fine creamy paste

Add red bell pepper, Italian spice mix, cashew cream, salt and pepper to the tomato sauce and cook for another 10 mins. Adjust consistency of the sauce if necessary*.

Now add cooked pasta, chicken, parmesan cheese and roughly chopped fresh basil; mix well. Adjust seasonings if necessary, according to your taste. Cover and simmer for another 2-3 min.

Finally, garnish with chopped parsley, some extra parmesan cheese and serve warm.
Notes
Soak cashews well in advance 2. *To adjust consistency of the creamy sauce consider adding some milk according to your requirement.
Nutrition
Serving:
398
g
|
Calories:
618
kcal
|
Carbohydrates:
53
g
|
Protein:
51
g
|
Fat:
22
g