Tastes of Lizzy T participates in affiliate advertising programs. We may earn a commission when you make a purchase through links on our site.
We're sharing easy brunch ideas today, answering your questions about granola and what you need to know about creating a delicious brunch bar!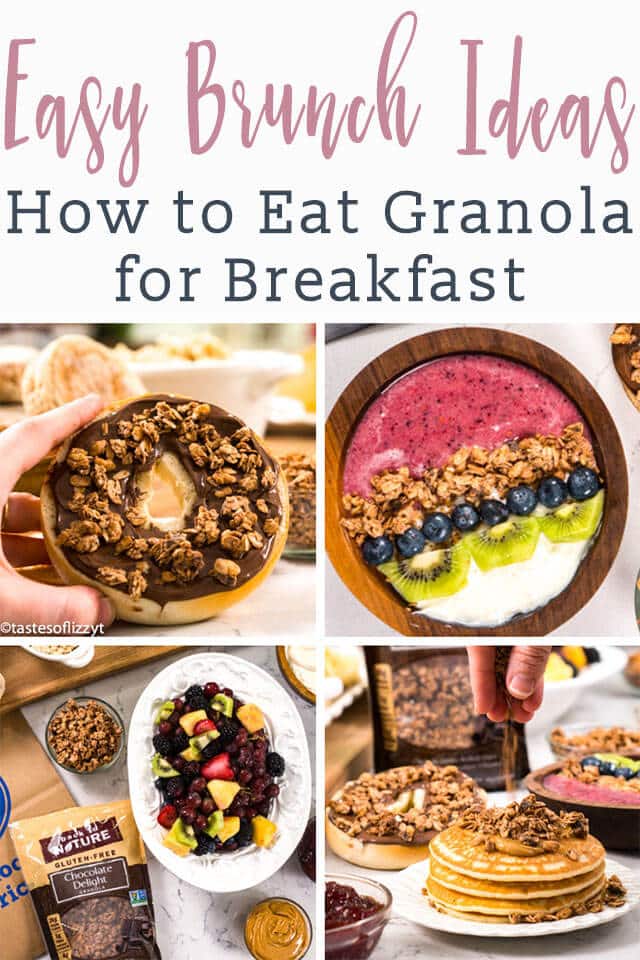 This post is sponsored by Back to Nature. As always, all opinions are my own.
Easy Brunch Ideas
Breakfast and brunch are two of my favorite meals of the day. When planning a party, family gathering or shower, my mind always goes to breakfast foods as I'm thinking through the menu. Breakfast foods are so versatile and can be combined in so many different ways. If you're looking on how to create a breakfast bar that your guests will love, we've got ideas for you!
Brunch Bar with Granola
One of our favorite items for a breakfast bar is granola. Back to Nature has six different varieties of granola giving so much versatility to your breakfast bar. Each Back to Nature granola contains whole grain oats, protein, and fiber you need to start your day. Back to Nature offers delicious granola that you can serve plain or sprinkle on top of breakfast items!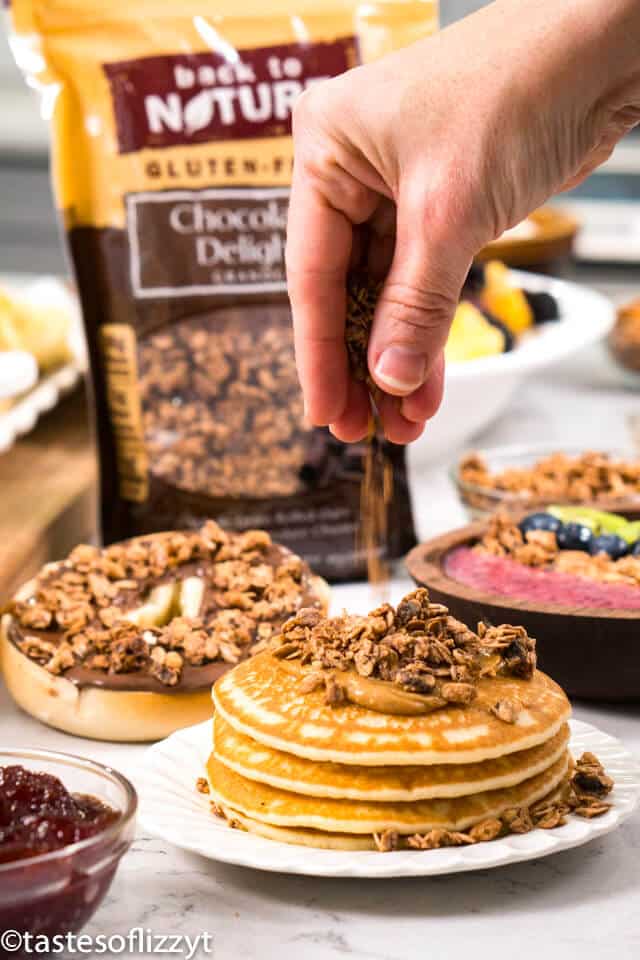 Is it good to eat granola for breakfast?
Eating granola as just a cereal is already a good start to your day. But, you can also pair it with TONS of different breakfast foods! You could say that your breakfast isn't complete without including granola in some way.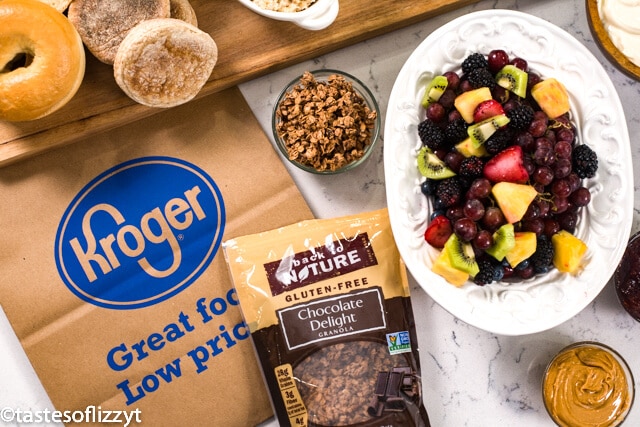 Granola Breakfast Ideas
So what are some ways you can include granola in your breakfast? Well, the possibilities are almost endless! I used Back to Nature Chocolate Delight Granola which, along with all of the ingredients needed to make the below, can be found at your local Kroger store. Some options are:
    Pancakes: There's nothing like homemade pancakes. We prefer to serve plain buttermilk pancakes on a breakfast or brunch bar so the different         granola toppings can shine.

    Oatmeal: Add warmth to your breakfast bar with oatmeal.

    Waffles: Use freezer waffles and provide a toaster for guests to pop their waffles in to warm them.

    Cereal: Granola makes a great toppings for plain cereals such as oat, corn or rice cereals.

    Yogurt: Purchase Greek yogurt to pack some protein in your breakfast.

    Smoothie bowl: This is a great way for friends and family to get creative and add color to their breakfast.

    Bagels with cream cheese and/or peanut butter.
Honestly? If there's a breakfast item that you think needs something a little extra, it probably wouldn't hurt to try adding some granola.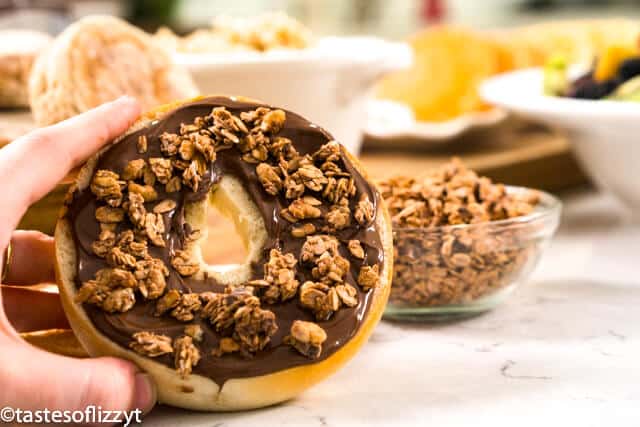 What do you serve at a brunch party?
This is kind of a big question – what's a good thing to serve at brunch? We gave several of our favorite ideas to pair with granola above. Aside from those ideas, there's a lot of different ways you could go, both savory and sweet, but some great and simple ideas you could try are:
    Fresh fruit

    Crackers and cheese

    Hard boiled eggs

    Bacon

    A simple breakfast casserole
Back to Nature has more than just granola including crackers, cookies, nuts and trail mix! This is helpful for your brunch ideas – I find crackers and cheese to be one of my favorite snacks/brunch foods! It's a super easy thing to get ready. Additionally, you could use these Back to Nature products as a to-go snack. Because with 3 teenagers who are always running to activities, it's important to have easy snacks to grab. Back to Nature's mission is to provide products that are simply delicious and simply good. As a mom I so appreciate that.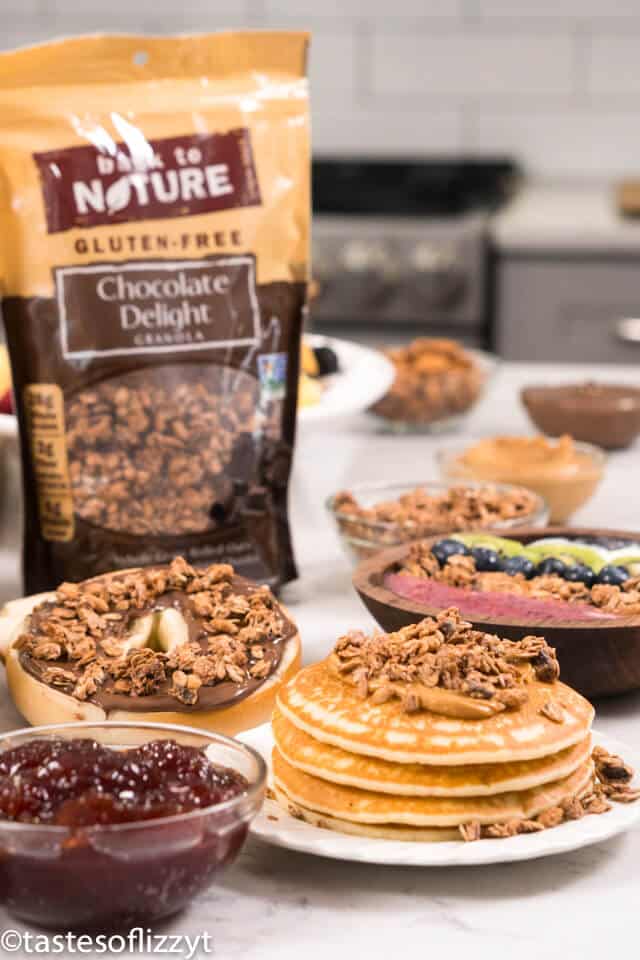 How to Build a Breakfast Bar
How do you build a breakfast bar? Here are some things to remember when getting it ready:
Get toppings/spreads out.

Try to make sure you have any type of granola, jam, or spread you might think someone would want. We're talking peanut butter, hazelnut spread, yogurt, granola, raspberry jam… whatever you'd like. This is a great way to add color and flavor, plus offer something everyone will like.

Get things ready ahead of time

. Don't want to do everything at the last minute? Get everything that doesn't need to be cooked together, cover it and put it in the fridge or on the counter. Maybe even make pancake batter ahead of time – then all you have to do is cook your pancakes and set everything out.

Make sure you have a little bit of variety

.

Maybe try having some fruit with your pancakes, or even some bacon/sausage for protein. This will ensure that there is something for everyone.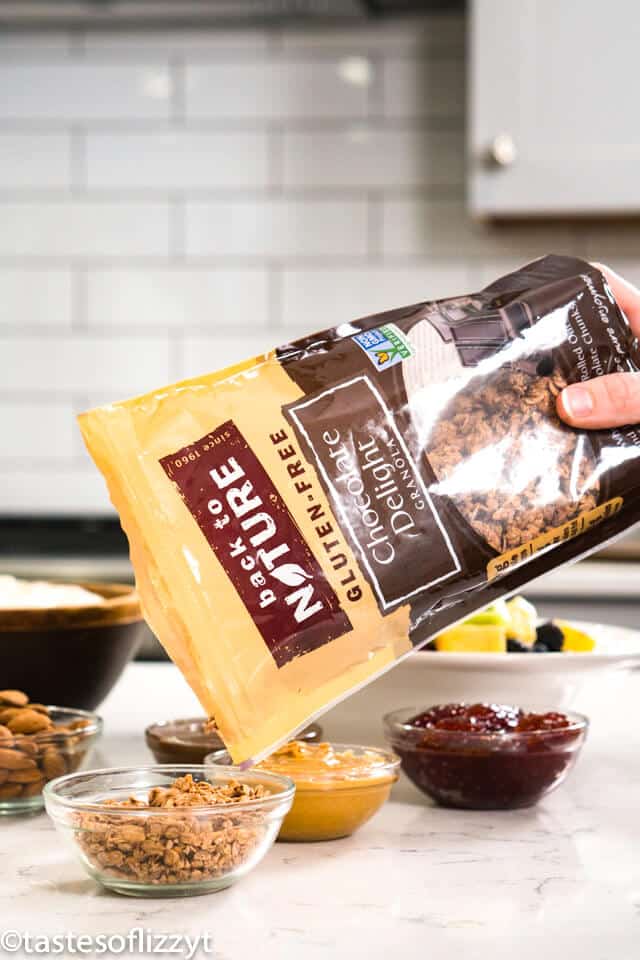 What are some breakfast drinks?
When you think of drinks at breakfast, what do you usually think? Whatever you know you'll want with your breakfast, you can serve up to your guests. I'm talking coffee, orange juice, hot tea, or even just milk. Be sure to set out your cream, sugar, and spoons to make things easy.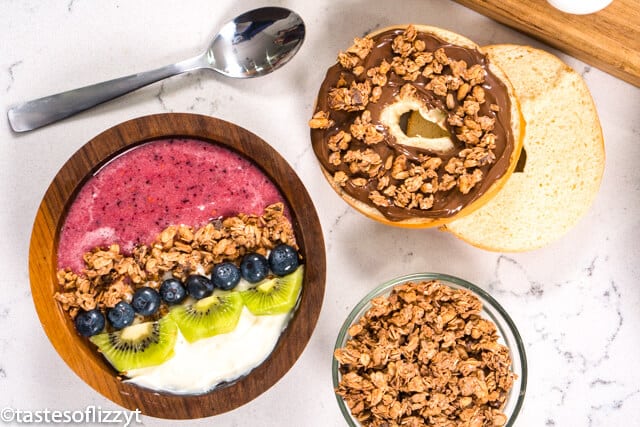 Will you be creating a breakfast bar? You can save on Back to Nature products at Kroger using Ibotta. Now through 4/30, get $1.75 cash back when you buy one bag of nuts or granola, or $1.00 cash back when you buy one box of cookies or crackers. Find this special offer here.