Edit
With Blue Apron, weeknight meals have never been easier. Create easy family dinners with fresh, perfectly portioned ingredients delivered right to your door.
I recently told my husband that if I could hire one type of house help to make our home run more smoothly it would be a chef. Crazy right? I mean, I run a recipe website. You'd think I'd have an overabundance of food for meals.
But I'm here to say that getting meals on the table is not easy. Even for someone who cooks as a job.
As we talked through how we could work together to serve fresh family meals, one idea we had was to use a meal delivery service. I'm thrilled to partner with Blue Apron to try their service that delivers fresh, perfectly proportioned ingredients and step-by-step instructions, right to your front door. You'll spend less time shopping, less time thinking up a menu and more time creating in the kitchen with your family and enjoying a home-cooked meal.

Blue Apron delivers 3 meals to your house each week. You can choose a 2-person or a 4-person package for whatever fits your family. You can pause deliveries if you know you won't be needing them. The service is very user-friendly.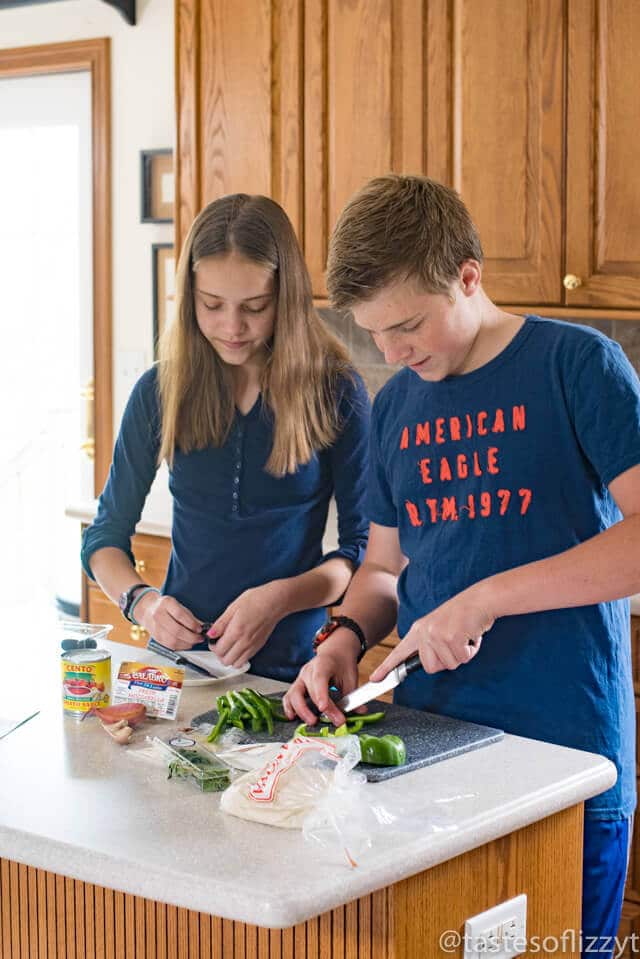 We received three meals to try: Spinach & Fresh Mozzarella Pizza, Chicken Under a "Brick" and Fontina-Stuffed Pork Chops. As you can see below, everything comes in a refrigerated box, all portioned out to make your life easy. I was really impressed with how fresh the ingredients were and the simple step-by-step instructions.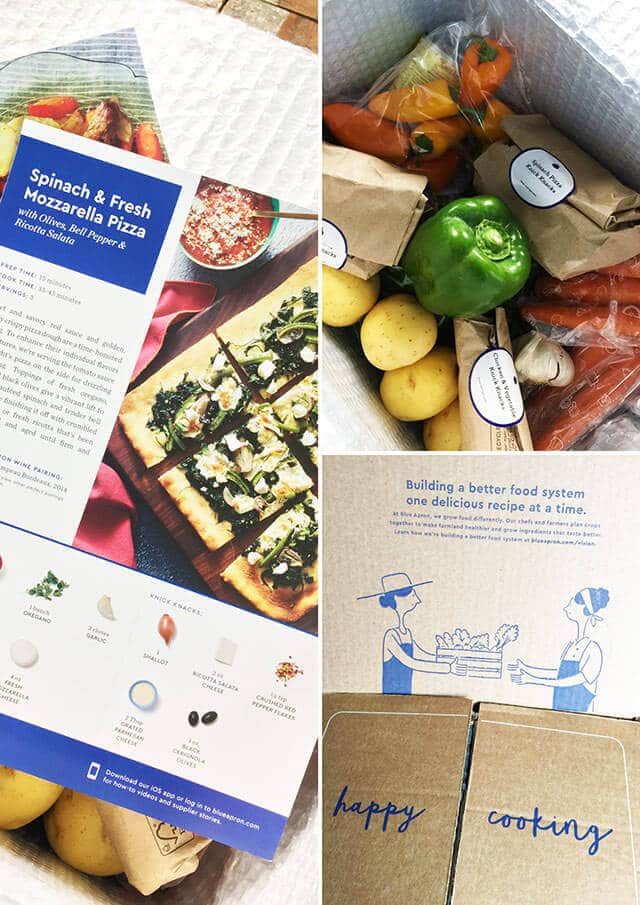 The kids wanted to try the pizza first. Because…pizza. 🙂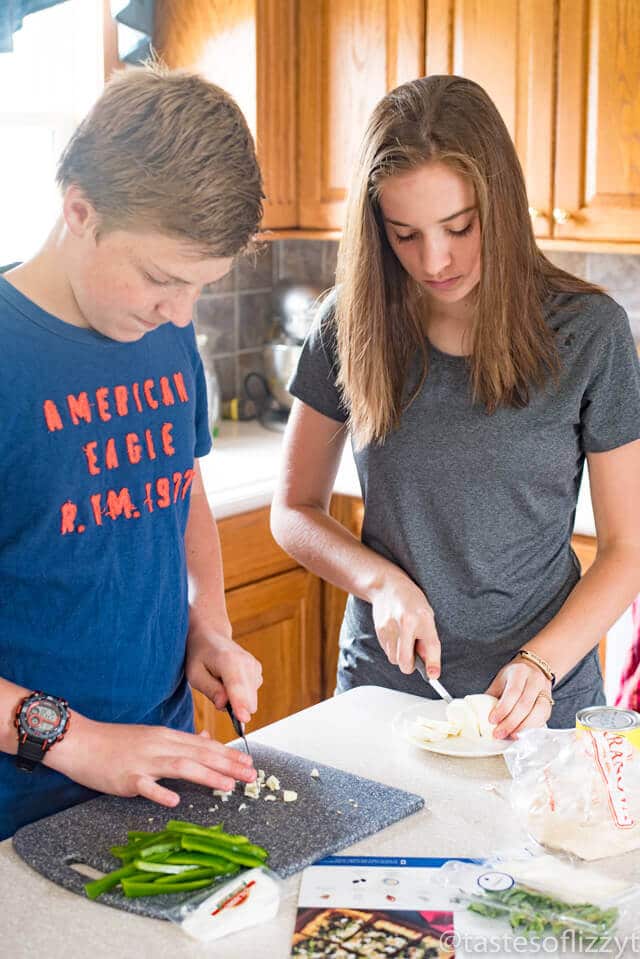 They honestly weren't so sure about the spinach part. But after one bite, they immediately went for more. They loved it! Having kids involved in the cooking process is always a great way to get them to eat their veggies.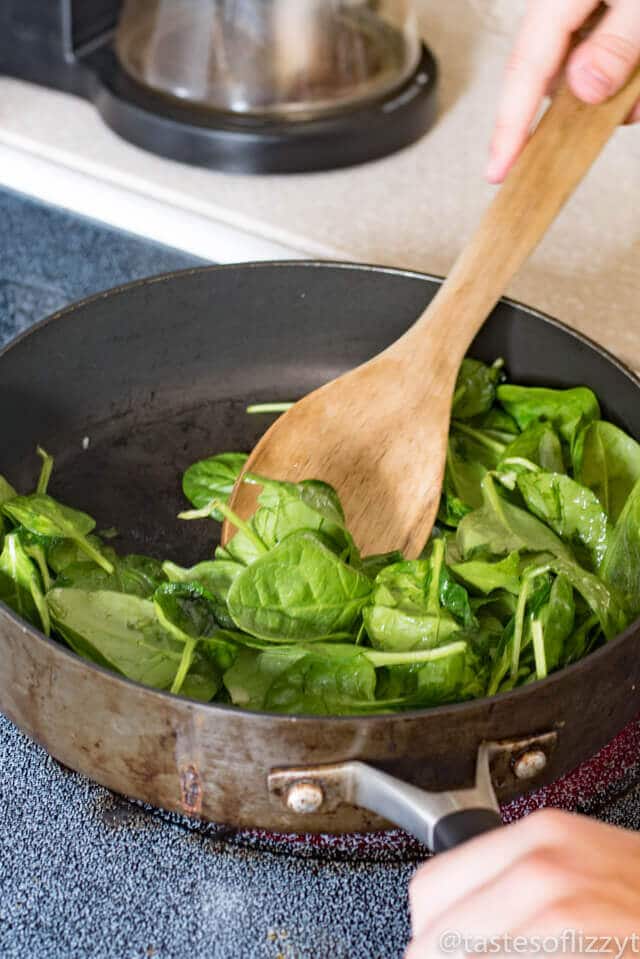 Here's some things I love about Blue Apron:
Fresh, seasonal ingredients delivered to your door.
Less time fighting grocery store crowds.
Meat with no-added hormones.
Vegetarian recipe choices.
Easy-to-follow recipes the kids can help with.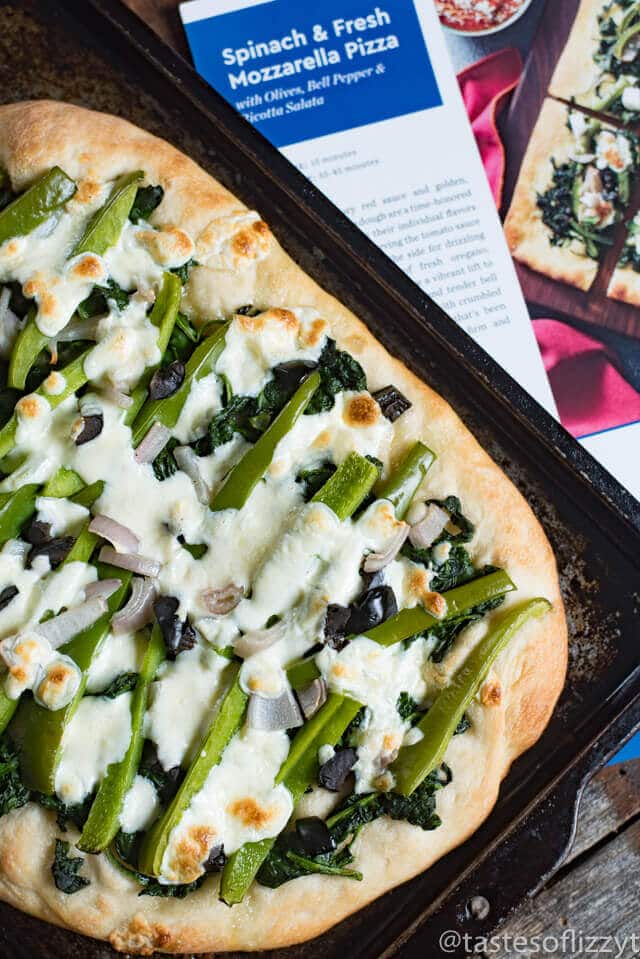 And lastly? I love that you learn. The first photo up above shows Chicken Under a "Brick". I learned a unique way to cook chicken to get a perfectly golden brown color and amazing flavor. It's it gorgeous?
You also get to work with ingredients that you may never have tried working with before. I never had used shallots. But now I can say I have!
With Blue Apron, easy family dinners have never been more simple.