Easy Oreo M&M Flowers Easter Candy
Tastes of Lizzy T participates in affiliate advertising programs. We may earn a commission when you make a purchase through links on our site.
Create cute, simple candies in minutes with Oreo and M&M flowers with Twizzler stems. This is a cute spring or Easter kids craft that they'll love to share with their family.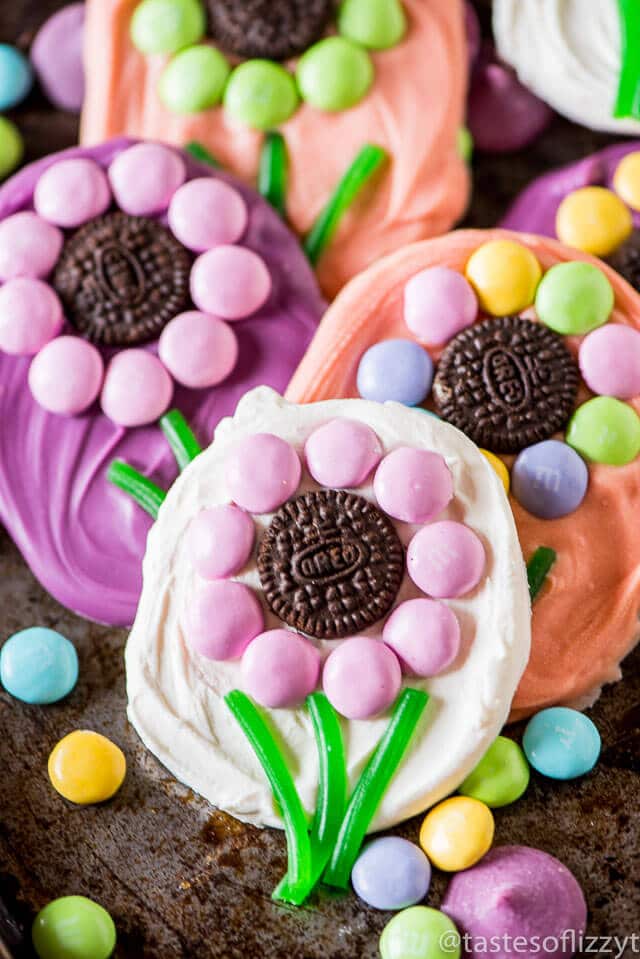 You're going to love these M&M flowers for spring that I'm sharing today. But first, a cute story. 🙂
A few weeks ago, Kinslee was in my downstairs work room and happened to find a box of card stamping supplies. She came running to me, bursting with excitement and wondering where in the world this box of amazing treasures could've come from. Smiling, I replied, "Believe it or not, at one time your mom was very crafty. For fun, one of the things I did was make fancy cards to send to friends!"  She was shocked and exclaimed, "So THAT'S where I get my craftiness from!"
It's true. The kids rarely see me doing crafts anymore unless it has something to do with redecorating the house. All of my creativity now goes into creating recipes and fun edible crafts like decorated cookies and candies.
But they certainly don't mind being guinea pigs and sampling the treats we come up with.  And these easy Oreo M&M flowers were no different!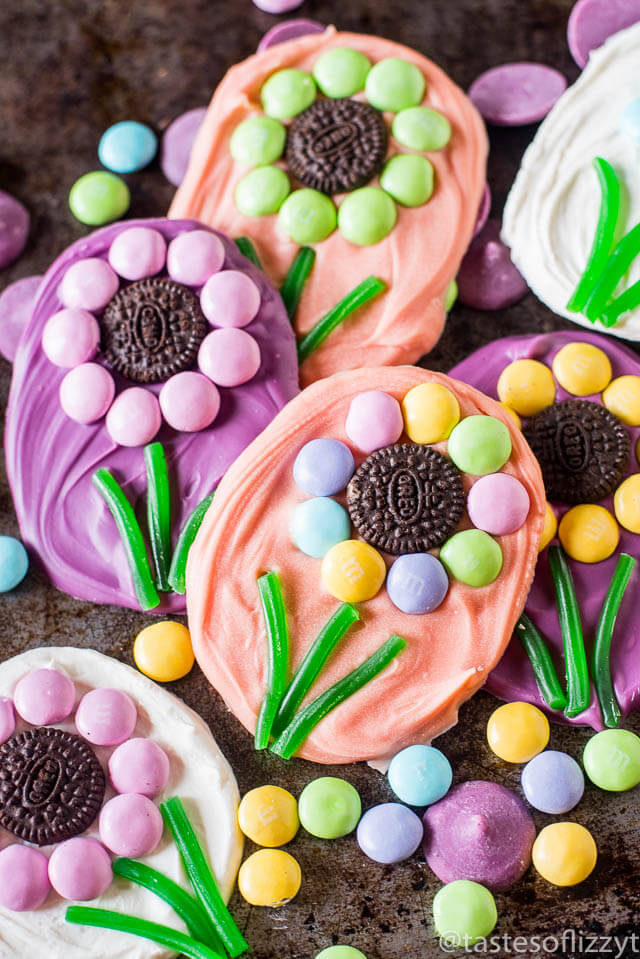 Kinslee is my candy girl. She'd take candy over a donut or cookie any day of the week. So these colorful candy M&M flowers completely filled her love tank.
They're so easy to make. Make the candies up ahead of time to use as Easter or spring party favors or allow the kids to make them on their own. Either way, kids will LOVE them!
Here's what you'll need to make these : Wilton candy melts, mini Oreo cookies, spring colored M&M's and green Pull 'n Peel Twizzlers (which I found at Walmart).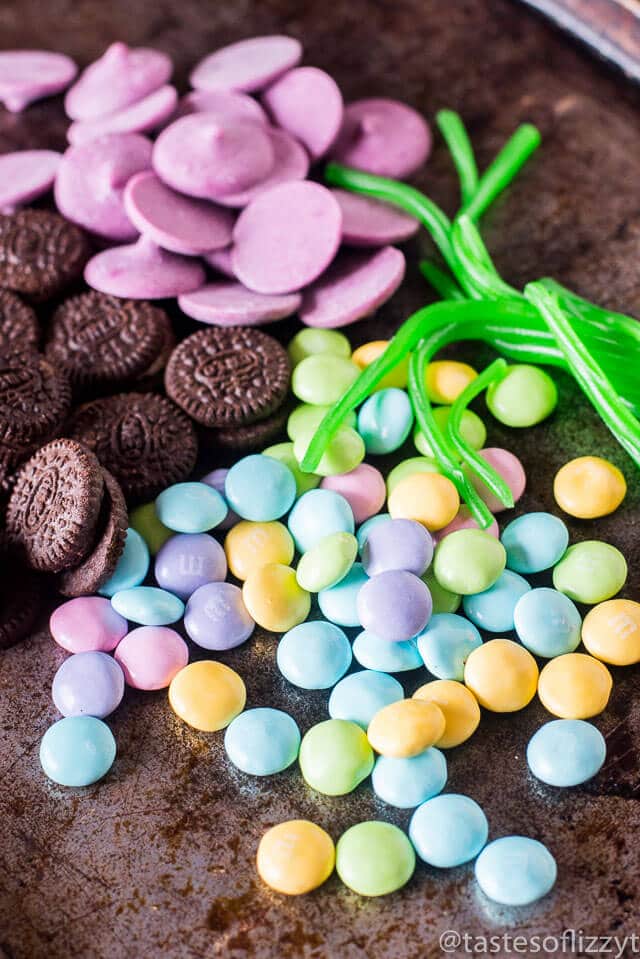 And here's how to make these easy M&M flowers:
The hardest part of the candy making process is melting the Wilton candy melts. (Which is really not that hard at all.) You can use any color candy melts you'd like. There are instructions on the back of the Wilton candy melt package for microwave melting. They key when melting candy or chocolate is to take it slow and easy. Set the microwave for very low amounts of time (10-15 seconds as the candy starts to melt) and stir between each time interval. If the chocolate or melting candy gets too hot, it will seize up. Be patient!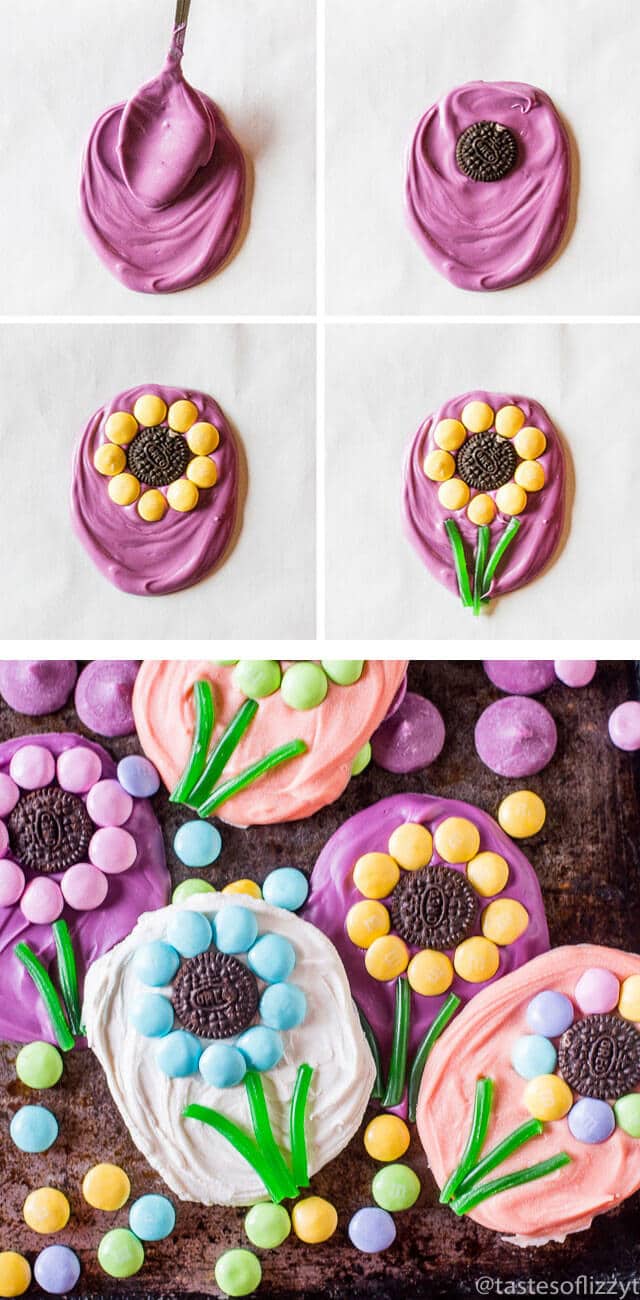 2. Untwist the mini Oreo cookies. You'll only use ½ a cookie for each flower.
3. Cut 1-1/2″ slices of green Pull 'n Peel Twizzlers. Then unpeel the candy ropes so you have a bunch of single pieces which will be the stems.
4.  Have your colored M&Ms ready to go. You'll have to work quickly once the candy melts are hot and melty.
5. Put a piece of wax paper down on a flat cookie sheet. Spoon a 3-4″ circle of melted candy onto the wax paper. Immediately place an Oreo half on the top third of the circle.
6. Make M&M flowers by using the M&Ms as flower petals around the Oreo.
7. Lastly, place a green Twizzler as a stem, then another Twizzler piece on each side of the stem to look like long leaves.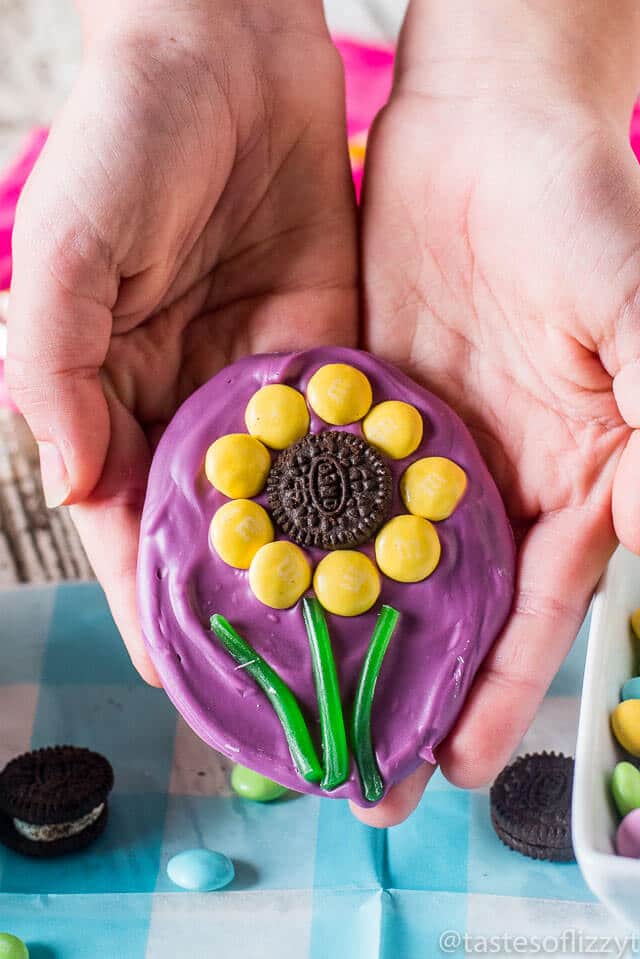 And that's it!
If you use Wilton candy melts, the candy will set very quickly so you'll have to have all parts of this craft ready to go before beginning. But the good news is that the candy melts quickly so kids won't have to wait long before it is in their hands on the way to their mouth. 🙂
There's nothing prettier than flowers in the spring….unless they are edible M&M flowers!