No Bake Blueberry Waffle Cake
Tastes of Lizzy T participates in affiliate advertising programs. We may earn a commission when you make a purchase through links on our site.
Imagine waffles, blueberries & white chocolate. Put everything together, top with sweet blueberry sauce and no bake blueberry waffle cake is born!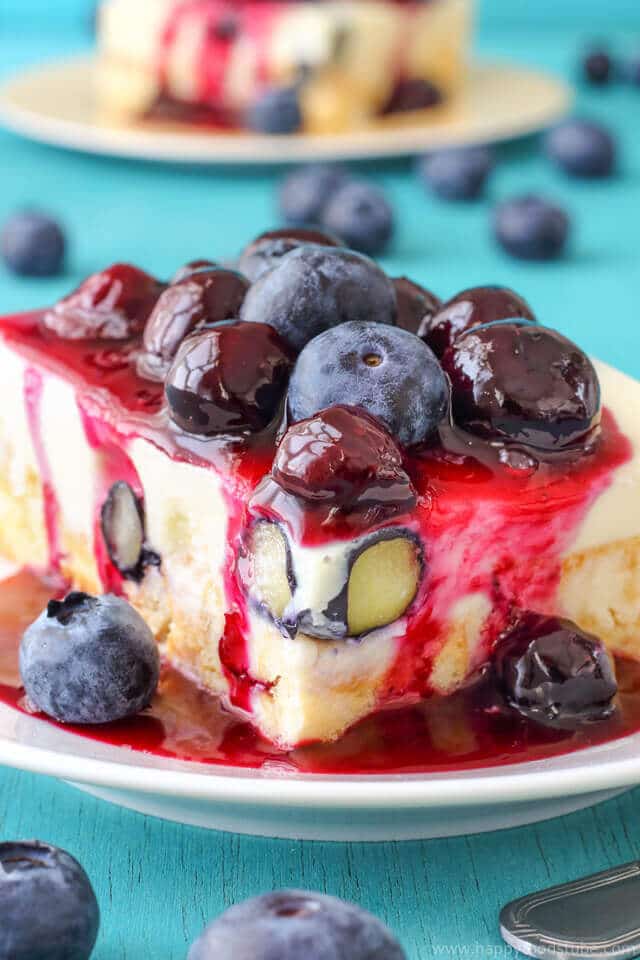 Guys, this is it! The best no bake cake ever! It's quick and it has waffles, blueberries & white chocolate in it. Doesn't it sound amazing?
This is a delicious dessert and once you try it you will ask for more. I guarantee you this. Now let's talk more about this sweet treat. The bottom layer is simply made of waffles. If you haven't tried a waffle cake, now is your chance. But this is not the waffle cake you might be familiar with. This one is better!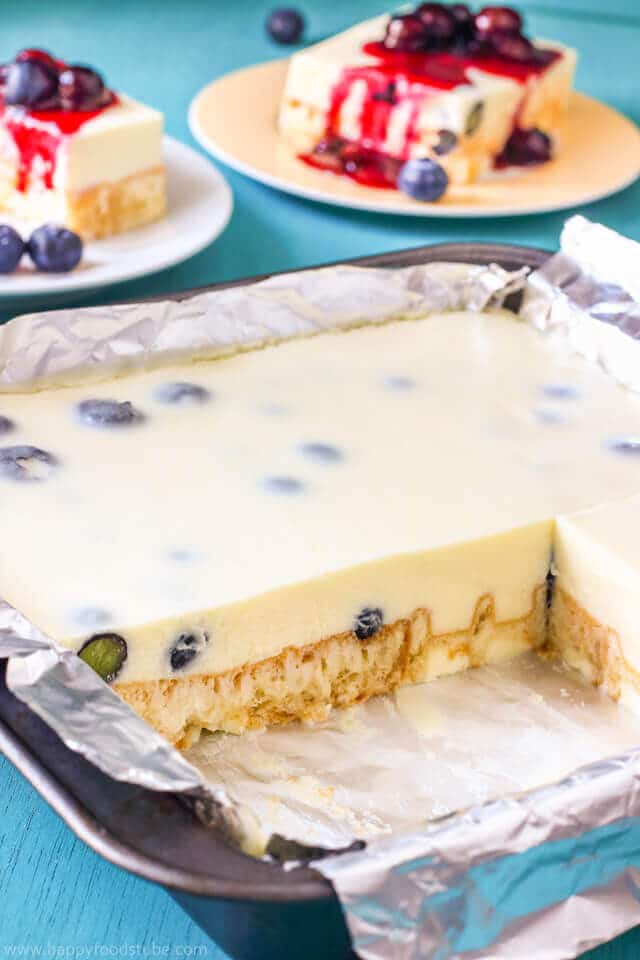 I topped this cake with blueberry sauce because I like this sauce a lot. It's so easy to make and tastes so good. What I also like is the combination of chilled cake and warm sauce. Yummy!
Now I tell you that if owned a waffle maker I would be using homemade waffles to make this blueberry waffle cake. And I would make this cake in a round cake pan. It would look even prettier I think! So guys, feel free to make homemade waffles and use those for the bottom layer.  Those of you who don't have a waffle maker, just buy your favorite waffles at your nearest supermarket and you are good to go!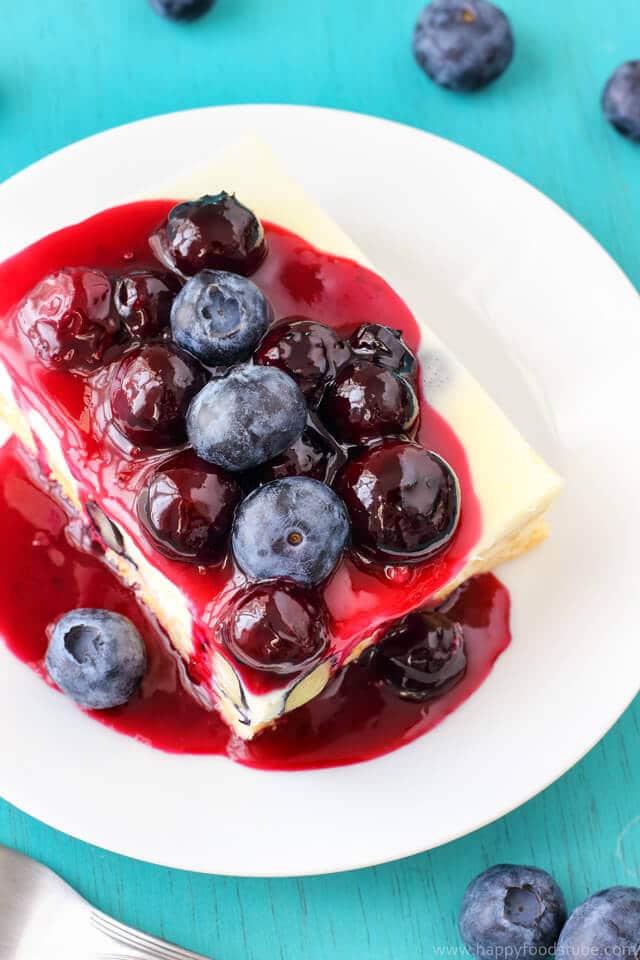 This no bake waffle cake needs to be refrigerated for 2 hours before slicing. I sliced mine exactly two hours later and it was perfect. The chocolate layer was set just right. If you leave this cake in the fridge overnight the white chocolate layer will set more.
The cake pan I used is 7 x 7 inch and will easily feed a family of 4-6. The recipe can also be doubled, if needed. I used about 3.5 ounces of waffles to make this cake. However, each waffle can have a different weight so bear this in mind. You will need enough to cover your cake pan.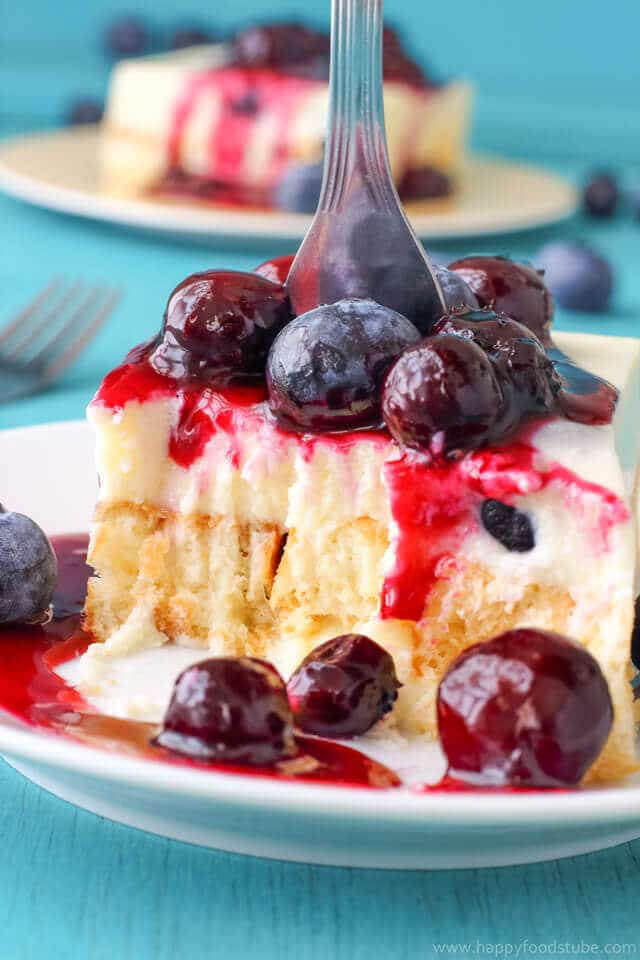 Guys, I hope you will love this cake as much as we do!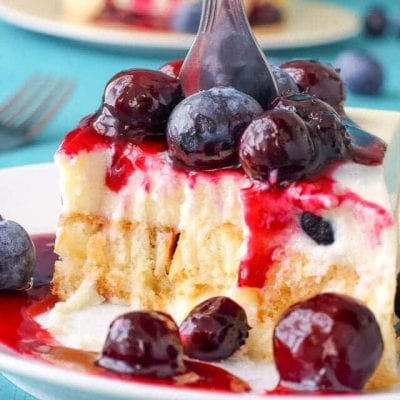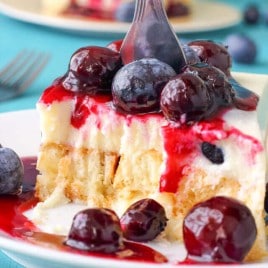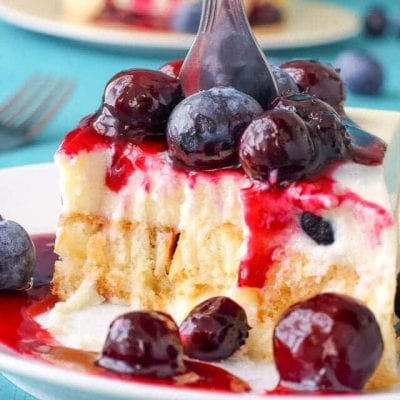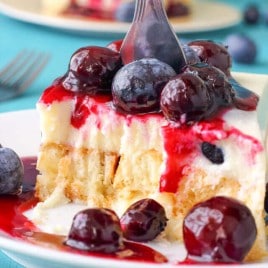 No Bake Blueberry Waffle Cake
Imagine waffles, blueberries & white chocolate. Put everything together, top with sweet blueberry sauce and no bake blueberry waffle cake is born!
---
Ingredients
White chocolate layer:
7

oz

White Chocolate

200g

4

Sheets of Gelatin

1

cup

Fresh Blueberries

2

cups

Whipping Cream
Blueberry sauce:
1

cup

Fresh Blueberries

½

cup

Superfine Sugar

½

Lemon

1

tbsp

Cornstarch
Instructions
Line your 8x8 cake pan with tin foil or baking parchment paper. Cover the bottom with waffles. Make sure there are no empty spaces in between them. Now scatter fresh blueberries over the waffles.

Melt white chocolate with 1 cup whipping cream over a pot of simmering water. Remove from the heat and let cool slightly before stirring in gelatin sheets that have been soaked in water (follow the package instructions). Let it cool down.

Whip the rest of the cream and fold it into the chocolate mixture. Pour it into the cake pan and refrigerate for 2 hours.

Before serving make the blueberry topping by simmering blueberries, sugar and freshly squeezed lemon juice in a small sauce pan.

When the berries have softened and the sugar has melted add cornstarch that you have dissolved in 2 tablespoons of water. Cook for a further 1-2 minutes before turning off the heat.

Slice the cake, pour the blueberry sauce over each slice and serve!

Nutrition
Calories:
398
kcal
|
Carbohydrates:
36
g
|
Protein:
3
g
|
Fat:
27
g
|
Saturated Fat:
16
g
|
Cholesterol:
79
mg
|
Sodium:
105
mg
|
Potassium:
145
mg
|
Fiber:
1
g
|
Sugar:
27
g
|
Vitamin A:
970
IU
|
Vitamin C:
6.8
mg
|
Calcium:
105
mg
|
Iron:
0.9
mg
You may also like:
No Bake Raspberry Ice Box Cake