Paleo Maple Glazed Pecans
Tastes of Lizzy T participates in affiliate advertising programs. We may earn a commission when you make a purchase through links on our site.
Who doesn't love the aroma of cinnamon and maple? Even if you're trying to eat healthier, you can still enjoy the taste of candied nuts with these lightened up Paleo Maple Glazed Pecans.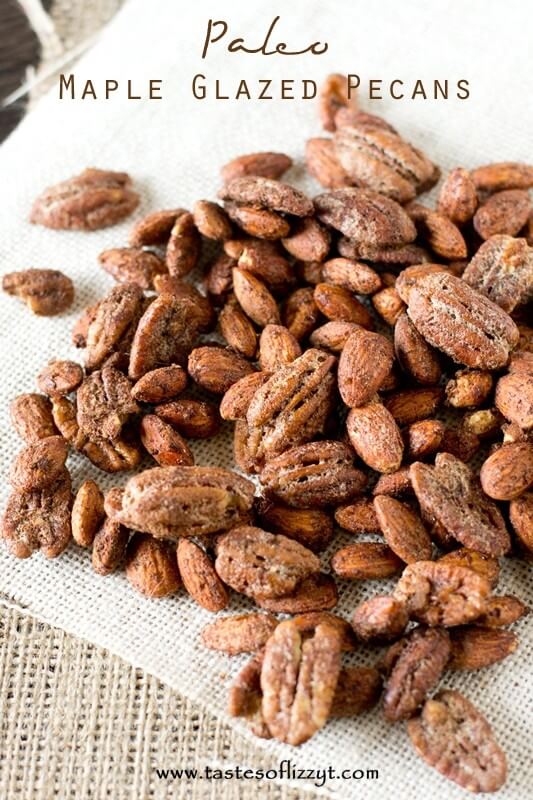 Have you ever walked through the mall and smelled something cinnamony and sweet and just had to have it? We live near a small mall. At the holidays, they sell candied pecans.  They roast these pecans in the sugary syrup right in the mall and that aroma fills every.part. of the whole mall.  If there was hope for having willpower against getting a paper cone loaded with sugared pecans, all hope is lost with one little sniff.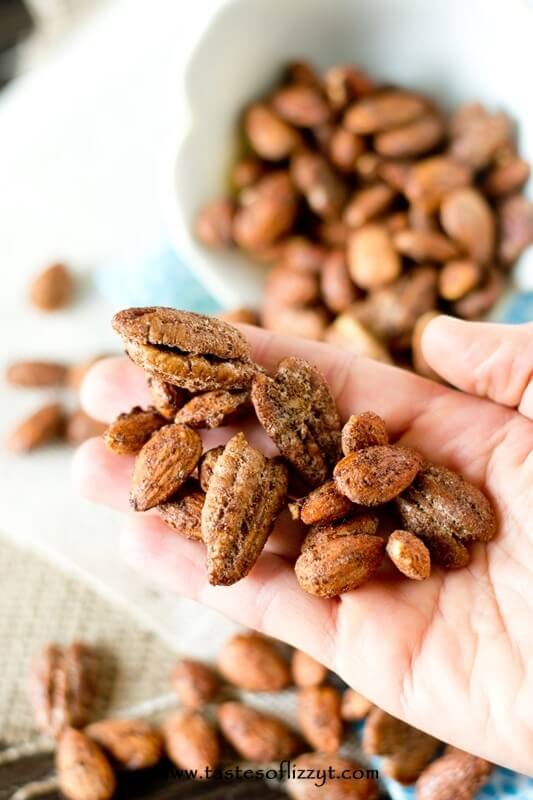 Candied pecans and almonds are truly one of my favorite snacks. I knew I had to try to make them a bit healthier by using some pure maple syrup to sweeten them. They're not as sweet as those mall treats, but they make me happy because I know they're healthier for me.
These pictures show a mixture of almonds and pecans. Our favorite nuts to use in this recipe are pecans, but when we're in the mood for a nutty snack, we use whatever nuts happen to be in the house. Pecans…almonds…walnuts…you name it and we've tried it.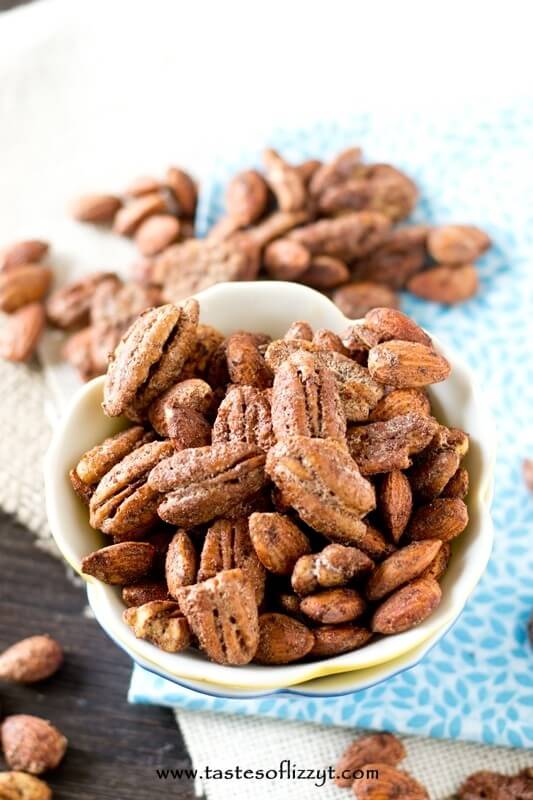 The trick to getting the candied nuts perfect is making sure you froth the egg whites. I recommend doing this with a stand mixer or handheld mixer. If I had to whisk the eggs until they were frothy with just arm-power, I'd totally give up. I'm a whimp like that. With the mixer, it takes just two minutes to get the eggs white and bubbly.
You'll then add the vanilla, cinnamon and salt.  If the nuts are salted, you may not want to add any extra salt. I normally have unsalted nuts on hand for baking, so we use unsalted and add a touch of salt.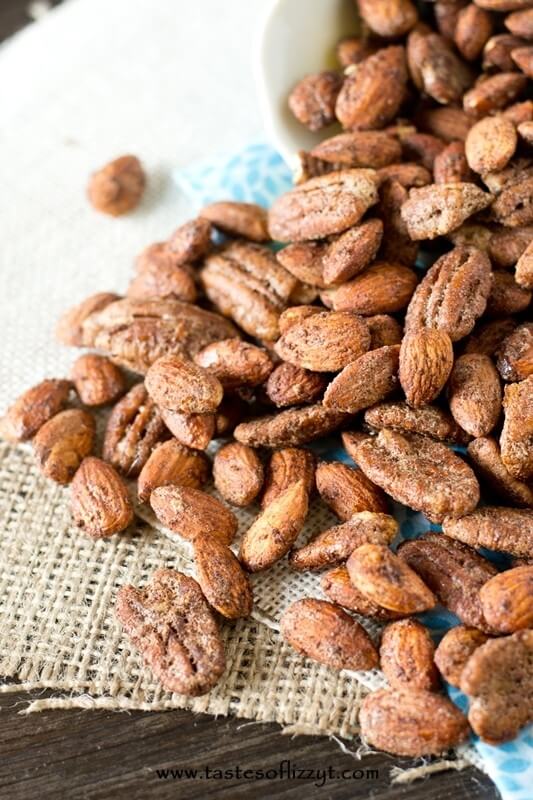 Next you'll add in the maple syrup. You want 100% pure maple syrup in order for these to be paleo. As much as I love Aunt Jemima drizzled over my stack of buttermilk pancakes, she just doesn't make the cut when it comes to eating paleo.
I generally use two tablespoons of maple syrup for this recipe. For us, two tablespoons just gives the little bit of sweetness that I need in a snack. Add in a little bit more if you'd like them sweeter.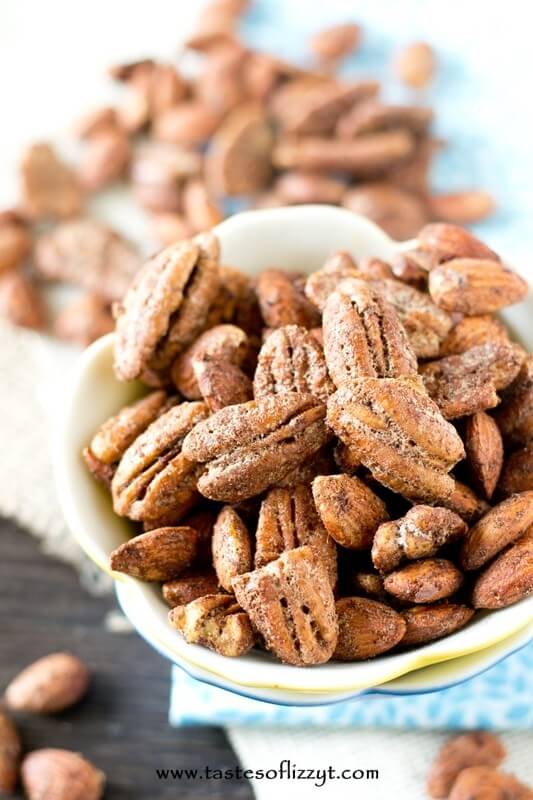 Mix about 5 cups of nuts into the egg white mixture and spread them on a lined or sprayed baking sheet. Do you own a Silpat baking mat
 yet? If not, join the club and get one. I don't know what I'd do without them. They've made a difference in our cookie making and are great for baking these nuts, too.
The coated pecans will go in a 250 degree oven for 45 minutes. Stir the nuts every 15 minutes to make sure that they egg mixture is baking evenly.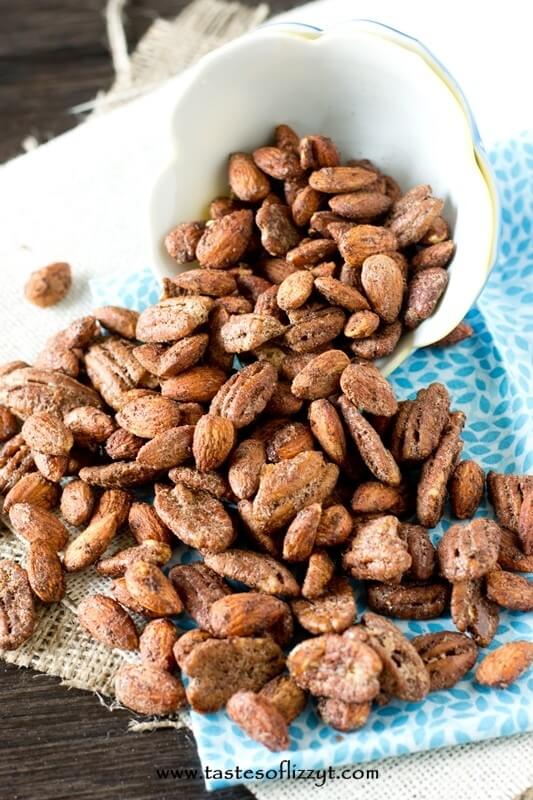 And there you go. A healthy version of a classic. Just for you! 🙂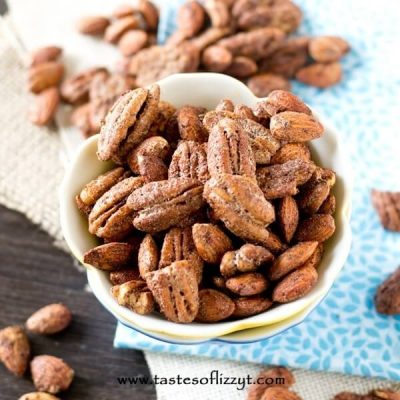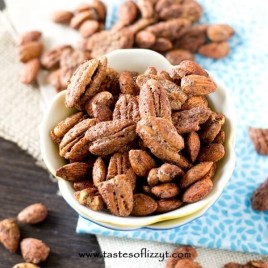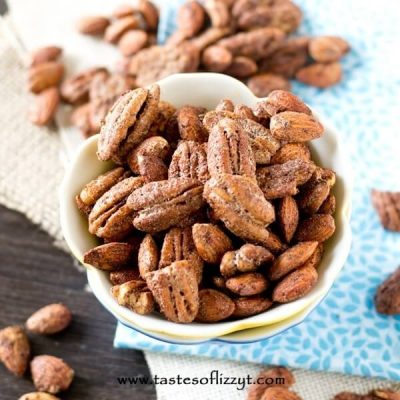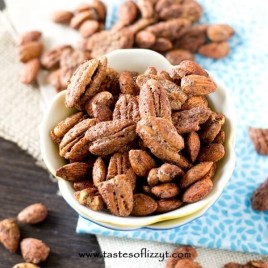 Paleo Maple Glazed Pecans
Who doesn't love the aroma of cinnamon and maple? Even if you're trying to eat healthier, you can still enjoy the taste of candied nuts with these lightened up Paleo Maple Glazed Pecans.
---
Ingredients
2

large

egg whites

1 1/2

teaspoons

vanilla extract

2

tablespoons

cinnamon

1/4

teaspoon

salt

2

tablespoons

pure maple syrup

5

cups

pecans
Instructions
Preheat the oven to 250 degrees.

Place the egg whites in the bowl of a stand mixer. Beat the whites until they are frothy, about 2 minutes. You can also use a handheld mixer for this.

Add the vanilla, cinnamon, salt and maple syrup to the egg whites.

Add the pecans to the egg mixture and mix until the nuts are coated.

Spread the nuts on a baking sheet that has been sprayed lightly with cooking spray or is lined with a silpat non-stick baking sheet.

Bake for 45 minutes, stirring the nuts every 15 minutes.
Notes
Add more maple syrup if you'd like them a little sweeter.
Use whatever nuts you'd like....almonds, pecans, or walnuts. We like pecans the best.
Nutrition
Serving:
62
g
|
Calories:
364
kcal