Patriotic Marshmallow Creamsicle Recipe
Tastes of Lizzy T participates in affiliate advertising programs. We may earn a commission when you make a purchase through links on our site.
I've given the classic creamsicle a dramatic upgrade and stuffed it with fresh berries, marshmallow, Greek yogurt and golden Oreos. This simple creamsicle recipe is a crowd-pleaser!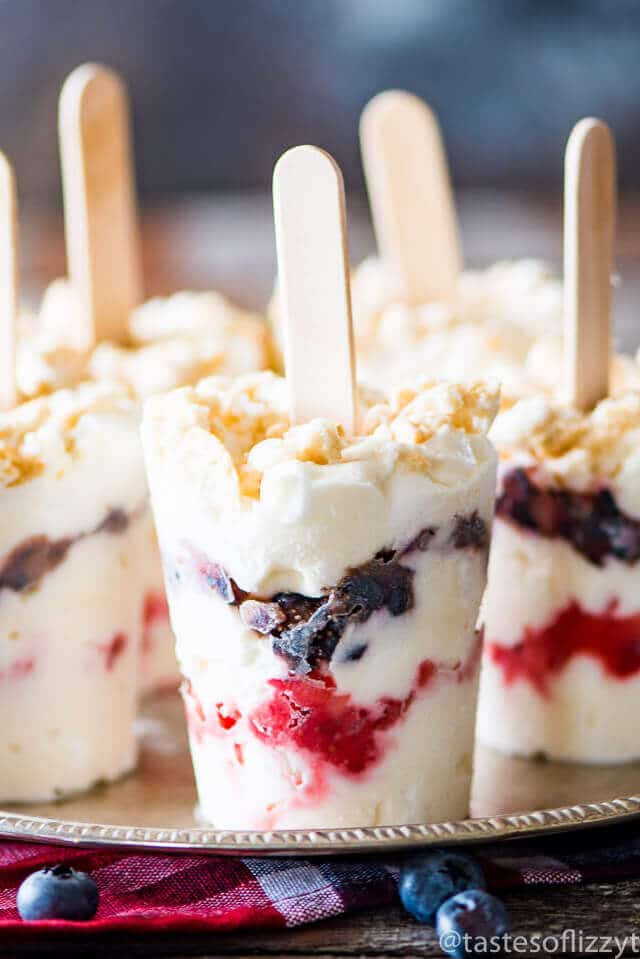 Summer is for swimming.
I spent the weekend swimming in frosting. Buttercream vanilla frosting. This isn't exactly a negative thing. Some people swim in crystal blue ocean waters…we swim in sweet, buttery frosting.
Maddie and I made 150 cupcakes for a graduation party on Sunday. As far as bakery orders go, this is one of our favorites. Cupcakes are fairly painless and fuss-free to make. Except when your purple and gold sprinkles bleed onto the white icing unexpectedly. And you have to start back at square one. Ugh. There were cups upon cups of powdered sugar, spatulas full of butter and little sprinkles in every nook and cranny of our kitchen.
This is why we don't normally make a business from selling our baked goods. Taking orders and having to give the customer perfectly baked items according to their exact specifications? Although we generally enjoy it, it's not exactly for us. Giving away cupcakes, cakes and cookies? Yes. All the time.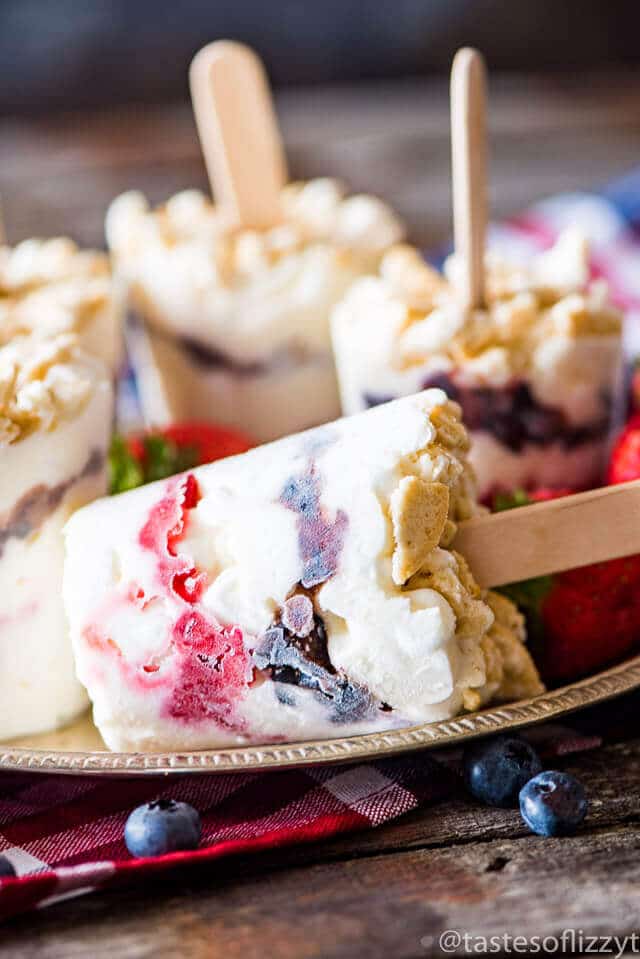 Except when it comes to this creamsicle recipe. These cool, refreshingly fruity creamsicles are not going anywhere except in my belly.  I blame this on the fact that it is harder to give away popsicles. You know…because of the melting issue.
But the reality is, I just wanna keep all of this Patriotic Marshmallow Creamsicle recipe to myself.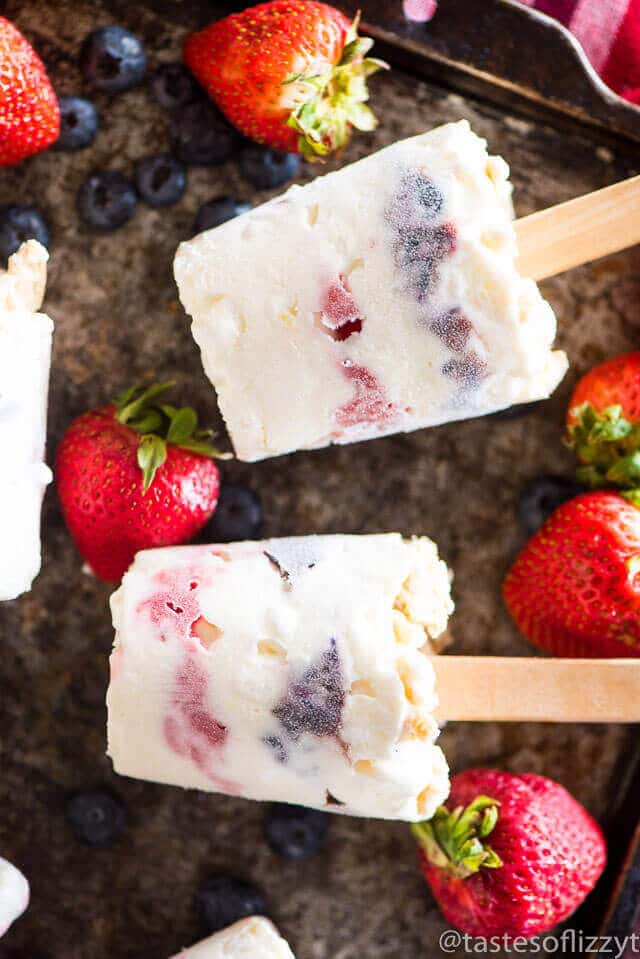 I've been wanting to try my hand at making popsicles since last summer. I never made it a priority, but then my contributors have shared their own versions of popsicles….strawberry yogurt, raspberry cheesecake, caramel fudge….They inspired me. And this patriotic marshmallow creamsicle recipe was born.
I based this creamsicle popsicle off a recipe that I made for Simple As That. I'm contributor over there and if you'd like a similar recipe in a 9×13 pan, you can find it here.
When I tested that recipe, I knew I could tweak it just a bit and get a fun, layered creamsicle recipe that would be easy and delicious.
Here's the layers in this creamsicle recipe:
White Cream Mixture: sweetened condensed milk, lemon juice, lemon zest, marshmallows and whipped cream. I chose to whip some heavy whipping cream instead of using Cool Whip. But if you'd like a shortcut, you can substitute the heavy whipping cream for about 2 cups of Cool Whip.
Finely Chopped Strawberries.
Finely Chopped Blueberries.
Crushed golden Oreo cookies.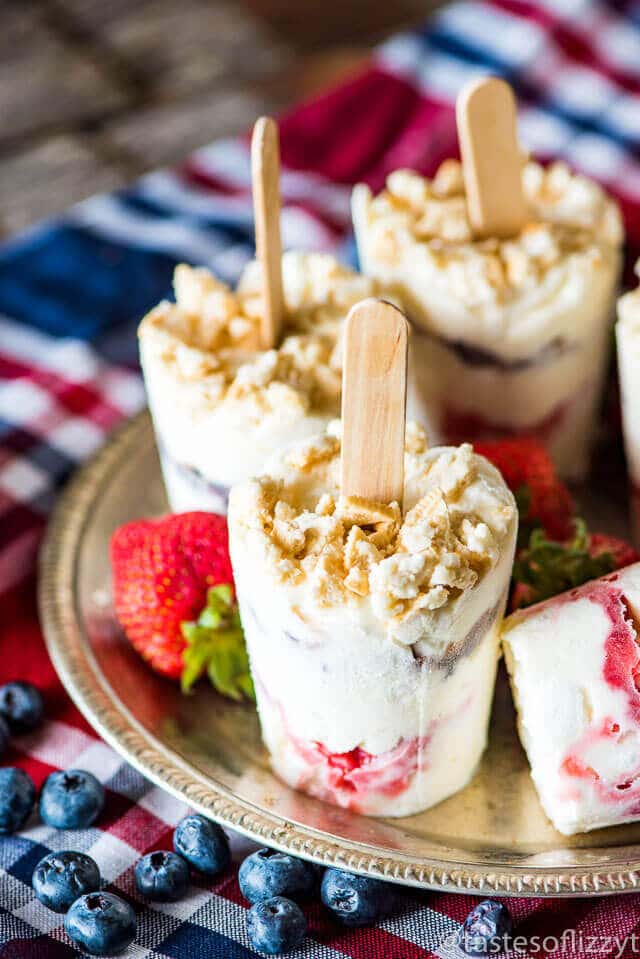 My family went crazy for this creamsicle recipe. I definitely scored points with the husband. I had to test and tweak this recipe to get it perfect for you about 3 times and he was not unhappy about that. He's normally not a marshmallow lover, but he said he fell in love with marshmallows all over again.
I guess that's a good thing? Although after seeing his face as he bit into one of these sweet pops, I may have been just a little jealous.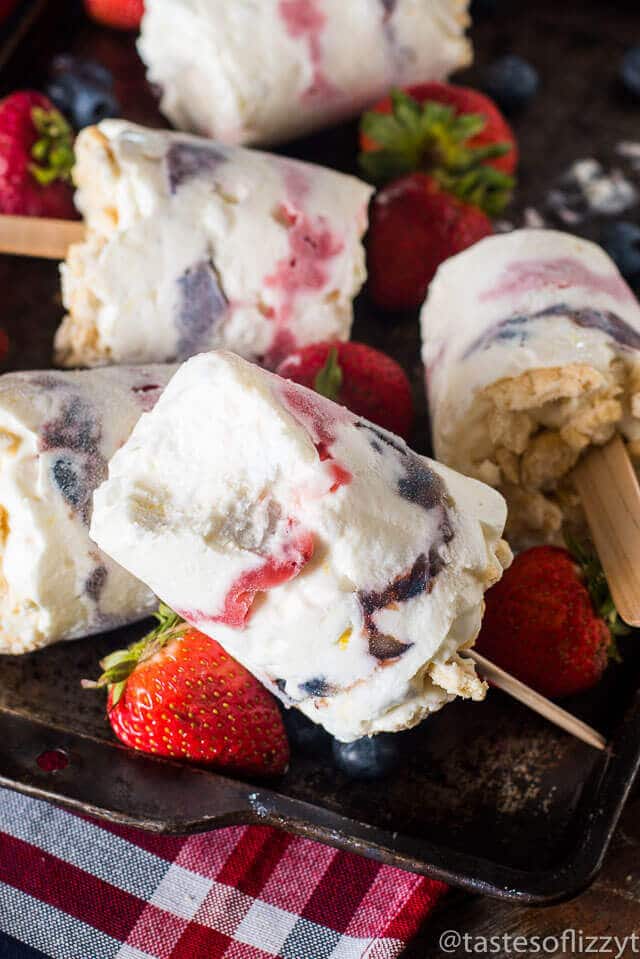 One last hint. I don't have popsicle molds, so I used paper cups and tore the paper off after the pops were frozen and ready to eat. Honestly? I prefer it this way.
You get a bigger creamsicle, after all 🙂
Make this creamsicle recipe for your kids and pass them out when they are done swimming in that frosting water. They're the perfect ending to a summer day!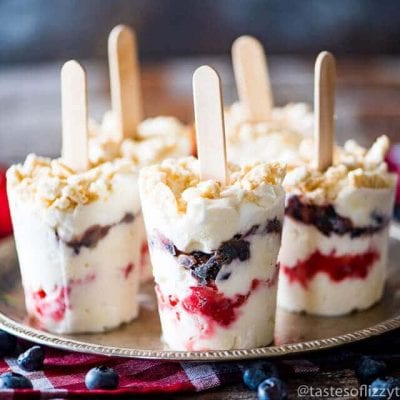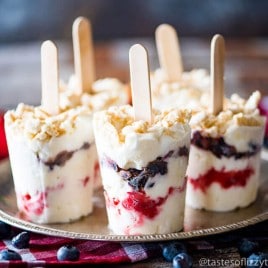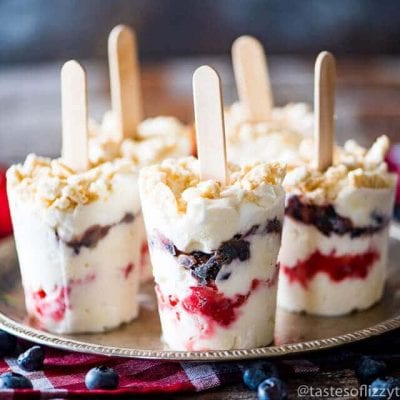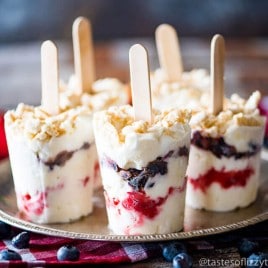 Patriotic Marshmallow Creamsicle Recipe
I've given the classic creamsicle a dramatic upgrade and stuffed it with fresh berries, marshmallow, Greek yogurt and golden Oreos. This simple creamsicle recipe is a crowd-pleaser!
---
Ingredients
1

cup

cold heavy whipping cream

14

ounces

sweetened condensed milk

1/4

cup

lemon juice

Zest of 1 lemon

1 1/2

cups

vanilla-flavored Greek yogurt

10.5

ounces

mini marshmallows

1 1/2

cups

finely chopped strawberries*

1 1/2

cups

finely chopped blueberries*

20

golden Oreo cookies

crushed

12

paper cups

(9 ounce)**

12

popsicle sticks***
Instructions
In a medium-size bowl, beat the heavy whipping cream until is is fluffy and can hold peaks. Place the bowl in the refrigerator to keep the cream cold until you need it.

In a large bowl, combine the sweetened condensed milk, lemon juice and lemon zest.

Add the yogurt and mix well.

Fold in the marshmallows.

Gently fold in the whipped cream.

Set out 12 paper cups (9 ounces each). Using an ice cream scoop, place a scoop of the white cream mixture into the bottom of each cup. Tap the cup so the mixture covers the bottom of the cup.

Place a tablespoon of chopped strawberries over the white cream.

Place another scoop of white cream over the strawberries. Use a spoon to make sure the cream is covering the strawberries completely.

Next, place a tablespoon of chopped blueberries over the previous layer.

Scoop the last scoop of white cream over the blueberries.

Sprinkle crushed Oreo cookies over the white cream. Gently press them into the cream mixture.

Insert a popsicle stick into the center of the layered popsicles.

Freeze the popsicles for at least 6 hours.

When you are ready to eat, snip (with scissors) the edge of the paper cup and then tear off the paper cup.

Enjoy!
Notes
*Chop the fruit very small. The fruit will freeze hard and it is easier to bite into if it is finely chopped. **The exact number of popsicles will depend on how big your paper cups are. My cups were 9 ounces each and I got 12 popsicles. ***I used Mini Jumbo Woodsies popsicle sticks (4 1/2" x 5/8").
Nutrition
Calories:
382
kcal
|
Carbohydrates:
58
g
|
Protein:
7
g
|
Fat:
14
g
|
Saturated Fat:
7
g
|
Cholesterol:
39
mg
|
Sodium:
148
mg
|
Potassium:
238
mg
|
Fiber:
1
g
|
Sugar:
43
g
|
Vitamin A:
390
IU
|
Vitamin C:
15.3
mg
|
Calcium:
144
mg
|
Iron:
0.7
mg