Tastes of Lizzy T participates in affiliate advertising programs. We may earn a commission when you make a purchase through links on our site.
 What better of a fun way to learn about the solar system than with solar system cupcakes! Kids will love this science lesson with sprinkle filled cupcakes.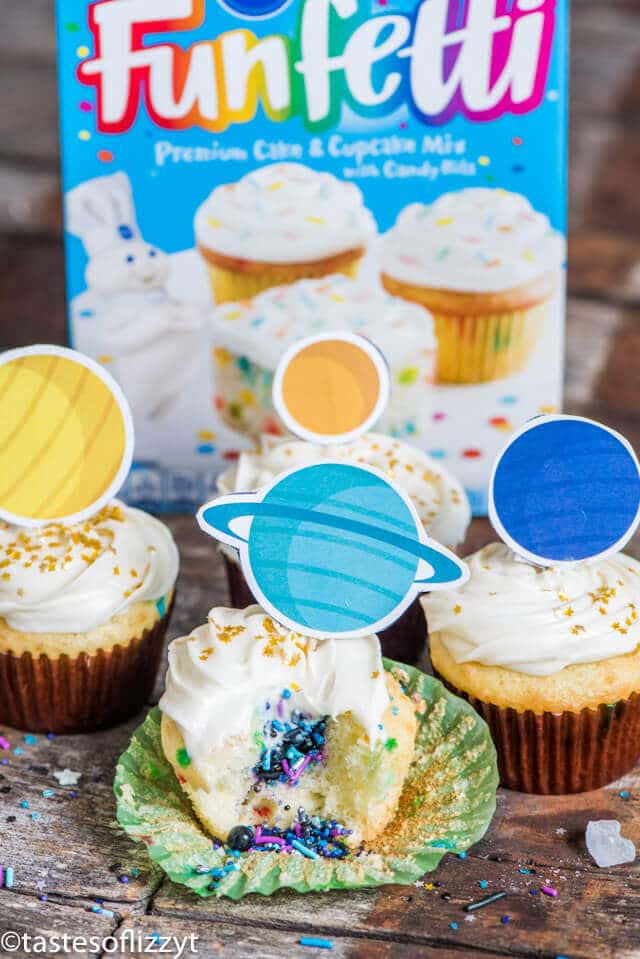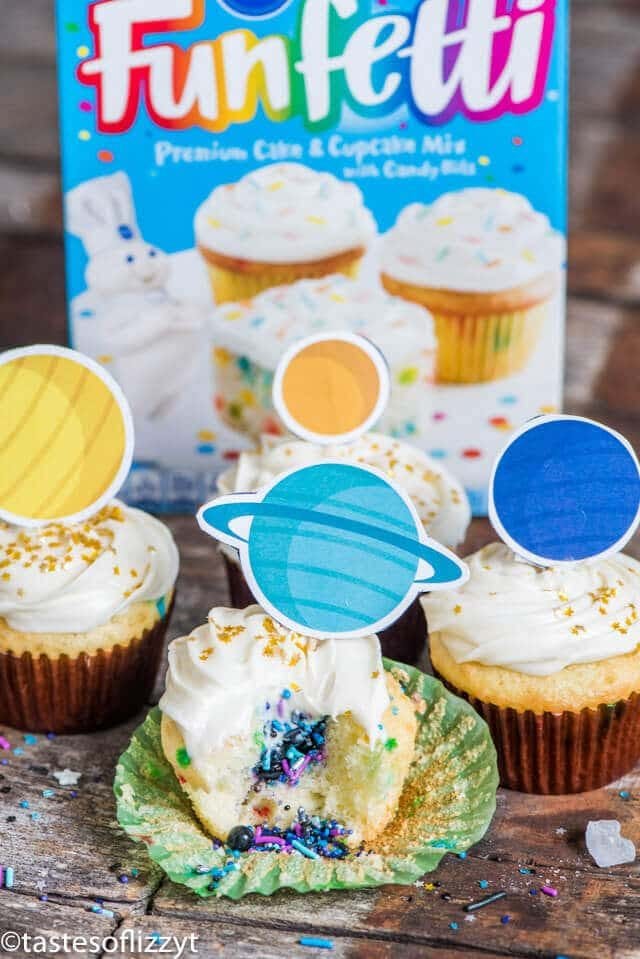 Solar System Cupcakes
Summer is the perfect time to do a little creative learning with your kids. They might put up a fuss if you pull out a textbook and have them answer questions about planets, galaxies and outer space, but show them a Pillsbury™ Funfetti® cake mix and frosting and they'll be begging to know more about those mysterious planets!
July 20th is Space Exploration Day, the perfect day to do an edible scientific learning activity with your kids during summer break!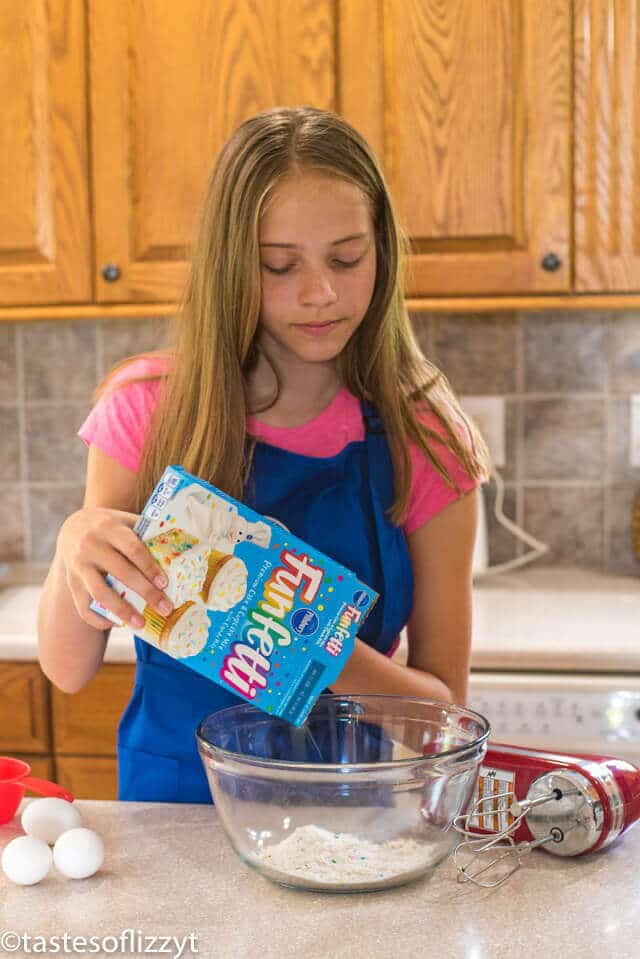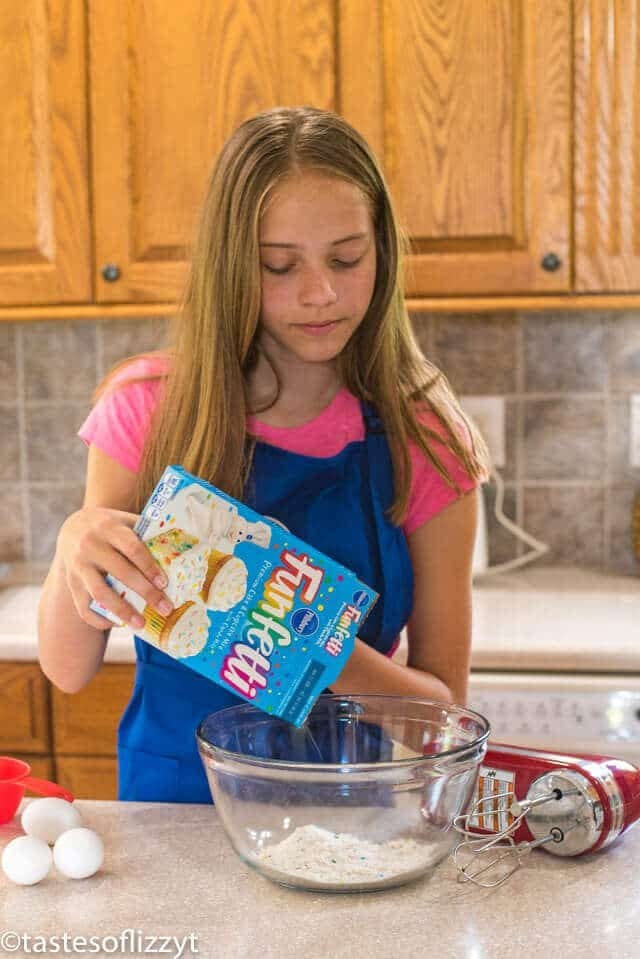 If you've spent any time on Pinterest or Facebook, you know that galaxy cupcakes, cakes and cookies are HOT. These solar system cupcakes are a fun twist on galaxy cupcakes and an easy baking activity for your kids to help out with. You'll start with a simple Pillsbury Funfetti® cake mix made just as the back of the box describes.
One of my tips for scooping cupcake batter into cupcake liners is to use an ice cream scoop. The kids will love helping with this, and the scoop makes uniform cupcakes!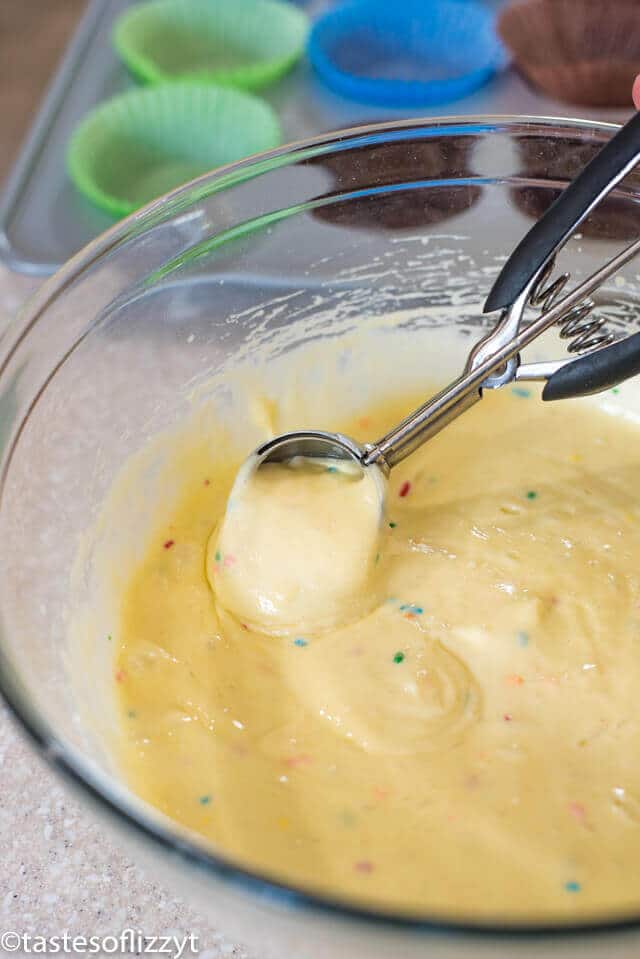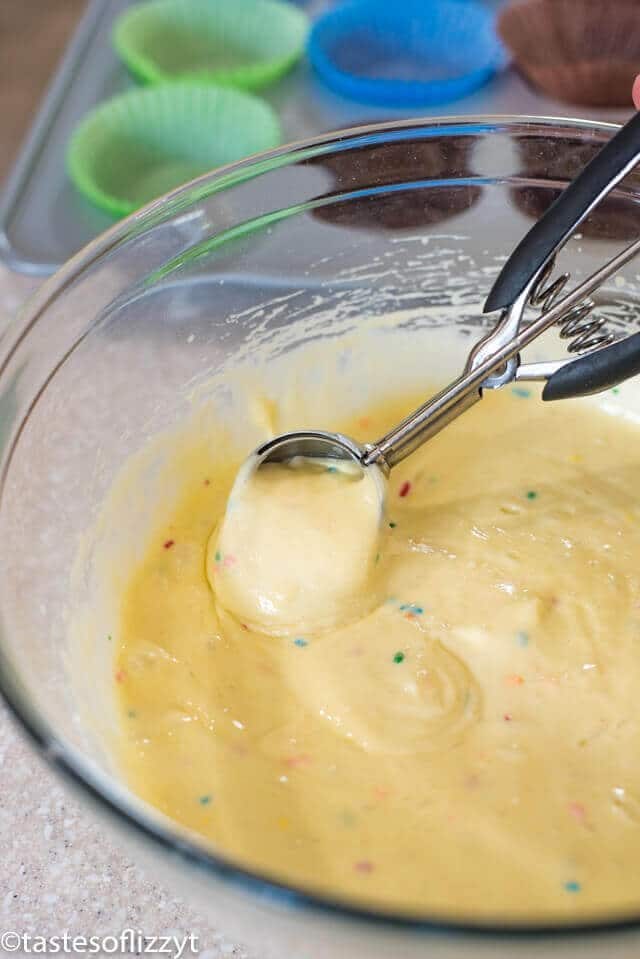 Bake as the box directs and allow the cupcakes to cool. And if you have the chance to use some NASA astronaut oven mitts? You definitely use them. Even Matt loved these!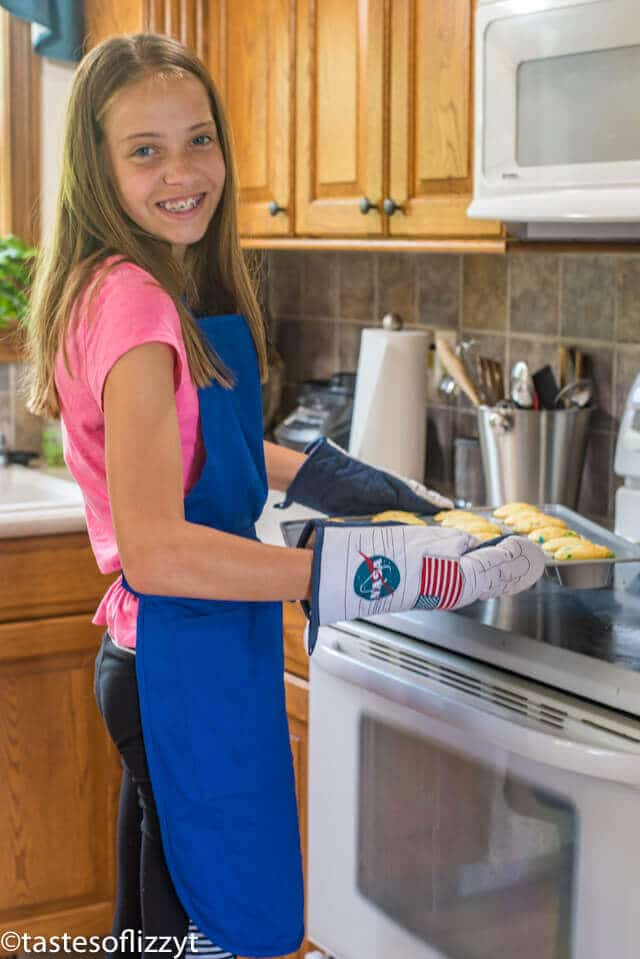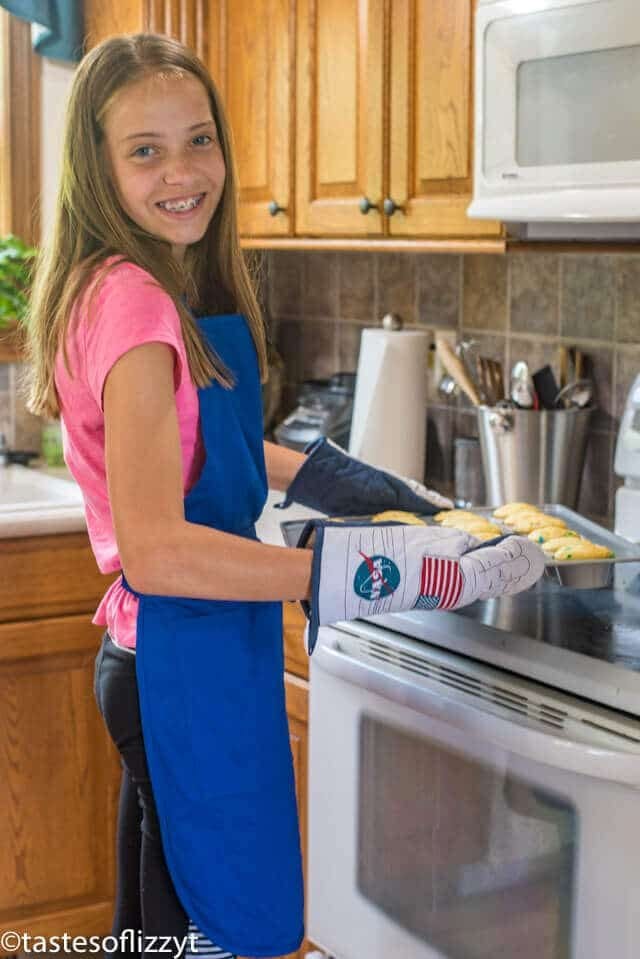 Once the cupcakes are cooled, it's time to fill them with colorful sprinkles. To do this, simply use a cupcake corer to cut a hole in the top of the cupcake. A plastic knife is a safe tool to for kids to use, too. Grab your sprinkles and let the kids fill those cupcakes with sprinkles of all kinds. We chose galaxy colors…purple, black, blue, silver. You could also use stars if you'd like!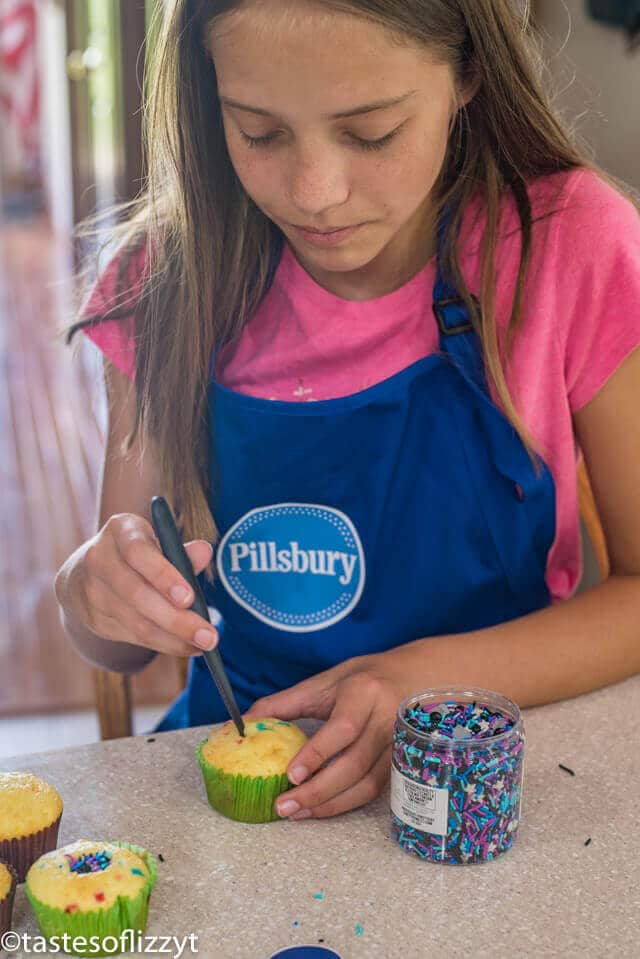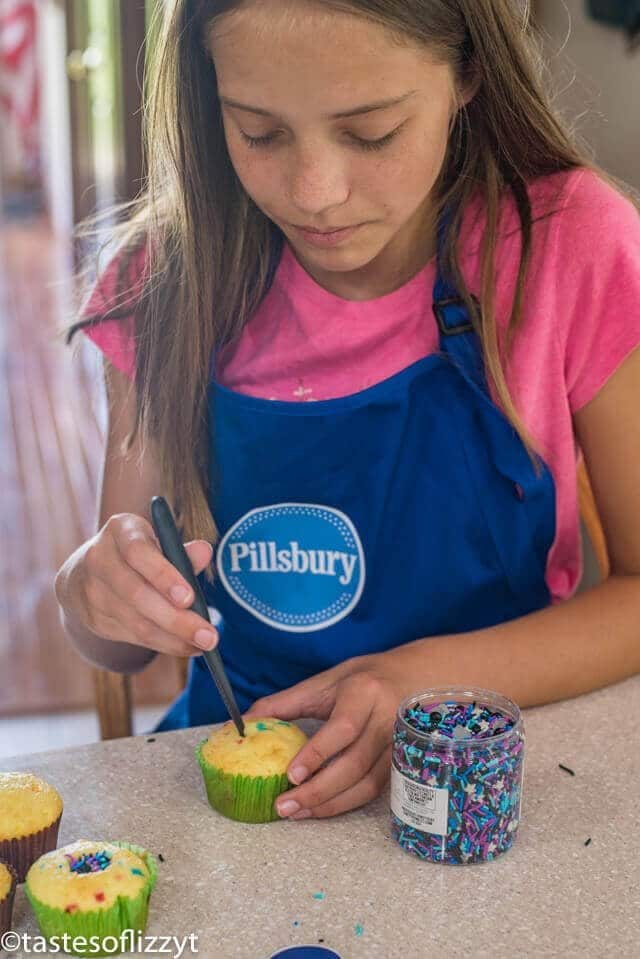 Once the cupcakes are full of sprinkles ready to surprise the kids when they take a bite, it's time to frost the cupcakes. Pillsbury has made frosting cupcakes so easy! Their new Pillsbury Filled Pastry Bag makes frosting cupcakes a breeze in ready-to-go packaging. These Filled Pastry Bags are available in three flavors, Vanilla, Chocolate Fudge and Cream Cheese. These new filled pastry bags had me at easy clean-up.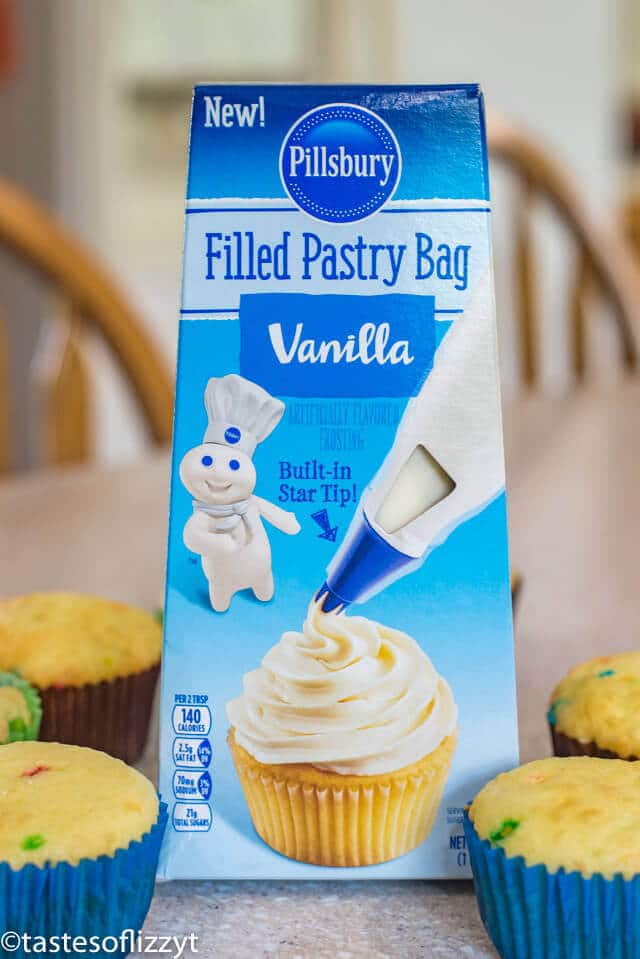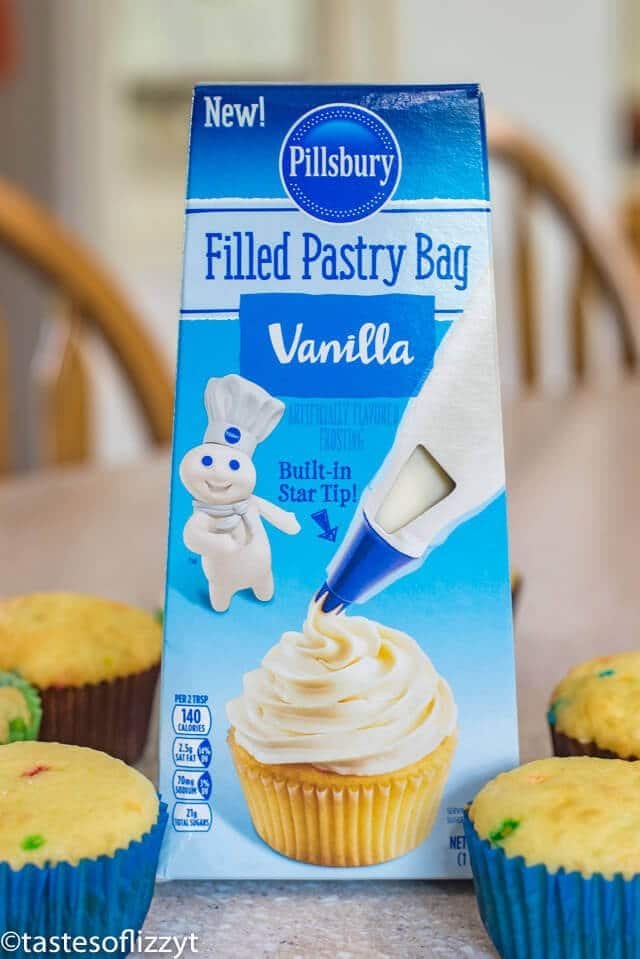 They come with a built-in start tip that gives a perfect swirl on each cupcake.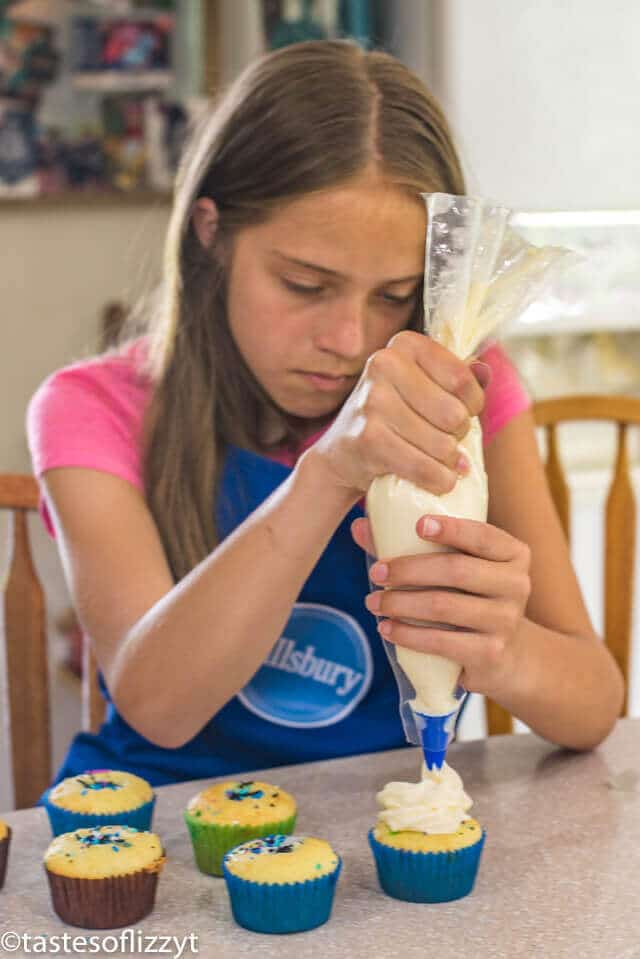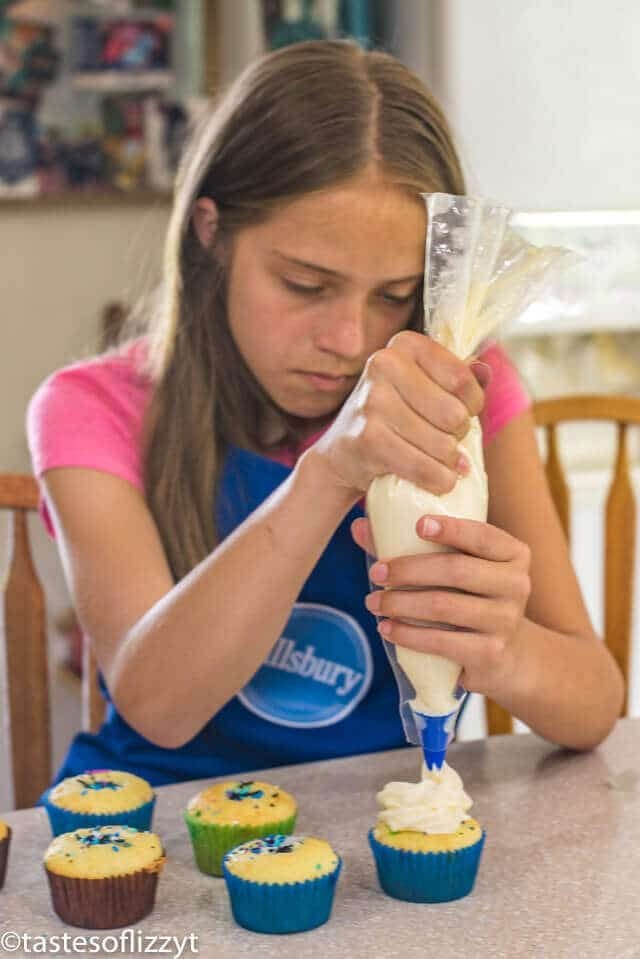 After your kids frost the cupcakes, top them with a few star sprinkles.
Lastly, it's time to make your solar system! Have them draw and cut out colored circles for the planets, tape a toothpick to the back of the cutout and stick the toothpick right in the top of their frosting swirl.
As they color each planet, they can learn facts about the planets such as the name, how big the planet is, and what the planets are made of.
They can finish off their learning experience by learning the planet's position! Simply draw a sun in the middle of a large piece of paper and place the cupcake "planets" in their position according to the sun.
As a mom, you've gotta love it when baking and learning together bring sibling smiles.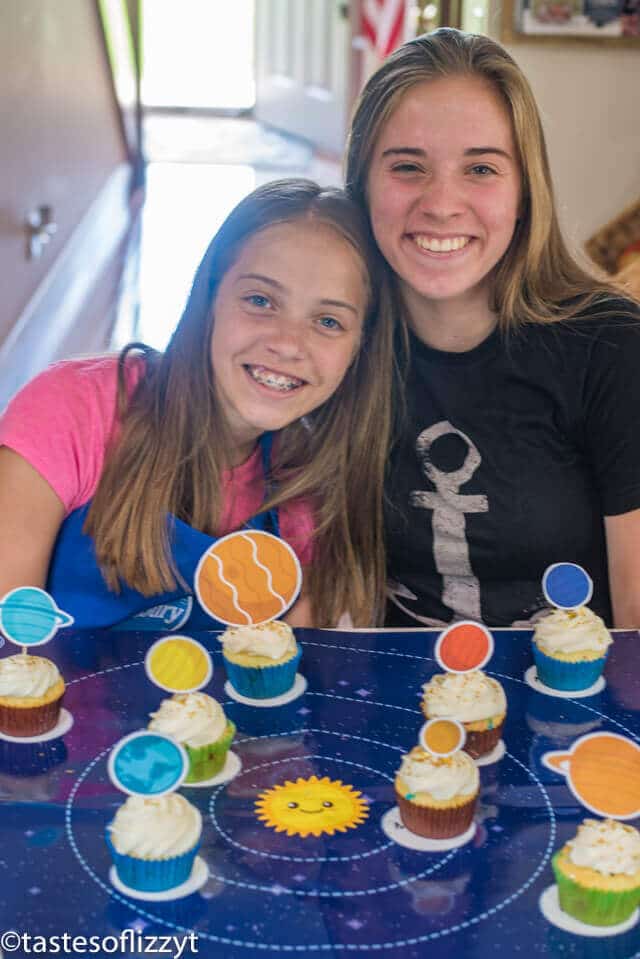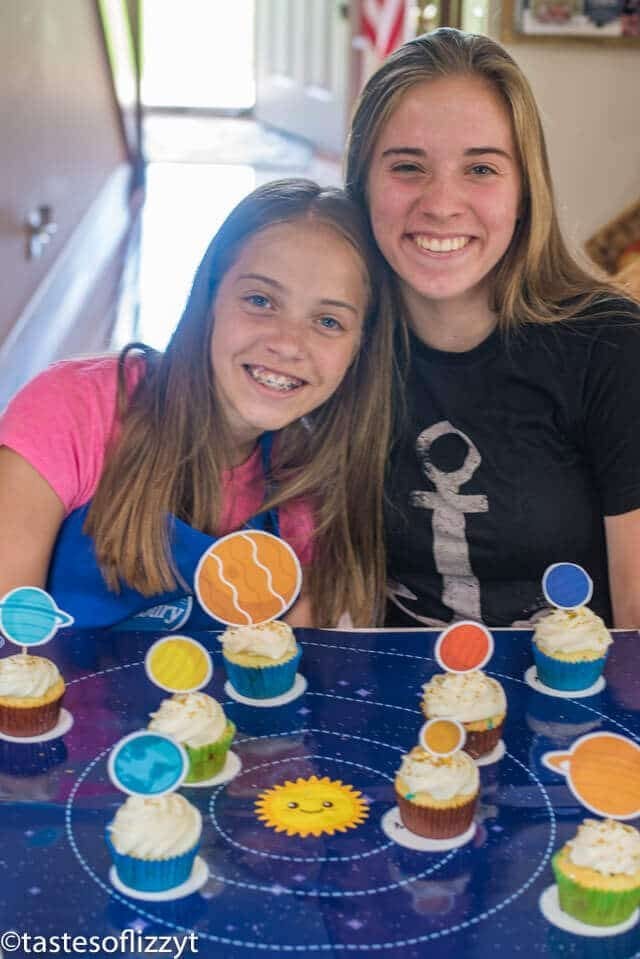 And the kids' smiles get even bigger when they take a big bite in the planet of their choice and find all of those sweet sprinkles.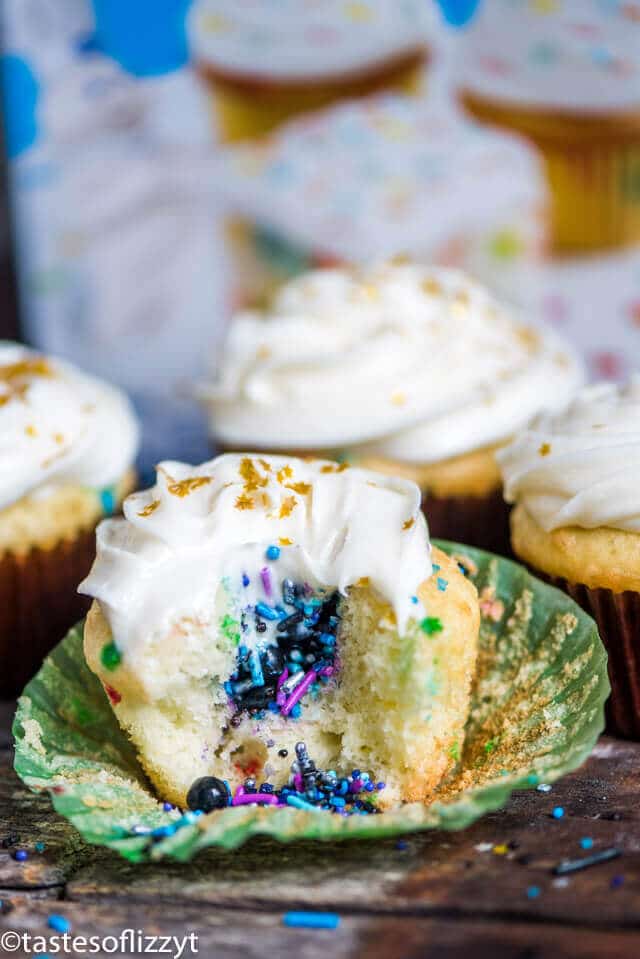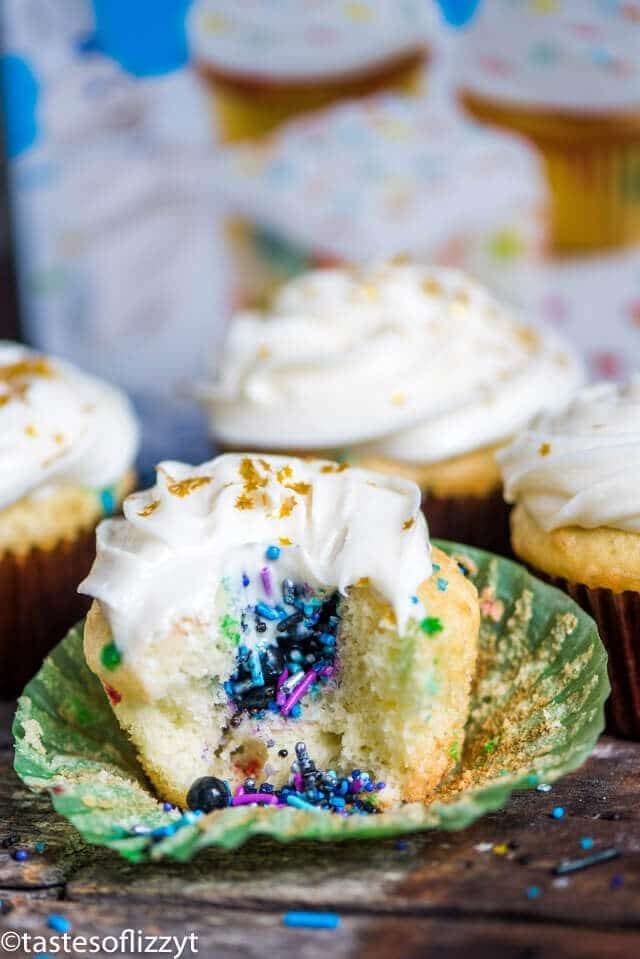 Pillsbury and the Pillsbury Doughboy want to inspire you to join Operation Celebration and get exciting baking ideas for your family right in your inbox. Every month they'll have a new theme with everything from robot cupcakes to spooky snacks. Sign up for the Pillsbury Operation Celebration newsletter here.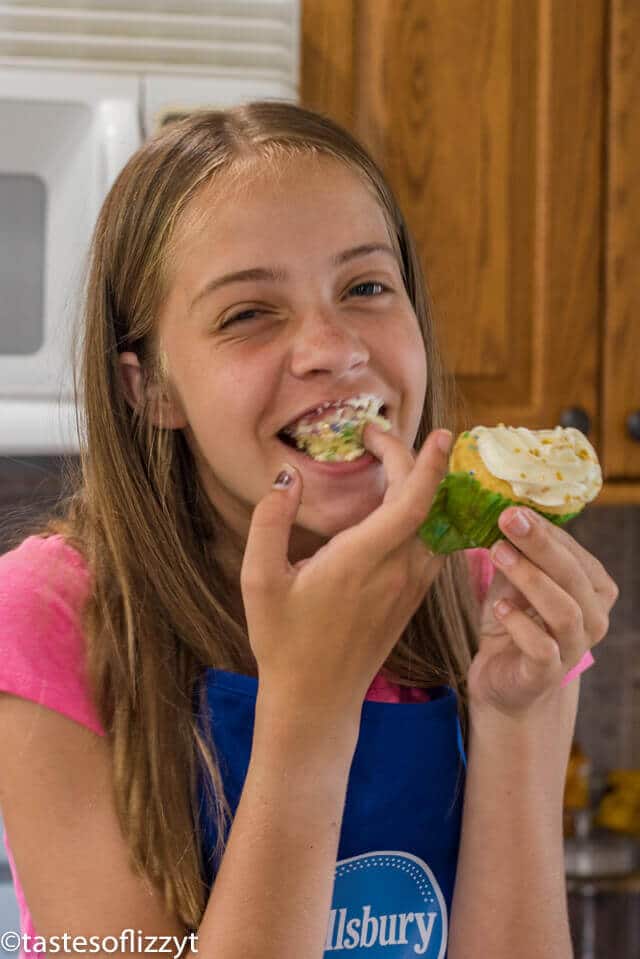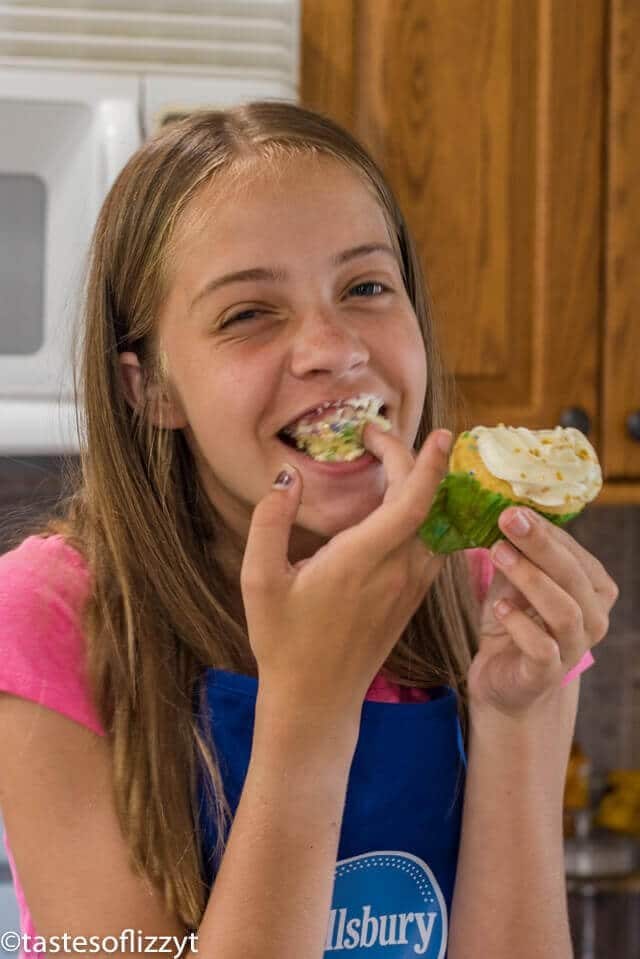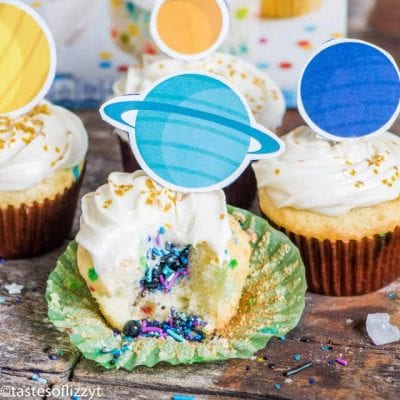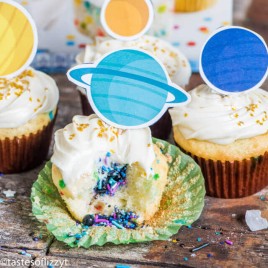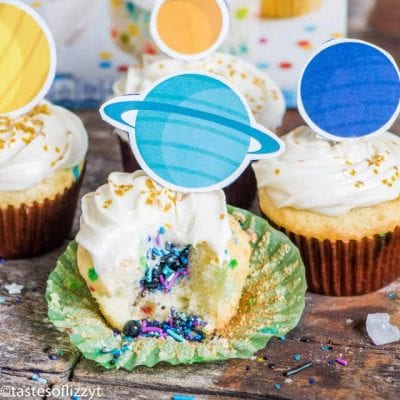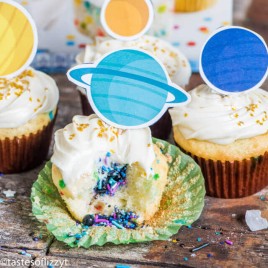 Solar System Cupcakes
What better of a fun way to learn about the solar system than with solar system cupcakes! Kids will love this science lesson with sprinkle filled cupcakes.
---
Ingredients
1

Pillsbury Funfetti® cake mix

3

large

eggs

1

cup

water

1/3

cup

oil

24

Paper cupcake liners

Sprinkles

any color you'd like

1 

Pillsbury Filled Pastry Bag

vanilla flavor

Cut out and colored paper planet shapes

Tape

9

toothpicks

Large piece of paper with the sun drawn and colored in the middle.
Instructions
Preheat the oven to 350 degrees.

Prepare the cake mix according to the package directions.

Line 24 cupcake cups with paper liners.

Use an ice cream scoop to fill the cupcake liners with cake batter.

Bake for 19-22 minutes, or until the top of the cupcake bounces back when you touch it.

While the cupcakes are cooling, color and cut out the planet shapes.

Using a small piece of tape, tape a toothpick to the back of each planet. Set aside.

Once the cupcakes are cooled, use a cupcake corer or plastic knife to cut out a well in the center of the cupcake.

Fill the cupcake with sprinkles.

Take the Pillsbury Filled Pastry Bag and tear off tip of the plastic bag.

Gently squeeze the frosting down to the tip of the bag and pipe swirls onto the top of the cooled cupcakes.

Sprinkle with star sprinkles if desired.

Place the planet toothpicks in the top center of the cupcakes.

Once your "planets" are complete, place them on the large sheet of paper with the sun in the position that they go in our solar system.

Store cupcakes in an airtight container when finished learning.
Nutrition
Calories:
181
kcal
|
Carbohydrates:
27
g
|
Protein:
1
g
|
Fat:
7
g
|
Saturated Fat:
1
g
|
Cholesterol:
23
mg
|
Sodium:
166
mg
|
Potassium:
26
mg
|
Sugar:
19
g
|
Vitamin A:
35
IU
|
Calcium:
43
mg
|
Iron:
0.5
mg
Ad – This is a sponsored conversation written by me on behalf of Pillsbury. The opinions and text are all mine.