Visiting Greenville South Carolina
Tastes of Lizzy T participates in affiliate advertising programs. We may earn a commission when you make a purchase through links on our site.
Greenville South Carolina is a beautiful small city that is ideal to visit any time of the year. Outdoor activities, delicious food, arts and entertainment line the streets of this old town. 

Greenville South Carolina
Last October, Kinslee had a dance showcase in Greenville, South Carolina. We took a weekend trip to this beautiful Southern city and experienced as much of the culture, food and sights as we could.
Greenville is located about halfway between Atlanta and Charlotte, North Carolina on the foothills of the Blue Ridge Mountains. It's no wonder it  is the fastest growing urban area in South Carolina with its beautiful backdrop.
Weather in Greenville South Carolina
Greenville has four distinct seasons. January is the coldest month with an average of 42 degrees Fahrenheit. July is generally the warmest month with an average of 80 degrees Fahrenheit. You'll find summers to be hot and humid. Spring and fall are pleasant times to visit, with fall being a little more dry than the spring months.
We visited Greenville the first weekend of October. The evenings were cool, but the daytimes were warm…about 67 degrees. We experienced a little bit of rain the weekend we were there, but not enough to keep the city down. Farmers markets and festivals were going strong amidst the sprinkles!

Hotels in Greenville SC
You'll find many hotels down Main Street. We stayed in the Home2 Suites by Hilton which was in a beautiful are at the North end of Main Street. I highly recommend this hotel! There was a delicious breakfast available along with a pool and hot tub to relax in.
The rooms were comfortable and spacious. High ceilings made the room feel even larger. The room had a kitchenette, which we love. This allows us to get snack food or even bring home leftovers to warm up for later in the day or the next day.
Comfortable beds, clean bathrooms, free Wifi…what more do you need?!

Restaurants in Greenville SC
There were over 100 restaurants in a 1 mile radius from our hotel so with only two days in the city, it was hard to decide the best restaurants to try in Greenville. We did pretty well sampling the food and enjoyed every meal we ate!
Sully's Steamers: World Famous Steamed Bagel Sandwiches. Now I'm not usually one who is big on sandwiches, but this sounded too unique not to try. This was our lunch stop as we arrived in the city. The restaurant was busy, but we found an empty table for two outside on the sidewalk which was perfect for enjoying the fall weather. In this little restaurant, you'll find freshly made bagels made into sandwiches of just about every kind. From meatballs to corned beef, and breakfast sandwiches to  vegetarian sandwiches, you'll definitely find a sandwich to enjoy. Choose your favorite bagel type to have them make your sandwich on. Have picky eaters in your family? This is the restaurant for you!
Grill Marks: We always have to find the best burgers in a city. Grill Marks was a fun restaurant with serious comfort food. Choose a burger you like and they "brand" the top of the bun with their logo. The burgers were delicious, but I highly recommend their Chowder Head Fries as an appetizer. Corn chowder, cheddar and bacon served over a pile of fat fries? Oh my goodness. This was amazing.  If you have any room left after you devour a burger and fries, be sure to try one of their Freak Shakes. Over-the-top, amazing!
Biscuit Head: You may have to drive to this restaurant, but it is totally worth it. Homemade biscuits topped with anything from 6 different gravies to biscuit sandwiches with fried catfish and pulled pork. I recommend the Pulled Pork Biscuit with poached egg, jalapeno pimento and bacon. Yum!
Donut Experiment: Made-to-order, fresh, hot donuts. Need I say more? We'd been to this donut shop in Anna Maria, FL and I was really excited to see they had one in Greenville also.
The Chocolate Moose Bakery & Cafe: The cutest little shop to get freshly baked cupcakes, cake pops, cookies. They also have a small cafe menu if you're looking for a fresh sandwich, yogurt & granola or cheese & crackers. They also have a bookstore and gift shop. I was sucked in with all of the cute kitchen items!
Swamp Rabbit Cafe: This cafe and grocery store is also outside of the city. Hop in your car and drive over for fresh local food. This is a unique place that is all about community. Cooking classes, cafe, gathering places, and locally sourced food items. We tried a cheddar scone and chocolate chip scone. I'm picky about the scones I like, but these were delicious. You'll find vegan and gluten free items here, too!
Pita House: This is the one restaurant we didn't have time to try but wish we would have. It's the number one ranked restaurant under "cheap eats" and has Middle Eastern food and groceries. This fresh, homemade pitas and Tahini salad. If you love trying unique food, this is the place for you!
Things to Do in Greenville SC
Along with these activities, there are museums, distilleries, universities and state parks you can drive to.

Falls Park on the Reedy
Falls Park on the Reedy is another activity you can do in Greenville South Carolina, but I felt it deserved a heading all of its own. As Kinslee spent the day dancing at The Peace Center, Matt and I explored. We started walking and ended up this beautiful park. Wow, were we surprised! In this beautiful city sits this park with gorgeous waterfalls, trails, flowers. Have a picnic or play a game of frisbee on the lawn. Take your dog for a walk. Use it as a backdrop for engagement photos or yearly family pictures. Swamp Rabbit Trail runs through this park so if you head out on a long bike ride, you'll eventually hit this beautiful place.
You can print a family activity guide here to use as you visit the park. Be sure to check out free entertainment or movies that may be offered while you are there.
One of my favorite parts? The Medusa Tree shown below. Estimated to be about 70 years old, this "root tree" is right along the Swamp Rabbit Trail.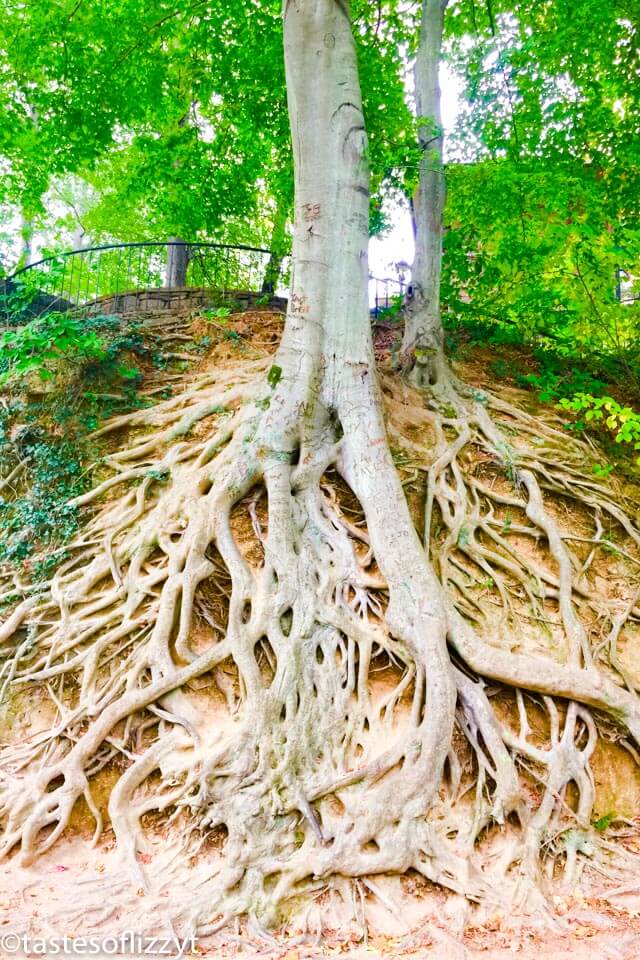 Have you ever visited Greenville South Carolina? I'd love to hear what you think are the best places to eat the the best things to do there. Thank you!
Read about our other family trips