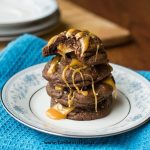 Print Recipe
Double Chocolate Caramel Cookies
Chocolate cookie dough full of chocolate chips wrapped around a Milky Way Simply Caramel Bar. Drizzle with melted caramel and sprinkle with sea salt for the fudgiest, gooeyist cookie yet!

1

cup

butter

softened

3/4

cup

granulated sugar

3/4

cup

brown sugar

2

eggs

2

teaspoons

vanilla extract

2

cups

all-purpose flour

2/3

cup

cocoa powder

3/4

teaspoon

baking soda

1/4

teaspoon

salt

2

cups

semi-sweet chocolate chips

30

Milky Way Simply Caramel bite-size candy bars
Using a stand mixer, beat together the butter, sugar, eggs and vanilla until the mixture is light and fluffy. Add in the flour, cocoa, baking soda and salt. Stir the mixture until it is well blended. Add in the chocolate chips and mix until combined. Refrigerate the cookie dough for 30 minutes.

Preheat the oven to 350 degrees. Scoop the cookie dough by teaspoons and flatten with the palm of your hand. Wrap the cookie dough around the Milky Way Simply Caramel bar so the candy is completely covered. Place on a baking sheet. Repeat this until all of the cookie dough is gone. Bake the cookies in a 350-degree oven for 10 minutes. Do not overbake.

In a small microwaveable bowl, melt the Kraft caramels for 40 seconds. Stir in the sweetened condensed milk. Continue to melt the caramels at 10-15-second intervals until they are completely melted and able to be drizzled over the cookies.

Drizzle the caramel over top the cookies, then immediately sprinkle with sea salt, if desired. The caramel will harden quickly, so do a few cookies at a time, then sprinkle the salt on top so it is sure to stick. If the caramel in the bowl gets too hard, return it to the microwave for another 10-15 seconds to remelt it and continue to drizzle.

Allow the cookies to cool completely and store them in an airtight container. These do not stack on top of each other well, since the caramel on top will stick to the bottom of another cookie. Store them in single layers.