How to Make Vanilla Extract
Tastes of Lizzy T participates in affiliate advertising programs. We may earn a commission when you make a purchase through links on our site.
Learn how to make vanilla extract, the most popular flavor in baked goods. All of your questions are answered in our complete guide.
Table of Contents
In early 2022, I started researching homemade vanilla extract. I become a little obsessive about these things and dive in headfirst (I'm still obsessed with sourdough, by the way). I had so many questions…where do you get vanilla beans? Where do I buy alcohol and what kind is best? Is it cheaper than store-bought vanilla? Does it really taste better?
If you are looking for a delicious and easy way to add depth and flavor to your baking, look no further than homemade vanilla extract. In just a few simple steps, you can create your own vanilla extract using just a few ingredients and a bit of patience.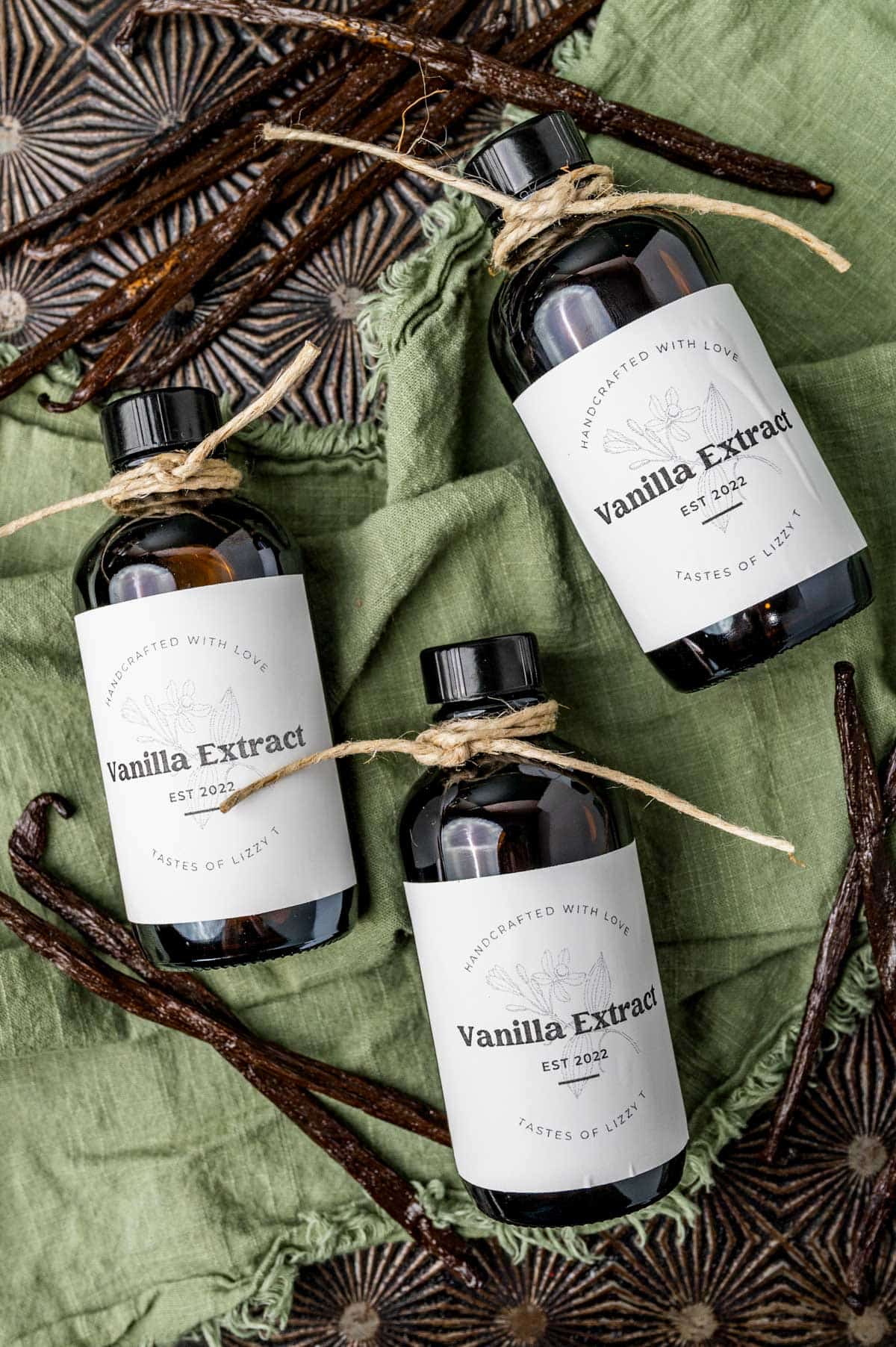 Not only is homemade vanilla extract a tasty addition to your kitchen pantry, it also makes for a thoughtful and unique homemade gift. In this blog post, I'll walk you through the process of making your own vanilla extract from start to finish, including tips on choosing the best vanilla beans and alcohol to use.
Get ready to elevate your baking to the next level.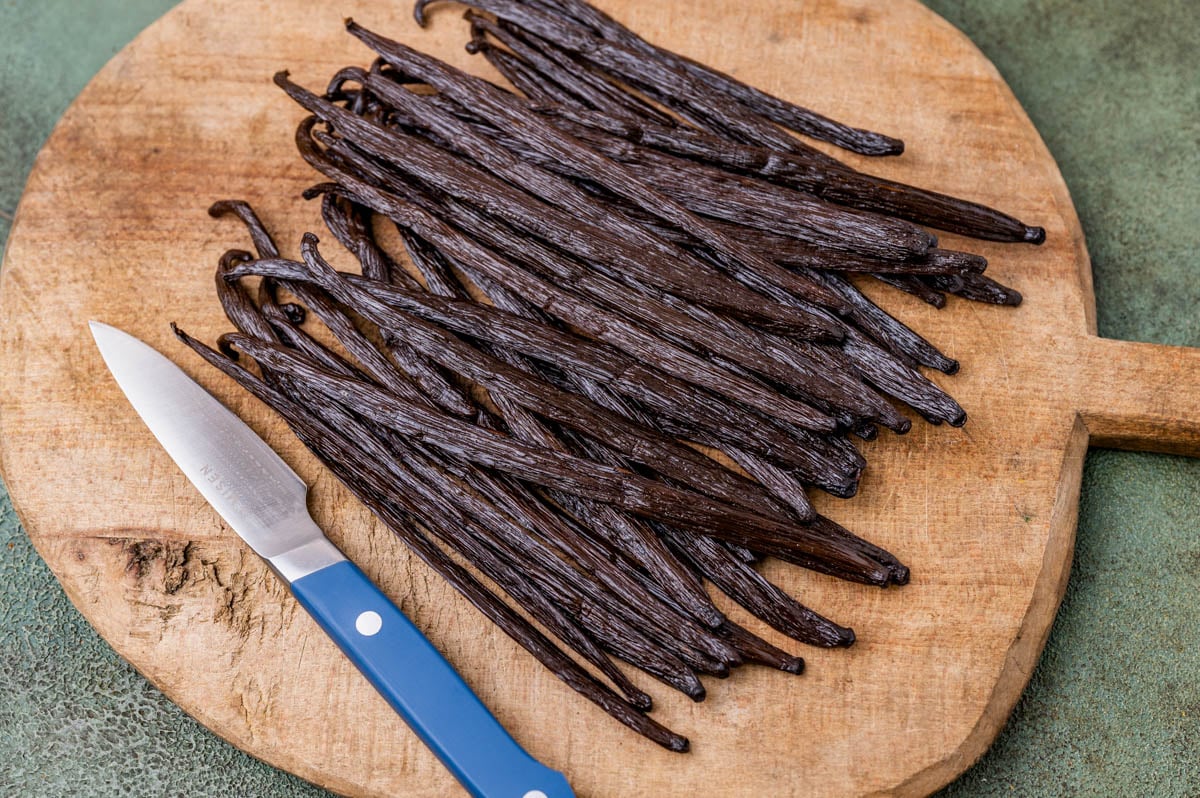 What You Need to Get Started
When you're ready to make your own vanilla extract, here's what you need:
Kitchen Scale. It's important to measure the alcohol and beans by weight to get an accurately measured extract.
Vanilla Beans. Order beans by the ounce rather than the number. You'll need 1 ounce of beans per 8 ounces of alcohol for single fold. I always do a double fold, so use 2 ounces of beans per 8 ounces of alcohol.
Alcohol. The FDA requires extracts to be 35% alcohol, which is 70 proof. However, we've found that alcohol between 80-proof to 100-proof works best and is a little faster at extracting. Popular choices are vodka, Everclear diluted with distilled water, rum and bourbon.
Glass Bottles. The original alcohol bottles, mason jars or cute swing top glass bottles. As long as it is food-grade and will seal well to prevent alcohol from evaporating, you can use it.
Time. If vanilla beans are split and cut, the beans will take at least 4-6 months to extract in a clear alcohol. If the alcohol is darker such as bourbon, it can take up to 12-18 months.
Alcohol percentage vs proof
To find the proof of alcohol, you double the percentage. So if a vodka bottle says 35% alcohol, it is 70 proof vodka.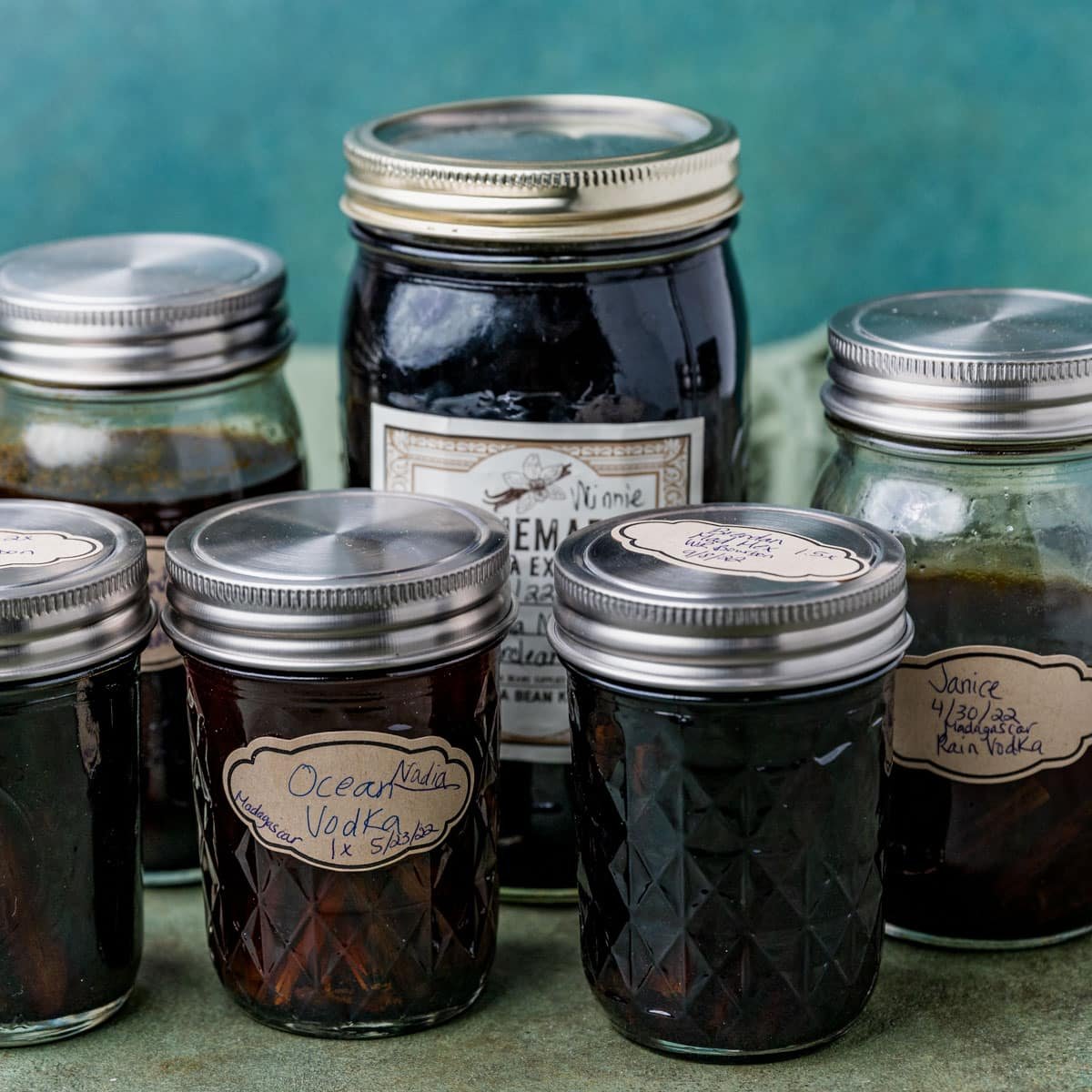 Where to Buy Vanilla Beans
In years past, I've bought a small vial holding two vanilla beans in the baking aisle of a grocery store. These would cost sometimes over $12. But last winter, I found two groups on Facebook that sell vanilla beans. Join their monthly co-op sale and get great prices on vanilla beans from all over the world that range in price from $8/ounce up to $25/ounce. I joined both groups and both have been amazing.
Indri's Vanilla Bean Group. This is the free co-op group of IndriVanilla. They have sales that they announce regularly on vanilla beans. Sometimes it is a pre-order and you have to wait several weeks or even months to get them. Other times you get the beans within a week or two, so please note that if ordering. You can find their current monthly offering in their pinned post after you join the facebook group.
Baking & Extract Making with Vanilla Bean Kings. This is the free co-op group of Vanilla Bean Kings. Their co-op sales are opened the last Thursday of each month. What I love about this group is that the vanilla beans ship right away. Many times I have them in my hand about 4 days after ordering. Which is great for an impatient person like me. 😉
Both of these Facebook groups are filled with knowledgeable people who have been making extracts for years and have done extensive testing, or pastry chefs or candy-makers. I'm warning you…if you love stuff like this it's a rabbit hole that is hard to get out of.
What Vanilla Beans are Best
Once you start hanging out in these vanilla bean groups, you'll find that there are beans from countless origins. From Hawaii to Comoros Islands to the classic Madagascar and Mexican beans, I have to hold myself back from wanting them all.
The past year I've been buying a small amount from almost every order so I can test which beans I like the best. My results are not yet conclusive, but here are a few fan favorites:
Madagascar Mexican Cure. This bean is called "Mad Mex". The "Mexican" cure is done in the sun so it is a long process. I've heard these referenced as the "holy grail" of beans. They tend to be large and have notes of cream, caramel and even chocolate. Madagascar bourbon vanilla beans are popular as well.
Hawaiian. These are pricier so they may not be ones you want to start with. They are grown in the USA on Oahu and have notes of honey and chocolate.
Mexican. Mexican vanilla beans are a classic. You've probably heard about picking up a bottle of Mexican vanilla if visiting there, right? It's because they have notes of caramel and cream and make a great extract.
Ugandan. Ugandan beans are deep flavored and earthy and can stand up to darker alcohols such as bourbon. They have notes of chocolate and smoke.
Papua New Guinea. These beans have a lighter, fruitier flavor and are great in fruit desserts. This was my first extract and I used a cheap vodka. It wasn't my favorite extract, but I'm going to try it again with a better vodka since everyone loves them so much.
Any Madagascar vanilla beans are a great place to start.
Cures and Grades
There are different cures of vanilla beans, all resulting in slightly different flavor profiles. This could be a whole article in itself and I am not an expert on it, but if you want more info on cures, see this article.
Beans also come in different Grades, such as Grade A and Grade B. Grade B vanilla beans will be cheaper and are usually smaller or drier beans than Grade A, but are still good for making extract. Many actually prefer Grade B for extracting. Grade A beans are plump, have a higher moisture content and are considered prime or gourmet beans.
What alcohol is best for vanilla?
Vodka is standard for vanilla making. The common thought is to "use a vodka you'd drink". I knew zero about alcohol varieties, so this didn't help me much. Some said to use a bottom shelf cheap vodka, so that's what I started with and honestly, I didn't love that extract. I recommend a mid-shelf vodka such as Rain or Skyy vodka. Tito's, Svedka or Kirkland Vodka are also popular.
Here are a few other options that I'm testing:
Everclear/Distilled Water. If you read the initials EC/DW, that's what this stands for. Everclear is common in vanilla making because it has no flavor at all, which lets the vanilla shine through. This liquor is usually a very high proof, so you'll have to add distilled water to bring the proof down to under 100 or the beans will burn. Scary stuff, right?! Dilute the Everclear with water 30 minutes before adding beans so that it has time to properly mix together.
Coconut Rum. This came in first place in a blind taste test by Shane Clements. The thought is that it has a natural sweetness that pairs well with the vanilla flavor. I have several extracts going in Captain Morgan's Coconut Rum. Many vanilla makers love white rum, spiced rum or coconut rum for vanilla.
Bourbon. This can be great in cakes, pies, candies and even buttery or caramel sauces. Since this is a dark alcohol, it can take longer to extract. Bourbon can also be more expensive. I've splurged on Woodford Reserve, but Maker's Mark is popular as well.
How to Make Vanilla Extract
vanilla bean calculator
If you're working with various amounts of beans or alcohol, keep this vanilla bean calculator bookmarked. It will give you exact amounts to use and has been a lifesaver for me.
The first step is to make sure you have the correct amount of vanilla beans and alcohol. Never go by the number of beans you have. Always go by weight. Some beans are so large you'll only need 2-3 to get 1 ounce. Others are smaller and take 6-8 beans to get 1 ounce.
For single fold vanilla extract, you need 1 ounce of vanilla beans to 8 ounces of alcohol.
For double fold vanilla extract, you need 2 ounces of vanilla beans to 8 ounces of alcohol.
After you've collected the beans and alcohol, there are two methods to start the extract:
Cut and Split the Beans. This is the fastest way to make extract because it opens up the center of the bean pod and exposes it to the alcohol. This is where the vanilla flavor comes from. Extract can be ready in about 4-6 months.
Whole Vanilla Beans. Another option is to use whole vanilla beans. This process takes longer (12-18 months) because the alcohol has to permeate through the bean into the center to extract the vanillin. Some use this method so that they can use the beans in a different way after extracting.
I recommend the first method, cutting and splitting the beans to allow for the most flavor and to get the end product more quickly.
Use a sharp knife to split the vanilla beans down the center and cut them in half or even thirds.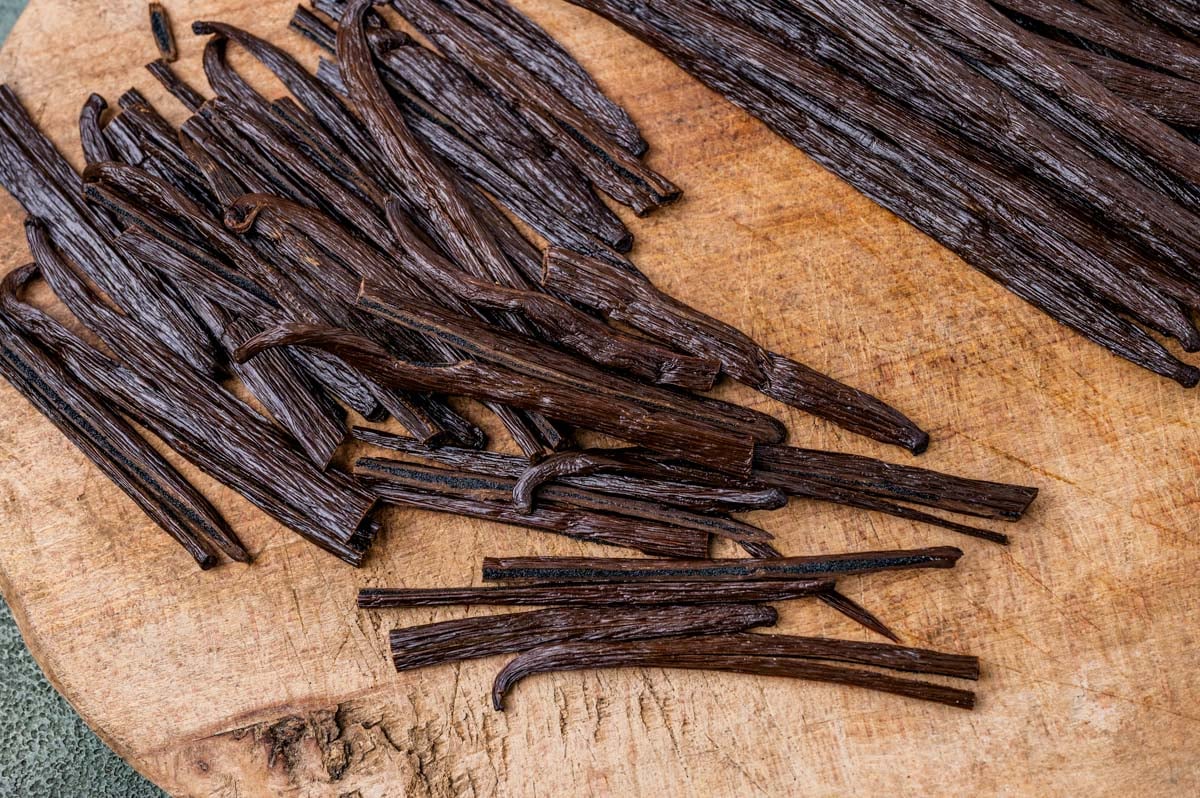 Place the beans in the alcohol.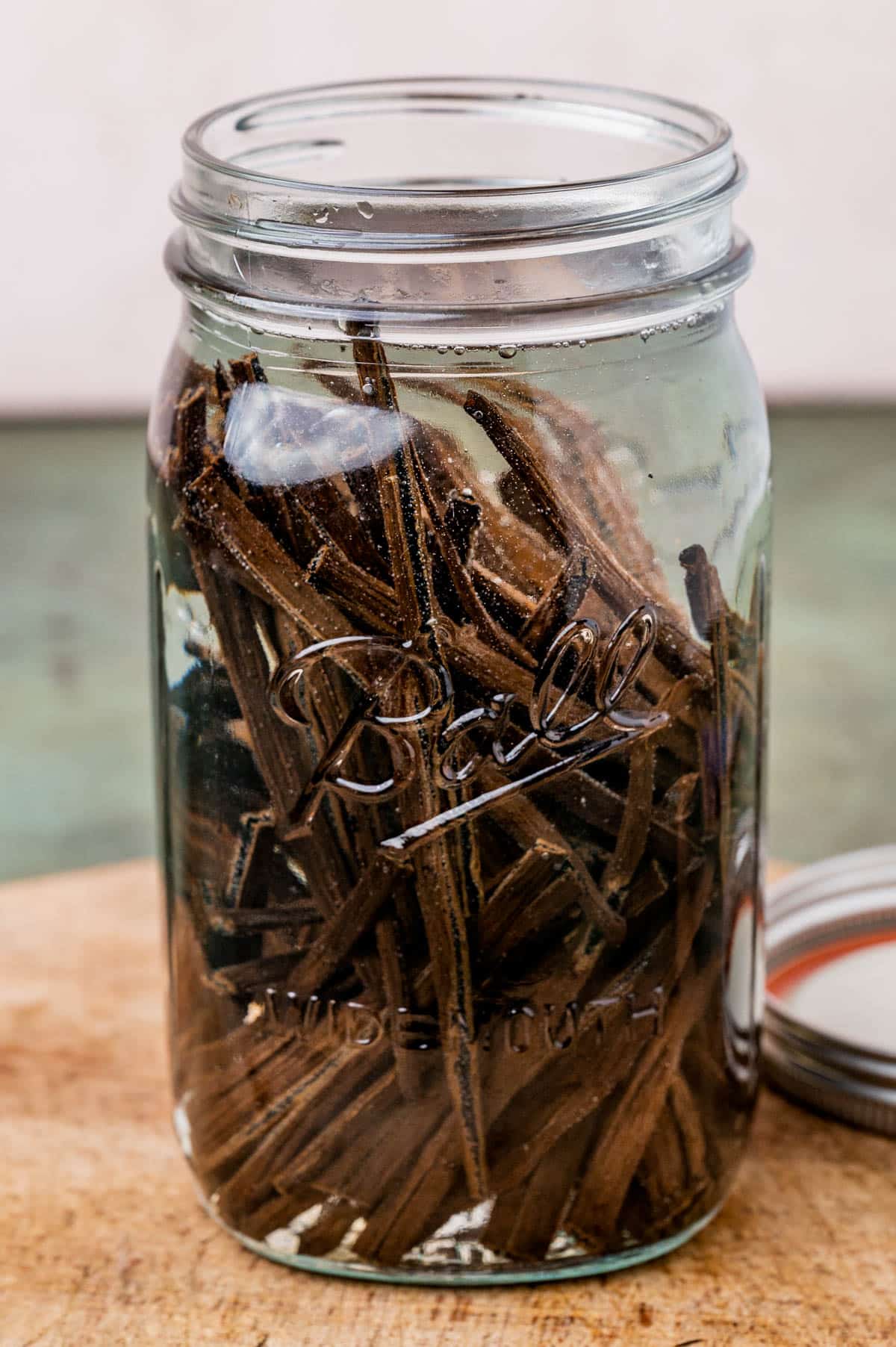 Seal the glass jar or bottle with a tight fitting lid.
Lastly, give the bottle a shake.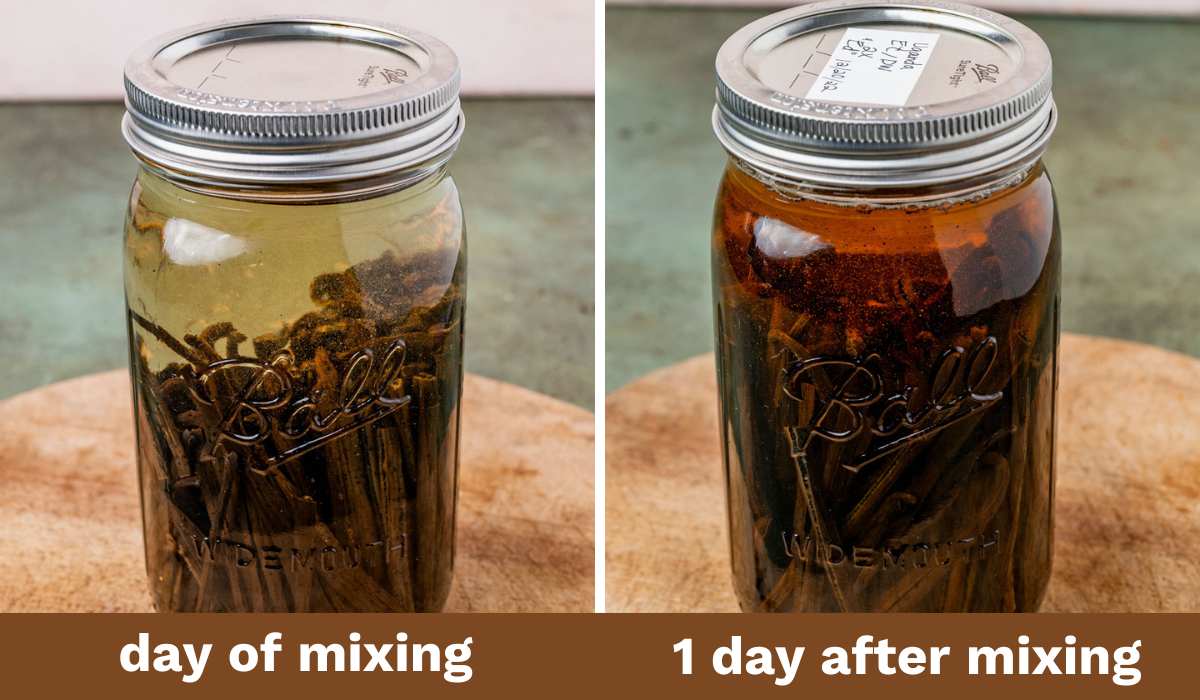 Some vanilla makers shake their vanilla bottles daily and say it helps it to extract more quickly. Others say it doesn't matter. I shake them when I think of it.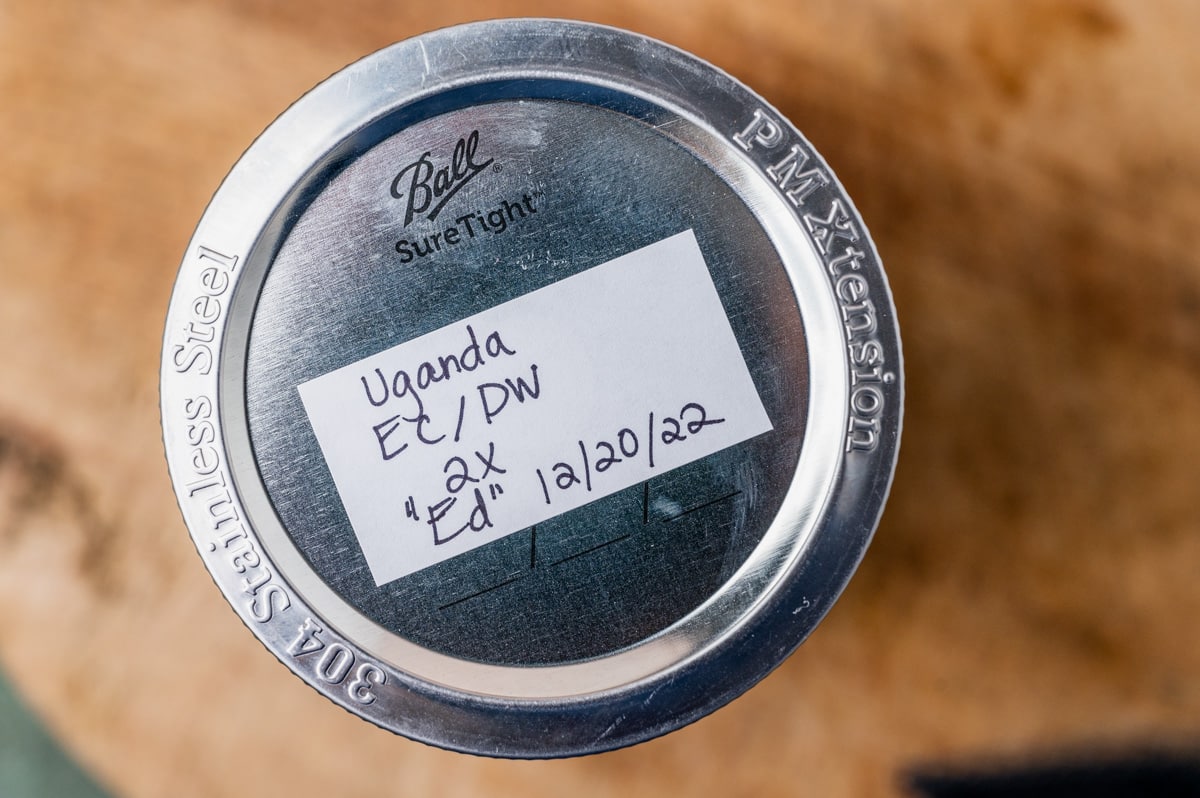 Label the Vanilla.
Whether you are making just one vanilla or multiple batches of vanilla extract, it is important to label the vanilla with the following information:
The date you started the extract.
The type of alcohol used.
The type of vanilla bean used.
What "fold" of vanilla it is.
Then if you gift some to a friend, you know exactly what you used. And if you make multiple varieties you can keep them straight.
I name my extracts and keep a notebook with all the details. Just for fun. 🤩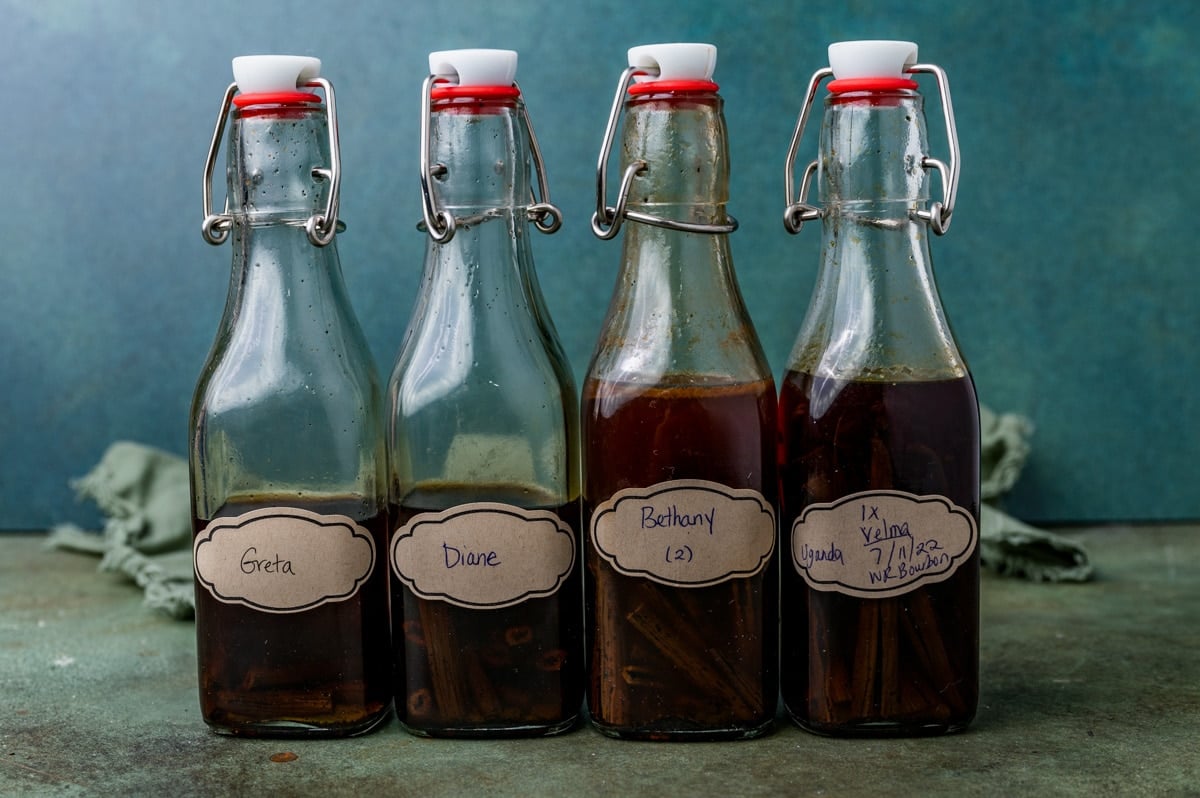 Storage Instructions
It's important to store vanilla in glass containers out of direct sunlight in a dark place. I have my vanilla downstairs in our storage room. A cupboard works well, too.
How to Test Vanilla to See If It's Ready
So if vanilla takes months to make, how do you know if it is ready to use? Tasting vanilla extract can be a bit of a challenge, especially if you are not familiar with the process.
There are a three key hints to keep in mind when tasting vanilla to ensure that it is done.
The vanilla should have a strong, rich aroma that is characteristic of the extract. This can be difficult to gauge if you are new to tasting vanilla, so it may be helpful to compare it to a store-bought bottle of extract to get a sense of the scent.
The flavor of the vanilla should be smooth and well-rounded, with no bitterness or off notes.
The consistency of the vanilla should be thick and syrupy, rather than thin and watery. Homemade vanilla is often much thicker than commercial vanilla.
There are a couple of common ways to test vanilla:
Whip ¼ cup of heavy cream, 1 tablespoon of powdered sugar and ½ teaspoon of vanilla extract. Whip it until it holds peaks like whipped cream, then taste.
Drop some vanilla extract on a sugar cube and taste.
Stir ½ teaspoon of vanilla into a ¼ cup of milk.
How to Bottle Vanilla Extract
Bottling vanilla is one of the fun parts of this process, whether you are giving it as a gift or keeping it for yourself.
4-ounce and 8-ounce bottles are popular sizes for bottling. You can use dark amber bottles or flip top bottles as long as they are food grade.
I don't strain the vanilla because I like the look of the caviar, but you can strain it if you'd like. Otherwise, pour the extract carefully through a funnel into the bottle, then seal it with its cap.
Use a printed label or handwritten label for the front of the bottle. Or you can use twine or ribbon to tie a tag around the top of the bottle.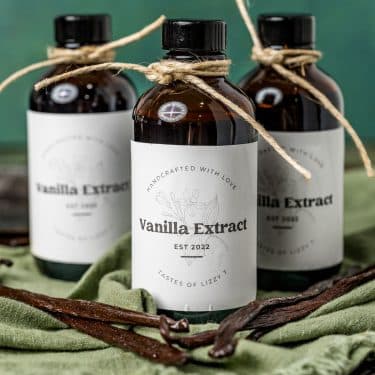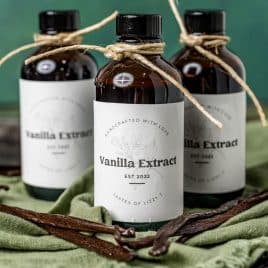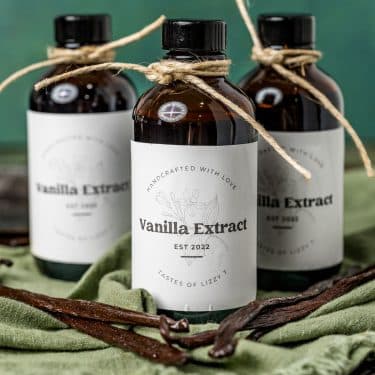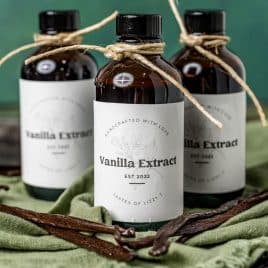 How to Make Vanilla Extract
Learn how to make vanilla extract, the most popular flavor in baked goods. All of your questions are answered in our complete guide.
---
Equipment
mason jar or glass bottle
Ingredients
1

ounce

whole vanilla beans

8

ounces

80-proof vodka*
Instructions
This recipe makes a single fold vanilla. I prefer a double fold vanilla, which means you would use 2 ounces of vanilla beans to 8 ounces of vodka.

Cut the vanilla beans down the middle. You can slice them completely in half lengthwise, or simply cut a slit down the center to expose the middle of the bean.

Cut the beans in half the opposite way so that they are now half the original length.

Use a funnel or measuing cup with spout to pour the alcohol into a food grade glass bottle.

Then add the split vanilla beans to the alcohol.

Seal the jar or bottle with a tight lid.

Give the jar a shake, then place it in a dark cupboard or out of direct sunlight.

Allow the jar to sit for at least 4 months, shaking the jar either daily or as you think of it. It's not 100% important to do this, but it can help the extraction process.

Test the vanilla in some milk, whipped cream or on a sugar cube to see if it is ready to use.
Notes
There are 48 teaspoons in 8 ounces of vodka.
The calories shown are based on the recipe making 8 ounces of vanilla extract, with one serving being 1 teaspoon of extract. Since different brands of ingredients have different nutritional information, the calories shown are just an estimate. **We are not dietitians and recommend you seek a nutritionist for exact nutritional information. The information in the nutrition box are calculated through a program and there is room for error. If you need an accurate count, I recommend running the ingredients through your favorite nutrition calculator.**
Nutrition
Calories:
11
kcal
|
Sodium:
0.05
mg
|
Potassium:
0.05
mg
Is homemade vanilla extract worth it?
So now that I've gone through the specifics, is the whole process worth it?
I do a lot of homemade baking and love to bake for others as well. I like to find little secret ingredients to make my cookies, cakes and pies just a little bit special. I like people to say, "What did you put in this to make it taste so good?"
Homemade vanilla extract helps me with this. Different bean varieties have varying flavor tones, plus the alcohol you use can add a hint of flavor as well.
If you're going to have fun with it, love to experiment with baking and want to try different flavored beans and alcohols, then yes, it's worth it.
Is it cheaper to buy or make vanilla extract?
I'll be honest. If you're just a casual baker, it's probably cheaper to buy pure vanilla extract than it is to make it. However, here's the January 2023 current pricing of a few popular brands:
Costco: Kirkland pure vanilla extract is my go-to because it is good and you can buy it in bulk. The price changes regularly, but the current price is $32.99 for 32 ounces.
Neilsen-Massey: This brand of vanilla is thought to be one of the best. But because of that, you'll pay for it in cost. For the same amount as Costco, 32 ounces, the price is currently $96.43.
Homemade: For 32 ounces of alcohol, you'll need a 1 full 750ml bottle plus ¼ of another bottle. Prices vary widely with alcohol, but a popular choice is Captain Morgan's Coconut Rum (I'll explain below). That's about $10 worth of alcohol. A common popular vanilla bean is Madagascar Bourbon cured, which I get for $8 an ounce. To make a double fold of vanilla (which is a great flavored, high quality vanilla), you'd need 8 ounces of beans. So $64 in beans + $10 in alcohol….the total is $74. And obviously a single fold vanilla would be much cheaper.
So you can see, if you want a good strong vanilla in large amounts, homemade is a good choice. Vanilla prices vary widely though, so keep that in mind as you make decisions.
What store brand vanilla is best?
If after reading that price breakdown you decide not to make your own extract, here's what I recommend:
For the best flavor: Neilsen-Massey Pure Vanilla Extract. This is known in my baking and vanilla groups as the best store-bought vanilla extract. Note that sugar is added as an ingredient. Get a small bottle and see what you think.
A cheaper option but still good flavor: Rodelle Pure Vanilla Extract. It's deep, smooth and smells amazing.
Most economical: Before making my own vanilla, I bought pure vanilla extract at Costco. It comes in a large bottle and is great for those who do a lot of baking.
Frequently Asked Questions
Can I refill the bottles with more alcohol as I use vanilla?
The professionals do not recommend this. If you add more alcohol, you'd have to start the extraction process over, otherwise you have vanilla flavored alcohol.
Can the vanilla beans be reused to make more extract?
Many people use extracted beans for a second extract. They use the same amount of beans with half of the alcohol (1 ounce of beans to 4 ounces alcohol). I have not done this and instead dry my used vanilla beans to make vanilla powder.
What can I make with used vanilla beans?
I dry the vanilla beans after they are extracted, then grind them with a spice grinder to make vanilla powder. Add this vanilla powder to ground coffee for brewing or you can add it to sugar to make vanilla sugar.
Should I strain vanilla extract?
You can strain it if you'd like, it's just your preference. Commercial vanilla is smooth and clear. Homemade vanilla will have caviar. I don't strain mine, but do what you'd like.
Can I make non-alcoholic vanilla?
I have not personally done this, but there are resources that show how to make vanilla with vegetable glycerine.