Savor the simple delight of homemade Cinnamon Butter, an easy recipe that blends sweet butter, cinnamon, and a hint of vanilla. It's ideal for special occasions or everyday treats.
Today we're sharing a heartwarming recipe for one of my favorite things: Cinnamon Butter. It's as easy as it is delightful. This lightly sweetened spread, with its hints of vanilla and warming cinnamon, is the perfect accompaniment for your breakfast french toast, sweet banana bread, or fluffy dinner rolls.
In just 5 minutes you'll have a batch of this special occasion-worthy compound butter. We love making a double batch of cinnamon sugar butter because as it sits in the refrigerator the flavors meld together beautifully, enhancing everything from your morning toast to your holiday spread.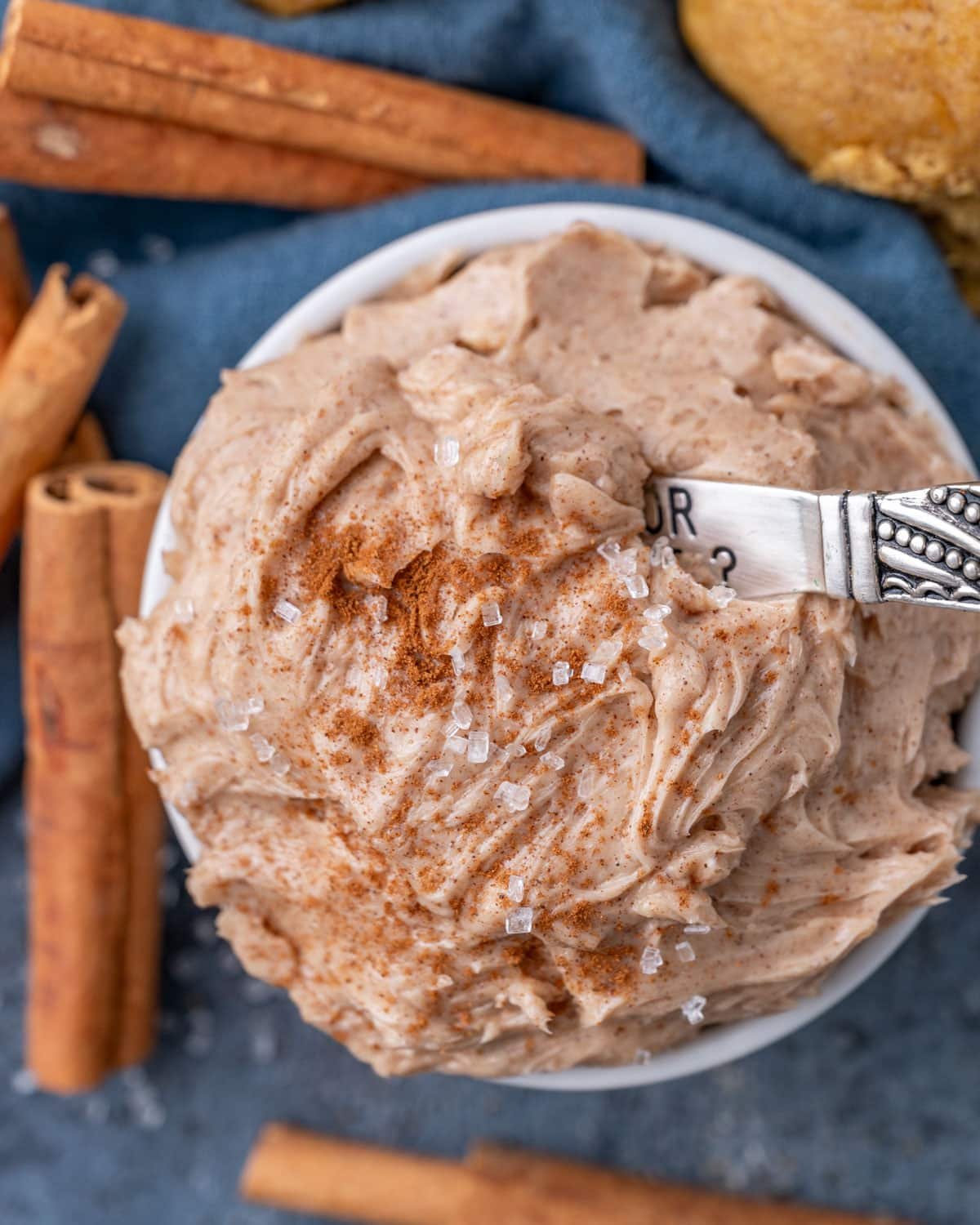 What readers are saying:
⭐️ ⭐️ ⭐️ ⭐️ ⭐️ Bethany says, "OMG! This was so easy, and it turned out so good. I've been paying $5 for an 8oz container of this stuff at the grocery store, and now I'm wondering why when it's so easy to make! Thank you!!"
Cinnamon Sugar Butter Ingredients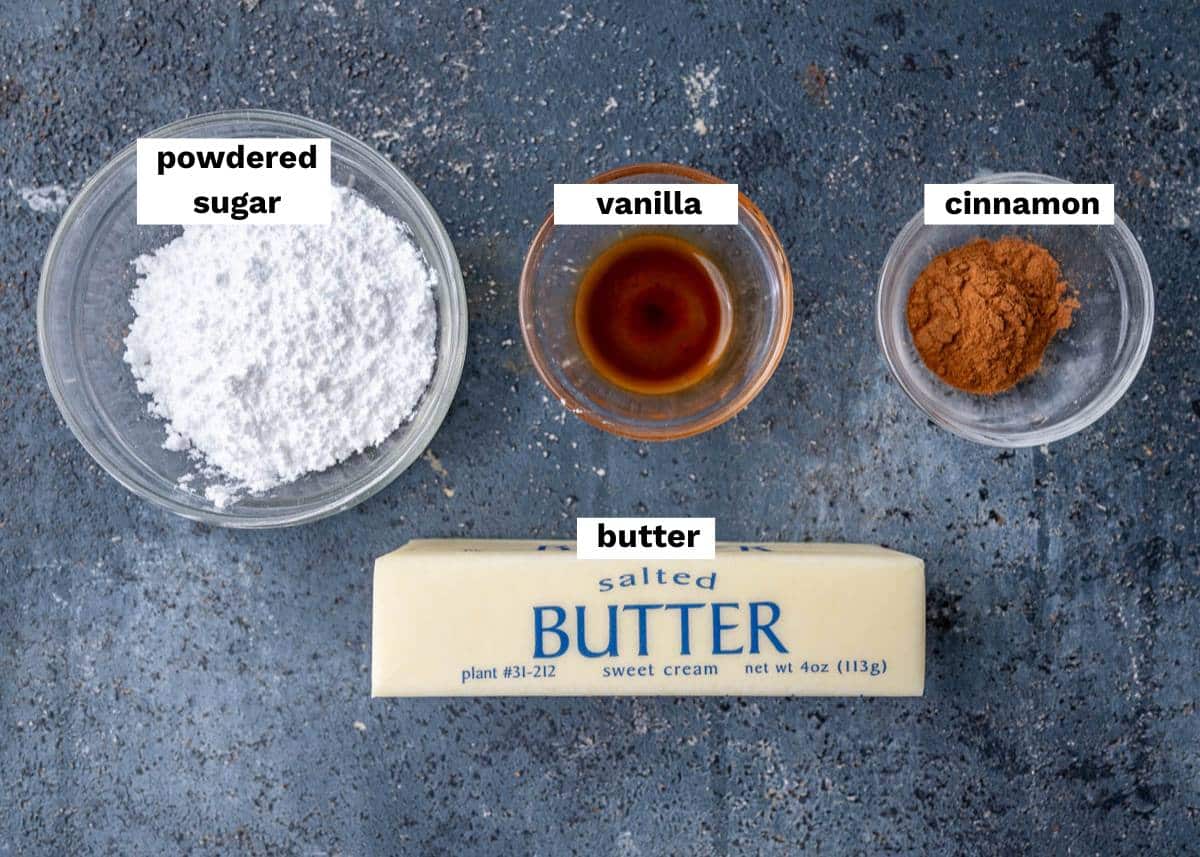 This homemade cinnamon butter recipe is made with pantry staple ingredients.
Butter. Although many compound butter recipes call for unsalted butter, salted butter is ok in this recipe because it balances the sweet. Plus, I always have salted butter on hand. If you only have unsalted butter, add a pinch of salt. Also, use real butter for the best results. Land O Lakes is a great brand.
Powdered sugar. An easy way to get the best results for the perfect sweetness.
Cinnamon. I buy Saigon cinnamon, for this butter and all of my cinnamon rolls.
Vanilla extract. Pure extract, or make vanilla extract at home. 😋
Benefits of Using Room Temperature Ingredients
A simple, yet crucial step in making cinnamon butter is to use room temperature ingredients. You might be tempted to speed things up by using butter straight from the fridge, but a little patience goes a long way here.
When your butter is at room temperature, it blends more smoothly and evenly with the cinnamon and powdered sugar, ensuring that every spread of this butter is perfectly creamy and flavorful.
Pro tip
If you're in a bit of a hurry, cut the butter into smaller pieces and let it sit out at room temperature for about 20-30 minutes. This way, it'll warm up quicker without compromising on the texture we're aiming for.
Step-by-Step Mixing Instructions
Here's a step-by-step guide to make your very own batch of heavenly cinnamon sugar butter.
Beginning the Blend: First, add the room temperature butter into a medium-sized mixing bowl. It should be softened butter, but not at all melted.
Adding the Sweet and Spicy: Next, sprinkle in the cinnamon. Here's where you get that classic, warming cinnamon aroma that makes this butter so irresistible. Then, gently pour in your powdered sugar. Remember, we're going for sweet, but not overwhelmingly so. Adjust according to your taste preference.
A Dash of Vanilla: Now for my favorite part – vanilla extract. Just a half teaspoon takes this butter to the next level.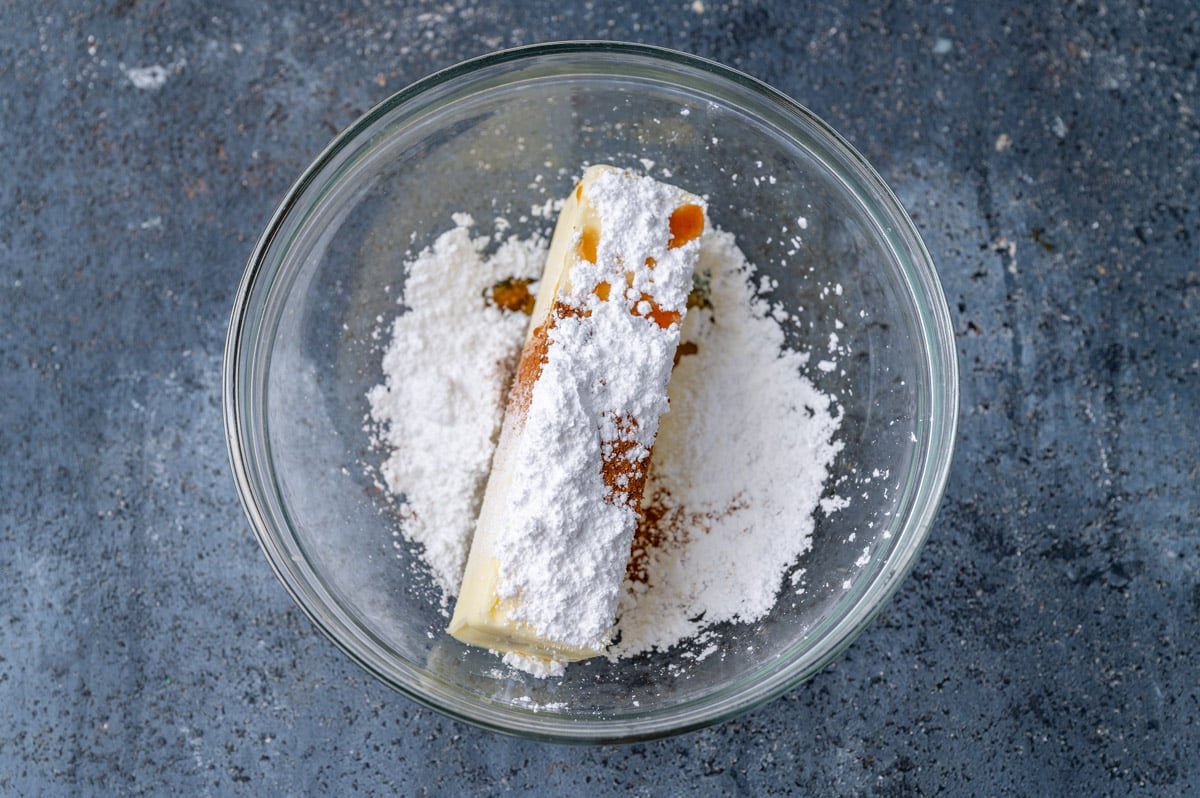 Mix It Up: Using an hand mixer or stand mixer, start on a low speed to prevent the powdered sugar from spraying everywhere. Once the sugar starts to incorporate, increase the speed slightly and mix until everything is beautifully combined and smooth. It usually takes about 2-3 minutes.
Pro tip
After mixing, use a spatula to scrape down the sides of the bowl and give it one final stir by hand. This step ensures every bit of butter is equally flavored. If you find the mixture a bit too thick, feel free to add a tiny splash of milk or heavy cream. But just a bit!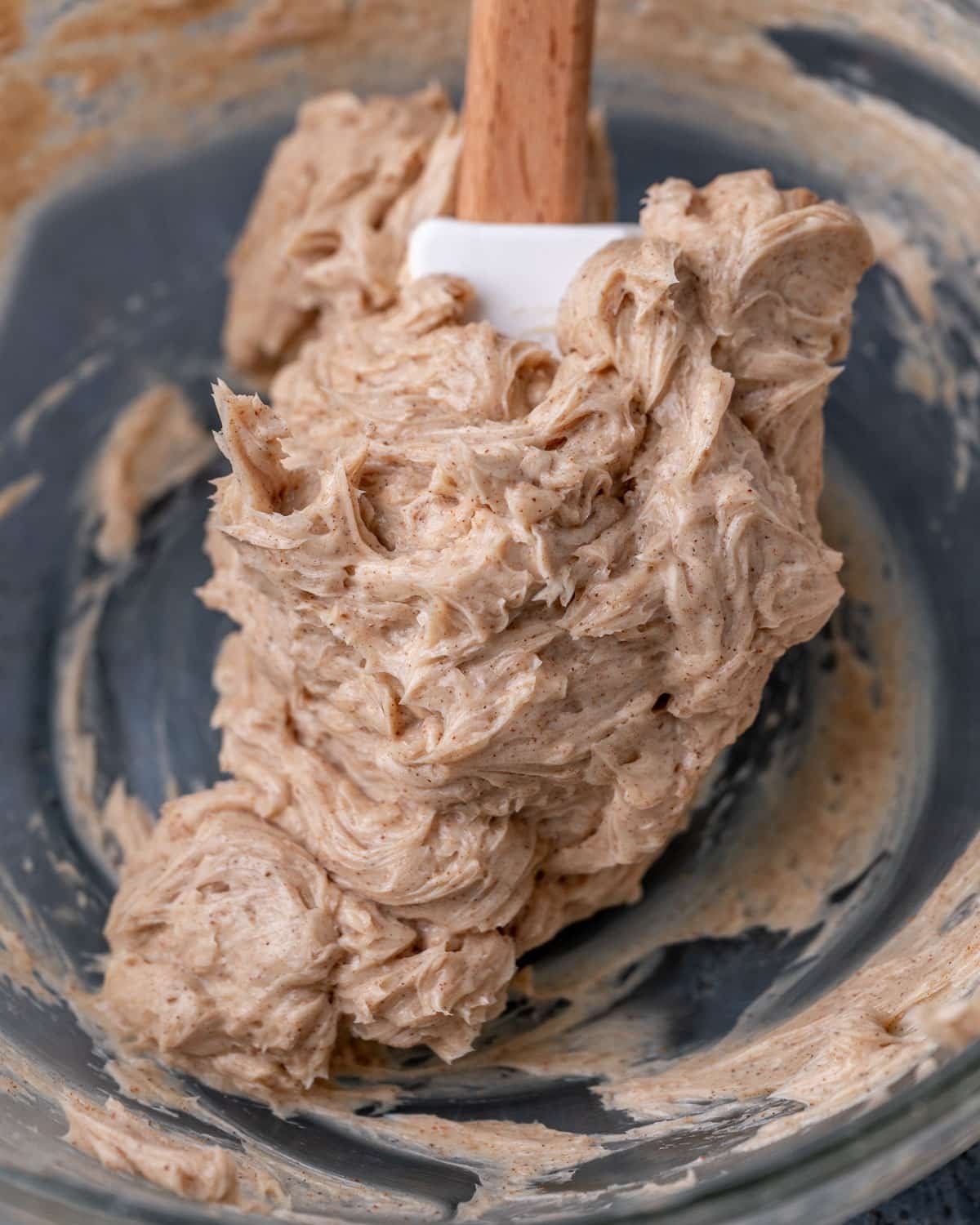 Now, don't forget the most important step – the taste test! Grab a spoon and give it a try. Feel free to adjust the cinnamon or sugar to suit your taste. You can even add maple syrup or a little honey for a honey cinnamon butter.
Serving Suggestions
Here are some of my favorite ways to incorporate this sweet butter into your meals: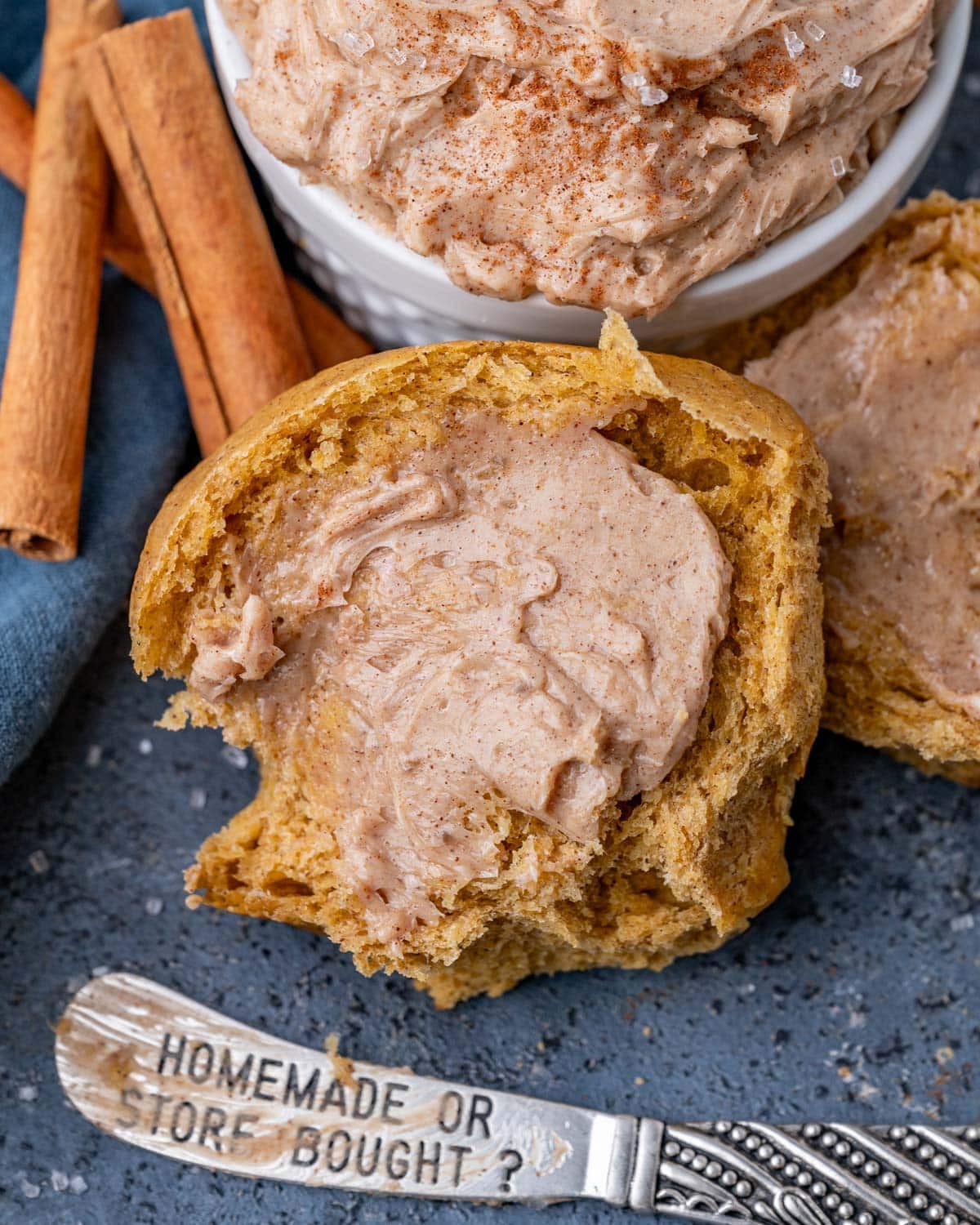 Storage Instructions
In the Fridge: Place the cinnamon butter in an airtight container before popping it in the refrigerator. This is crucial to prevent the butter from absorbing odors from other foods. In the fridge, your cinnamon butter will stay good for up to two weeks.
Consistency is Key: If you're planning to use the butter, take it out of the fridge a little while beforehand. This way, it comes back to a nice, spreadable consistency. Room temperature butter is always easier to spread and richer in flavor.
Freezing for Longevity: Yes, you can freeze cinnamon butter! Wrap it tightly in plastic wrap and then place it in a ziplock bag. When you're ready to use it, thaw it overnight in the refrigerator, then bring it to room temperature. Frozen cinnamon butter can last for several months.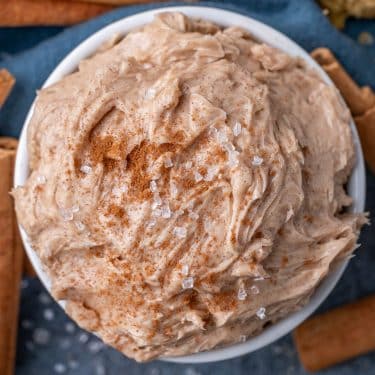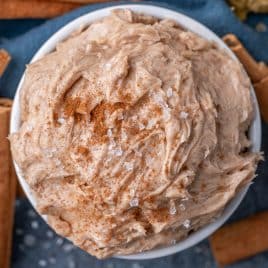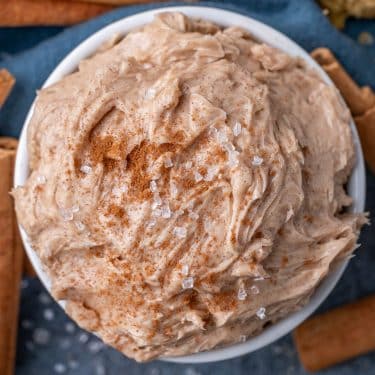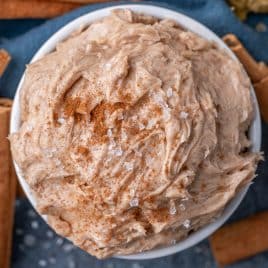 Cinnamon Butter
Homemade Cinnamon Butter Recipe that is lightly sweetened. Perfect for pancakes, toast, homemade bread, pumpkin rolls or homemade biscuits.
---
Ingredients
1/2

cup

salted butter

room temperature, 4 ounces

1/2

teaspoon

vanilla extract

1

teaspoon

cinnamon

3-4

tablespoons

powdered sugar
Instructions
Combine all of the ingredients in a medium mixing bowl.

Mix the butter using a hand mixer or stand mixer until the butter is smooth and the ingredients are mixed in very well. This will take about 2-3 minutes.

Store the cinnamon butter in an airtight container in the refrigerator.
Notes
Refer to the article above for more tips and tricks.
The calories shown are based on the recipe serving 8, with 1 serving being 1 tablespoon of butter. Since different brands of ingredients have different nutritional information, the calories shown are just an estimate. **We are not dietitians and recommend you seek a nutritionist for exact nutritional information. The information in the nutrition box are calculated through a program and there is room for error. If you need an accurate count, I recommend running the ingredients through your favorite nutrition calculator.**
Nutrition
Calories:
115
kcal
|
Carbohydrates:
3
g
|
Protein:
0.1
g
|
Fat:
12
g
|
Saturated Fat:
7
g
|
Polyunsaturated Fat:
0.4
g
|
Monounsaturated Fat:
3
g
|
Trans Fat:
0.5
g
|
Cholesterol:
31
mg
|
Sodium:
91
mg
|
Potassium:
5
mg
|
Fiber:
0.1
g
|
Sugar:
3
g
|
Vitamin A:
355
IU
|
Vitamin C:
0.01
mg
|
Calcium:
6
mg
|
Iron:
0.03
mg