Buttery Soft Rolls are the best and simplest homemade rolls ever. They're super soft and perfect with any soup, salad or main dish.
I don't know about you, but I'm a sucker for buttery, sweet, soft delicious rolls. I go to restaurants that serve fresh bread and I just want to eat and eat and eat the rolls. I fill myself before the meal even comes!
I'm sure I'm not the only one like this, right?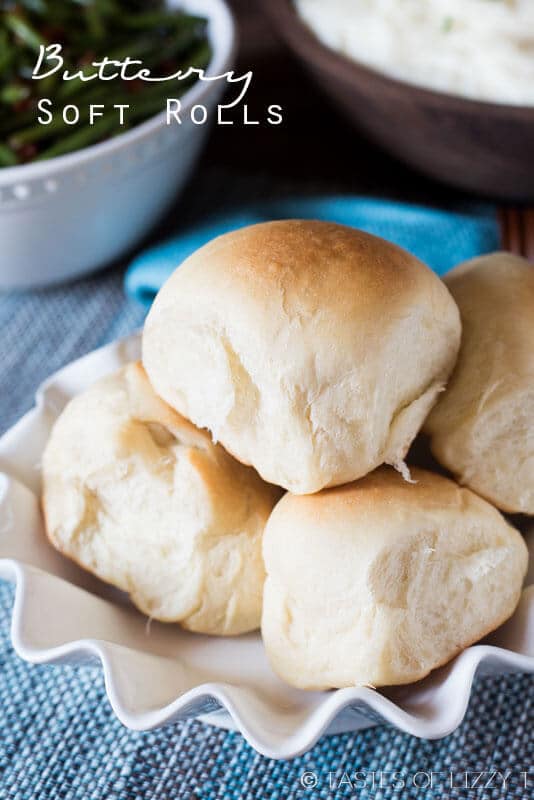 Buttery Soft Dinner Rolls
I had shared with you our comforting chicken and noodles, and I thought to myself, I need to post our famous rolls!
These Buttery Soft Rolls aren't really famous as "worldwide famous", but they are definitely famous in our family. These rolls get requested at holiday meals, but we like to make them as much as we possibly can.  The soft, slightly sweet, rolls are the perfect final touch to your meal at home.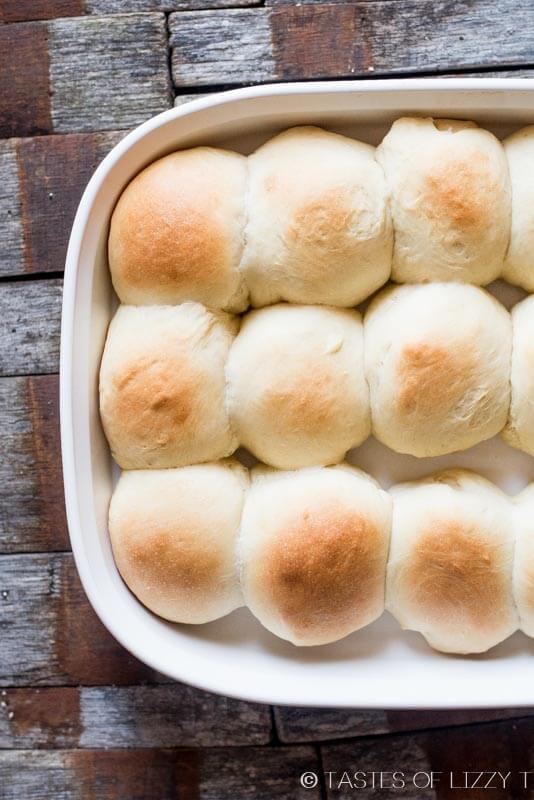 How to Make Homemade Rolls
Here are the steps to making soft dinner rolls:
First, put the softened butter, warm milk, and yeast in a mixing bowl.  Here's our little secret about the warm milk and softened butter. Take a 2 cup measuring cup, add 1 cup of milk and 1 stick of butter. Warm this up in the microwave for about 50 seconds.  You end up with….warm milk and softened butter.  Brilliant, I know. 🙂
Make sure the milk isn't too hot or it will kill the yeast. If you have a cooking thermometer, you can test it. The temperature should be somewhere between 95°F and 115°F.
Sprinkle the yeast over the warm milk. There's two key things here. Make sure your yeast is fresh. If you find a packet in your cupboard and aren't sure when you bought it, throw it out and get a new yeast packet. Your homemade bread will thank you.
The other thing about yeast is to use instant yeast. That means there is no "letting the yeast activate". If you don't have instant yeast, use your active dry yeast and let it sit in the warm milk for about 5 minutes until the yeast activates. Either way works! Read about different types of yeast here.
Add the salt, sugar, eggs and flour.
Using a Stand Mixer to Mix Dough
In your stand mixer, mix these ingredients with the paddle attachment just a few seconds until combined.  Then let this mixture sit for 5 minutes. This just helps the dry ingredients to absorb the wet ingredients thoroughly.
Replace the paddle attachment with the dough hook and mix on medium speed for 8-10 minutes.
It's important to note that the dough will be a little sticky. Please do not be tempted to add more flour. Trust me on this. The dough should not be "wet", but it will be slightly sticky. It still won't be hard to handle.
**Tip: The stand mixer is a great "hands off" way to knead dough, but what if you don't have one? Simply knead the dough by hand. Just be sure that you don't add too much flour as you do this. The dough should feel tacky to the touch.**
How long to knead bread dough?
How do you know when you've kneaded bread dough enough? You should be able to pull up and stretch the dough without the dough breaking apart. This is called the "window" test. Gently spread the dough between your fingers and you should be able to get it thin enough to see through (without breaking).
How do you make dough rise?
Next, move the dough to a large greased bowl, cover the bowl and let the dough rise for about 30 minutes or until doubled.
The key to this is to place the dough in a warm place. This could be next to a sunlit window. It could be in the oven with the oven light on. You can even allow your bread dough to rise in a slow cooker.
Whichever way you choose, just remember to be patient.  Humidity and temperature can affect your bread making. So be patient and give the yeast time to do its work.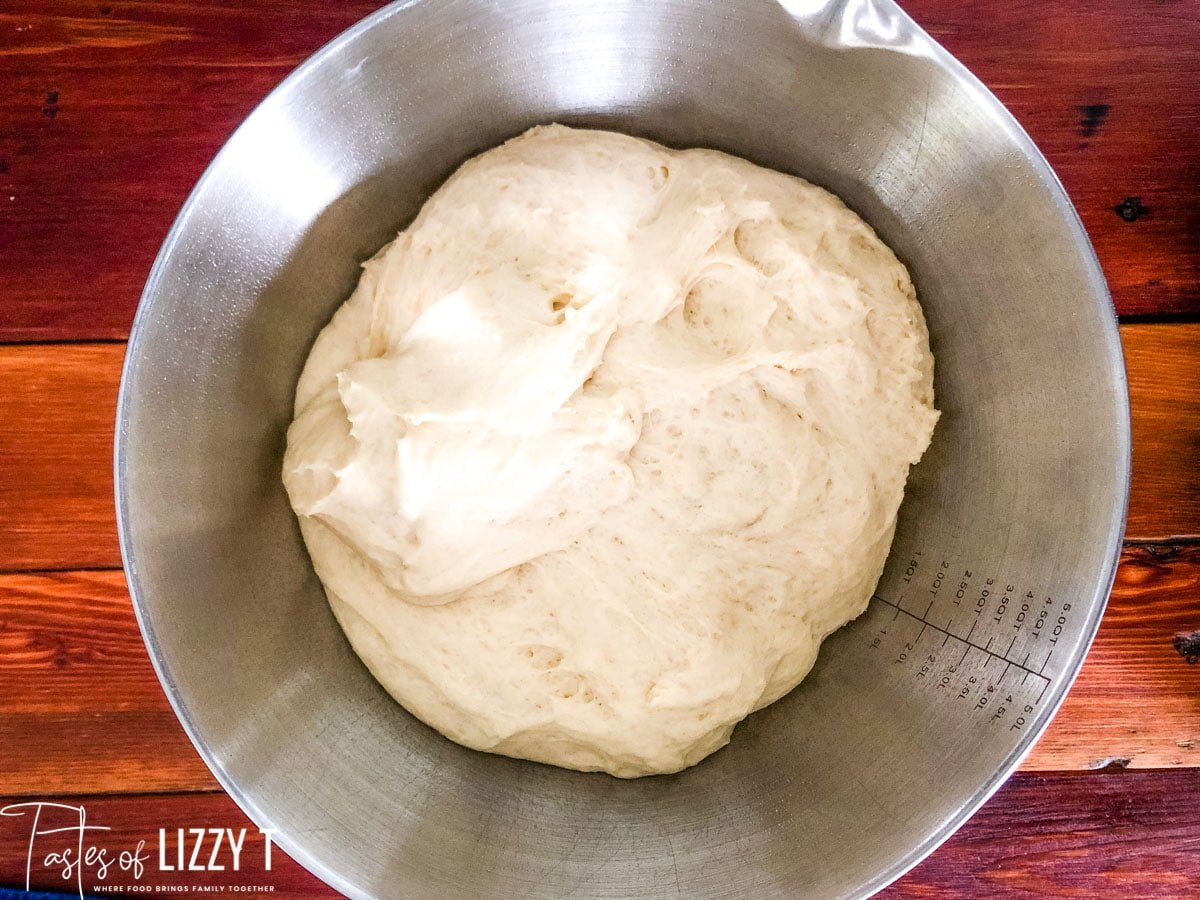 How much dough per dinner roll?
Divide the dough into 15-18 balls. Use a little over ⅓ cup of dough per roll. You'll end up with a few more or a few less depending on the size you want your rolls.  Place in a greased 9×13 pan. Cover and let rise for 15 minutes in a warm place.
How to Bake Dinner Rolls
Bake at 375 degrees for 13 to 16 minutes. Do not overcook…take them out when they are just barely golden brown. The exact baking time will depend on your oven, the type of pan you use (we generally use a glass pan or metal baking pan) and the size of the rolls you made.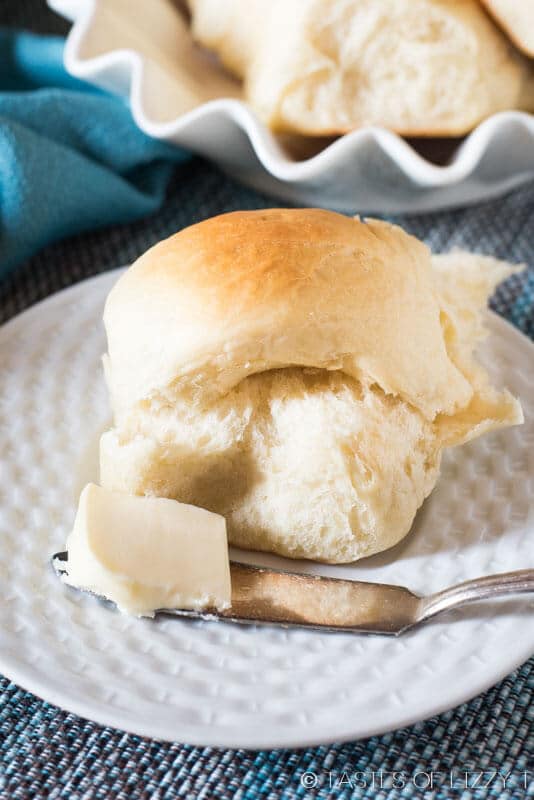 They are easy to rip apart and taste good with butter and honey. Delicious! Just beware…you may not be able to stop eating these Buttery Soft Rolls once you start!
Can you make rolls in a bread maker?
The answer to this question is yes and no.
Yes you can knead the dough in the bread machine.
No, you can't bake the rolls in the bread machine.
This recipe was originally a bread machine recipe. Just add the ingredients in the order suggested by the manufacturer of your bread machine and use the dough setting.
It's super easy this way and makes much of the recipe "hands off".
Can you make these rolls the day before?
We love to bake these rolls fresh the day we serve them, but you can make the dough the day before and refrigerate overnight.
Knead the dough and allow the dough ball to have its first rise
Shape into balls, place them in the pan and refrigerate until the next day.
Take the rolls out and let them rise again. This will take at least an hour.
Bake as the recipe suggests!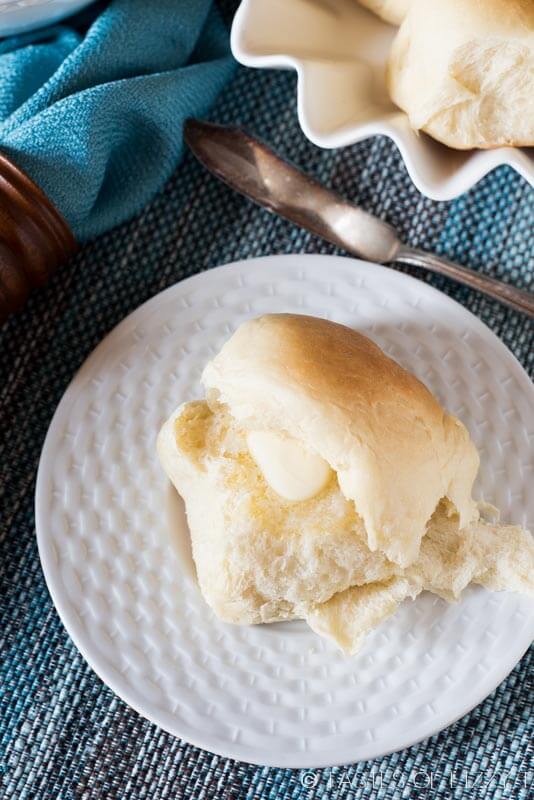 How many dinner rolls per person?
Plan for 1 ½ dinner rolls per person. This will account for people (and kids!) who want to eat more than one, and also those who may not eat any.
How do I keep dinner rolls warm?
Use dry beans to keep your dinner rolls warm! Warm the beans in the microwave. Place the dry beans in a bowl and cover them with a towel. Heat until they are warm.
Then, place the beans in the bottom of a bowl or basket. Cover the beans with a towel, then place the dinner rolls in the basket. Place another towel over the top of the rolls to keep that warmth in.
What is the best way to reheat dinner rolls?
The easiest way to reheat dinner rolls is with the microwave. Place the rolls in a bowl and cover with moist paper towels. Microwave for 20-30 seconds until the rolls are warmed.
You can also reheat them in the oven. Wrap the rolls in foil and heat in a 350º oven for 10 minutes or until the rolls are warm.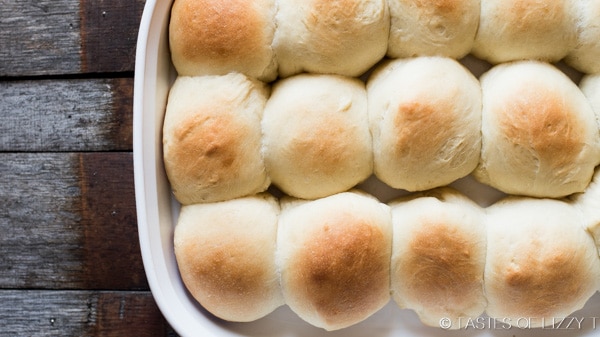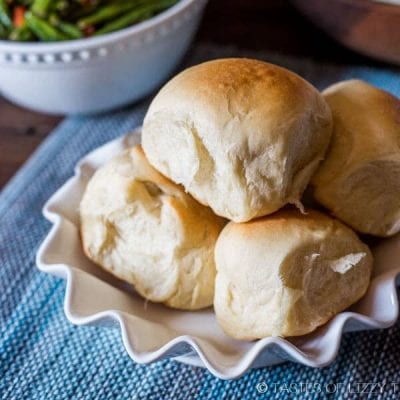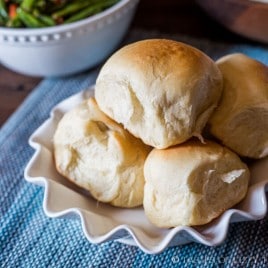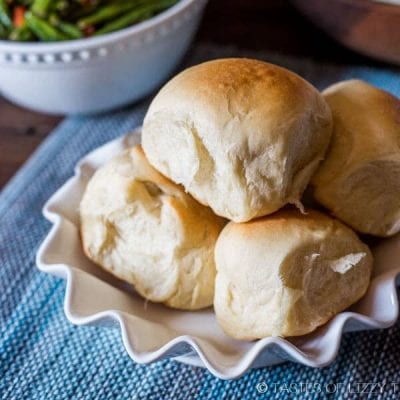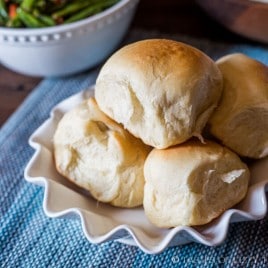 Buttery Soft Rolls
Buttery Soft Rolls are the best and simplest homemade rolls ever. They're super soft and perfect with any soup, salad or main dish.
Prep Time
1
hour
15
minutes
Total Time
1
hour
28
minutes
---
Ingredients
1

cup

warm milk

(2%)

1/2

cup

salted butter

softened

1/4

cup

granulated sugar

2

large

eggs

room temperature

1/2

teaspoon

salt

4

cups

all-purpose flour

2 1/4

teaspoons

instant dry yeast

1 package
Instructions
Put the milk (95-115 degrees Fahrenheit) and the butter in the bowl of a stand mixer. Sprinkle the yeast over the milk. (If the yeast is not instant yeast, let it sit for 5 minutes to activate.)

Add the sugar, eggs, salt, and flour. With a paddle attachment for your stand mixer, mix for a few seconds until just combined. Let this mixture sit for about 5 minutes.


Switch the attachment to the dough hook and knead on medium speed for 10 minutes.


Cover the dough and let it rise in a warm place for 30 minutes or until doubled.


Divide and roll dough into 15 balls. You may have more or less depending on the size you make the rolls.


Place in a greased 9x13 pan. Cover and rise for 15-20 minutes.


Bake at 375 for 13 to 16 minutes or until lightly browned.

Notes
*You can make this bread without a stand mixer. Simply mix and knead by hand. Be sure not to add extra flour when kneading by hand. The dough should be sticky.
*You can also use a breadmaker. Simply add the ingredients to the bread machine according to manufacturer's instructions. Use the dough setting, then prepare the dough as indicated above.
The calories shown are based on the recipe making 15 rolls, with 1 serving being 1 roll. Since different brands of ingredients have different nutritional information, the calories shown are just an estimate. **We are not dietitians and recommend you seek a nutritionist for exact nutritional information.**
Nutrition
Calories:
209.22
kcal
|
Carbohydrates:
29.61
g
|
Protein:
4.97
g
|
Fat:
7.71
g
|
Saturated Fat:
4.48
g
|
Cholesterol:
46.02
mg
|
Sodium:
149.97
mg
|
Potassium:
67.57
mg
|
Fiber:
0.9
g
|
Sugar:
4.27
g
|
Vitamin A:
256.27
IU
|
Calcium:
29.43
mg
|
Iron:
1.68
mg
Recipe From Taste of Home