Serve freshly baked rolls at short notice with these Homemade Brown 'n Serve Rolls. They're soft and fluffy with a golden brown top.

Homemade Brown 'n Serve Rolls Recipe
Thanksgiving is such a busy holiday. But its also one of the best! In our family, Thanksgiving is a way to connect with our family and give thanks for how much we are blessed with. Our family doesn't have many Thanksgiving traditions, aside from all sitting down at the table and enjoying a feast together. And when I say feast, I mean FEAST. We aren't the only people in our family who love to bake. So when we all collaborate together to make pies, cookies, casseroles, and whatever else we might think of, we end up with a colossal dinner too much for all of us to put down! What are some of your favorite Thanksgiving traditions? And, more importantly-What is one Thanksgiving food you couldn't live without?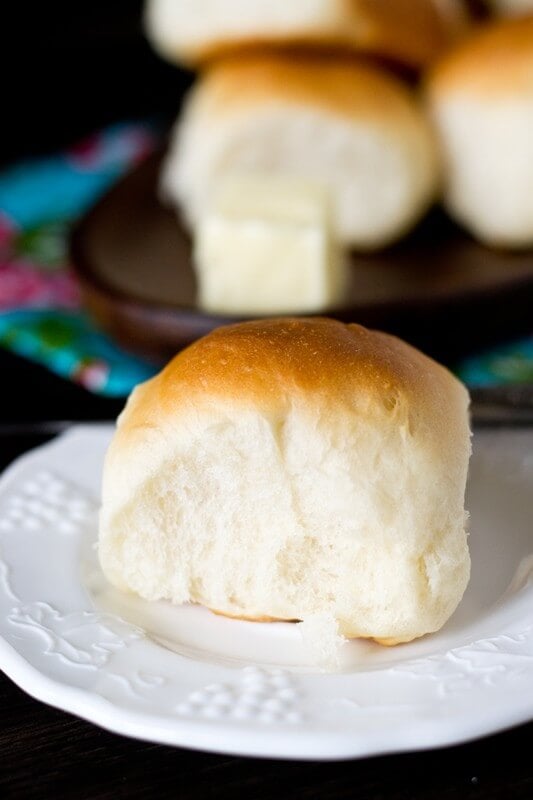 A Thanksgiving key item is my mom's homemade rolls. A soft, fluffy roll on my plate will make my Thanksgiving Day dinner! I know some of you are really busy during the holiday season and use brown 'n serve rolls for Thanksgiving. Those are definitely easy and delicious, too. You really can't go wrong with warm rolls, am I right?
Make Ahead Dinner Rolls
What we want to propose to you is a way to have real, homemade rolls that you don't have to take the time to make the day of Thanksgiving. We found this recipe for brown 'n serve rolls in an old Amish cookbook that allows you to bake your rolls halfway, then freeze and bake the rest of the way when you need them. You'll end up with fresh, homemade rolls in just minutes, anytime you'd like. Genius, right?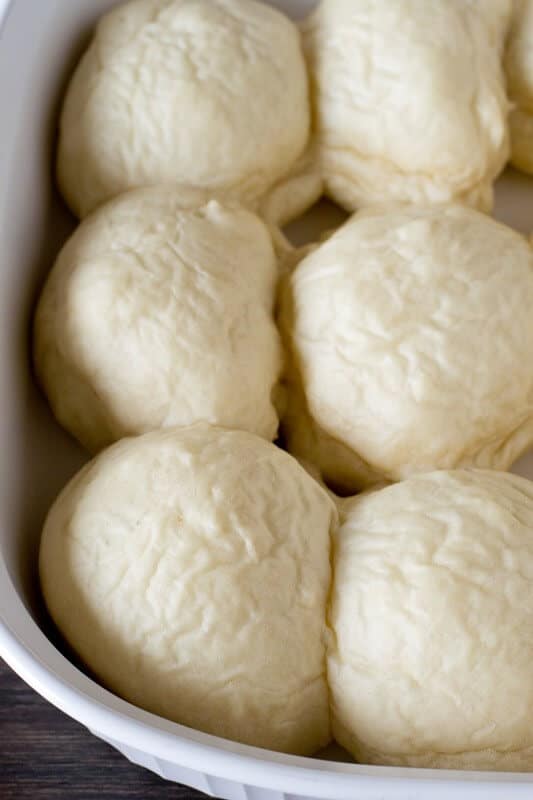 What water temperature for activating yeast?
If you're unsure about making your very own yeast rolls, let me assure you. I used to not be that comfortable using yeast either. I always wondered- How do I know how warm enough to make the water so the yeast will activate but yet cool enough so it won't die? If you're like me, you'll want to use a thermometer to test the water to make sure your yeast will work. For this recipe, that you'll want that temperature to say anywhere from 110 to 115 degrees. Once you've tested the water a few times, you'll be able to tell just by feeling with your fingers whether the water is the right temperature or not. It's not hard at all! There are ways to know if your yeast is activating too. If it is activating correctly, it will get bubbly and frothy and start dissolving.
How to Make Brown and Serve Rolls
Because of the yeast, this dough needs to rise 3 times. I know it seems like alot of time, but that's what makes these rolls fluffy and delicious. You need that rising time to get that perfect homemade bread flavor.
After your rolls have risen, you bake them at 275 degrees for 20 minutes. The rolls should not be browned at all. In fact, they won't look a whole lot different than when you popped that pan in the oven. Allow the rolls to cool, put them in zippered freezer bags and freeze them until Thanksgiving Day or sometime when you need a freshly baked roll. When you're ready to bake them, all you'll need to do is thaw them out (about 45 minutes on the counter or in the fridge overnight) and bake at 400 degrees for 10-15 minutes. The exact time depends on how large you've made the rolls.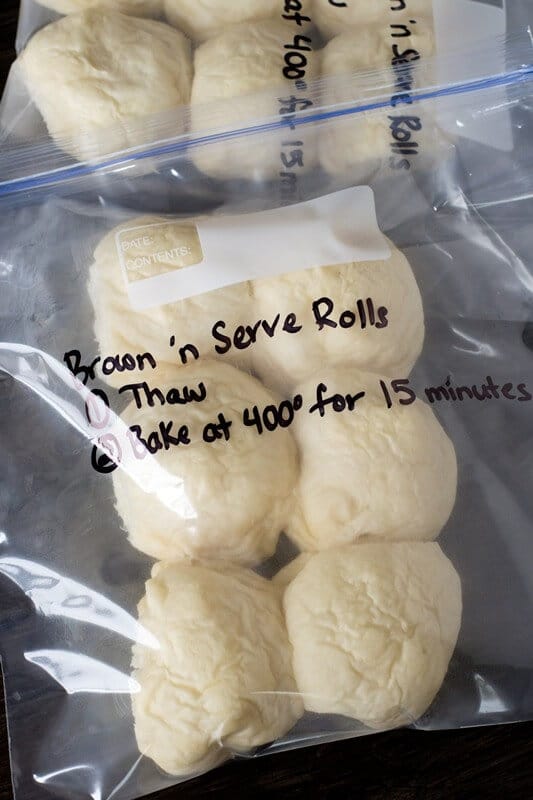 And there you have it! The ultimate homemade rolls! You or your guests won't notice that they've been in the freezer for a few days or weeks. Soft, fluffy…They're simply perfection.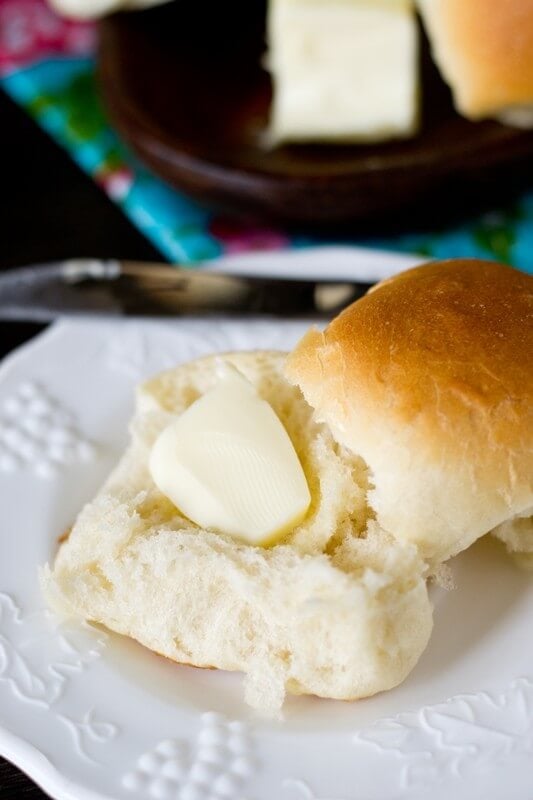 I promise, you won't be able to have just one of these Homemade Brown 'n Serve Rolls!
Homemade Brown 'n Serve Rolls
Serve freshly baked rolls at short notice with these Homemade Brown 'n Serve Rolls. They're soft and fluffy with a golden brown top.
Ingredients
1

package

active dry yeast

1/4

cup

water

1

tablespoon

sugar

1 1/2

cups

milk

5

tablespoons

granulatedsugar

6

tablespoons

butter

softened

1

tablespoon

salt

4 1/2

cups

flour
Instructions
In a small bowl, dissolve the yeast in warm water with 1 tablespoon of sugar. Let it sit for 5-7 minutes until the yeast is frothy and activated.

Heat the milk in the microwave for about 1 and a half minutes, until it is very hot. Add the sugar and butter and allow the mixture to cool for a few minutes until it is warm to the touch. Add this to the yeast mixture.

Add 2 cups of flour and mix until it makes a very soft batter. Cover and allow this to rise for 1 hour in a warm place. Add the salt and another 2 1/2 cups of flour so that it makes a a soft dough. Knead for 5-7 minutes by hand or 5 minutes using the dough hook on your stand mixer.

Put the dough in a greased bowl, cover it and allow it to rise in a warm place until double, about 30 minutes.

Punch the dough down and work it into 20-24 rolls, depending on the size you'd like. Place the rolls in a greased pan and allow them to rise until double, about another 20 minutes.

Heat the oven to 275 degrees. Bake for 20 minutes. The rolls should not be browned. Allow the rolls to cool, then freeze them in zippered bags in the amounts that you'd like.

When you are ready to bake the rolls, allow them to thaw in the refrigerator overnight or on the counter for 30-45 minutes. Bake the rolls at 400 degrees for 10-15 minutes, depending on the size of the rolls.

If you'd like, you can bake these rolls immediately instead of freezing them. If you'd like to do this, just bake them at 375 degrees for 18-20 minutes.
Nutrition
Calories:
132
kcal
|
Carbohydrates:
21
g
|
Protein:
3
g
|
Fat:
3
g
|
Saturated Fat:
2
g
|
Cholesterol:
9
mg
|
Sodium:
323
mg
|
Potassium:
47
mg
|
Sugar:
3
g
|
Vitamin A:
110
IU
|
Calcium:
22
mg
|
Iron:
1.1
mg