Secrets for Perfect Homemade Bread
Tastes of Lizzy T participates in affiliate advertising programs. We may earn a commission when you make a purchase through links on our site.
Whether you are new to making homemade bread or a seasoned baker, there is always something new to learn! Here are our secrets for the best homemade bread, plus troubleshooting topics.
I've had a passion for making yeast breads for over 20 years. I received a bread machine for a wedding shower gift and started by using the booklet that came with that. My mom's white bread recipe that we had at many family dinners made me love everything about homemade bread.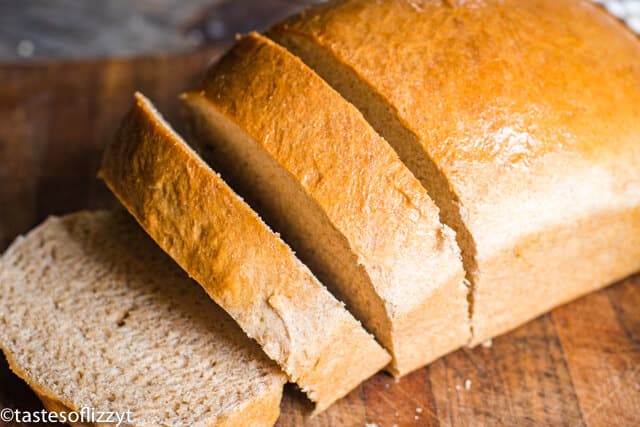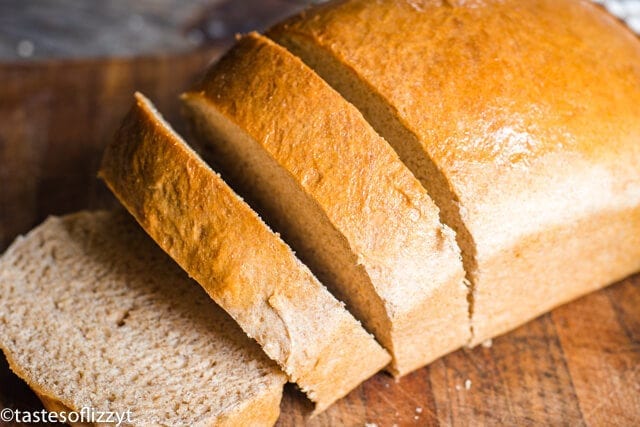 I got consistently more courageous in baking with yeast and I first conquered homemade pizza dough, then quickly moved onto dinner rolls and cinnamon rolls. Today we're sharing the tips we've learned over the past 20 years, through trial and error. We made the mistakes for you so you can have more success with your homemade bread!
Tips for Baking Yeast Breads
Use 100% butter or shortening. Do not use light butter or whipped butter.
Be sure to measure ingredients correctly, using a liquid measuring cup (clear glass or plastic cup with a pour spout, handle and measurement markings) or a dry measuring cup (plastic or metal cup with a handle in specific measured amounts such as ¼ cup, ½ cup, etc). To measure dry ingredients, spoon the ingredient into the dry measuring cup and use a knife to level it off.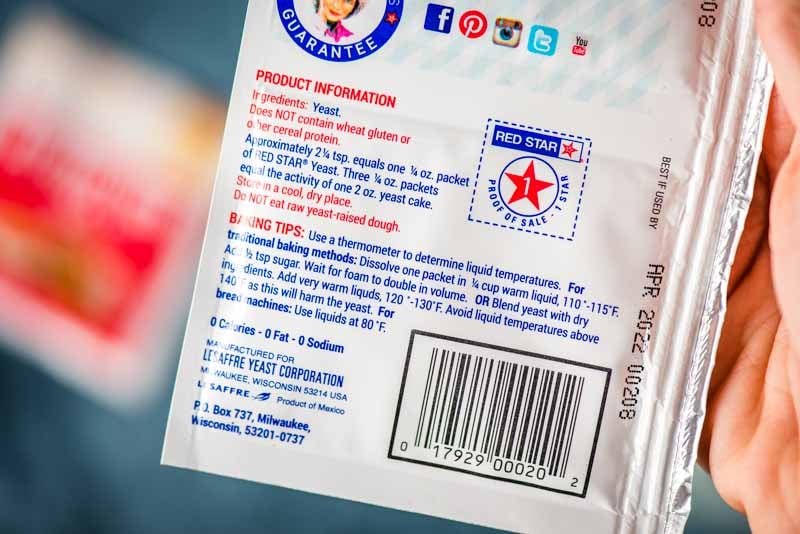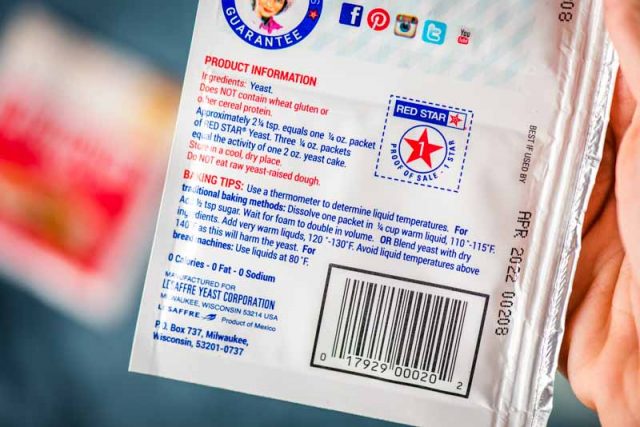 Always use fresh yeast. Check the expiration date on the package. If you've had the yeast for several months and want to ensure successful bread, buy new yeast. Read all about different types of yeast here.
When a recipe gives a range for the amount of flour to add, always start with the lowest amount. The dough should be sticky and not dry. And remember that any flour you add in during kneading counts as the total amount of flour.
The amount of flour needed can be very dependent on humidity and weather. If it is a humid day or you live in a tropical climate, you may find you need to add more flour than someone living in a dry climate.
Don't over knead the bread dough. Knead only until the dough does not tear easily when stretched.
Allow the dough to rise in a warm, draft-free area about 80-85 degrees.
Use aluminum pans with a dull finish. Glass pans or shiny metal pans will make the crust darker.
Fully preheat the oven before baking the bread. It's important the oven temperature is heating correctly. You can use an inside oven thermometer to make sure your oven is accurate. If it is running too low, you will have problems with your bread.
Bake bread in the center of the oven.
If you'd like you can test doneness with a thermometer. Bread is done when the center reaches 200 degrees F. You can also tap the top of the bread when it is almost done baking. It will sound hollow when the bread is baked through.
After the bread is done, immediately remove it from the pan and allow it to cool on a wire rack.
Allow the bread to cool completely before slicing.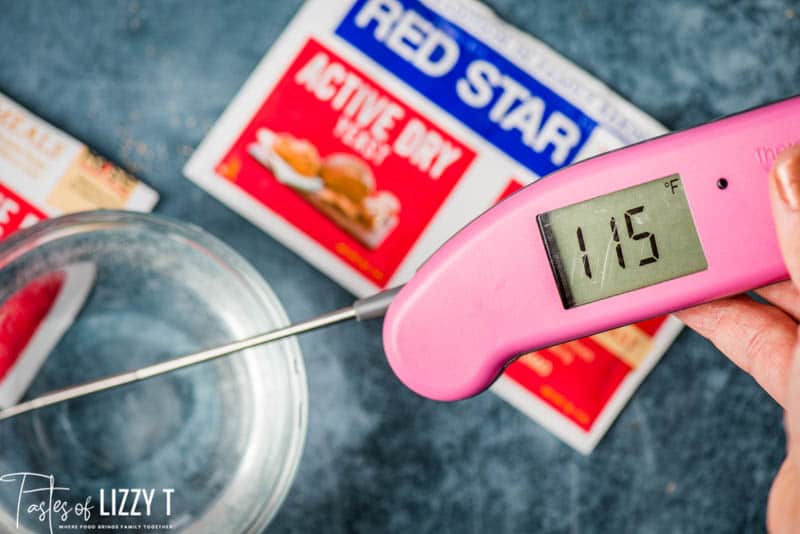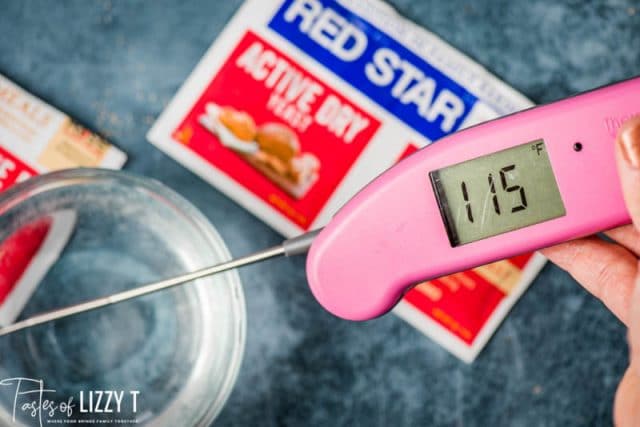 **We LOVE our Thermoworks ThermaPen to quickly water and bread temperatures. This probe thermometer is AMAZING. Get it here.**
Baking bread at High Altitudes
Use about ⅓ less yeast. If a recipe calls for one packet of yeast, try using only 1 ½ teaspoons.
Don't add too much flour! Dough should be tacky. If it is too sticky to knead with, try using oiled hands rather than floured hands to finish kneading.
Check the dough at the half way point of recommended rising time. The dough may rise more quickly so keep an eye on it.
Check the bread at least 5 minutes before the recommended baking time is complete. If the bread looks like it is getting too brown, cover the top loosely with foil so it doesn't get any more brown.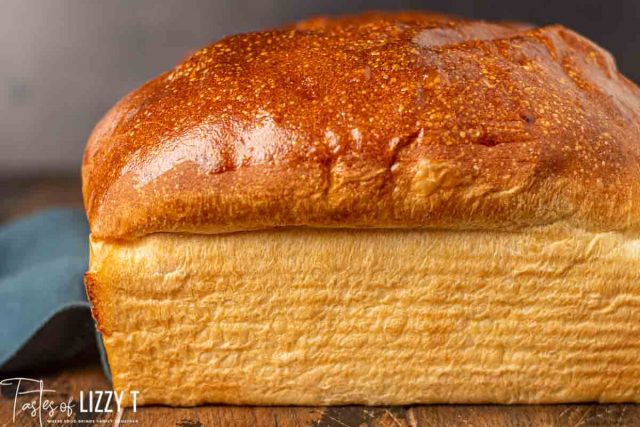 How to Get Beautiful Bread Crusts
Brush with butter, milk or oil. This will give you a brown top to your bread.
Brush with an egg wash (beaten egg with one tablespoon of water mixed in): This will give your bread a shiny golden brown top.
To keep the crust soft after baking, brush the top of the baked bread (or yeast rolls) with butter while the bread is warm.
Troubleshooting Yeast Breads
Bread didn't rise. The most likely culprit for this is an issue with the yeast. Most likely it was either not fresh or the liquids killed the yeast. It could also be that the dough was either not kneaded enough or was kneaded too much.
My bread isn't light and fluffy. If your dough is dense and heavy, it could be that there was too much liquid. Next time try adding a couple tablespoons more flour. This can also happen if the dough rises too long. You want the dough to have "oven spring" meaning it leaves the last bit of rising during the baking process.
My bread is dry. You probably added too much flour. Dough should be slightly tacky to the touch. Also, don't allow the dough to rise too much.
My bread is doughy and gummy on the bottom. The bread was most likely underbaked. Breads should be about 190º Fahrenheit internally when done. If the bread is rich in butter, milk and eggs (any sweet breads), bake it to closer to 200º Fahrenheit. Also, don't leave the bread in the pan too long. Take it out of the pan right away and let it cool on a wire rack. This will prevent the bread from being soggy.
My dough has huge holes in it. It was either not kneaded enough or when you shaped the dough, the holes did not get tightened up.
My bread sank in the center. The bread underbaked or rose too long the second time.
My bread is crumbly. Too much flour or too high oven temperature is most likely the culprit.
Our Favorite Bread Recipes