Cake mix may seem like an unlikely place to find an amazing cinnamon roll recipe, but these irresistible glazed Cake Mix Cinnamon Rolls are easy to make and versatile.
If you're looking for a twist on regular cinnamon rolls that's both incredibly tasty and surprisingly simple to make, you've come to the right place. This Cake Mix Cinnamon Rolls recipe transforms a humble box of white cake mix into something truly magical, creating fluffy cinnamon rolls that are soft and bursting with sweet, spiced flavors.
This recipe makes two pans of gooey cinnamon rolls for a total of 24 rolls, so you can gather the whole family together. I'll highlight the differences and what a cake mix adds to a cinnamon roll below.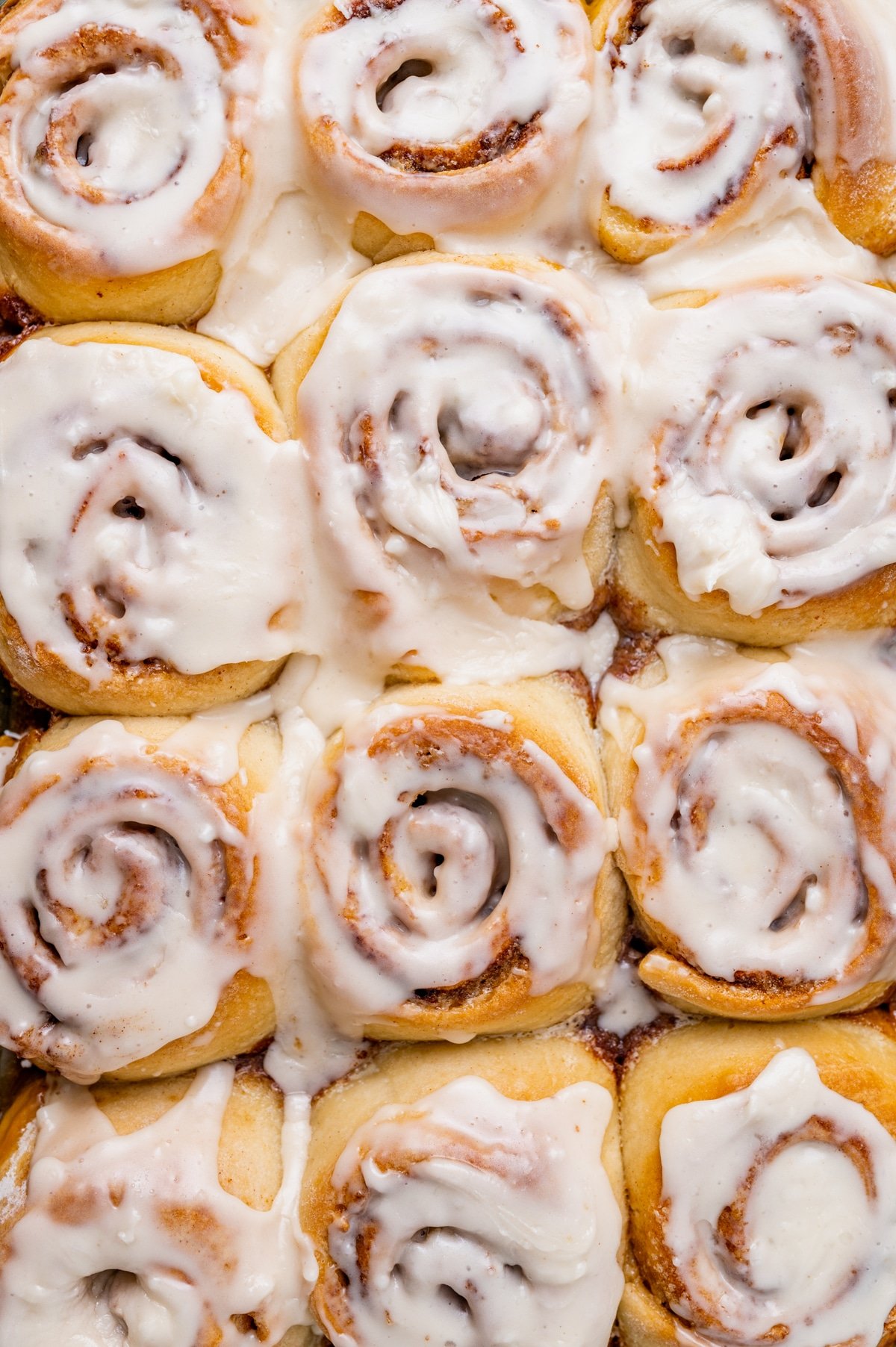 Why you'll love this Cake Mix Cinnamon Rolls recipe:
Flavor: This is made with a cake mix, but if you use a white or yellow cake mix, you'll have that traditional cinnamon roll flavor you know and love. Sweet, warm cinnamon and topped with a vanilla glaze.
Texture: The extra leavenings in the cake mix cause these rolls to be lighter and softer than our traditional recipe. They are definitely not "cake like" because they still have yeast, but think more of "biscuit" like that you can easily cut with a fork.
Method: Just because this is made with a cake mix does not make it a "quick" recipe. It's still homemade and will need time to rise. I'll give instructions for rising the dough overnight. Use a stand mixer to knead the dough, or knead by hand. I don't recommend a bread machine for this recipe since there is so much dough.
You may also love our easy cinnamon roll cake recipe!
Why use a cake mix for cinnamon rolls?
If you're going through all the trouble to make homemade cinnamon rolls, why use a cake mix? It's a valid question, but here's a few thoughts:
Cake mix allows you to easily add flavor to the dough itself. Imagine lemon, spice cake, strawberry or even red velvet cake mixes.
Cake mix "extends" the recipe. You may have heard of the WASC cake that adds ingredients to a box cake mix to make a larger amount of cake batter. This is similar, but you're adding cake mix to cinnamon roll dough which will give you enough cinnamon rolls to make two full pans.
You may simply have a cake mix in your pantry that needs used. This is a great option for something other than cake.
Can you use any flavor of cake mix?
Yes! Get creative and think up different flavor combinations for a fun twist. Use a boxed cake mix that makes a traditional 9×13″ cake. Brands are constantly changing the size of the boxes, but the mix I used was 15.25 ounces.
It's important to note that since you're adding more ingredients to the cake mix, the cake batter flavor might be decreased slightly. So cinnamon rolls made from a lemon cake mix might have a hint of lemon rather than a strong lemon flavor.
Which yeast is best for cinnamon rolls?
There are two general types of yeast you can buy in the store: active dry yeast or instant yeast. I like to use instant yeast for cinnamon rolls and most of my other baking, too. With instant yeast, you do not have to proof the yeast. Mix the yeast into the other dry ingredients and add to liquids that are 120-130ºF.
If all you have is active dry yeast, sprinkle the yeast over the warm milk, but if the yeast goes right on top the milk, the milk should be about 110ºF so it doesn't kill the yeast. Allow the yeast to froth for 5 minutes, then continue with the recipe (making sure the melted butter isn't over 110ºF either).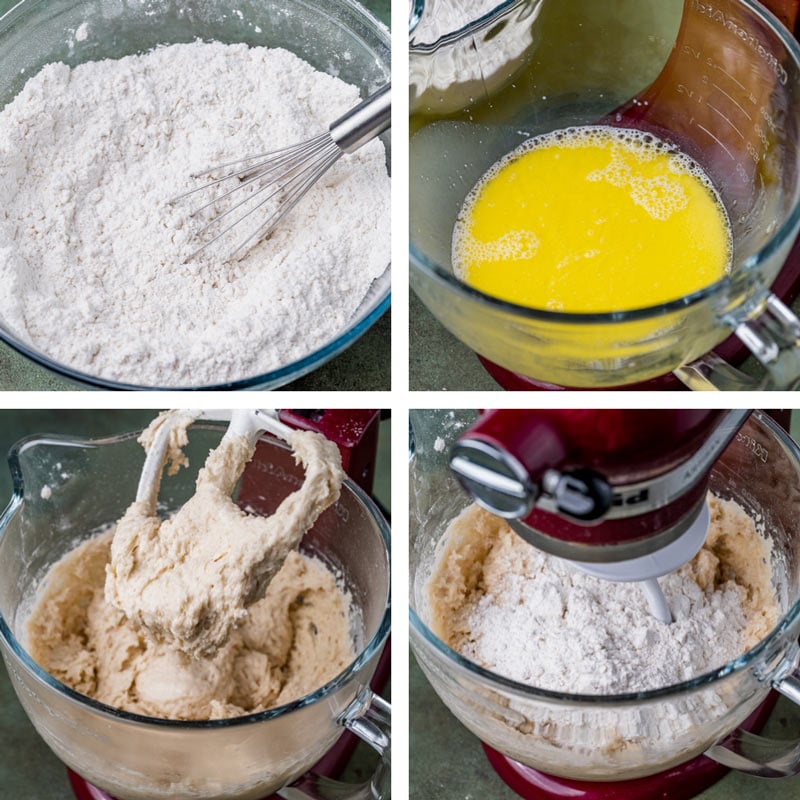 Tips for Making Cake Mix Cinnamon Rolls
Be sure that your milk is warm to activate the yeast, but not too hot so that it kills the yeast (about 120-130ºF degrees Fahrenheit is good for instant yeast). You'll also want to warm the butter so it is soft and mixes in easily. But again, the butter should not be over 130º Fahrenheit. I use salted butter, but unsalted butter works well too.
In the video I use a stand mixer to mix the dough. Or, go the old-fashioned route and get those hands working by kneading the bread without a mixer. Any way works. If you decide to knead by hand, be careful not to add too much flour. The dough is supposed to be tacky, which is what keeps these rolls soft.
Don't add too much flour. Start with 4 cups (spoon the flour into the measuring cups and level it with a knife), then while the dough is kneading, add ¼ cup more flour at a time. The dough should be slightly tacky to the touch. A dry dough will lead to dry cinnamon rolls. The dough will be tacky and soft. It shouldn't completely stick all over your hands, but if you touch it should feel tacky and not dry and floury. Don't be tempted to keep adding flour!
This dough rises twice. Once right after kneading and then again after you roll the cinnamon rolls. Read our tips on all about how to get dough to rise.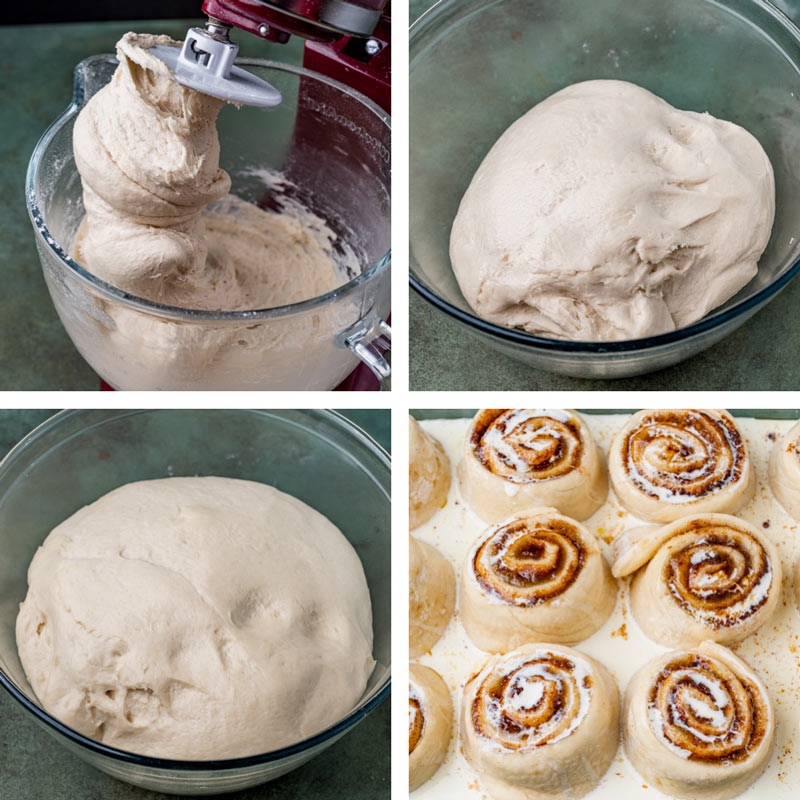 The Secret Ingredient
Just as I did for my original Cinnabon copycat recipe, I poured heavy cream over the rolls after they rose and before they baked. You'll need one cup of heavy cream split between the two 9×13″ pans.
Pouring heavy cream over the rolls may sound strange, but it keeps the rolls soft, gooey and creates a delicious cinnamon caramel sauce on the bottom of the rolls.
Cinnamon Roll Glaze
You can choose a heavier cream cheese frosting if you'd like, but this time I opted for a quick cinnamon roll glaze with just 4 ingredients.
Simply mix together the butter, confectioners' sugar and vanilla. Add milk, one tablespoon at a time, until you reach the spreading consistency you'd like. Add more milk if you'd like the sweet glaze to be thinner.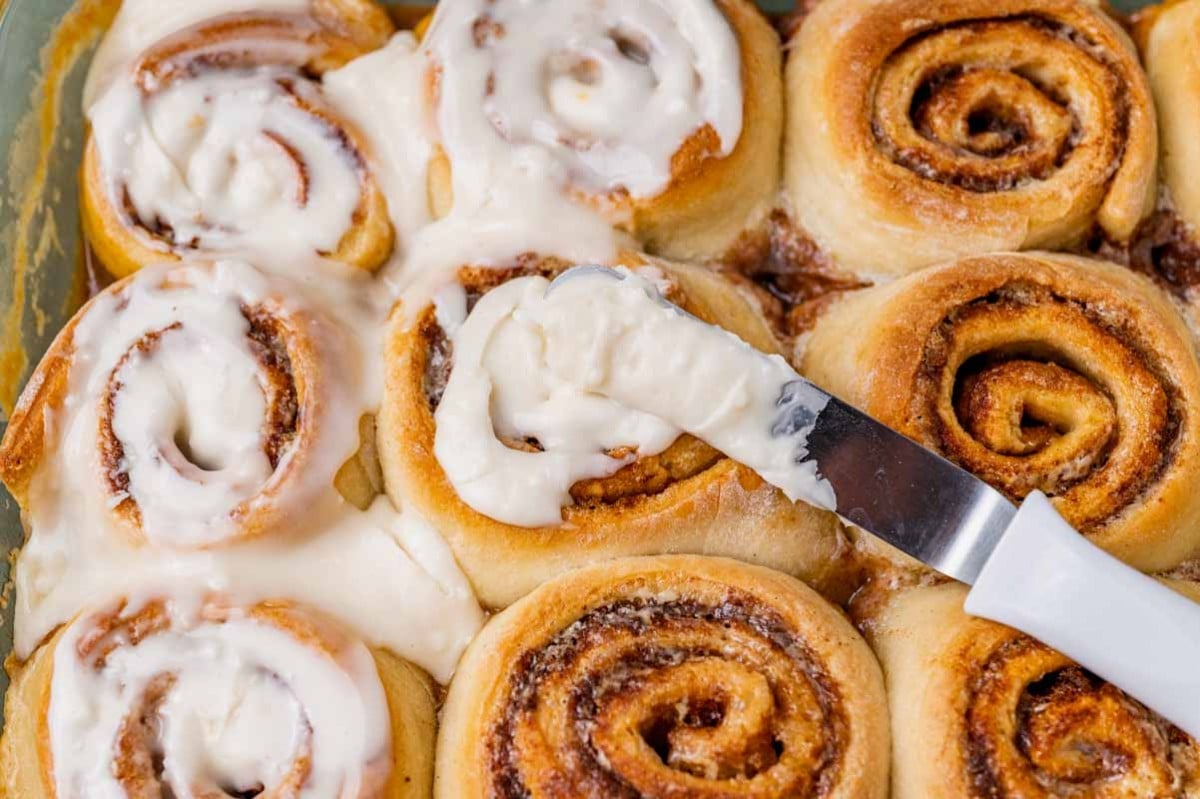 Overnight Cinnamon Rolls
We often make the cinnamon rolls and get them to the point of the second rise (when they are rolled out, cut up and put in the pan). Cover and refrigerate until morning.
The morning you want to bake them, pull them out of the refrigerator. They may have doubled in size in the fridge overnight. If they have, let them sit for 30 minutes to get the chill off, pour on the cream and then bake.
If they did not rise in the fridge overnight, allow them to rise at room temperature. Plan about at least an hour for this. Then pour on the cream and let them bake.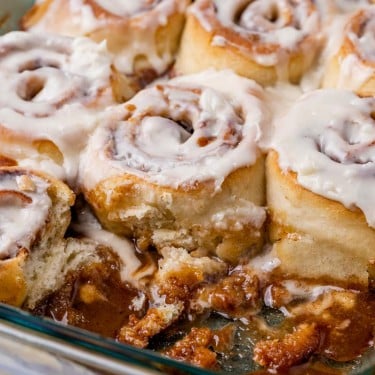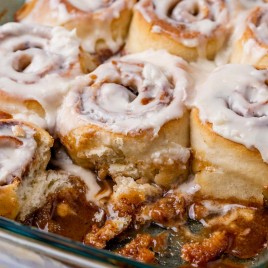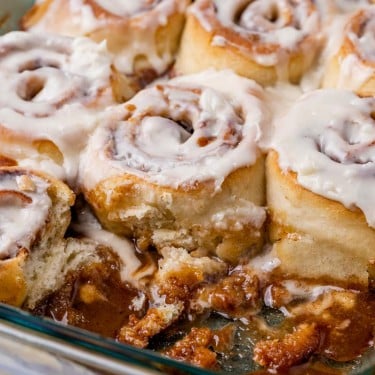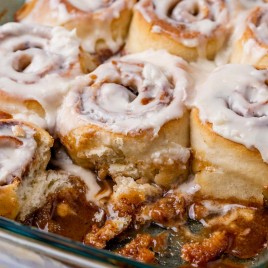 Cake Mix Cinnamon Rolls
Cake mix may seem like an unlikely place to find an amazing cinnamon roll recipe, but these irresistible glazed Cake Mix Cinnamon Rolls are easy to make and versatile.
Rise Time
1

hour
5

minutes
Total Time
1

hour
55

minutes
---
Ingredients
For the dough:
2

cups

warm 2% milk

120° to 130°F

½

cup

salted butter

melted, 120° to 130°F

5 1/2

cups

all-purpose flour

divided

1

box

white cake mix

15.25 ounces

2

packages

instant yeast

(¼ ounce each or a total of 4 ½ teaspoons yeast)
For the filling:
1

cup

salted butter

very soft

2

cups

packed brown sugar

4

tablespoons

cinnamon

1

cup

heavy cream***
For the glaze:
6

tablespoons

salted butter

softened

3

cups

powdered sugar

1-1/2

teaspoons

vanilla extract

2 to 3

tablespoons

2% milk
Instructions
Spray two 9×13-inch baking dishes cooking spray. Set aside.

In a large bowl, whisk together 4 cups flour, cake mix and instant yeast.

In the bowl of the stand mixer, add the milk and butter, making sure that the temperature is between 120-130ºF so that the yeast can activate.

Add the flour mixture to the milk/butter, then with the paddle attachment, mix until the ingredients are just combined. Allow the mixture to rest for 10 minutes.

Switch to the dough hook and start the stand mixer on low speed to knead the dough. Add the remaining flour ¼ cup at a time, until a soft dough forms. You don't want the dough to be dry, so add the flour slowly. The dough should be slightly tacky to the touch but pulling away from the sides of the bowl. Knead on low speed for 5-7 minutes.

Place dough in a greased bowl, turning once to grease top. Cover with plastic wrap or a towel and let rise in a warm place until almost doubled, about 45 minutes.

Turn the dough out onto a lightly floured surface. Divide the dough in half. Roll each dough ball into a 14×10-in. rectangle (you'll have two rectangles).

Spread ½ cup of softened butter on each rectangle. Then divide the brown sugar between the two rectangles and sprinkle all over the top. Rub the brown sugar into the butter slightly with the pads of your fingers. Sprinkle the cinnamon over the brown sugar butter mixture.

Roll up jelly-roll style, starting with a long side, making right roll. Cut each roll into 12 slices using a dough cutter or sharp knife (or floss makes a clean cut). place cut side down in two greased 13×9-in. baking pans. Cover and let rise until almost doubled, about 20 minutes.

Preheat the oven to 375ºF. Pour ½ cup of warm cream over each pan of risen rolls.

Bake for 25-30 minutes or until golden brown. Check the rolls at 20 minutes. If they look like they are getting too brown, cover them loosely with aluminum foil for the remaining baking time.

For the glaze, mix together the soft butter, powdered sugar and vanilla in a medium bowl. Add milk, one tablespoon at a time, until you reach the glaze consistency you'd like. Add more milk if you'd like it to be a thinner glaze rather than thicker.

Allow the rolls to cool for 20 minutes, then drizzle or spread the glaze on over the rolls.
Notes
See the article for tips on different types of yeast. I like to use Red Star Platinum Instant Yeast.
Store in an airtight container at room temperature for 48 hours. Freeze or refrigerate any leftover rolls.
Refer to the article above for more tips and tricks.
The calories shown are based on the recipe making 24 rolls, with 1 serving being 1 roll. Since different brands of ingredients have different nutritional information, the calories shown are just an estimate. **We are not dietitians and recommend you seek a nutritionist for exact nutritional information. The information in the nutrition box are calculated through a program and there is room for error. If you need an accurate count, I recommend running the ingredients through your favorite nutrition calculator.**
Nutrition
Calories:
489
kcal
|
Carbohydrates:
75
g
|
Protein:
5
g
|
Fat:
20
g
|
Saturated Fat:
12
g
|
Polyunsaturated Fat:
1
g
|
Monounsaturated Fat:
5
g
|
Trans Fat:
1
g
|
Cholesterol:
53
mg
|
Sodium:
296
mg
|
Potassium:
121
mg
|
Fiber:
2
g
|
Sugar:
43
g
|
Vitamin A:
613
IU
|
Vitamin C:
1
mg
|
Calcium:
116
mg
|
Iron:
2
mg