Carrot Cake Cinnamon Rolls
Tastes of Lizzy T participates in affiliate advertising programs. We may earn a commission when you make a purchase through links on our site.
Easter breakfast never looked so good! Serve these homemade carrot cake cinnamon rolls with cream cheese frosting for your holiday brunch.
It's March which means we're ready for a new cinnamon roll recipe! Since we're all dreaming of spring and Easter to come (along with warmer temperatures and sunshine), a cinnamon roll with carrots, warm spices and cream cheese icing was necessary.
I mean, wouldn't you like this on your plate at Easter brunch?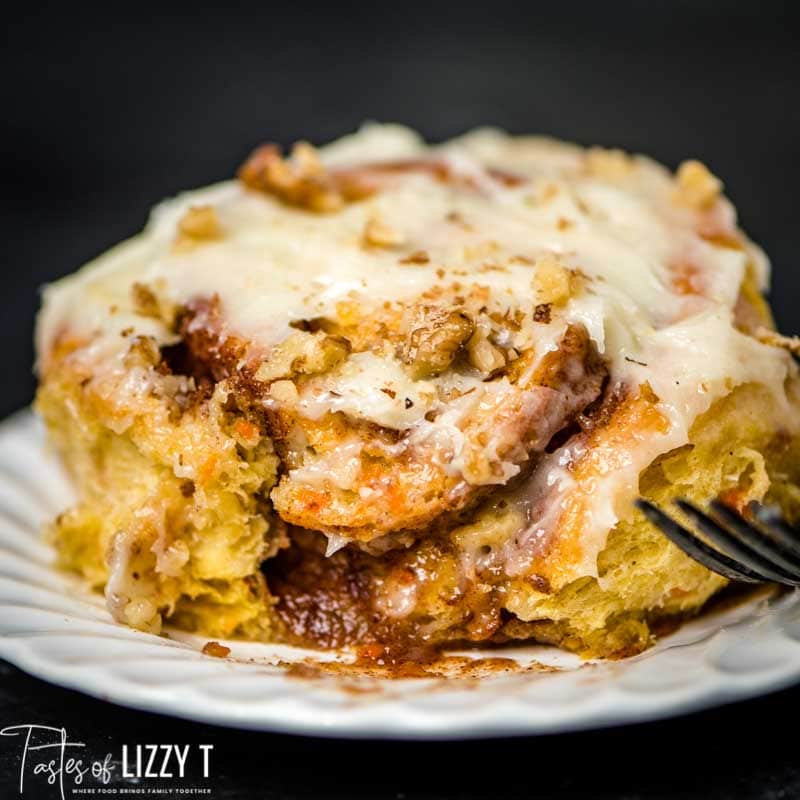 What's different about this cinnamon roll recipe?
For this carrot cake cinnamon rolls recipe we tweaked our cinnabon copycat recipe. That cinnamon buns recipe is a classic and the perfect base for new sweet rolls! Here's what we changed:
Added shredded carrots and shredded coconut to the cinnamon roll dough. Many carrot cake recipes call for carrots, coconut, pineapple and/or nuts, so we wanted to bring in at least 3 of these into our sweet roll.
Carrots add moisture, so I reduced the amount of milk to ¾ cup.
To keep the rolls soft, we upped the butter to ½ cup.
Carrot cake needs cinnamon! Add 1 teaspoon cinnamon to the dough. You could even add nutmeg if you'd like, but we went with just cinnamon.
Added walnuts. You can add walnuts over the cream cheese frosting if you'd like, or you can even crush them finely and add them to the cinnamon filling. Whichever your family prefers will work!
Using the Right Type of Yeast
Active Vs Instant Yeast. Which do you use?
I almost always use instant yeast. My favorite brand is Red Star Platinum Instant Yeast. With instant yeast, you don't have to wait for the yeast to proof before using it.
You can add the yeast into the flour mixture if you'd like, or you can sprinkle it over the milk as I do in the recipe below. Watch the temperature of the milk closely. If the milk is too hot, it will kill the yeast and the cinnamon buns won't rise.
Read our complete guide to baking with yeast.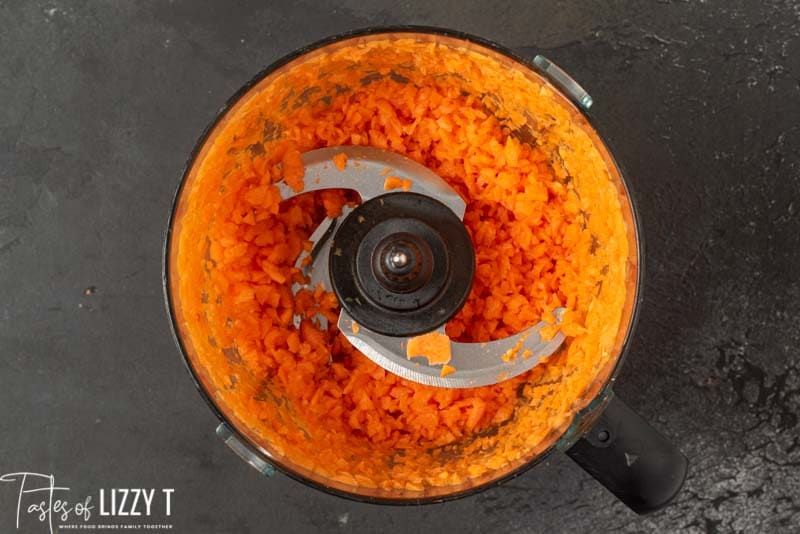 Tips for Grating Carrots
If you are making homemade carrot cake or these carrot cake cinnamon rolls, you'll need to grate the carrots finely. To start, peel the carrots (or you can use baby carrots).
The easiest way to grate the carrots is to throw them in a food processor and pulse a few times. You can also use a standing grater. If you choose this method, use the fine side of the grater.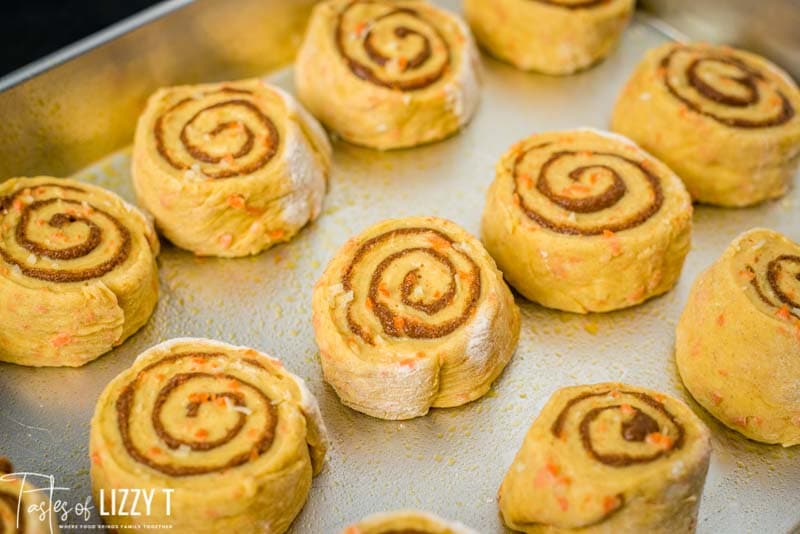 Cinnamon Rolls with Heavy Cream
Many of you found us because of our secret ingredient cinnamon rolls. The secret my girls hid for years. Aren't you glad they decided to let our heavy cream trick out?
Here it is: Pour warmed heavy cream over the unbaked risen rolls. We get asked all the time why we're adding heavy cream to cinnamon rolls. The cream will bake around the rolls keeping them soft and extremely fluffy.
It's so easy…you MUST try it. Just read the hundreds of reviews of families who love this recipe!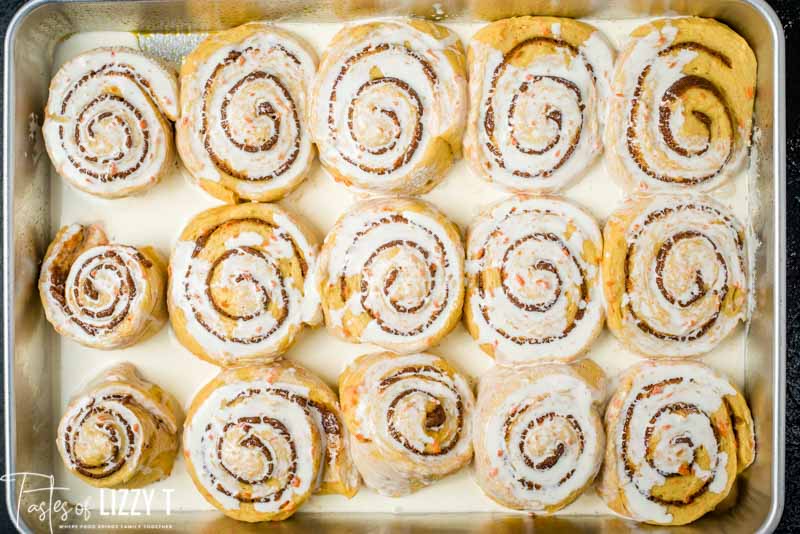 What pan is best for cinnamon rolls?
9×13″ baking dish or cake pan are standard for baking cinnamon rolls. We often bake our rolls in this size pan. However, they will be packed in and can take longer to bake, making the rolls browner on top.
You can also make the cinnamon rolls in a 10×15″ pan. This allows the rolls to have more room to expand and bake more evenly. Plus, you can make 15 rolls instead of just 12!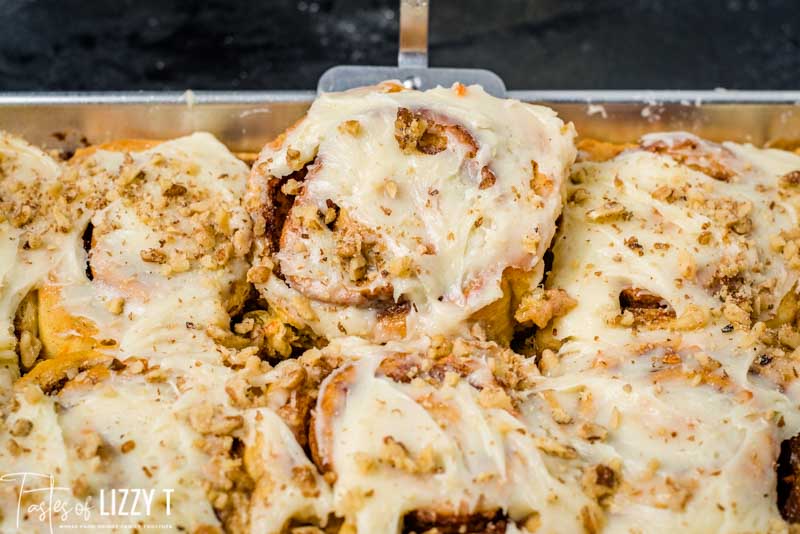 How do you know when cinnamon rolls are done?
It can be tricky to tell if cinnamon rolls are done or not. You want soft and gooey, but not necessarily unbaked. That's a fine line.
Here's how to do it: Pull up on the edge of a center roll. If it looks baked underneath, they are done. If it looks doughy, leave them in for longer.
Pro Tip
If they look like they are getting too browned, place a piece of foil over the top of the pan for the remainder of the time.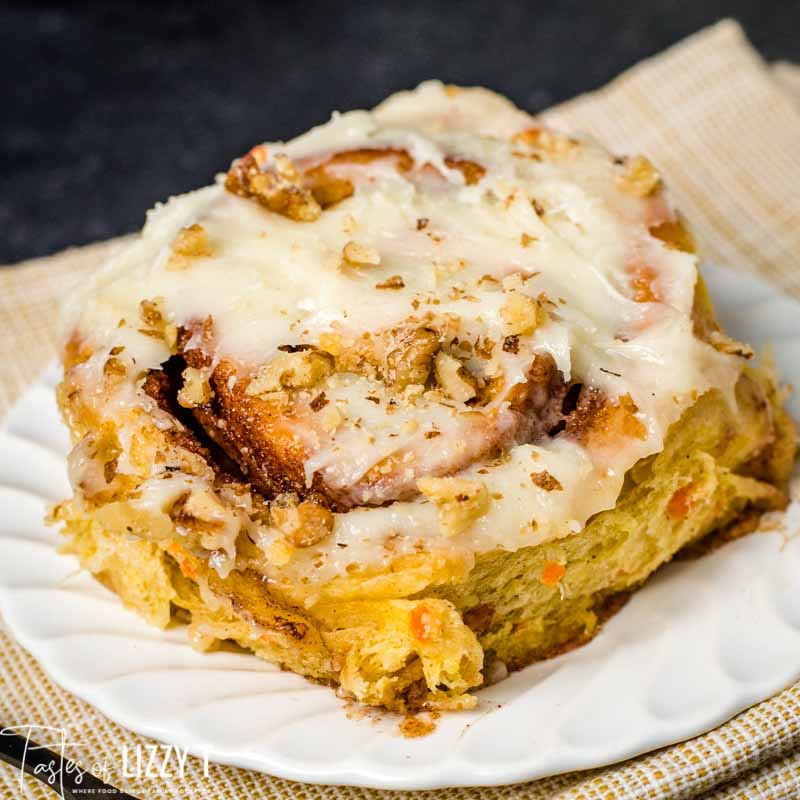 We hope you love these breakfast rolls. If you had to create a new flavor, what would it be?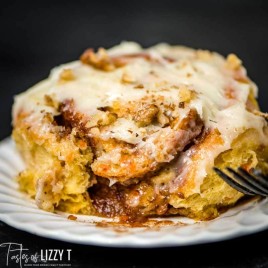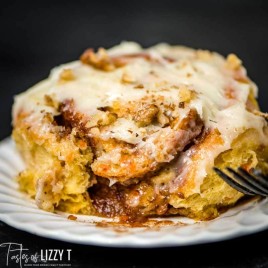 Carrot Cake Cinnamon Rolls
The best secret ingredient homemade cinnamon rolls dressed up for spring! Loaded carrot cake cinnamon rolls with coconut and nuts, topped with cream cheese frosting.
Rise Time
1

hour
30

minutes
Total Time
2

hours
27

minutes
---
Ingredients
For the Dough:
3/4

cup

warm milk

(about 115 degrees F**)

2 1/4

teaspoons

instant yeast

(I like Red Star Platinum Baking Yeast)

2

large

eggs

(at room temperature)

1/2

cup

salted butter

(melted)

1

teaspoon

salt

6 grams

1

teaspoon

cinnamon

3 grams

1/2

cup

granulated sugar

100 grams

1 1/2

cups

finely shredded carrot

200 grams

3/4

cup

shredded coconut

(sweetened or unsweetened will work) 83 grams

4 1/2

cups

bread flour

(divided) 535-590 grams
For the Filling:
3/4

cup

salted butter

(almost melted)

1 1/2

cups

packed brown sugar

3

tablespoons

cinnamon

1/2

cup

heavy cream

(for pouring over the risen rolls)
For the Frosting:
6

ounces

cream cheese

(softened)

1/3

cup

salted butter

(softened)

2

cups

powdered sugar

1/2

tablespoon

vanilla extract

1/2

cup

chopped walnuts

(optional)
Instructions
Pour the warm milk in the bowl of a stand mixer and sprinkle the yeast overtop.

Add the eggs, melted butter, salt, cinnamon and sugar. Then add the carrots and coconut.

Add in 4 cups (save the other ½ cup and add only if you need it) of flour and mix using the beater blade just until the ingredients are barely combined. Allow the mixture to rest for 5 minutes so the flour has time to soak up the liquids.

Scrape the dough off the beater blade and remove it. Attach the dough hook.

Beat the dough on medium speed, adding in up to ½ cup more flour if needed to form a dough. Knead for 5-7 minutes or until the dough is elastic and smooth. **The dough should be tacky and will still be sticking to the sides of the bowl. That's ok! Don't be tempted to add more flour at this point. We generally add about 4 ½ cups, but start with 4 cups.

Spray a large bowl with cooking spray.

Use a rubber spatula to remove the dough from the mixer bowl and place it in the greased large bowl.

Cover the bowl with a towel, plastic wrap or wax paper.

Set the bowl in a warm place and allow the dough to rise until double. I like to turn on the oven to the lowest setting for 1-2 minutes. Then turn off the oven and place the dough to rise in there. It normally takes about 30 minutes for the dough to rise. Do not allow the dough to rise too much or your cinnamon rolls will be airy.

While the dough is rising, prepare the cinnamon filling. In a medium bowl, combine the soft butter, brown sugar and cinnamon, mixing until well combined. Set aside.

Turn out the dough onto a lightly floured surface and sprinkle the top of the dough with additional flour.

Flour a rolling pin and roll the dough to about a 24×15″ rectangle. (the size of the rectangle can vary…it does not have to be exact!)

Use a rubber spatula to smooth the cinnamon filling over the whole dough rectangle.

Starting on the long end, roll the dough up tightly jelly roll style.

Cut into 12-15 slices using a sharp knife or dental floss and place in a greased 9×13 baking pan.*

Cover the pan and allow the rolls to rise for 20 minutes or until nearly double.

Preheat the oven to 350º Fahrenheit.

Warm the heavy cream until the chill is off. Don't make it hot…you just don't want it cold. It should be warm to the touch.

Once the rolls have risen, pour the heavy cream over the top of the rolls, allowing it to soak down in and around the rolls.

Bake at 350ºF for 27-30 minutes. Check the roll after about 15 minutes of baking. If they look like they are getting too browned, place a piece of foil over the top of the pan for the remainder of the time. **Note…the time will vary based on how big the rolls are, what type of pan, how close the rolls are packed, etc. To see if they are done, lightly pull up on the edge of the cinnamon roll in the center. If it looks cooked and not too doughy, it is done.**

While the rolls are cooling, prepare the cream cheese frosting.

In a large bowl, combine the softened cream cheese and butter using a hand mixer. Blend well.

Add in the vanilla and the powdered sugar. Beat until combined.

Spread the frosting over the cooled rolls. Sprinkle with walnuts if desired.

Store in an airtight container in the fridge. Rewarm the cinnamon rolls in the microwave.
Notes
*You can use all-purpose flour. The doughs will be softer with this type of flour. Bread flour makes them a little more chewy.
*If you want this to mimic our favorite carrot cake recipe, add raisins to the filling. Sprinkle raisins over the cinnamon mixture, then roll and pinch the seams closed.
The calories shown are based on the recipe making 15 rolls, with 1 serving being 1 frosted roll. Since different brands of ingredients have different nutritional information, the calories shown are just an estimate. **We are not dietitians and recommend you seek a nutritionist for exact nutritional information.**
Nutrition
Calories:
623
kcal
|
Carbohydrates:
80
g
|
Protein:
7
g
|
Fat:
32
g
|
Saturated Fat:
19
g
|
Cholesterol:
104
mg
|
Sodium:
410
mg
|
Potassium:
200
mg
|
Fiber:
3
g
|
Sugar:
48
g
|
Vitamin A:
3071
IU
|
Vitamin C:
1
mg
|
Calcium:
90
mg
|
Iron:
2
mg
For easy carrot cake cinnamon rolls, use a boxed carrot cake mix in our cake mix cinnamon roll recipe.
Other Cinnamon Roll Recipes