Tastes of Lizzy T participates in affiliate advertising programs. We may earn a commission when you make a purchase through links on our site.
Hosting family and friends for an Easter brunch? You'll love our breakfast and Easter brunch ideas ranging from sweet to savory to build your menu.
Table of Contents
If there's one meal I love planning, it's brunch. Maybe it stems from our years of having pancakes on Saturday mornings. Or my obsession with creating the perfect. cinnamon roll. But most likely it is the aroma of bacon sizzling in the skillet.
Brunch is delicious any time of the year, but today I'm sharing ideas for an extra special occasion: Easter Brunch.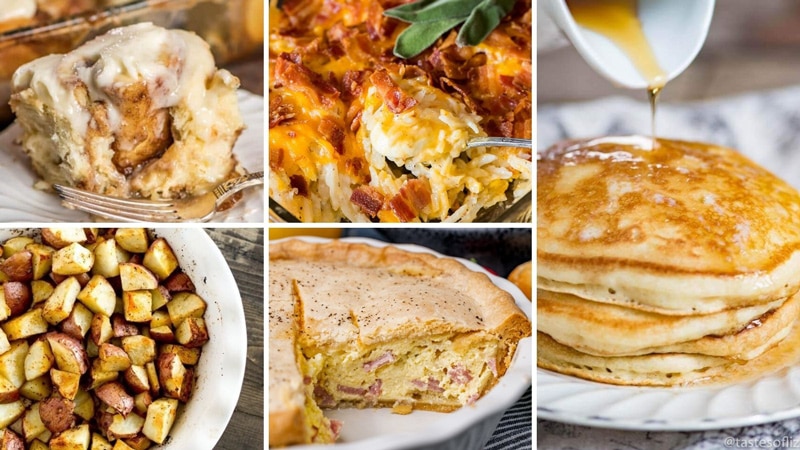 What is the traditional Easter brunch?
It's sometimes hard to know what in the world to serve for Easter brunch. After all, there are so many options available. Traditionally, ham still takes center stage, even if it is at breakfast or brunch. Ham can be served in quiche or breakfast casseroles, but also in slices for croissant sandwiches or even eggs benedict.
Alongside ham, it's popular to serve waffles with various toppings, fried potatoes or yogurt bowls.
And don't forget something sweet! Think cinnamon rolls, donuts, coffee cake or muffins.
Why is ham traditional Easter dinner?
It's simple, really. Ham was traditionally an economical choice. Hogs were slaughtered in the fall and cured over the winter, ready to be eaten in the spring. And they serve a lot! (source)
🍽 Choose Your Favorites
We're making it easy for you. Just choose one or two Easter brunch ideas from each category and you'll end up with a Easter brunch menu that your family will enjoy.
Easter Brunch Main Dish
There are a few options using ham as a key ingredient. Also, you can replace breakfast sausage with ham in just about any breakfast cassserole.
If you want to focus on eggs rather than ham, try our egg potato casserole, egg bake, or leek breakfast strata.
Looking for individual servings? Try our Copycat Panera Egg Souffles. They are SO good, plus, they use store bought crescent roll dough to keep prep time quick. They only take about 30 minutes!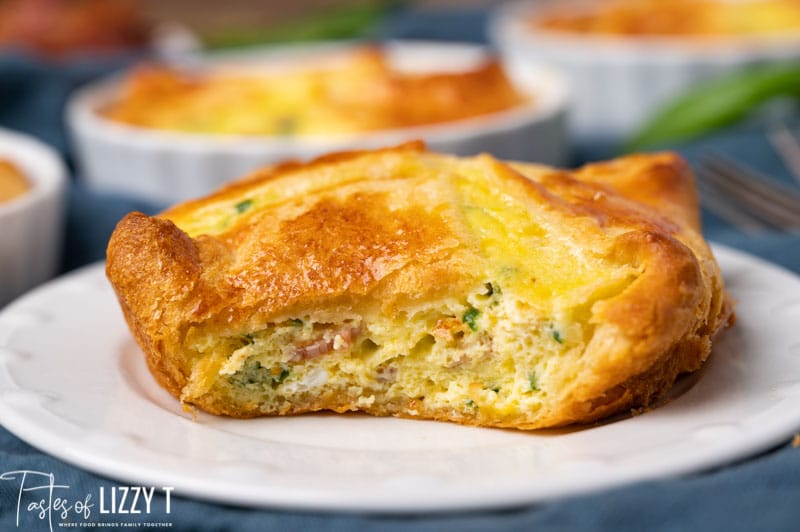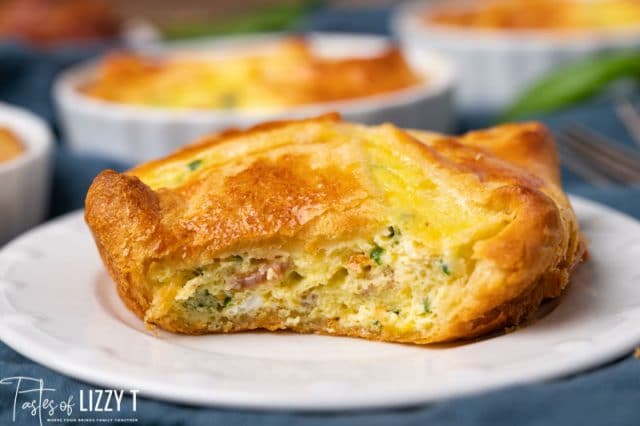 Pancake and Waffle Bar
It's so fun to create a pancake and waffle bar with ALL of the toppings for your guests to enjoy. Start with one of these base recipes. Any would be great with various toppings.
If you'd rather create one type of special pancakes for Easter, may I recommend our strawberry shortcake pancakes? They're amazing.
Pancake & Waffle Toppings
Here are a few ideas to have on your pancake & waffle bar:
Butter and brown sugar. Just try it. Trust me.
A drizzle of warm peanut butter
Hazelnut spread
Fresh fruit
Powdered sugar
Honey
Fruit & Vegetable Side Dishes
Spring brings color back to the earth after a long, dreary winter. And that's exactly what fruits and vegetables bring to a table. Gorgeous color! Here are a few fruit & vegetable sides dishes for Easter brunch.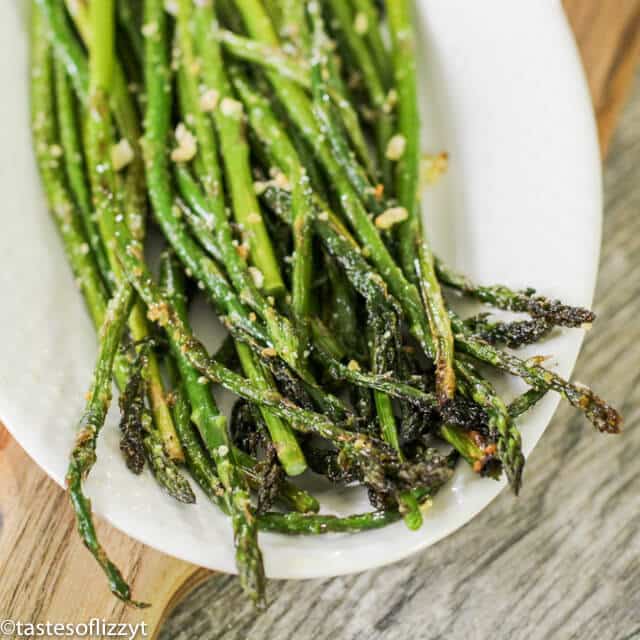 Easter Cinnamon Rolls
You knew I was going to suggest cinnamon rolls for Easter, right? They are traditional and everyone loves them. You can make mini cinnamon rolls, giant cinnamon rolls or even carrot cake cinnamon rolls.
Watch us make our Cinnabon copycat cinnamon rolls:
Sweet Recipes
Even brunch needs a dessert. You have so many options open to you from muffins to coffee cake and quick breads. Here are our best Easter ideas: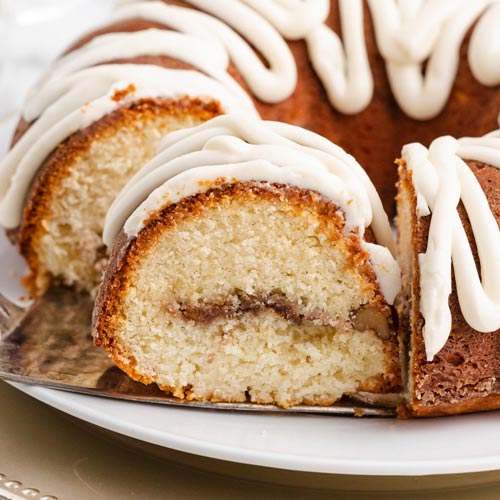 What to Bring for Easter Brunch
Maybe you're not in charge of hosting and creating the entire Easter brunch menu, but instead you need to bring a dish to an Easter brunch to help the host.
Choose something that transports well. Maybe try cinnamon roll cake, baked oatmeal or blueberry muffins.