A tasty twist on a classic – This Strawberry Monkey Bread with deliciously macerated strawberries is perfect for breakfast or brunch!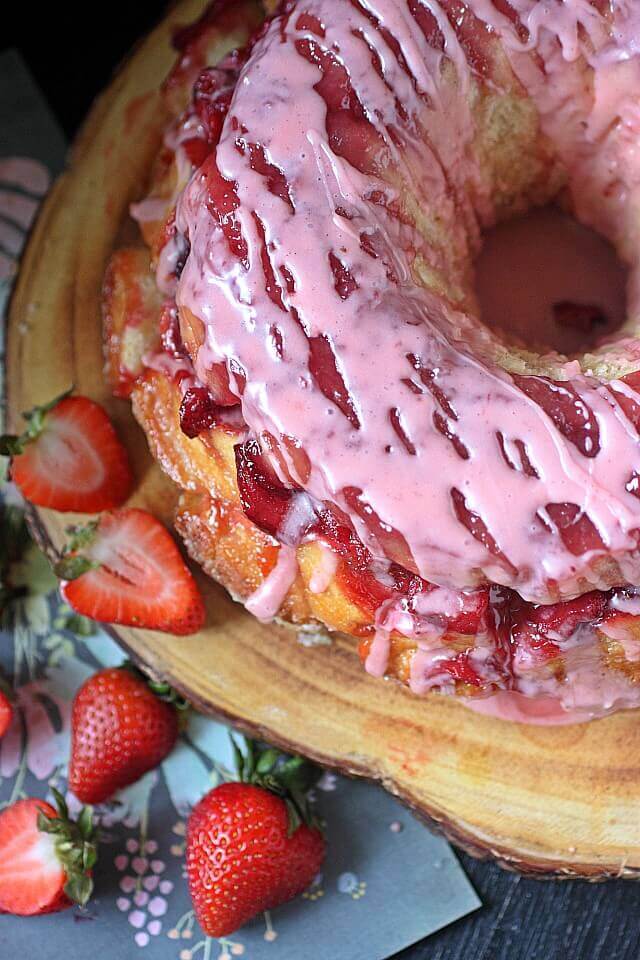 Can we talk about how excited I am for summer? I know, I know – It's too soon. Our leaves just started making their debut and I'm all, SUMMER!
But yes, summer! Why? Warm weather, people. Winter is not my favorite season. Cold weather in my face is not my jam. Warm weather on the other hand. Well… That's just full of opportunity. When the weather is warm, no one hesitates to go out. Even in the rain. Everything is much brighter when the weather is warm. Full of color. Our clothes, the markets, even the sky cooperates with a constant blue hue.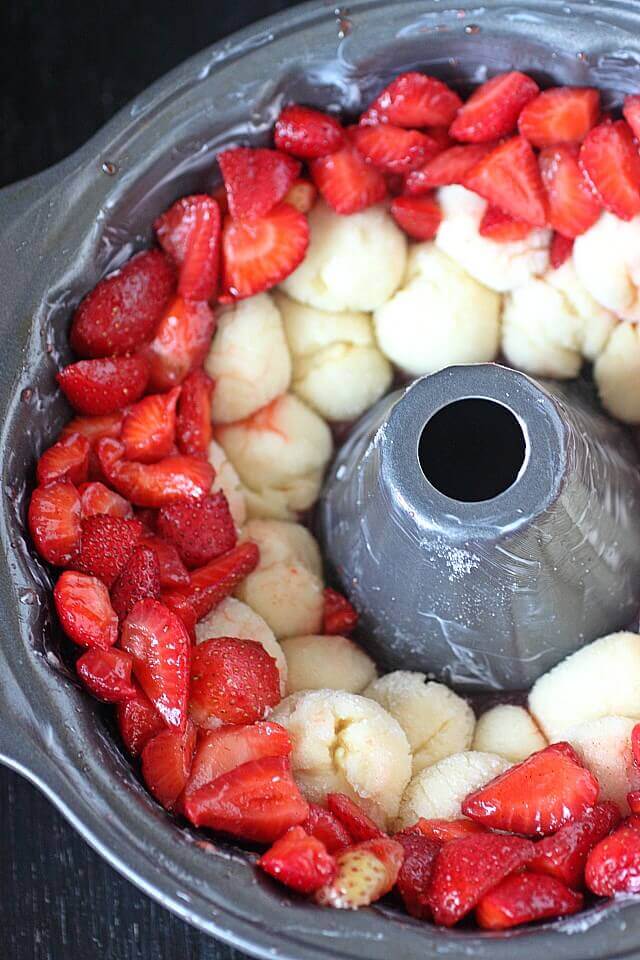 And the berries, people – The berries! Everywhere you turn there's a gorgeously plump berry in your face. I do not hesitate when it comes to berries. Whether in a salad or in a Popsicle – I cook/bake/eat berries all spring and summer long.
Now flow with me, let's talk about this Strawberry Monkey Bread.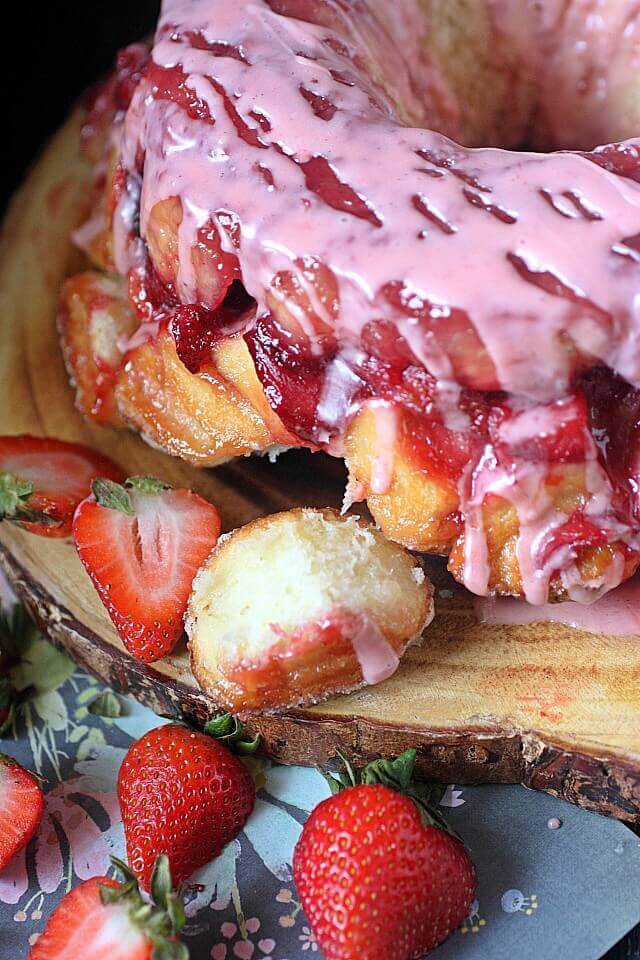 First, do you know what Monkey Bread is? Let me school you. Monkey Bread are balls of yeasted dough, dipped in butter and rolled in sugar or cinnamon sugar. These balls of sugary dough are layered in a pan, allowed to puff up, and then baked. Heat melts and caramelizes the sugar, helps expand the dough. The scent of dough and sugar is intoxicating.
Now picture this: Macerated strawberries mixed with vanilla bean paste nestled in between two layers of dough rolled in sugar. When this bakes, the strawberries release their juices and infuse it into the dough. And if that's not enough, this monkey bread is glazed with a cream cheese filling mixed with strawberry puree.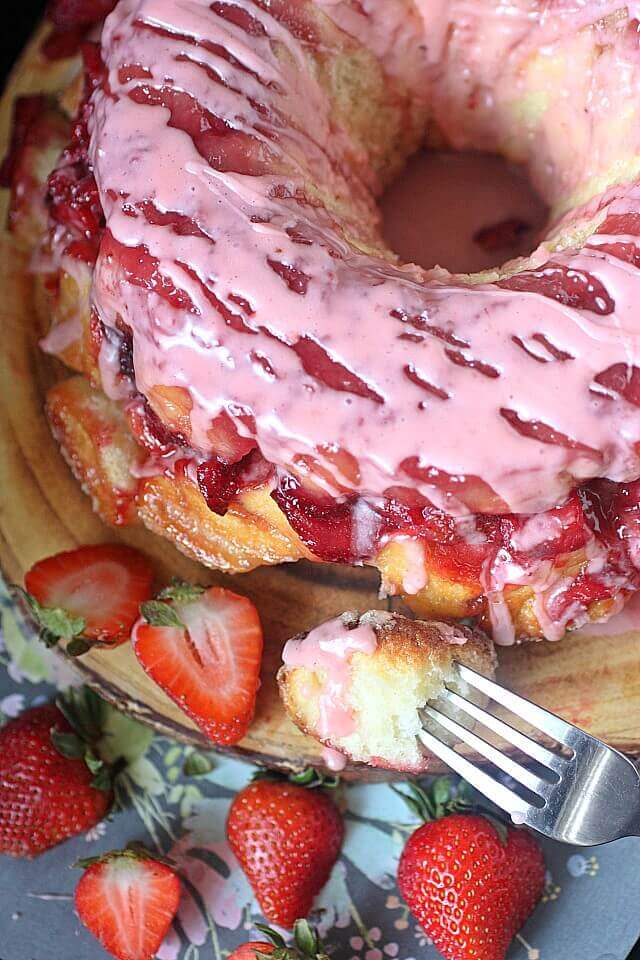 This Strawberry Monkey Bread is divine. The exterior of the dough is crunchy from the sugar, giving way to soft warm dough. The macerated strawberries are fantastic, as is the strawberry glaze.
I urge you to try it. Because it is everything.
Related links:
Strawberry Almond Crumble Bars
Chocolate Strawberry Layer Cake
Strawberry Monkey Bread
A tasty twist on a classic – This Strawberry Monkey Bread with deliciously macerated strawberries is perfect for breakfast or brunch!
Ingredients
For yeast:
2 1/4

teaspoons

(1 packet) Active dry yeast

2/3

cup

Warm water

(about 110-115 degrees F)

1

Tablespoon

Granulated sugar
For the macerated strawberries
1

pound

Strawberries

, roughly chopped

1

Tablespoon

Vanilla bean paste

1/4

cup

Granulated sugar
For the dough
4 1/4

cup

All-purpose flour

, plus more for the dough

2

Tablespoons

Granulated Sugar

2

Tablespoons

Dry milk powder

1

teaspoon

Salt

2/3

cup

Milk

2

Tablespoons

Unsalted butter

, melted and slightly cooled

1

egg

, beaten
Coating/filling
1 1/2

cup

Granulated sugar

1/2

cup

(1 stick) Unsalted butter
For the strawberry cream cheese icing
4

ounces

(half a block) Cream cheese, room temperature

1

cup

Confectioners' sugar

2

Tablespoons

(About 3 strawberries) Pureed strawberries

1

teaspoon

Vanilla bean paste
Instructions
Bloom the yeast:
In a small bowl combine the yeast, water, and sugar. Whisk quickly with a fork until the yeast and sugar dissolve. Allow it to sit for about 7-10 minutes until foamy.
Macerate the strawberries:
Rinse and dry strawberries. The drying doesn't have to be very thorough. Sprinkle sugar over the strawberries, add the vanilla bean paste, and mix to combine. Set aside until ready to use.
Make the dough - Mixing by hand:
Liberally butter a large bowl and set aside, preferably in a cool place.

In a separate large bowl combine about 3 cups flour. To the flour add the sugar, the dry milk powder, and salt. Make a well in the center of the bowl and add milk, melted butter, beaten egg and yeast mixture. Stir this until a dough forms.

Turn dough onto a floured surface and begin kneading by hand (it's therapeutic. You need this). At this point the dough will be very, very sticky. Continue kneading the dough adding about ¼ cup at a time of remaining 1 ¼ cup of flour. Knead dough for about 10 minutes or so until the dough is mostly smooth, elastic, and slightly sticky to the touch. I found the dough does remain sort of sticky and that's fine. Shape dough into a ball and place it your prepped buttered bowl, turning a few times to coat. Cover bowl with plastic wrap or a moist, clean dish towel and let dough rise in a warm place 1 to 1½ hours until doubled. While the dough is rising prepare the coating.
Prepare the coating:
Pour sugar in a medium bowl and set aside. Melt the butter, place in a small bowl, cover, and set aside. Liberally butter the bottom and sides of a large Bundt pan.
Final dough prep:
Once the dough has finished rising, turn it onto a lightly floured surface. Press down on it gently to remove air and roll or stretch the dough with your hands to form a rough rectangle. With a pizza cutter or a knife, cut strips of dough lengthwise. Do the same in the other direction, so you're left with at least 48-50 pieces of dough. Some pieces will be larger than others. It's cool. Size doesn't matter.

Roll each dough piece into a ball, then dip each ball into the melted butter, allowing the excess butter to drip into the bowl and roll the ball in the sugar. Create 1 layer of dough balls along the bottom of the Bundt pan. Repeat with a second layer of dough balls, staggering the seams where the dough balls meet. With a slotted spoon, spoon macerated strawberries. Blot the strawberries with a paper towel removing as much liquid as you can without squishing the strawberries. Spoon the strawberries over the top of the dough balls. Add 2 more layers of dough balls over the macerated strawberries, again staggering the seams where dough balls meet.

Cover pan with plastic wrap; let rise at least 45 minutes until nearly doubled.
Bake:
While the dough is rising, preheat oven to 350 degrees Fahrenheit. Once the dough has fully risen, unwrap the pan and bake for 35-40 minutes until bread is a deep golden brown on top and filling is bubbling. Cool in pan for at least 10 minutes, and then carefully invert monkey bread onto a serving plate. Make the icing.
The icing:
To a bowl of an electric mixer fitted with a whisk attachment (a hand mixer and a bowl work here too), add cream cheese and confectioners' sugar. Mix on low speed until the confectioners' sugar is mostly incorporated into the cream cheese. Add the strawberry puree and vanilla bean paste. Increase the speed to high and mix until smooth. You can add more powdered sugar or strawberry puree until you reach desired consistency. Spoon or drizzle the icing over the monkey bread. Serve warm or at room temperature.
Nutrition
Calories:
583
kcal
|
Carbohydrates:
99
g
|
Protein:
9
g
|
Fat:
17
g
|
Saturated Fat:
10
g
|
Cholesterol:
61
mg
|
Sodium:
295
mg
|
Potassium:
226
mg
|
Fiber:
3
g
|
Sugar:
55
g
|
Vitamin A:
595
IU
|
Vitamin C:
28.5
mg
|
Calcium:
69
mg
|
Iron:
2.8
mg