A fruity twist on a classic – This Strawberry Monkey Bread with deliciously macerated strawberries is perfect for breakfast or brunch.
Whether it is summer or winter, I crave a delicious strawberry. The strawberries in the grocery store were smelling so sweet the other day that I had to grab some and make this Strawberry Monkey Bread.
This easy monkey bread recipe took several recipe tests to get it just right. My husband wasn't mad about the afternoon snacks we had that week. I think you'll love it as much as we did.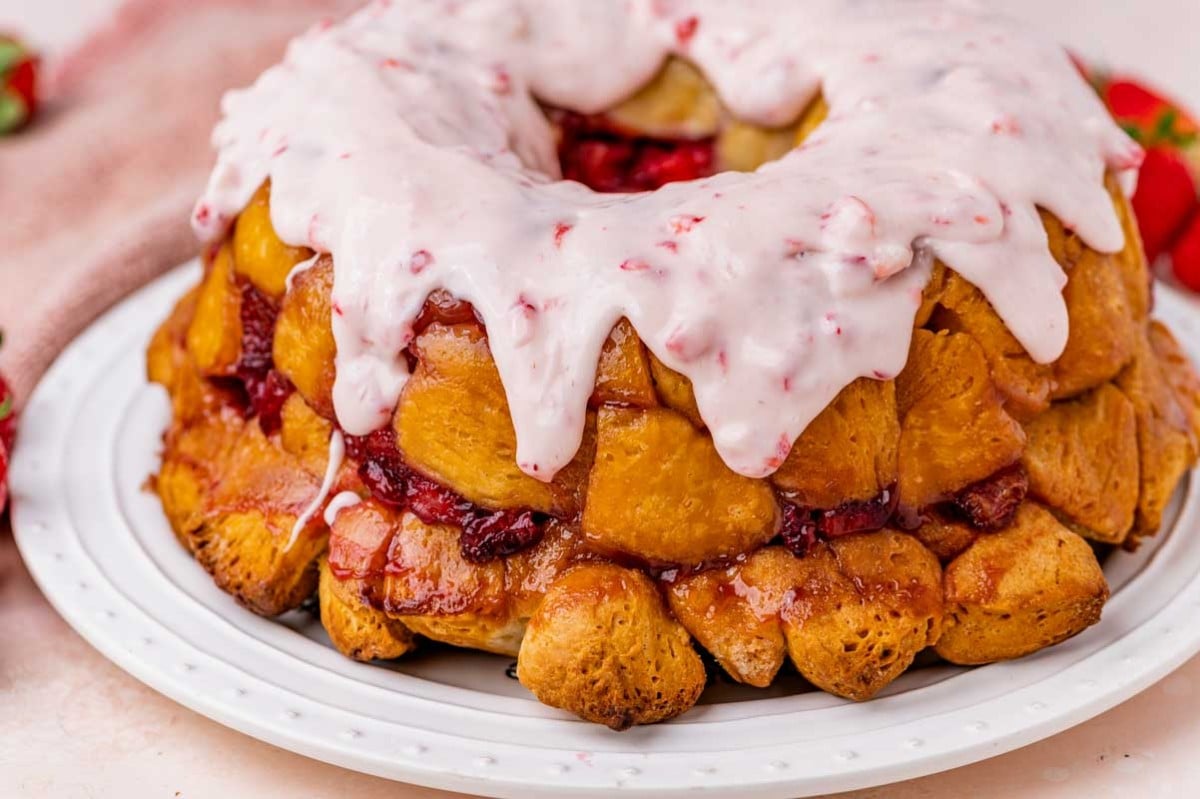 Why you'll love this Monkey Bread recipe:
This Strawberry Monkey Bread is divine. The exterior of the dough is crunchy from the sugar, giving way to soft warm dough.
Uses store bought biscuit dough to keep the recipe easy.
Fresh strawberries add a beautiful color and flavor to the monkey bread and glaze.
Delicious served warm…you don't have to wait to eat it!
What is monkey bread?
First, do you know what monkey bread is? Monkey bread is balls of dough (sometimes biscuit pieces), dipped in butter and rolled in brown sugar or cinnamon sugar mixture. These balls of sugary dough are layered in a bundt pan or loaf pan, then puff up as they bake. Heat melts and caramelizes the sugar, making the bread gooey and delicious.
Monkey bread is often called a pull-apart bread because you dive in and pull apart the little bites of dough. It's popular on Christmas morning but is easy enough for a weekend morning, too.
➡️ You can read all about how to make monkey bread with cinnamon rolls.
How do you add strawberries to monkey bread?
Now picture this: Macerated strawberries mixed with vanilla extract, nestled in between two layers of biscuit dough rolled in sugar. When this bakes, the strawberries release their juices and infuse it into the dough. And if that's not enough, this monkey bread is glazed with a cream cheese filling mixed with strawberry puree.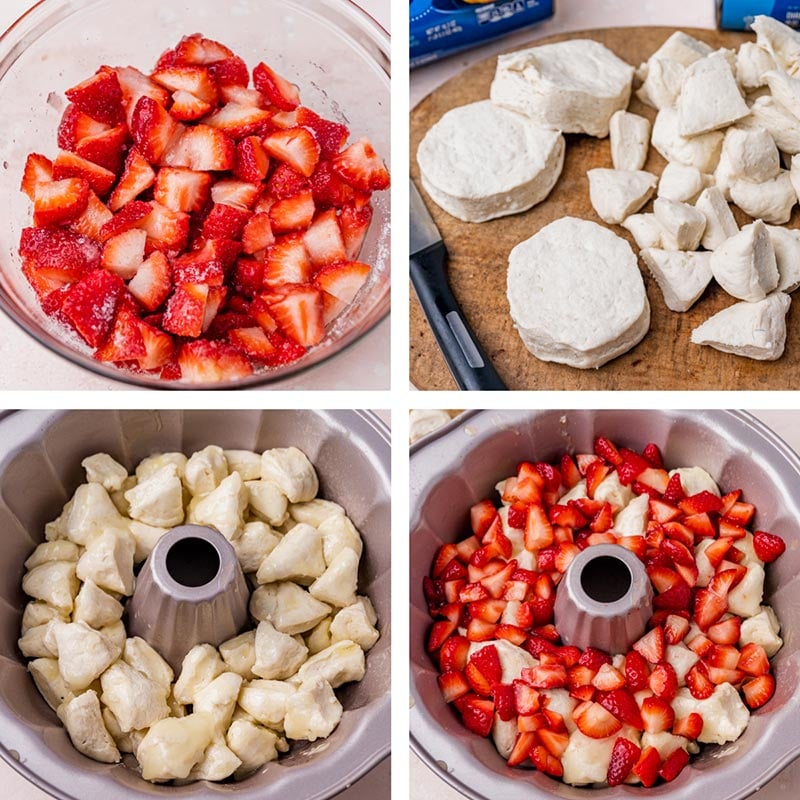 Two Tubes of Biscuits vs Three
I made this recipe with both 2 cans of biscuits and 3 cans of biscuits. Each cans is 16.3 ounces.
Here's my analysis:
2 Cans of Biscuits: This amount filled my bundt cake pan nicely and baked up very gooey. There was a lot of syrup that baked into the bread. Because the bread was fairly moist and gooey, it didn't stay together super well once you turned it out. Which is really ok because serving this bread warm is what you want anyway.
3 Cans of Biscuits: I liked the bread with 3 cans of biscuits. It held together so much better. The bread was a little bit "dried" and more biscuit like, especially around the bottom of the bread. But I liked that. Plus, the glaze on top adds enough gooiness. Please be warned that this will make your pan extremely full. You need a bundt pan that holds at least 12 cups. mine was 9 1/2″ in diameter. The pictures shown here is the recipe I made with 3 cans.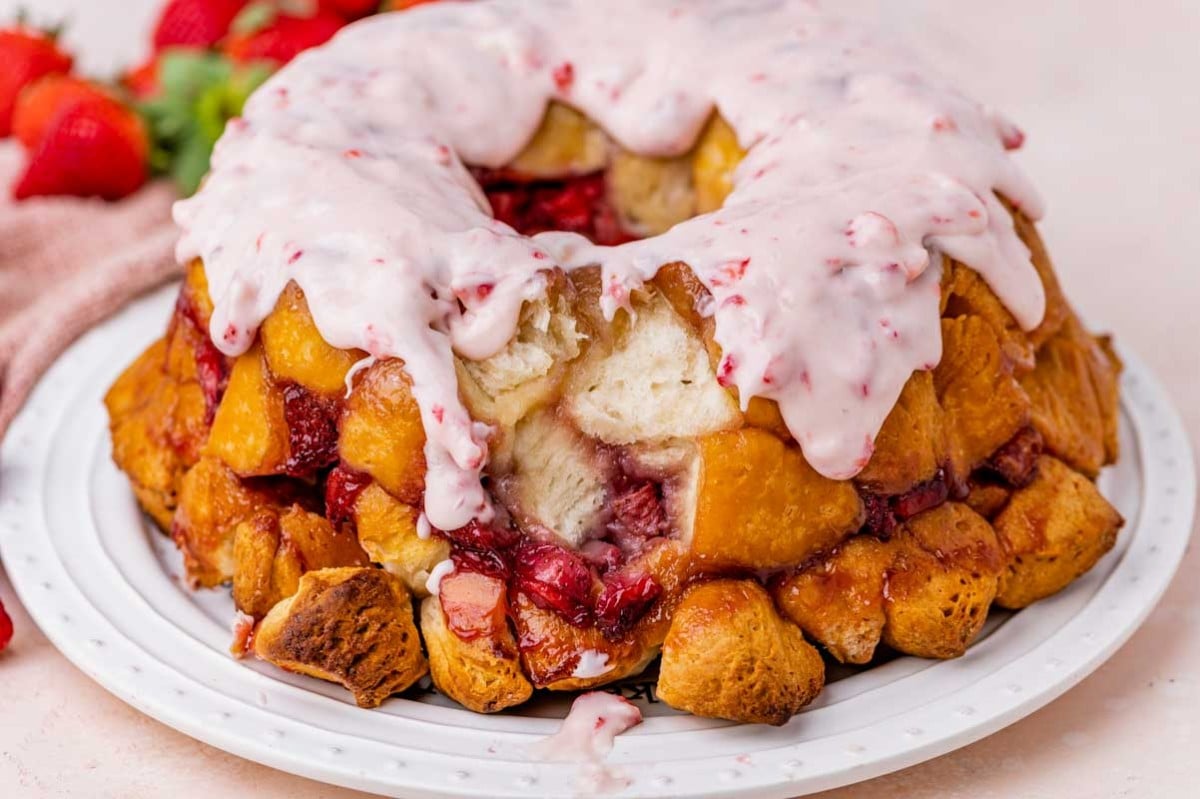 If I could make this recipe with 2 ½ cans of biscuits, I would, but I realize that may be wasteful if you don't want to bake a couple of biscuits. If you're looking for a delicious dinner, try our sausage gravy or chicken & noodles and cook up a few of those leftover biscuits to go with it.
Storage Instructions
If you don't eat this all in one sitting while it is fresh, store it in the refrigerator in an airtight container for up to 3 days. Reheat in the microwave.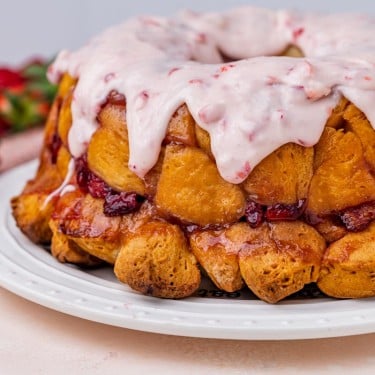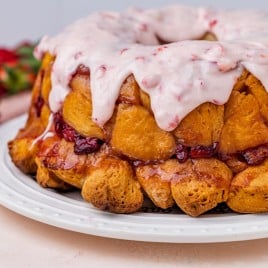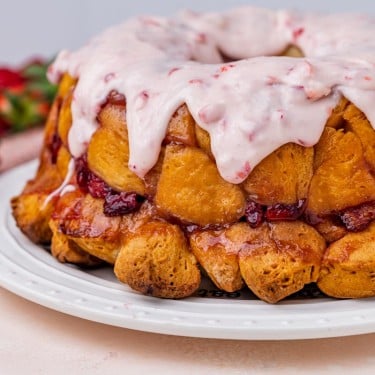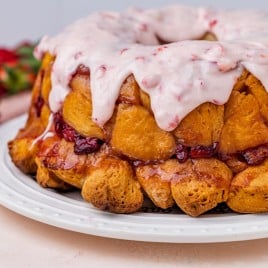 Strawberry Monkey Bread Recipe
A fruity twist on a classic – This Strawberry Monkey Bread with deliciously macerated strawberries is perfect for breakfast or brunch!
Total Time
2

hours
10

minutes
---
Ingredients
For the macerated strawberries:
1

pound

strawberries

roughly chopped

1

teaspoon

vanilla extract

1/4

cup

granulated sugar
For the dough:
2-3

tubes

Grands Southern Homestyle Butter Tastin' Biscuits*

16.3 ounces each
For coating:
1

cup

granulated sugar

1/2

cup

1 sticks unsalted butter
For the frosting:
4

ounces

cream cheese

room temperature

1

cup

powdered sugar

3

tablespoons

3-4 medium strawberries pureed strawberries

1

teaspoon

vanilla extract
Instructions
Spray a large 12-cup bundt pan with nonstick cooking spray. The inside of the pan should measure at least 9 ½ inches in diameter.
Macerate the strawberries:
Rinse and dry strawberries. Sprinkle sugar over the strawberries, add the vanilla extract, and mix to combine. Set aside for 1-2 hours.

Once you are ready to make the recipe, place the strawberries in a strainer so that they drain while you prepare the biscuits.
Prepare the dough:
Cut each piece of biscuit dough into 6 wedges.

In a small, microwave safe bowl, melt the butter.

Place the sugar in another bowl.

Dip each dough piece into the melted butter, allowing the excess butter to drip into the bowl. Then roll the dough in the sugar. (You can also place the sugar in a plastic bag and shake the dough balls around inside the bag to coat them.)

Create 1 layer of dough along the bottom of the bundt pan (use a little less than 1 tube of biscuits…maybe 7 biscuits cut into wedges) .

Blot the drained strawberries with a paper towel removing as much liquid as you can without squishing the strawberries. Spoon the strawberries over the top of the dough. Add the remaining sugar coated biscuits over the strawberries.
Bake the monkey bread:
Preheat the oven to 350ºF. Bake for 40 minutes until the bread is a deep golden brown on top and the filling is bubbling. Using a probe thermometer, the inside should test 190ºF.

Cool in a pan for at least 5 minutes, and then carefully invert monkey bread onto a serving plate.
Make the icing:
Add the cream cheese and powdered sugar to a medium size bowl. Using a hand mixer, mix on low speed until the sugar is mostly incorporated into the cream cheese.

Add the strawberry puree and vanilla extract. Increase the speed to high and mix until smooth. You can add more powdered sugar or strawberry puree until you reach desired consistency. Spoon or pour the icing over the monkey bread. Serve warm or at room temperature.

With 3 tubes:

Baked for 45-50 minutes. Biscuits are salty so use unsalted butter. The pan was VERY full.

Serve warm. Store any leftovers in an airtight container in the fridge for up to 3 days.
Notes
*If you have a large bundt pan (at least 9 1/2″ inches wide and holds at least 12 cups), use 3 tubes of biscuits. We prefered the bread this way because it was easier to eat. Two tubes works as well, and I recommend two tubes if you like a "gooier" monkey bread. I tried Butter Tastin' biscuits which we liked best, but Southern Style Buttermilk are good as well.
Refer to the article above for more tips and tricks.
The calories shown are based on the bread being cut into 15 pieces, with 1 serving being 1 slice. Since different brands of ingredients have different nutritional information, the calories shown are just an estimate. **We are not dietitians and recommend you seek a nutritionist for exact nutritional information. The information in the nutrition box are calculated through a program and there is room for error. If you need an accurate count, I recommend running the ingredients through your favorite nutrition calculator.**
Nutrition
Calories:
415
kcal
|
Carbohydrates:
58
g
|
Protein:
5
g
|
Fat:
19
g
|
Saturated Fat:
7
g
|
Polyunsaturated Fat:
4
g
|
Monounsaturated Fat:
7
g
|
Trans Fat:
1
g
|
Cholesterol:
25
mg
|
Sodium:
613
mg
|
Potassium:
203
mg
|
Fiber:
1
g
|
Sugar:
29
g
|
Vitamin A:
296
IU
|
Vitamin C:
19
mg
|
Calcium:
45
mg
|
Iron:
2
mg