Homemade Strawberry Yogurt Popsicles
Tastes of Lizzy T participates in affiliate advertising programs. We may earn a commission when you make a purchase through links on our site.
Just 5 ingredients and no refined sugar make these simple strawberry yogurt popsicles a healthy snack for kids. Greek yogurt packs this recipe with protein!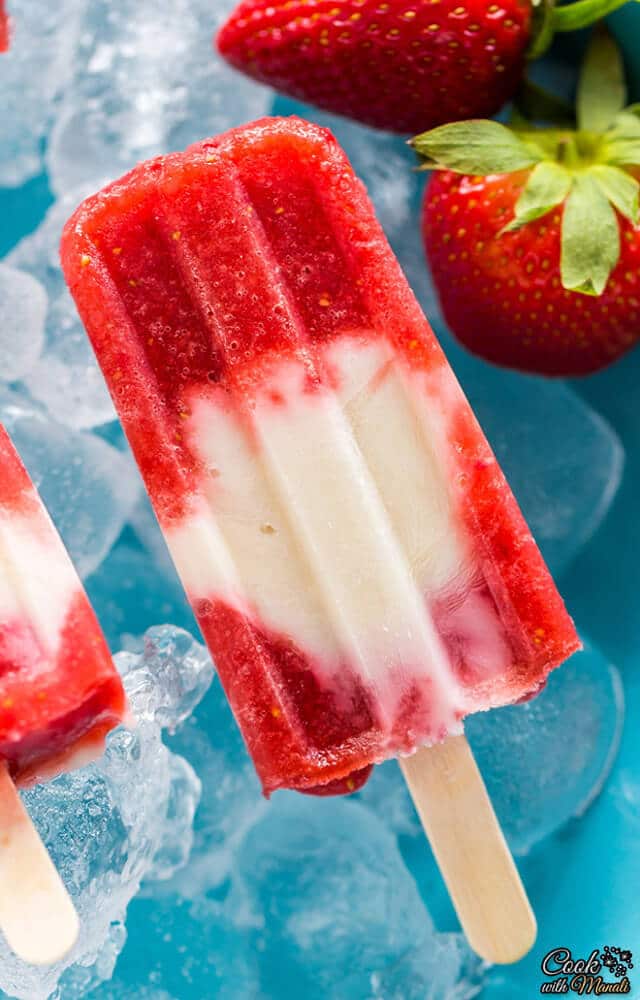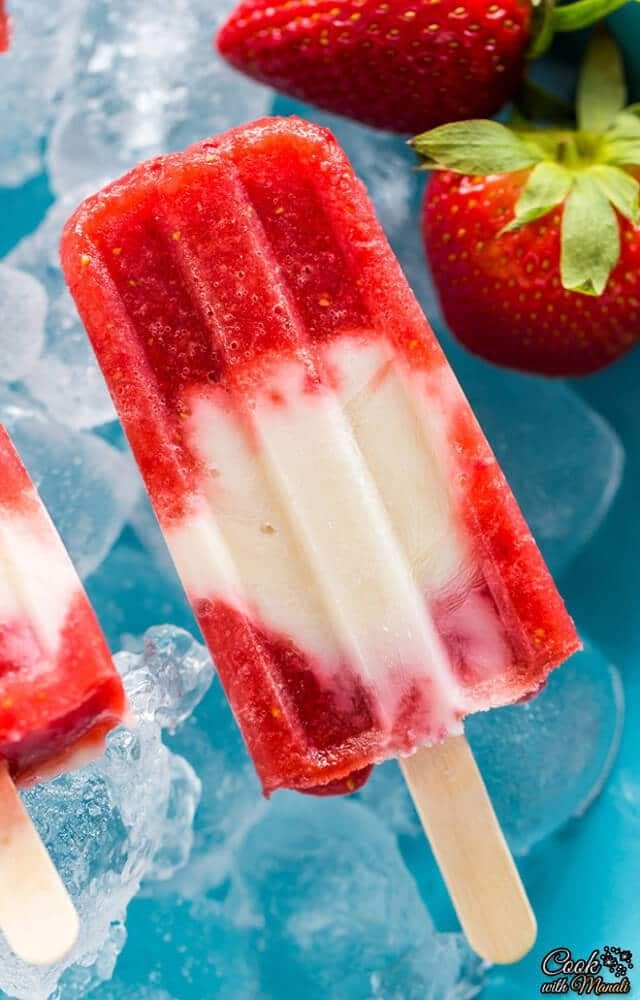 Hey guys! It's Manali  from Cook With Manali sharing with you some homemade Strawberry Yogurt Popsicles today! The days are getting longer and warmer and I am really happy about it. As a food blogger, nothing gives me more happiness than to have some extra hours for clicking pictures. Seriously it's such a relief! What is also making me happy is the fact that popsicle season would be soon upon us, or in fact I should say that it's already here and that's why I am sharing this recipe for Strawberry Yogurt Popsicles with you guys today!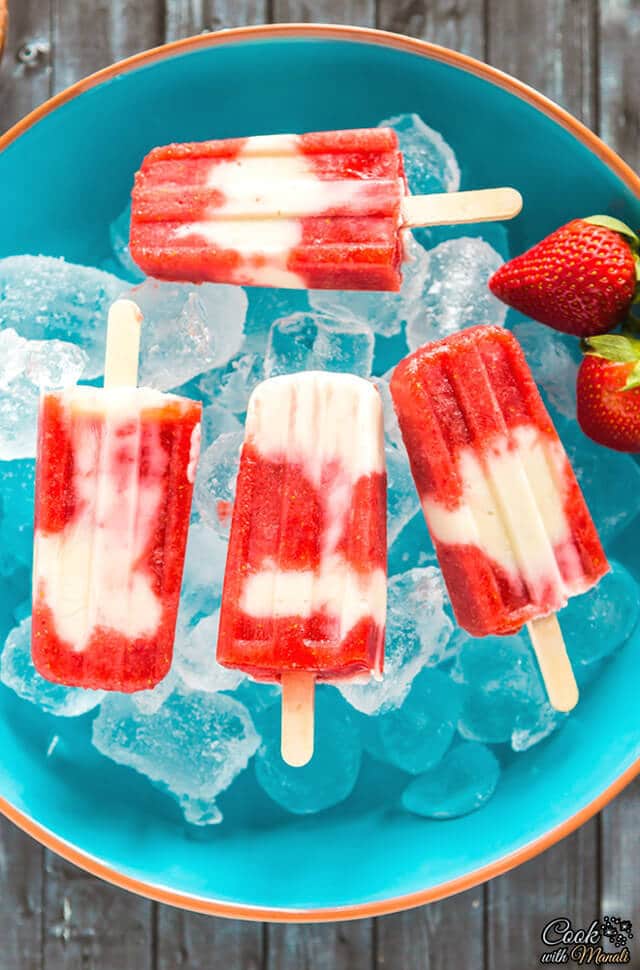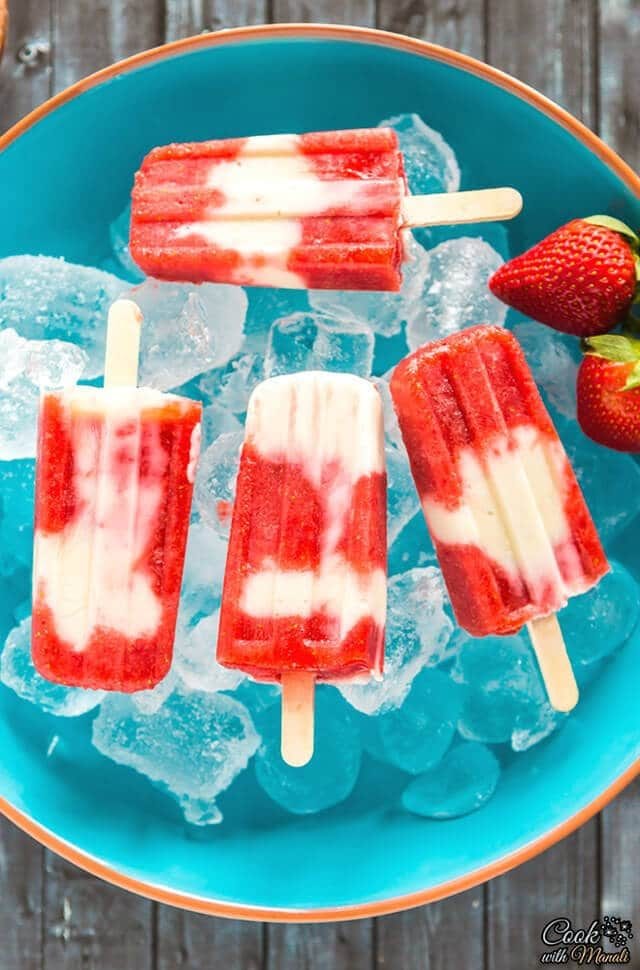 Popsicles are one of my favorite treats to make during spring and summers. If you ask me, nothing beats a refreshing fruity popsicle when it gets hot. I become this crazy popsicle lady as soon as the temperatures begin to soar. So many flavor combinations to try and so little time! You can get really creative with popsicles and they are also a lot of fun. Peanut butter & chocolate, coconut & mango – the combinations are endless. The coconut peanut butter and chocolate popsicles were my favorite from last year! These are also a great way to make your kids eat some fruits. I am sure no kid would say no to such a frozen treat. When you make popsicles at home, you know what you are adding in so it just makes them a whole lot better than the store bought stuff.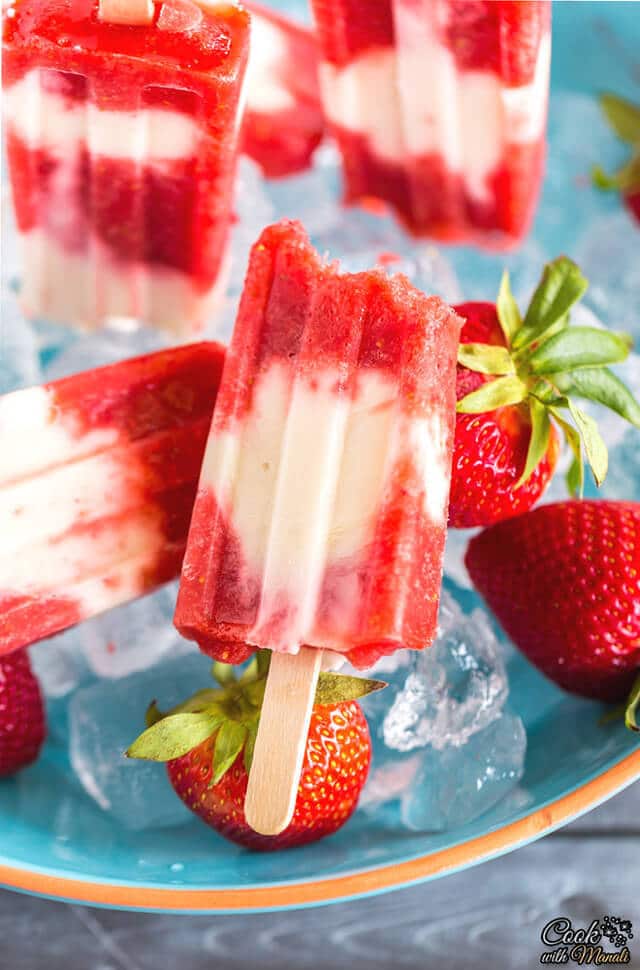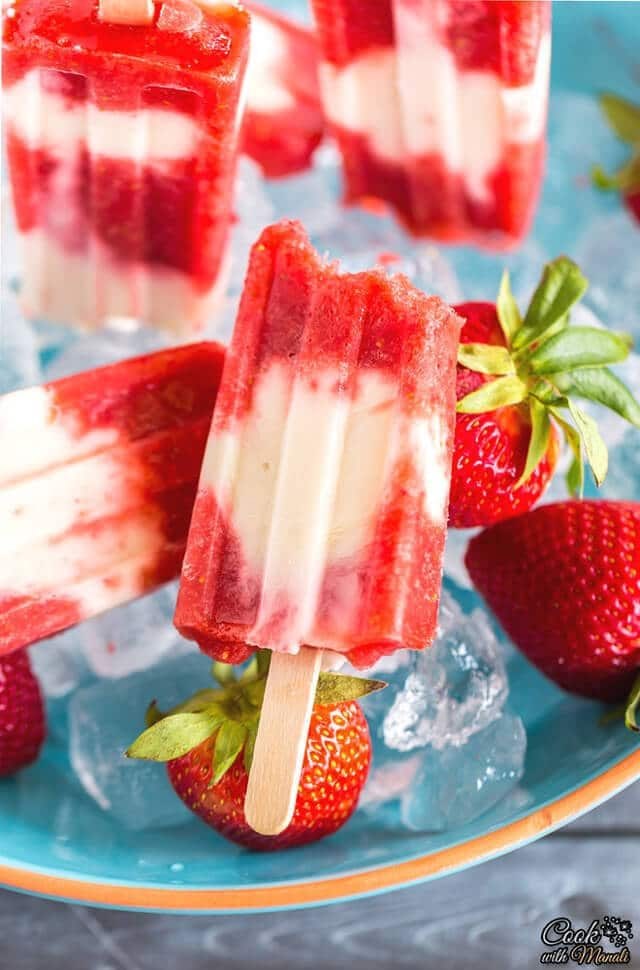 The other day while doing grocery, I spotted some really pretty strawberries. I have this problem. I cannot resist pretty looking strawberries! Even if I already have a box lying in my refrigerator, I would buy one more just because they looked too pretty to let go. Just me?
Anyway so I bought this huge box and made these strawberry yogurt popsicles. It's so easy to make these – puree the berries with some sweetener. Mix the yogurt with the same sweetener and then pour the liquid alternately into the mold and freeze until set. You only need 15 minutes to make these!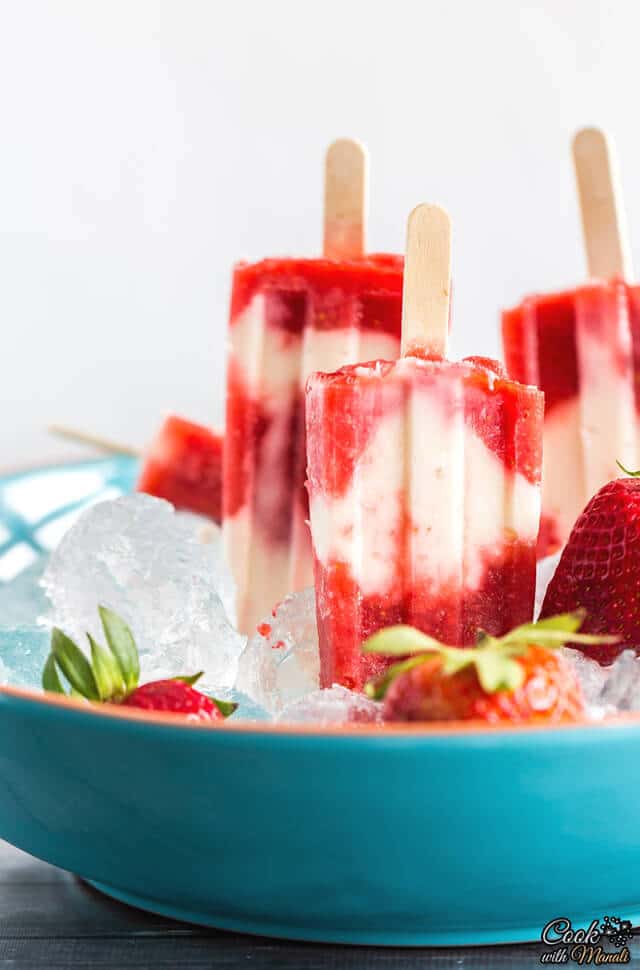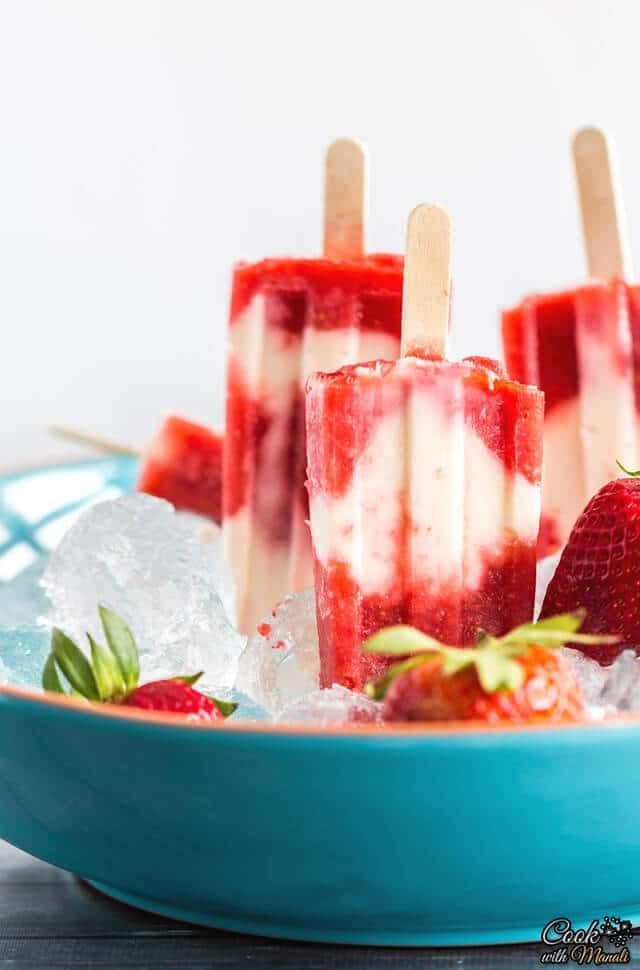 You can either combine the strawberry and yogurt mixture together and then freeze it or make layers like I did. I just think the layers look prettier but if that looks like a lot of work to you, simply combine everything together and freeze. I hope you guys enjoy these refreshing strawberry yogurt popsicles this spring and summer!
* I have used maple syrup in this recipe, you may use honey or any sweetener of your choice.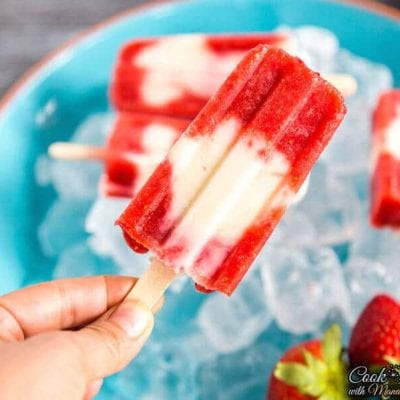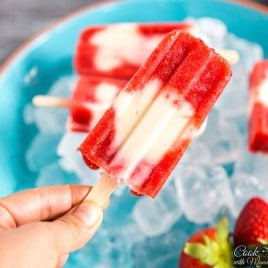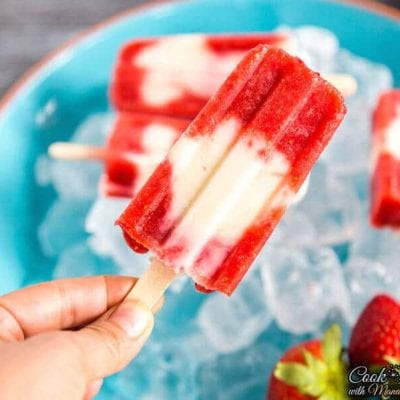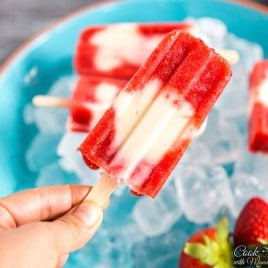 Strawberry Yogurt Popsicles
Just 5 ingredients and no refined sugar make these simple strawberry yogurt popsicles a healthy snack for kids. Greek yogurt packs this recipe with protein!
---
Ingredients
10

ounces

strawberries

[around 2 cups]

4

tablespoons

maple syrup

divided

3/4

teaspoon

lemon juice

1

cup

greek yogurt

1/2

teaspoon

vanilla extract
Instructions
To a food processor add strawberries, 3 tablespoons maple syrup, lemon juice and mix till you get a smooth puree.

In a bowl, whisk together greek yogurt with 1 tablespoon maple syrup and vanilla extract.

Fill each popsicle mold with 2-3 teaspoons of the strawberry puree. [To bring in a little change, you can also fill some of the popsicles with the greek yogurt mixture first.]

Then place 1-2 tablespoons of the greek yogurt mixture on top. And finally again add few teaspoons the strawberry puree till your mold is full.

Place the popsicle mold in the freezer. After 2 hours, when it's slightly set, take it out of the freezer and insert the stick into the center. This way the sticks stay in place.

Freezer overnight or till completely frozen.

To take them out, place the mold in warm water for 15-20 seconds and then pull gently, the popsicles would come out easily.

Enjoy the strawberry yogurt popsicles!
Nutrition
Serving:
164
g
|
Calories:
48
kcal
|
Carbohydrates:
8
g
|
Protein:
3
g
|
Fat:
1
g