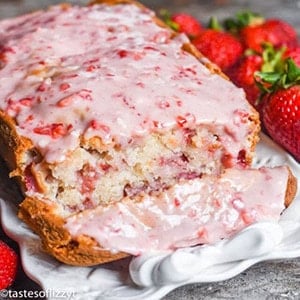 If you are looking for a sweet dessert but don't have a lot of time, try one of our sweet quick breads! Filled fruit and different flavorings, you're sure to find a new bread to try. Make these breads for breakfast, brunch or as a dessert (with a scoop if ice cream)!
Love quick breads? Our cookbook is for you.

Bonus!!! We've included our top 5 tips for making any type of quick bread. These will be sure to give you success every time!
What is quick bread?
Quick bread is any bread that does not use yeast. Instead, it will use baking powder and/or baking soda to cause the bread to rise. Because there is no yeast, you won't need to knead the bread, which saves time also.
Quick breads can also be scones, muffins and biscuits.
Pro Tip
Be sure not to overmix quick bread batter. Mix only until the flour is all mixed in. If you mix too much, your bread can become tough.
Tips for the Best Quick Breads
What makes quick bread quick?
Quick bread is "quick" because it usually on takes about 10-15 minutes of "hands-on" time before baking. Yes, it takes about an hour in the oven (depending on the recipe), but that is "hands off" time.
Why is my quick bread crumbly?
To ensure your bread is not crumbly, make sure you have measured the flour correctly. Don't pack the flour in to the measuring cup. Instead, spoon it in and then level it off with a knife. Also, make sure you don't over bake the bread. This will cause it to be dry and crumbly.
How to Make Quick Breads Moist
We've tested our recipes to ensure that they are moist. If for some reason they aren't moist enough for you, you can try adding a scoop (maybe ¼ cup) of sour cream to the batter with the wet ingredients. This adds nice moisture without making the bread too wet.
Can you freeze quick breads?
Yes! Freeze for up to 3 months. Because of the fruit, oil and/or butter in quick breads, they freeze really well. Be sure to allow the breads time to cool completely. Wrap in plastic wrap once, then wrap again in plastic wrap, foil or place the wrapped loaf in a storage container.
How do you defrost quick bread?
Here is an important tip when thawing baked goods. Allow the bread to come to room temperature before opening any of the packaging. This will help ensure that all of the moisture stays in the bread and doesn't evaporate out. Unthaw in the refrigerator overnight or for several hours at room temperature.