This Bacon Pineapple Bread will surprise you because it is so savory. It's an easy quick bread recipe that goes perfectly with soup or salad.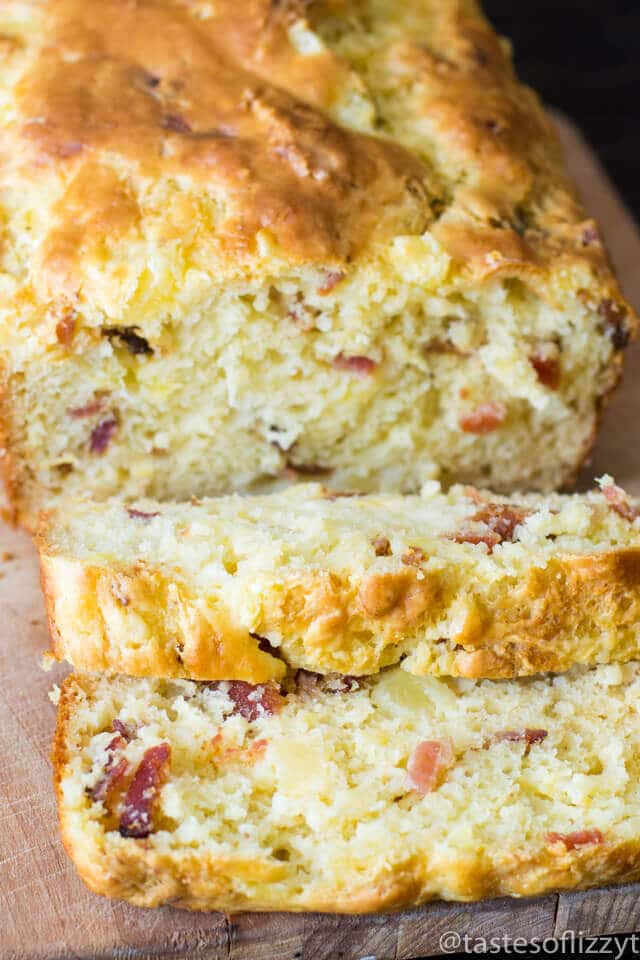 Here we go again. Another bread recipe from me to you. It's been awhile, you know. Did you get to make some of the twisty bread for your Easter dinner? If not, find a reason to soon. You won't be sorry.
I've been in a "quick bread" baking mood lately. What makes a bread a "quick bread"? It's that it doesn't have yeast in it. Don't get me wrong. I love baking with yeast, but there's not much better than whipping up a batch of quick bread in the morning. The aroma fills the house for the rest of the day.
Many quick breads are sweet, and this Bacon Pineapple Bread might throw you off at first, making you think that because of the pineapple, it is sweet. The bacon completely takes center stage in this bread, though, which makes it so much more savory than sweet.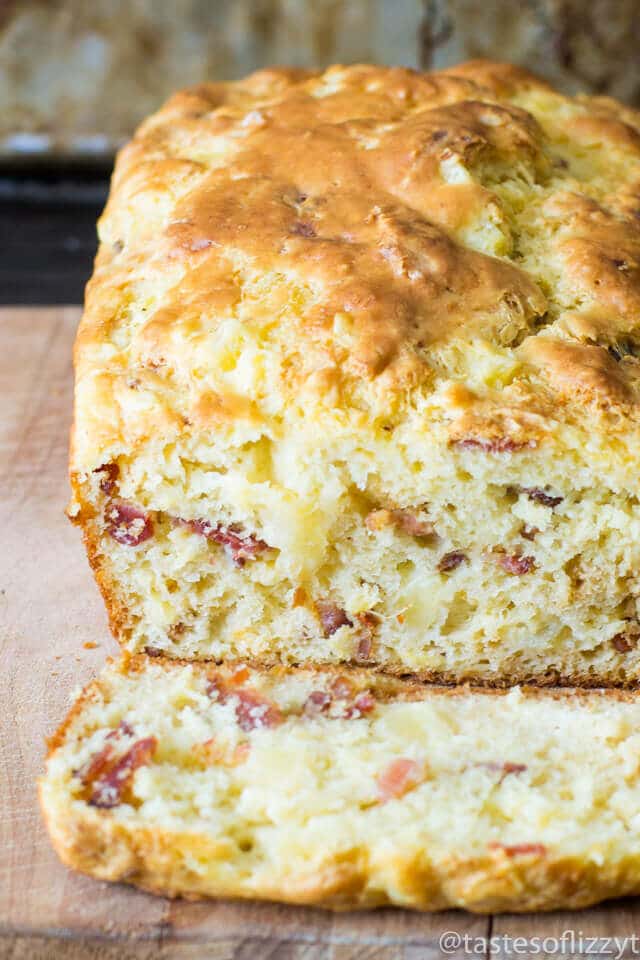 This Bacon Pineapple Bread is a simple bread to make so there's not a lot of hints I can give you. It's nice because you don't need even need a stand mixer. In fact, the hardest part of this recipe is not eating the bacon that you've pre-cooked before throwing it in the bread dough!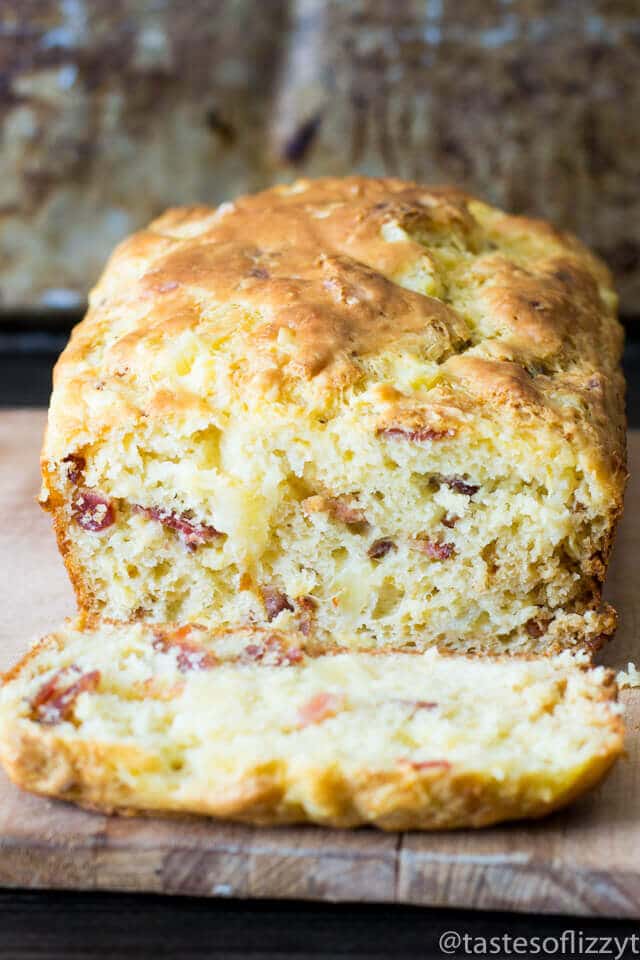 Serve slices of this bread with a bowl of soup or with salad. And because it is so ingrained in my mind that I like sweet quick breads, I decided to spread some homemade cherry jam on top of a slice. Matt looked at me like I was crazy and you may, too. Bacon and cherry jelly? I'm not usually one to be so adventurous with my eating. But the sweet and savory went together so perfectly that Matt couldn't stand it and had to try my concoction. He was impressed and went for another slice! It's the perfect all-in-one bread. Great with soup or salad, and so yummy with your favorite jelly spread on top for dessert.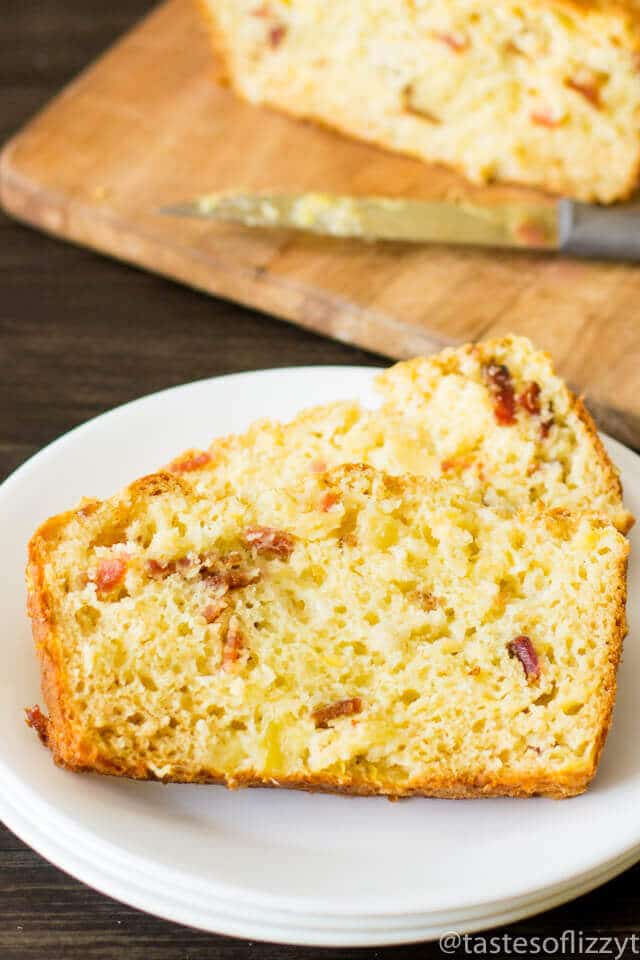 Bacon Pineapple Bread
This Bacon Pineapple Bread will surprise you because it is so savory. It's an easy quick bread recipe that goes perfectly with soup or salad.
Total Time
1
hour
20
minutes
Ingredients
1/2

pound

bacon

cooked until crispy and crumbled

2

cups

all-purpose flour

1

teaspoon

salt

1

tablespoon

baking powder

1/2

teaspoon

baking soda

1

teaspoon

granulated sugar

2

large

eggs

1/3

cup

milk

1

cup

sour cream

1

cup

crushed pineapple

well drained
Instructions
Fry the bacon and crumble it. Set aside.

Combine the flour, salt, baking powder, baking soda, and sugar to a large mixing bowl. Make a well in the middle of the ingredients.

Add the eggs, milk and sour cream to the center of the dry ingredients. Stir the wet ingredients together, slowly incorporating the flour mixture and stir just until blended.

Fold in the bacon and pineapple. Spoon the mixture into a 9x5 loaf pan that has been sprayed with cooking spray.

Bake at 350 degrees for 45-50 minutes. A toothpick inserted into the center should come out clean.

Let the bread cool in the pan for 10 minutes, then remove it to a wire rack. Serve warm.

Nutrition
Serving:
107
g
|
Calories:
291
kcal
|
Carbohydrates:
24
g
|
Protein:
13
g
|
Fat:
15
g