Whole Wheat Everything Bagels
Tastes of Lizzy T participates in affiliate advertising programs. We may earn a commission when you make a purchase through links on our site.
Savory and delicious these Whole Wheat Everything Bagels are a fun, flavorful and simple breakfast recipe that everyone will enjoy!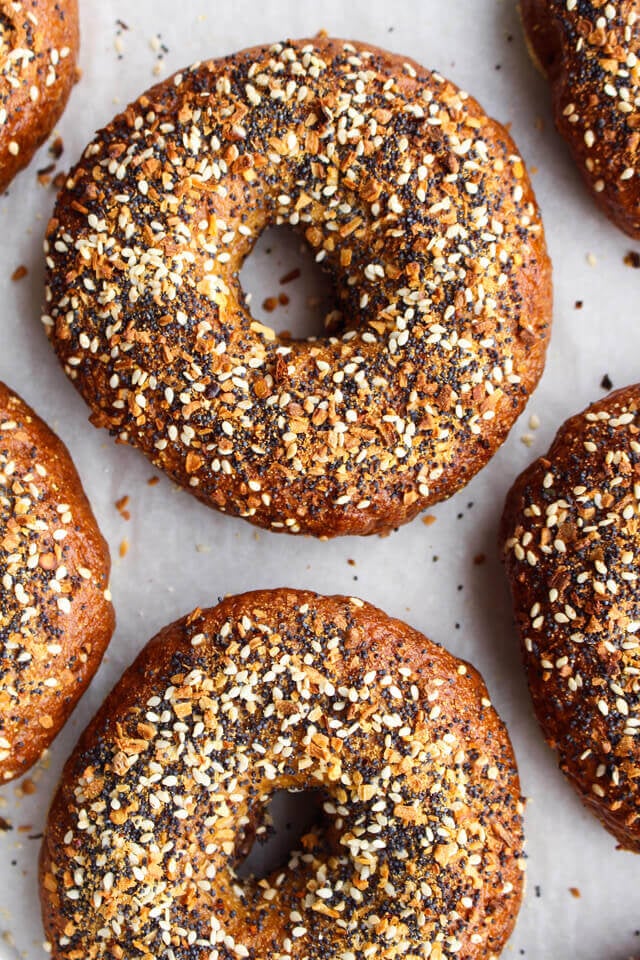 Hi everybody! This is Kristie – back again from The Sweet & Simple Kitchen & super excited to be sharing some whole wheat everything bagels with you all!
Fun fact about me; One of my all-time favourite breakfasts is a warm toasted bagel, that has been buttered and smeared with a good dollop of tangy cream cheese. It might sound like the simplest breakfast ever, but there is just something about a good bagel with cream cheese that I can never seem to get enough of. But does a girl ever really need a good reason for why she loves bread or cheese? I think not.
Now while homemade bagels have become something of a regular occurrence around my house, I have to admit that the first time I made bagels I was completely freaked out. The very idea itself was so foreign and daunting to me, that I actually avoided trying it for years.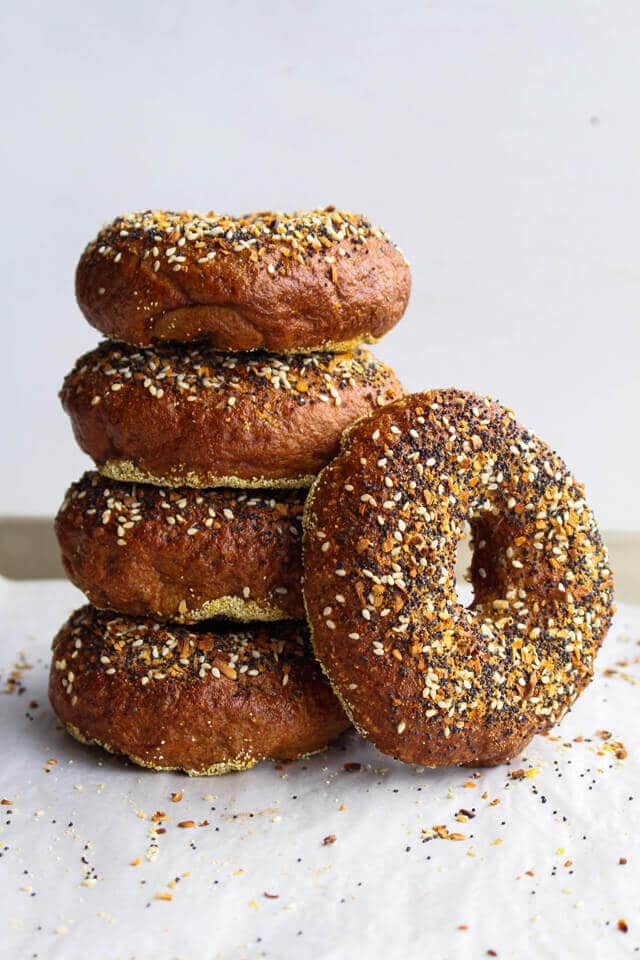 When I finally got up the courage to try, I had no idea what I was doing, and I thought I was in for a technical battle royal, that would almost definitely end in failure. However, once I actually started making the bagels I realized that not only are they really easy to make, but they are also be so much fun!
There are so many reasons why making these whole wheat everything bagels really is was of my favourite baking projects to date. Everything from seeing the yeast dough rise, to shaping the bagels, to watching them puff up in the boiling water, to the smell that fills your kitchen when you bake them… (this might be my absolute favourite part.)
Bagels really really are such a satisfying baking project, and I would be lying if I said that every time I pull a tray of homemade bagels out of the oven, I'm not beaming with childish pride in my baking accomplishment. Not to mention, there really is nothing quite like eating a fresh, homemade bagel that is still warm from the oven.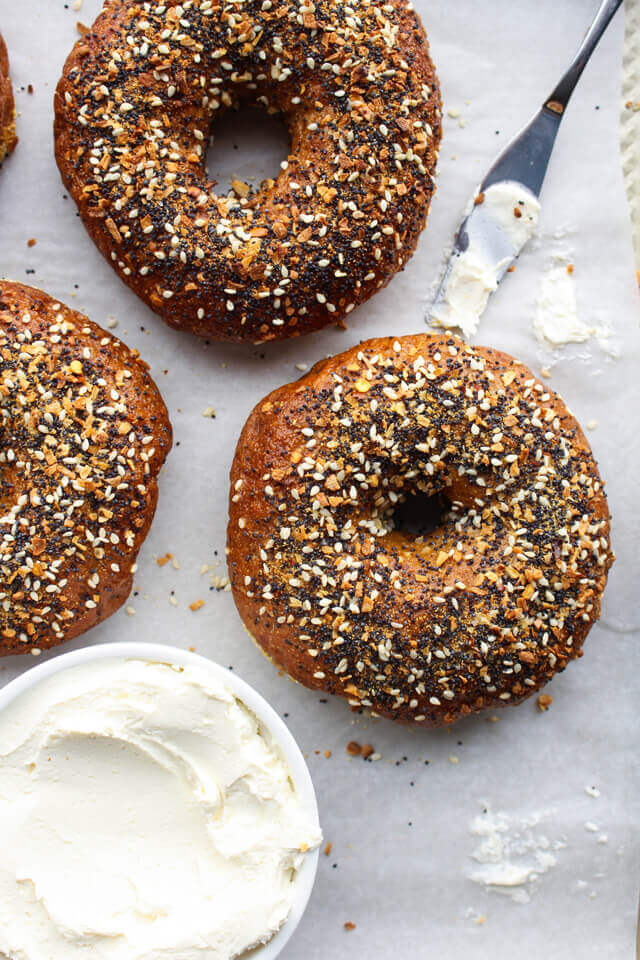 So if you have been wanting to try your hand at homemade bagels, I encourage you to give this simple whole wheat everything bagels recipe a try. These bagels have an amazing outer crust, and a chewy interior that is to die for.
I use half whole wheat flour when I make them, because I like a nice hearty bread, but you could definitely sub white flour if you wanted.
This recipe calls for an "everything" topping, but honestly you could customize the topping to whatever suits your fancy. I often top them with just sesame seeds, or a seeded oat mixture, and if I am feeling like something a little sweet, these taste absolutely amazing when topped with cinnamon sugar.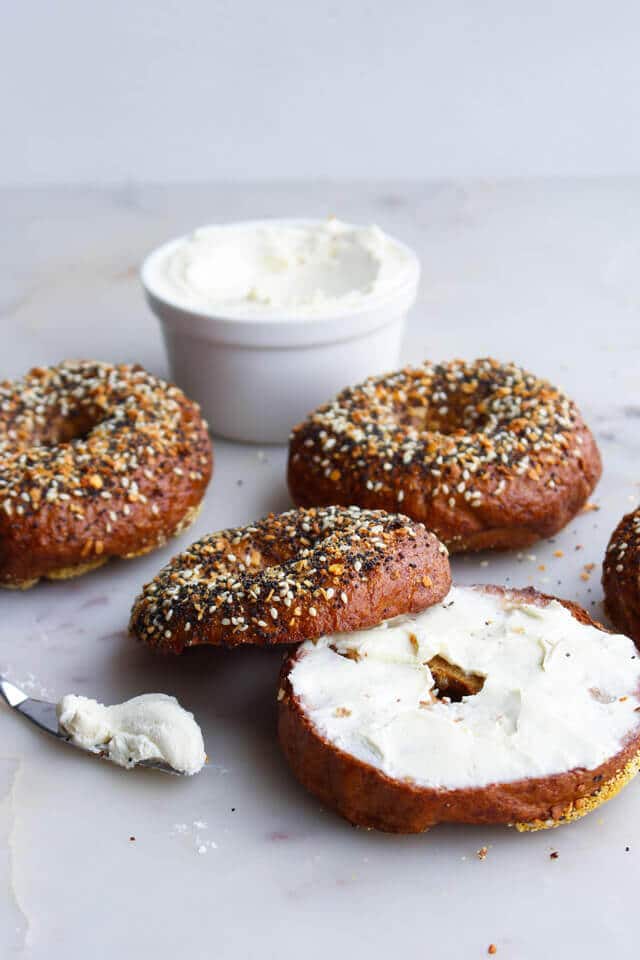 So I definitely encourage you to play around with different flavour combinations to suite your family & just have some a good time baking them, because that really is half the fun!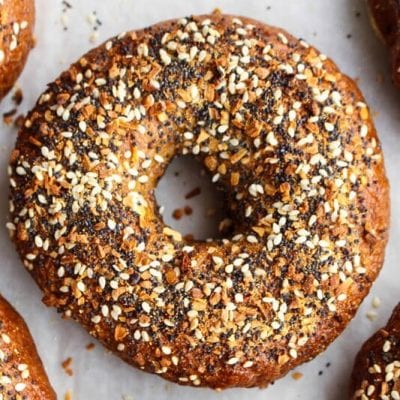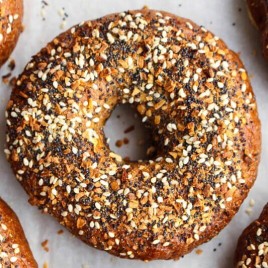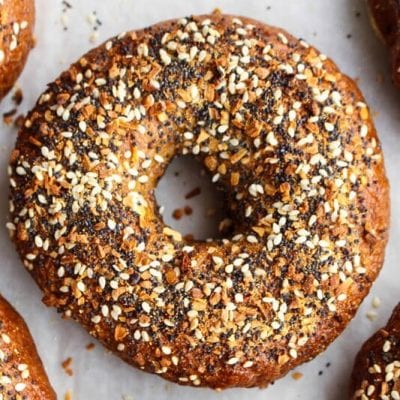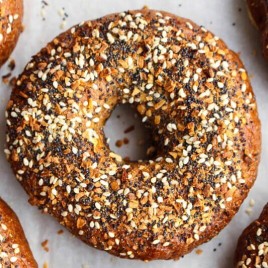 Whole Wheat Everything Bagels
Savory and delicious these Whole Wheat Everything Bagels are a fun, flavorful and simple breakfast recipe that everyone will enjoy!
Total Time
2

hours
20

minutes
---
Ingredients
Bagels
1

package instant yeast

2

tbsp

molasses

2

tsp

salt

2

cups

whole wheat flour

1 1/2

cups

all-purpose flour

1 1/2

cups

warm water

1

egg

to brush on bagels, beaten

1/2

cup

cornmeal

optional – for the bottom of the bagels

1

pot of boiling water

2

tsp

baking soda

1

tbsp

granulated sugar
Everything Bagel Topping (Optional)
3

tbsp

Sesame Seeds

3

tbsp

Poppy Seeds

1 1/2

tbsp

Dried Onion Flakes

2

tsp

Garlic Seasoning

1

tsp

coarse sea salt
Whipped Peppered Cream Cheese
8

ounces

cream cheese

at room temperature

3/4

tsp

coarse pepper
Instructions
Bagels
In a stand mixer fitted with the dough hook, combine yeast with warm water. Let the yeast proof for 5 minutes until it dissolves and is foamy. Add in flour, molasses & salt and begin mixing with the dough hook. Knead the dough for 5 minutes in the stand mixer or if you are doing it by hand, knead the dough for 10 minutes on a lightly floured surface.

Once the dough has been kneaded, place it in a large mixing bowl which has been greased with butter (or oiand allow to rise in a warm place for 1.5 hours or until the dough has doubled in size.

Preheat your oven to 425 degrees and line 2 baking sheets with parchment paper.

Once the dough has risen, punch it down to release the air and drop it out onto a lightly floured surface. Depending on what size you want your bagels, cut the dough into equal portions…

8 equal portions = 8 large bagels

10 equal portions = 10 medium bagels

12-14 equal portions = 12-14 mini bagels

Once you have cut your dough, collect the edges of each individual piece of dough and shape into balls. Once you have shaped all your dough into balls, use your thumb to punch a hole through the center of each ball. Use your fingers to gently stretch the whole to your desired size. Set aside on a baking sheet that has been lined with parchment paper.

Once you have finished punching the holes in your bagel dough, allow the dough to rest for 15 minutes in a warm place. The dough will rise up even more during this time.

Bring a pot of water to a boil, add in baking soda & sugar. Depending on your bagel size & the size of your pot, place 3-4 bagels into the boiling water at a time. Boil for 90 seconds on one side, flip the bagel and boil for another 90 seconds on the other side. Remove from boiling water with a strainer.

Place the bagels onto prepared baking sheet, with cornmeal sprinkled on top of the parchment. Brush the bagels with the egg wash and sprinkle with your desired toppings or just leave them plain. Bake for 20 minutes or until golden brown.

Allow to cool for at least 10 minutes before serving. If you want to freeze your bagels, allow them to cool completely and place them in a sealed plastic bag.
"Everything" Bagel Topping
In a small bowl, mix together sesame seeds, poppy seeds, garlic flakes & garlic powder – Set aside until ready to use.

After you have brushed your bagels with egg wash, sprinkle the topping onto the top of the bagel.
Whipped Cream Cheese
In a medium mixing bowl with a stand or hand mixer fitted with the whipping beater, beat the cream cheese on high until smooth and fluffy. Serve just like this or add in pepper and beat until well combined.

Serve on a warm bagel with butter & cream cheese.
Nutrition
Calories:
390
kcal
|
Carbohydrates:
55
g
|
Protein:
11
g
|
Fat:
14
g
|
Saturated Fat:
6
g
|
Cholesterol:
51
mg
|
Sodium:
1508
mg
|
Potassium:
340
mg
|
Fiber:
5
g
|
Sugar:
6
g
|
Vitamin A:
410
IU
|
Vitamin C:
0.7
mg
|
Calcium:
138
mg
|
Iron:
3.7
mg