Tastes of Lizzy T participates in affiliate advertising programs. We may earn a commission when you make a purchase through links on our site.
Grandma's Zucchini bread recipe is not only easy, but bakes up moist and full of comforting flavor. It makes two loaves and freezes well.
Zucchini bread season is in full swing (but really, is there ever not a time for zucchini bread?!). This best zucchini bread recipe is extra special because it is my grandma's recipe. I remember fondly her bringing loaves of this quick bread when she came to visit, and smelling the familiar aroma coming from my mom's oven as she used the same recipe.
In this classic zucchini bread recipe, we're honoring the traditional flavors that make this an all-time favorite, while also offering twists and variations to make it even more special. Enjoy it as a breakfast treat, afternoon snack, or even dessert after dinner.
Table of Contents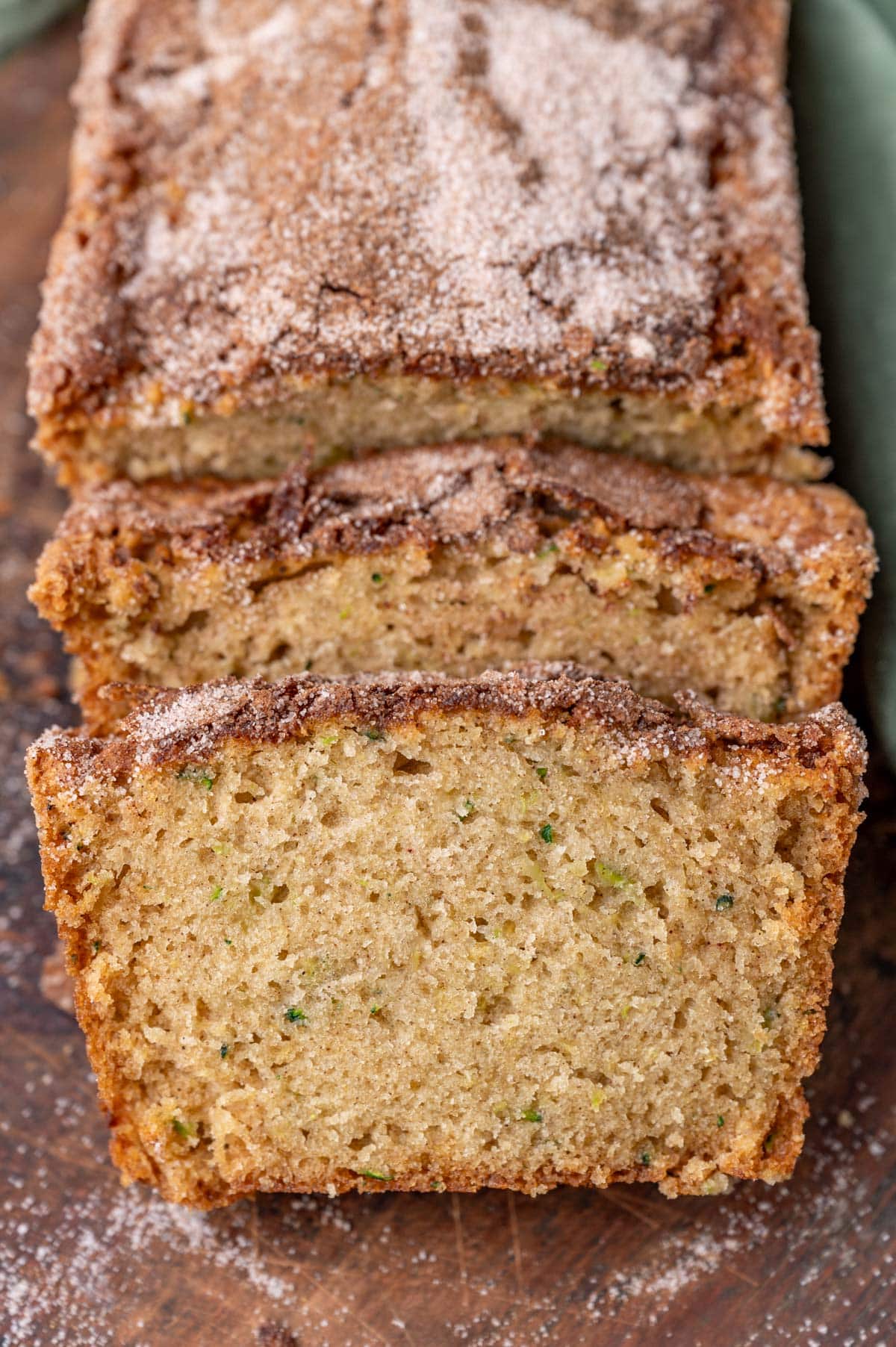 ⭐️ ⭐️ ⭐️ ⭐️ ⭐️ Reader Susan says, "I've made your Grandma's Zucchini Bread at least 4 times. I have 2 loaves in the oven right now. I always freeze one for next month. It freezes great. I made today's with peanuts & plant based chocolate chips. Thanks so much for sharing. We love it!"
⭐️ ⭐️ ⭐️ ⭐️ ⭐️ Reader Maureen says, "This is the exact same recipe as my grandmother [born 1900] who put toasted walnuts and a table spoon of molasses in her zucchini bread. Thank you!"
About this Homemade Zucchini Bread Recipe:
Flavor: What we love out zucchini bread is that it is loaded with shredded veggies, but you can't taste them. This bread has a simple, sweet flavor with a hint of cinnamon. But you can rest easy knowing there is vegetables inside!
Texture: You never have to worry about this bread being dry. With the oil, eggs and fresh zucchini, it bakes up with a light crumb and perfectly moist texture.
Method: This recipe bakes in two 8.5×4.5 inch loaf pans, which is perfect because you can keep one and bless someone else with the other. It's an easy zucchini bread recipe!
Ingredients for Zucchini Bread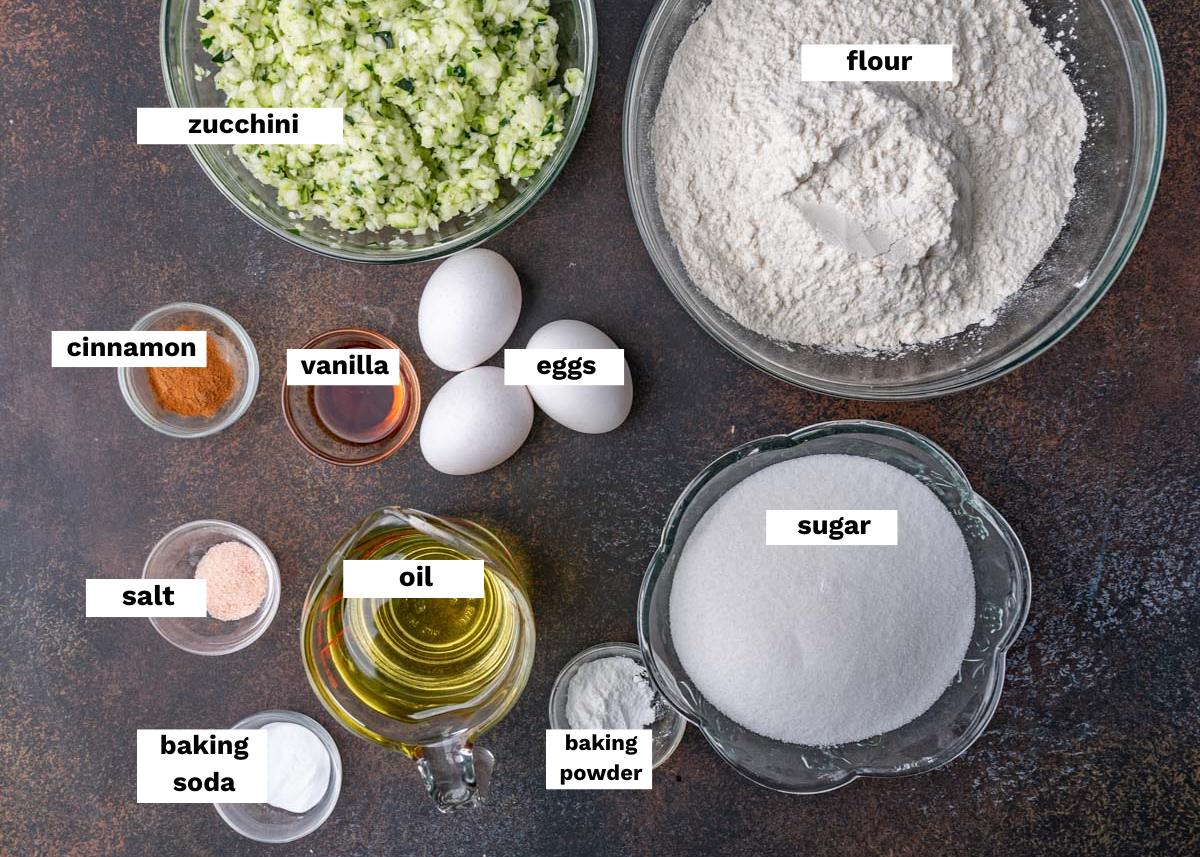 A few notes about the ingredients:
Use any type of oil: canola oil, vegetable oil or even melted coconut oil.
I've not tried using any sugar substitute in this recipe.
An all-purpose gluten-free flour should work well for this quick bread.
Eggs will mix in best if they are at room temperature.
To deepen the flavor slightly, use half brown sugar and half granulated sugar.
Do you grate the whole zucchini for bread?
Slice off and discard both ends of the zucchini. Otherwise you can use the whole zucchini.
Do you leave the skin on zucchini when making bread? Although you may be tempted to peel the zucchini for bread, save yourself a few minutes. You won't taste the peel. Yes, you may see just a hint of green here and there, but the zucchini tenderizes in the bread and you won't notice a texture difference by keeping the peel on.
What about the zucchini seeds? If the zucchini is extra large with big seeds, you may want to cut out and discard the very center of the zucchini to get rid of the seeds. If they are small, they'll just grate right into the bread and no one will know the difference.
How do you process zucchini for baking?
We've used several different methods:
Food processor. Cut the stem of the zucchini off along with just a bit of the bottom of the zucchini. Then use the shredding disc, or if you have a small food processor you can cut the zucchini into chunks before pulsing just a few times.
Box grater. Zucchini is soft and easy to shred. We use the side of the grater with the largest holes.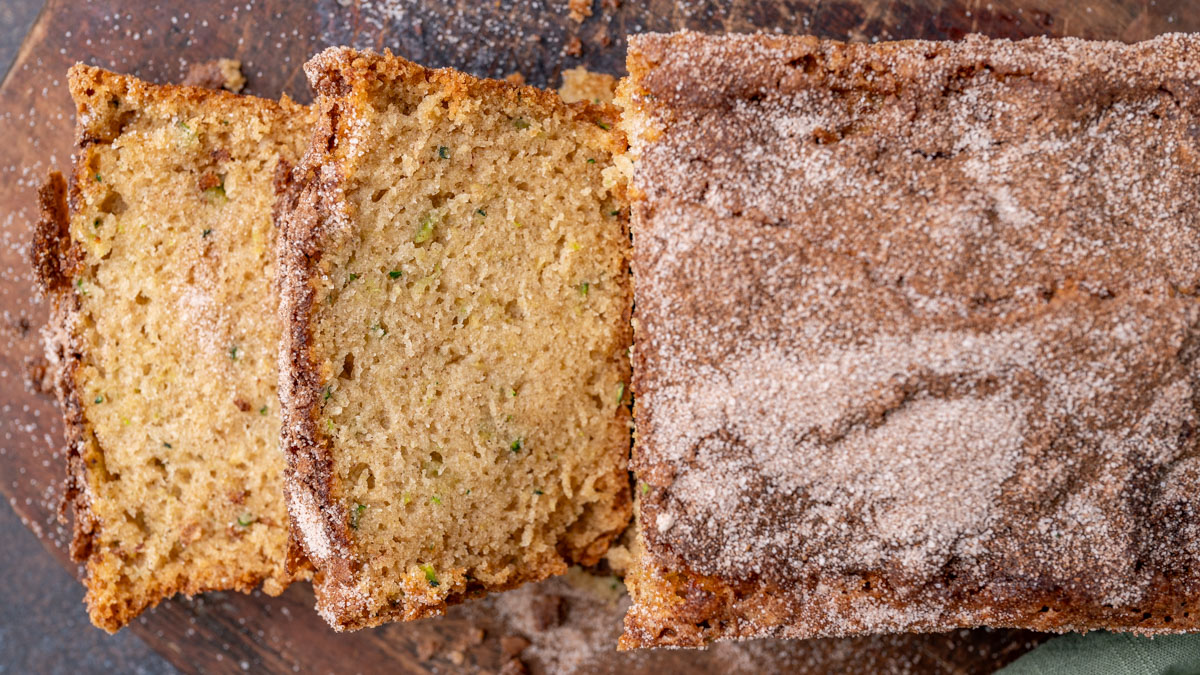 How to Make Zucchini Bread
There are 5 simple steps to making zucchini bread:
Shred the zucchini.
Mix the wet ingredients in a large bowl.
Mix the dry ingredients in a small bowl.
Combine the dry ingredients into the wet ingredients.
Divide the bread batter between two greased and floured loaf pans, sprinkle the top with cinnamon sugar and bake.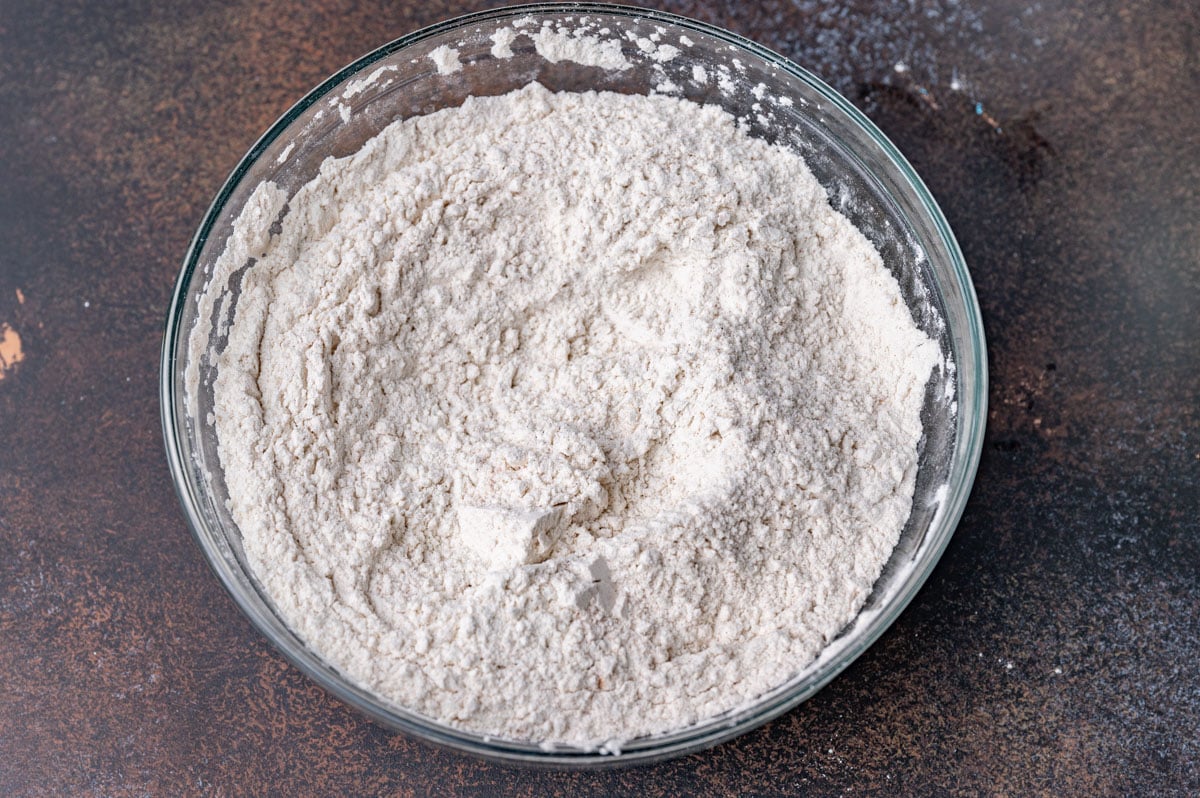 Baking tip
If you find the bread getting too brown on top during baking, cover the top loosely with aluminum foil as it finishes baking. This will help prevent the bread from browning any more.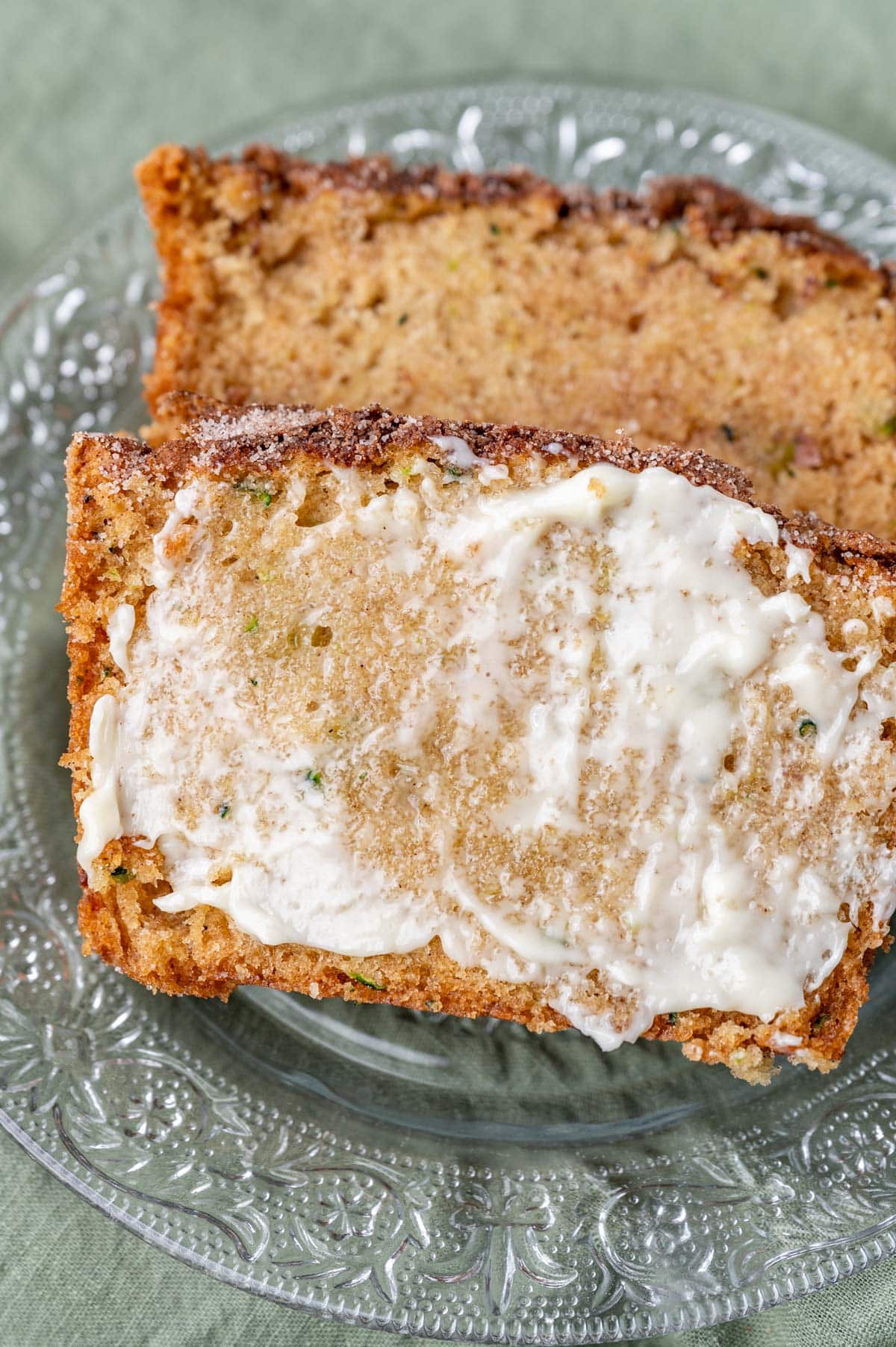 Storage Instructions
Room temperature: Store in an airtight container on the counter for up to 48 hours.
Refrigerator: Store in an airtight container in the fridge for up to 5 days. Bring to room temperature before eating.
Freezer: Freeze the loaf whole or sliced in an airtight container for up to 2 months. Thaw at room temperature before eating.
Is it better to freeze zucchini or zucchini bread?
Both methods work really well. We've frozen whole loaves of zucchini bread and also frozen bags of grated zucchini.
If you choose to freeze grated zucchini, remember that as it defrosts you'll end up with a lot of water. Drain the zucchini in a colander to get out excess water, but don't press it dry. You want some of that moisture to remain so that the bread bakes properly.
You may also love our pumpkin bread and banana bread based off of my grandma's zucchini bread recipe.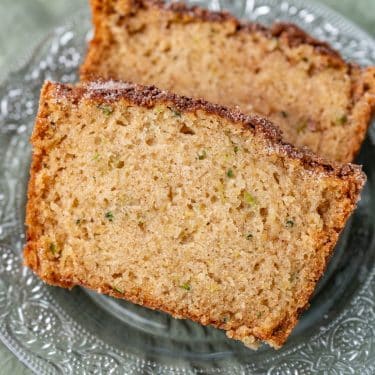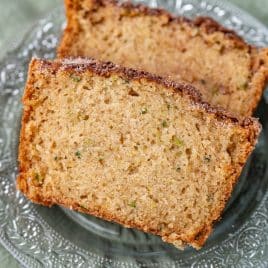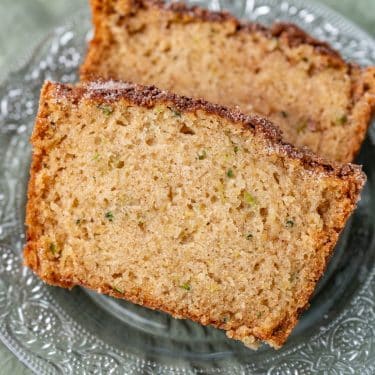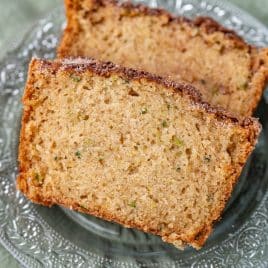 Zucchini Bread Recipe
My Grandma's Zucchini Bread recipe is not only easy, but bakes up moist and full of comforting flavor. It makes two loaves and freezes well.
Total Time
1

hour
15

minutes
---
Ingredients
1

cup

canola oil

8 ounces

2

cups

granulated sugar

400 grams

2

teaspoons

vanilla extract

8 grams

3

large

eggs

2

cups

grated zucchini

3

cups

all-purpose flour

390 grams

1

teaspoon

salt

5 grams

1

teaspoon

baking soda

5 grams

1

teaspoon

baking powder

4 grams

1

teaspoon

ground cinnamon

3 grams
Optional topping:
1/4

cup

granulated sugar

50 grams

1

tablespoon

ground cinnamon

8 grams
Instructions
Preheat the oven to 325ºF. Grease and flour a 8.5×4.5" loaf pan.

In a large mixing bowl, whisk together the oil, sugar, eggs, vanilla and zucchini in a bowl. Set aside.

1 cup canola oil

, ,

2 cups granulated sugar

,

2 teaspoons vanilla extract

,

3 large eggs

,

2 cups grated zucchini

In a separate medium bowl, whisk together the flour, salt, baking soda, baking powder and cinnamon.

3 cups all-purpose flour

,

1 teaspoon salt

,

1 teaspoon baking soda

,

1 teaspoon baking powder

,

1 teaspoon ground cinnamon

Add the dry ingredients to the wet ingredients and mix with a rubber spatula just until combined. Do not over mix.

Divide the batter between the two prepared pans.

In a small bowl, mix together the cinnamon sugar topping. Sprinkle over the top of the batter.

¼ cup granulated sugar

,

1 tablespoon ground cinnamon

Bake for 1 hour or until a toothpick inserted in the center of the loaf comes out clean. The internal temperature of the bread should be about 200ºF.
Notes
Add in 1 cup of nuts, raisins, or chocolate chips, as desired. Our favorite addition is mini chocolate chips.
Refer to the article above for more tips and tricks.
The calories shown are based on the recipe making 2 loaves, each cut into 10 slices. One serving is 1 slice of zucchini bread. Since different brands of ingredients have different nutritional information, the calories shown are just an estimate. **We are not dietitians and recommend you seek a nutritionist for exact nutritional information. The information in the nutrition box are calculated through a program and there is room for error. If you need an accurate count, I recommend running the ingredients through your favorite nutrition calculator.**
Nutrition
Calories:
268
kcal
|
Carbohydrates:
38
g
|
Protein:
3
g
|
Fat:
12
g
|
Saturated Fat:
1
g
|
Polyunsaturated Fat:
3
g
|
Monounsaturated Fat:
7
g
|
Trans Fat:
0.05
g
|
Cholesterol:
28
mg
|
Sodium:
183
mg
|
Potassium:
86
mg
|
Fiber:
1
g
|
Sugar:
23
g
|
Vitamin A:
67
IU
|
Vitamin C:
2
mg
|
Calcium:
23
mg
|
Iron:
1
mg
Zucchini Bread Variations
You can add in whatever you want in this bread-chocolate chips, nuts, raisins-whatever you choose. Or, you can eat it plain, which we've done many times. Here are a few fun ideas:
Chocolate Chips and Walnuts: Adding semi-sweet chocolate chips and chopped walnuts creates a contrast of textures and flavors.
Lemon and Blueberry: Add lemon zest and fresh blueberries to the batter. The tartness of the blueberries and the zing of the lemon zest will make your taste buds dance.
Coconut and Pineapple: For a tropical twist, mix in shredded coconut and drained crushed pineapple. You'll feel like you're on the beach!
Cranberry and Orange Zest: Fresh or dried cranberries paired with orange zest will add a delicious flavor that will remind you of Christmas.
Cinnamon Streusel Ribbon and Topping: Fill the loaf pans half full, then make a mixture of butter, flour, brown sugar, and cinnamon. Sprinkle half of this over the batter, fill the pans with the remaining batter, and sprinkle the rest of the sugar crumbs on top.
Carrot and Raisin: Think Easter time! Grate some carrots and add them to the batter, along with raisins. It pairs well with the cinnamon.
Dark Chocolate and Chili: For those who love a hint of heat, mix in dark chocolate chunks and a pinch of chili powder or cayenne pepper. It's a fabulous spicy and sweet combo.
Frequently Asked Questions
How many zucchini do you need for two cups shredded?
Every zucchini is just a little different in size. This recipe calls for two cups of shredded zucchini. You'll need about 2 medium size zucchinis to make 2 cups of grated zucchini.

Be sure to measure the zucchini after you grate it to be sure you have 2 cups.
Is zucchini bread good for you?
Well…it does have a vegetable in it. It's always great when you can hide vegetables in food. But it is a quick bread, which is pretty much like zucchini cake so I don't think we can say it is good for you.

But a slice here and there won't hurt you too much either.
Can I reduce the sugar or oil in this bread?
I would not reduce the oil. It's what helps make this bread soft and tender. You can try reducing the sugar by ⅓ cup if you'd like.
How do you keep zucchini bread moist after baking?
Wrap the cooled loaf in plastic wrap, then place it in another airtight container or plastic freezer bag.
Other Zucchini Recipes