Tastes of Lizzy T participates in affiliate advertising programs. We may earn a commission when you make a purchase through links on our site.
This is called Grandma's Zucchini bread because it is my great-grandma's recipe. Super moist and full of flavor. It makes two loaves and freezes well.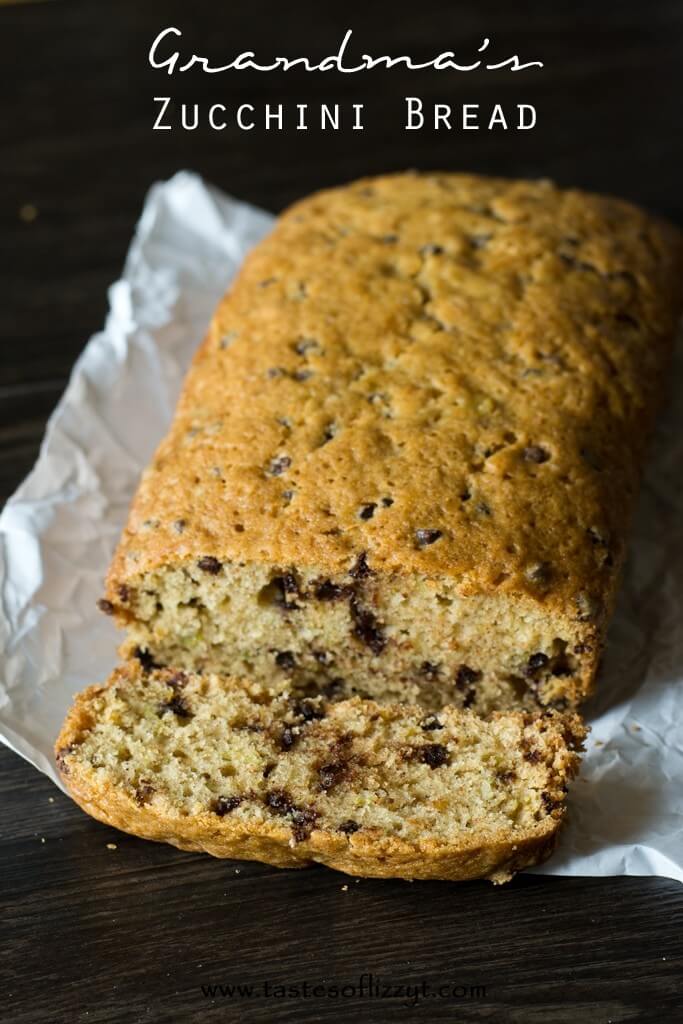 Grandma's Zucchini Bread Recipe
It's zucchini bread season! I call this Grandma's Zucchini Bread because my great-grandma used to make it all the time. It really is heavenly, even though it has a veggie in it. And a green veggie at that. That does kind of creep me out. This soft quick bread really is the best zucchini bread recipe, though. Your family will love it!
Do you grate the whole zucchini for bread?
Although you may be tempted to peel the zucchini for bread, don't worry about it! You won't taste it. Yes, you may see just a hint of green here and there, but the zucchini melts into the bread and you won't notice a texture difference by keeping the peel on. Save yourself a few minutes!
How do you grate zucchini for zucchini bread?
We've used several different methods. You can use a food processor if you'd like. Just cut the stem of the zucchini off along with just a bit of the bottom of the zucchini. Then use the shredding disc, or if you have a small food processor you can cut the zucchini into chunks before pulsing just a few times.
You can also use a hand grater, which is what we normally use. Zucchini is soft and easy to shred. We use the side of the grater with the largest holes.
Whichever you choose to use, it's easy!
How many zucchini do you need for two cups shredded?
Every zucchini is just a little different in size. This recipe calls for two cups of shredded zucchini. You'll need about 2 medium size zucchinis to make 2 cups of grated zucchini. Be sure to measure the zucchini after you grate it to be sure you have 2 cups.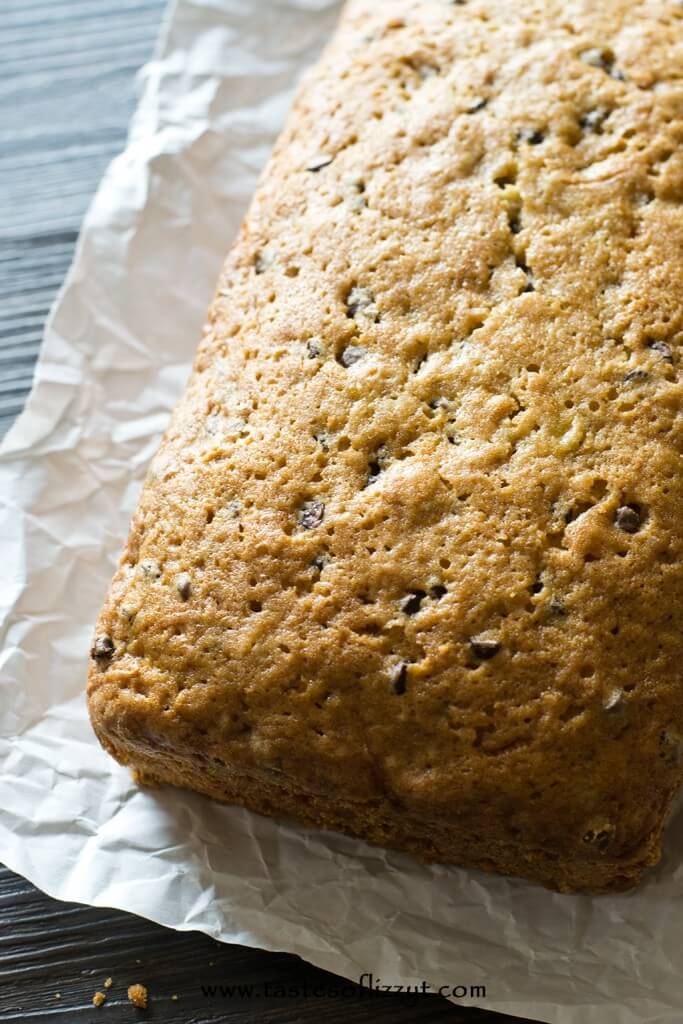 Is zucchini bread good for you?
Well…it does have a vegetable in it. It's always great when you can hide vegetables in food. But it is a quick bread, which is pretty much like cake so I don't think we can say it is good for you. But a slice here and there won't hurt you to much either.
How to Make Zucchini Bread
After you get the zucchini grated, making zucchini bread is really easy. Mix the dry ingredients and wet ingredients separately. Then as you combine the two into the same bowl, be careful not to overmix. If you want soft, tender bread, mix just until the batter is completely combined.
If you're adding in chocolate chips or nuts, fold them in gently as the batter is coming together.
*Be sure to grease and flour your bread pans so the loaves come out easily!*
What to add to Zucchini Bread
 You can add in whatever you want in this bread-chocolate chips, nuts, raisins-whatever you choose. Or, you can eat it plain, which we've done many times.  But I'm telling you, if you want your kids to eat it, definitely add in chocolate chips.  They'll love it!
You'll love this bread because it is easy and so full of flavor.  And it makes two loaves. Which is good, because it will go fast.
Other Quick Bread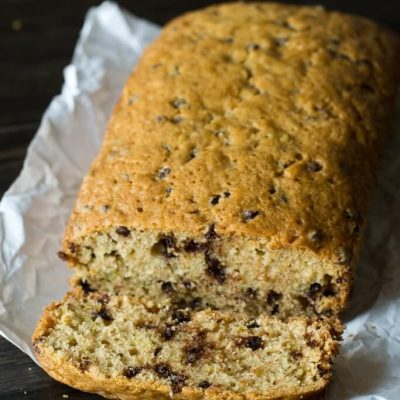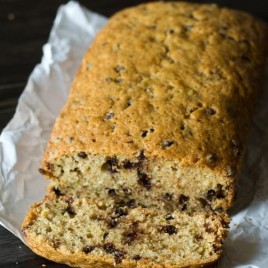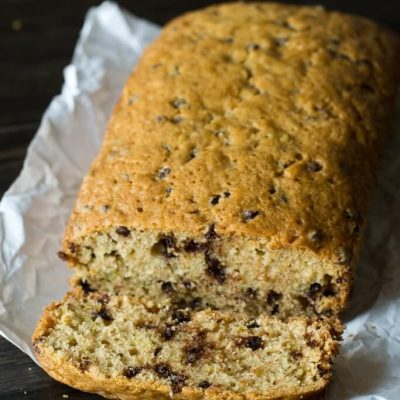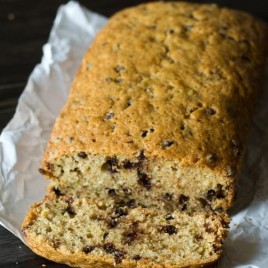 Grandma's Zucchini Bread Recipe
This is called Grandma's Zucchini bread because it is my great-grandma's recipe. Super moist and full of flavor. It makes two loaves and freezes well.
Total Time
1
hour
15
minutes
---
Ingredients
1

cup

oil

2

cups

sugar

2

teaspons

vanilla

3

large

eggs

2

cups

grated zucchini

3

cups

flour

1

teaspoon

salt

1

teaspoon

baking soda

1

teaspoon

baking powder

1

teaspoon

cinnamon
Instructions
Mix together the oil, sugar, eggs, vanilla and zucchini in a bowl. Set aside. In a separate bowl, mix together the flour, salt, baking soda, baking powder and cinnamon. Add the wet ingredients to the dry ingredients and mix just until combined.

Grease and flour two loaf pans. Split the batter between the two pans. Bake at 325 degrees for 1 hour.
Notes
Add in 1 cup of nuts, raisins, or chocolate chips, as desired. Our favorite addition is mini chocolate chips!
Nutrition
Calories:
169
kcal
|
Carbohydrates:
34
g
|
Protein:
3
g
|
Fat:
2
g
|
Cholesterol:
27
mg
|
Sodium:
183
mg
|
Potassium:
82
mg
|
Sugar:
20
g
|
Vitamin A:
65
IU
|
Vitamin C:
2.2
mg
|
Calcium:
19
mg
|
Iron:
1.1
mg