Tastes of Lizzy T participates in affiliate advertising programs. We may earn a commission when you make a purchase through links on our site.
Low carb never tasted so good! Zucchini pizza casserole loaded with a meat sauce, mozzarella and pepperoni. Top with your favorite pizza toppings.
This past summer we ended up with SO much zucchini. And although I love zucchini bread, I needed to find something lower carb to make with the zucchini.
Years ago we visited with friends and she served this Zucchini Pizza Casserole. She shared the recipe she had gotten from Taste of Home with me…and lucky me…I had saved it! Once you get the zucchini "crust" down, you can add whatever you'd like to the top to make this your own.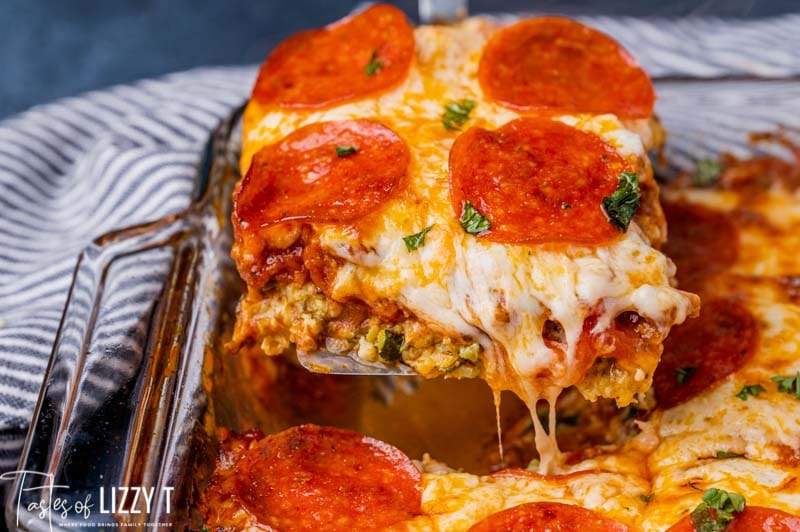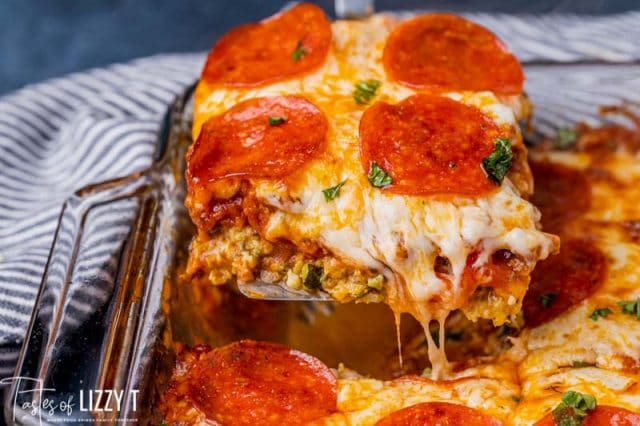 ❤️ Why you'll love this recipe:
uses up zucchini from the garden
low carb!!
great pizza flavor
totally customizable
a make ahead meal with leftovers for weekday lunches
It's important to remember that I'm not trying to make this a replacement for pizza. Because, well…there's just no replacement for a delicious homemade pizza. But this is a great casserole that you'll love if you like pizza flavors.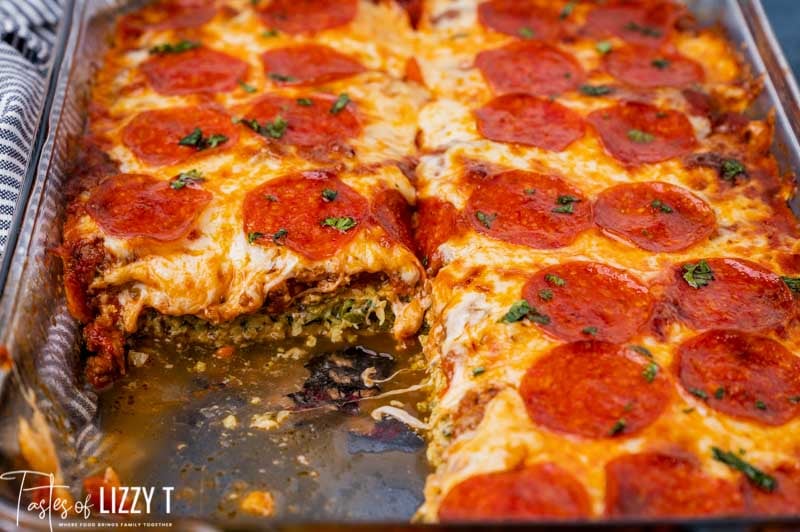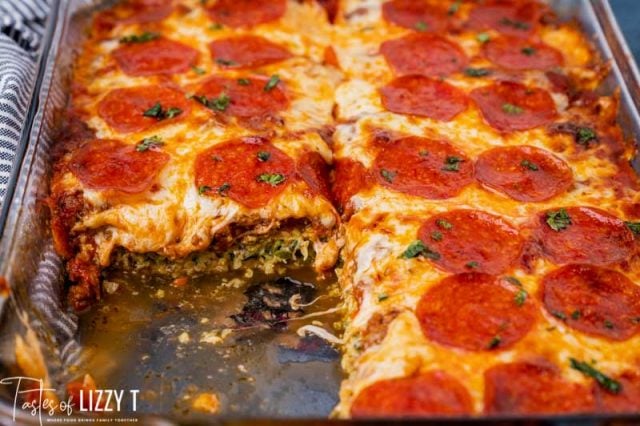 Isn't the zucchini casserole soggy?
If you're not careful, yes, it can be. But we've got tricks for both fresh zucchini AND frozen zucchini. I've made this with both, although in the winter time it is of course always with our frozen zucchini.
Frozen Zucchini: When I'm menu planning, I always take the zucchini out of the freezer at least two days before baking this meal. I let the zucchini defrost in the fridge for a day, then the morning I want to make it, I place it at room temperature in a colander to drain.
Fresh Zucchini: The water comes out of frozen zucchini much easier than fresh. With fresh zucchini, mix it with 1 teaspoon of salt and let it sit in a colander for at least 20 minutes. The salt will help draw out the water.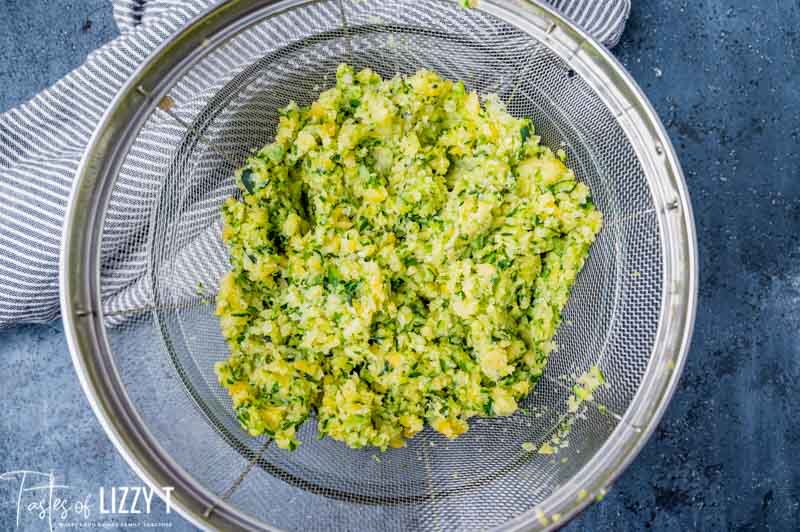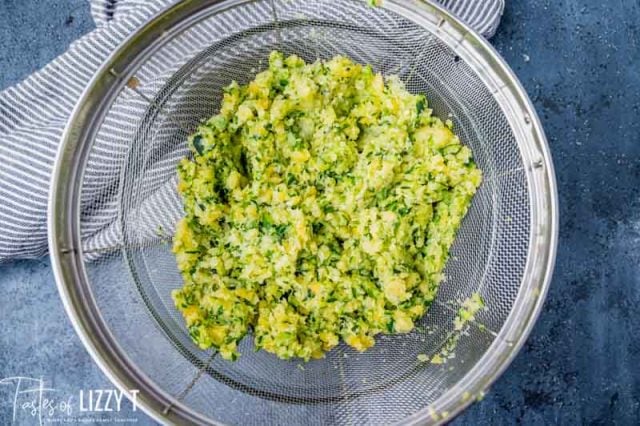 Squeeze the zucchini dry. The last step to draining the zucchini is to squeeze it dry. Place the shredded, drained zucchini on a lint free kitchen towel, then squeeze/wring it out until it stops dripping. Then it is ready to use!
🍕 Tips for Making Zucchini Pizza Casserole
Make sure you start by squeezing that zucchini dry.
Use your favorite spaghetti or pizza sauce. Make sure you like the flavor of it. And add browned meat if you'd like, or go without meat.
Add less sauce if you'd like the casserole to be "thinner". I like a lot of sauce 😊
I put the casserole under the broiler for the last two minutes of baking to get it golden brown and bubbly. You don't have to that if you don't want.
Recipe Variations
If you like spicy flavor, add crushed red peppers to the crust and even to over the sauce.
You can use zucchini or yellow crookneck squash. Either works!
Add your favorite pizza toppings: mushrooms, onions, peppers, olives, etc.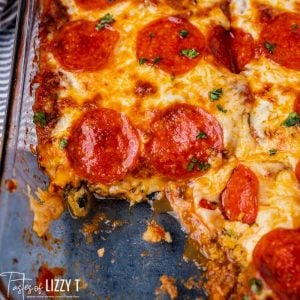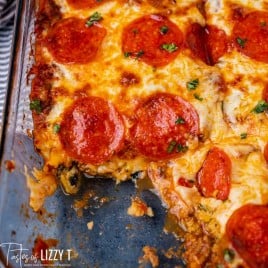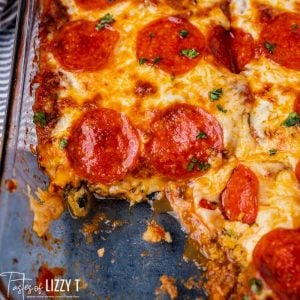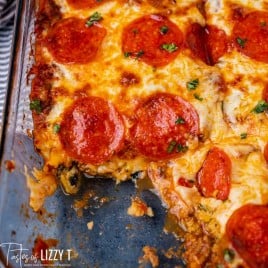 Low Carb Zucchini Pizza Casserole
Low carb never tasted so good! Zucchini pizza casserole loaded with a meat sauce, mozzarella and pepperoni. Top with your favorite pizza toppings.
---
Ingredients
4

cups

shredded zucchini

(we used drained frozen zucchini)

2

large

eggs

¼

cup

shredded Parmesan cheese

½

cup

freshly shredded mozzarella cheese

½

teaspoon

salt

1/2

teaspoon

minced garlic

1

teaspoon

Italian seasoning

32

ounces

meaty spaghetti sauce*

2

cups

freshly shredded mozzarella cheese

4

ounces

pepperoni
Optional toppings:
Green pepper

Onions

Mushrooms
Instructions
Prepare the zucchini:
The success of this recipe partly depends on the zucchini. If the zucchini is frozen, allow it to drain well. I let mine sit in a colander for several hours draining. If the zucchini is fresh, sprinkle it with 1 teaspoon of salt, stir and let the zucchini sit in a colander for 20 minutes.

After the zucchini (either fresh or frozen) has drained, use a clean lint-free kitchen towel to squeeze any excess liquid from the zucchini. Squeezing out as much liquid as possible will help your casserole to not be watery.
Make the casserole:
Spray a 9×13 baking pan with cooking spray. Preheat the oven to 400º Fahrenheit.

In a bowl, mix up the drained zucchini, eggs, cheeses, salt, garlic and Italian seasoning. Mix well.

Press the mixture into the bottom of the prepared pan evenly.

Bake for 20 minutes. The crust should be lightly browned.

Spread the meat sauce evenly over the crust. (Or the browned meat and sauce)

Then sprinkle the shredded mozzarella over the top.

Top with sliced pepperoni.

Bake for 20 more minutes or until the pizza is heated through and the cheese is melted. If you would like it slightly browned, put it under the broiler for 2-3 minutes, but watch it closely.

Let the casserole sit for 3 minutes before slicing and serving.
Notes
*We use our spaghetti sauce that already has meat in it. You can also brown a pound of ground beef or Italian sausage, drain the fat and then add that to another spaghetti sauce. You can also use pizza sauce. Just make sure you have about 4 cups. Please note: This recipe is more like a casserole. If you want it more like a pizza style, use less sauce.
The calories shown are based on the recipe being cut into 10 pieces, with 1 serving being 1 piece. Since different brands of ingredients have different nutritional information, the calories shown are just an estimate. **We are not dietitians and recommend you seek a nutritionist for exact nutritional information.**
Nutrition
Calories:
195
kcal
|
Carbohydrates:
7
g
|
Protein:
13
g
|
Fat:
13
g
|
Saturated Fat:
6
g
|
Trans Fat:
1
g
|
Cholesterol:
73
mg
|
Sodium:
1025
mg
|
Potassium:
501
mg
|
Fiber:
2
g
|
Sugar:
5
g
|
Vitamin A:
758
IU
|
Vitamin C:
15
mg
|
Calcium:
202
mg
|
Iron:
2
mg
Other Low Carb Recipes