How to Make Perfect Homemade Pizza
Save money on delivery and make the best homemade pizza! Tips and tricks on the best pizza dough and sauce, plus tips on rolling and baking pizza at home.
Back about 10 years ago I was on a mission to find the best pizza crust and the best pizza sauce recipes.  I've lived in rural areas most of my life and pizza delivery was not an option.  I can count on one hand the amount of times I've had pizza delivered to my front door in my entire life.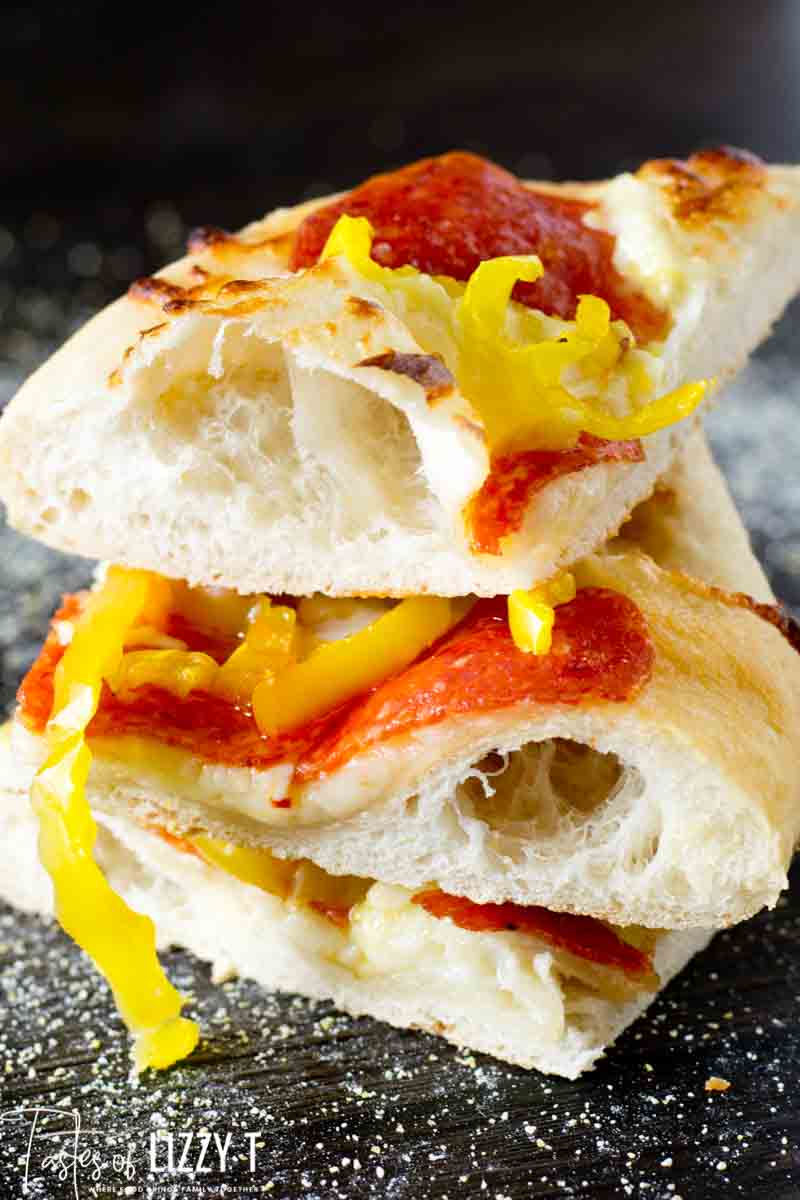 Sad? Nope, not at all.  If I was used to delivery pizza, I wouldn't have spent time to create our my delivery-style homemade pizza. When I crave pizza, it's this homemade pizza I want.
A few weeks ago I traveled to Chicago with with Red Star Yeast to learn all about their new Platinum Sourdough Yeast and take part in a Pizza Masterclass with Chef Leo at North American Pizza and Culinary Center. I learned his secret tricks to help you make the perfect pizza at home and I'm sharing them with you today!
Making Homemade Pizza Dough
The first step to making a delicious homemade pizza is to start with the crust. After searching and testing many recipes, we landed on this pizza crust recipe that we've used for over 10 year. And we love it.
Here are pro tips for key pizza dough ingredients:
Flour. Chef Leo uses double zero flour in his pizza. This flour is the most refined so has the least nutritional value, but it holds water well and makes a fantastic dough.
Water. If you don't have good tap water, use distilled water. If you like to get really technical, test the Ph of the water. It should be between 6 and 7 (or more precisely, 6.5 – 6.8).
Yeast. You know we love Red Star Platinum Yeast. It is so forgiving and the perfect, no-fail choice if you're nervous about using yeast. But what if you want to get creative and kick up the flavor? That's where Red Star's new product comes in: Red Star Platinum Instant Sourdough. This is a breakthrough baking hack that allows you to get delicious sourdough flavor without any of the work! This packet starts with my favorite Platinum Instant Yeast and adds a real sourdough culture. Use a packet of the Instant Sourdough in place of the yeast packet in any recipe (like our Asiago bread). That's it! Its sourdough without the fuss of feeding and dividing starters. Scroll down to read about how you can win a $500 baking prize package from Red Star Yeast!
Oil. Use extra virgin olive oil for authentic Italian flavor.
Salt. Don't use the blue canister of salt. Use a high quality sea salt. You'll notice a difference in flavor. Trust me!
Pizza Dough Tips
Let the dough sit for at least 2 hours. The dough ball should have a temperature of 60-70 degrees Fahrenheit. This will allow fermentation and give a good rise and flavor to the dough.
Don't roll the dough with a rolling pin! This will pop all of the little air bubbles in the dough giving you a chewier, denser crust. If you want light and crispy, just press the dough with your hands.
Don't use too much flour. Just a little dusting around the edges will do. The dough should feel slightly tacky to touch, but not be so sticky it gets all over your hands.
Homemade Pizza Toppings
Pizza Classico is simply a traditional pizza with tomato sauce and your favorite cheese, veggies and meats. Get creative with this!
Just remember…Don't overdo it with sauce, cheese or any one topping.  A good pizza will have an equal mix of all flavors. You want to taste every part!
Make a white pizza: Use a butter & garlic mixture in place of the tomato sauce.
Make a margherita pizza: Top with San Marzano tomatoes, mozzarella cheese, fresh basil, salt and olive oil.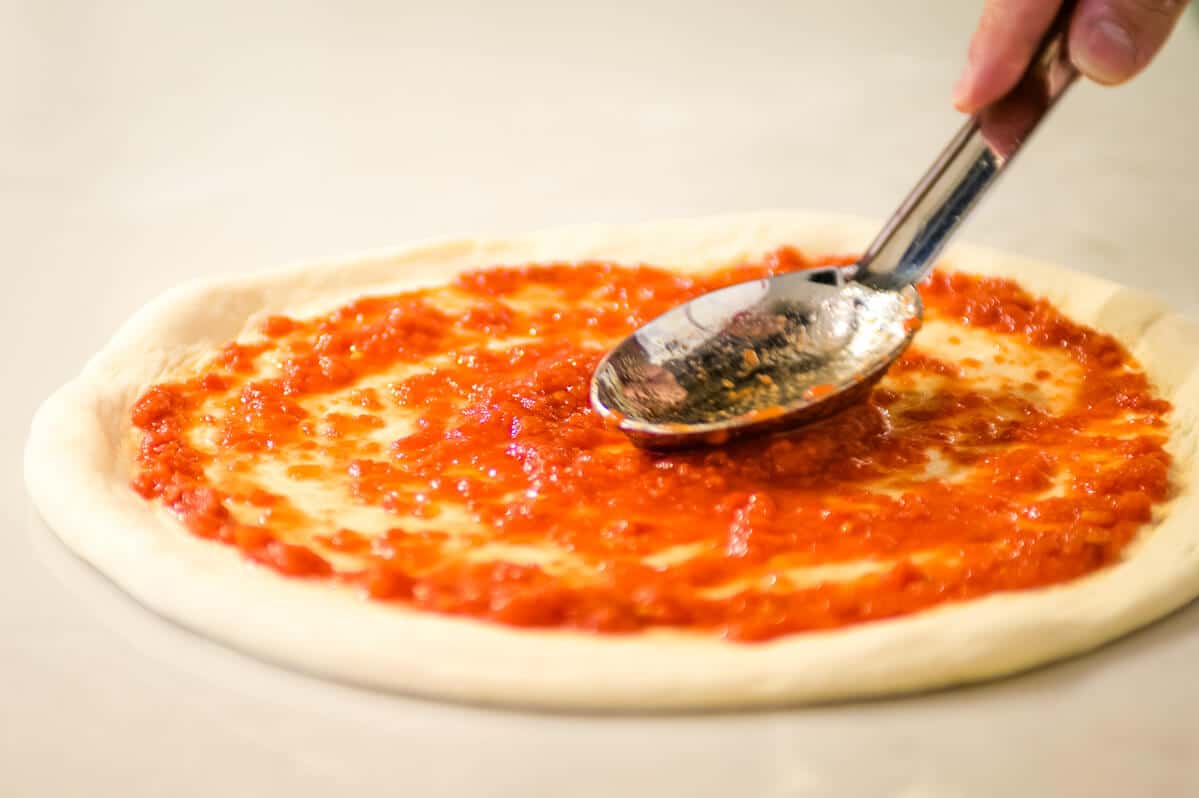 What Temperature To Bake Pizza
Now this is one of the important parts.  Most of the pizza ovens we saw in Chicago were extremely high heat. Think up to 900 degrees Fahrenheit!
Set your home oven to 550 degrees F. If it doesn't go to 550 degrees F, set your oven to as high as it will go. Trust me, it's OK. The oven wouldn't have that high of a setting if it wasn't meant to go that high.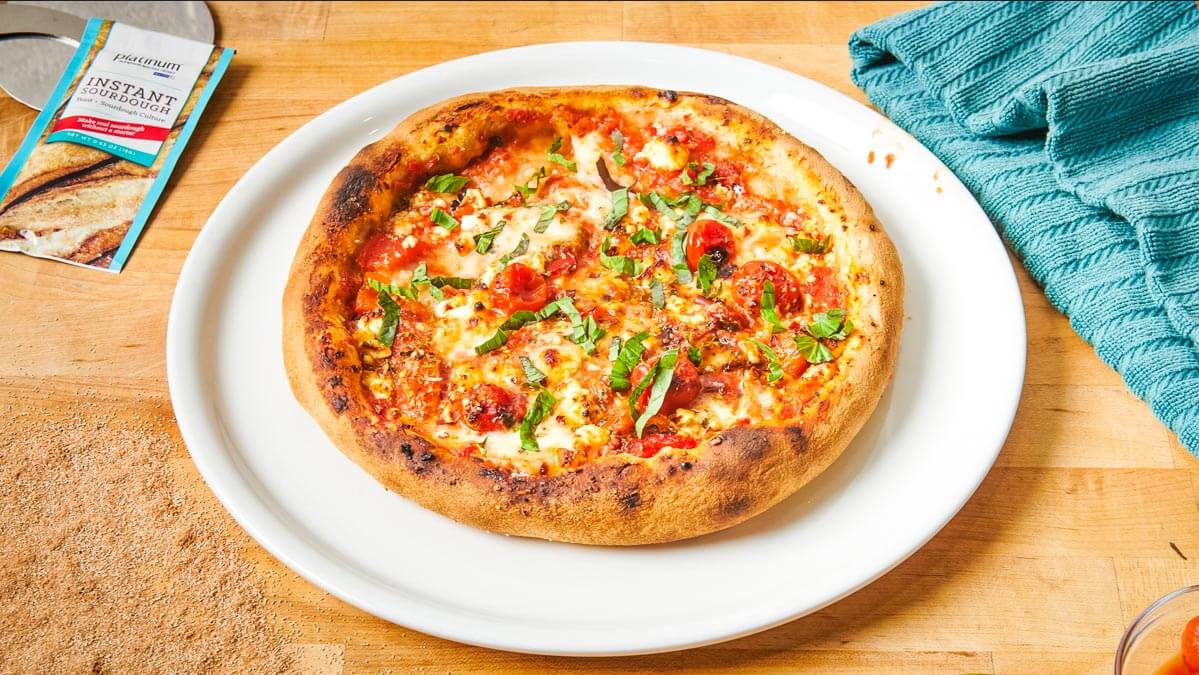 How Long to Bake Pizza
The exact timing will all depend on the size of your pizza, the temperature of the oven, the thickness of the crust, how many toppings you have, and how browned you like your pizza.
I cook personal sized pizzas for about 8 minutes. Larger pizzas might go in for 12-14 minutes.
Just remember… the oven is hot. Watch your pizzas closely!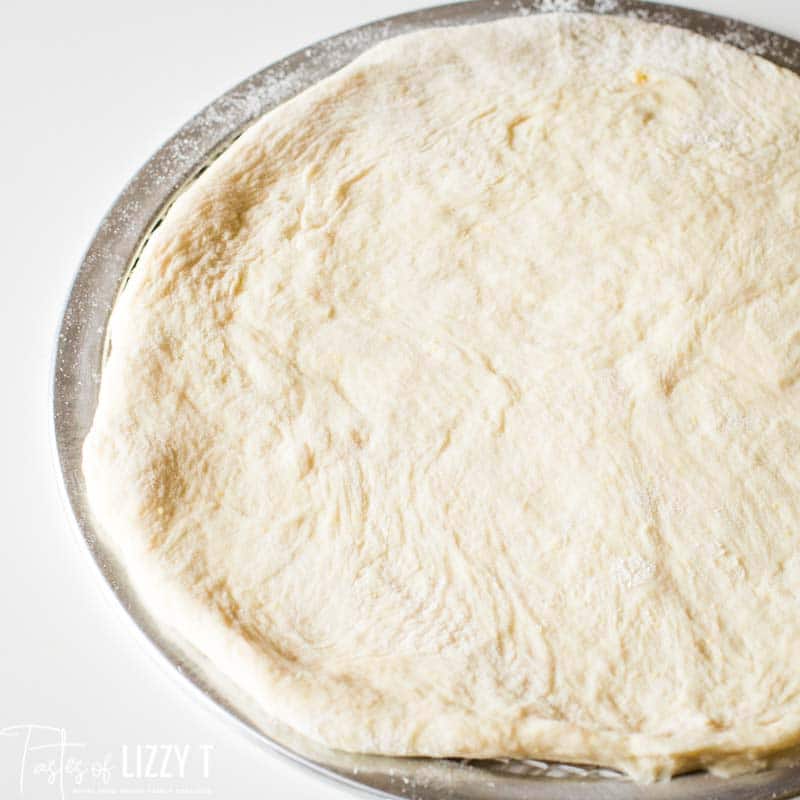 Can I put pizza directly on the oven rack?
Because the oven rack has grates on it and the pizza is soft, you'll want to start the pizza on a pan or pizza screen. After it bakes and firms up some on the bottom, you can use a pizza peel to transfer it right to the rack if you'd like.
If you don't want to worry about transferring it, use a baking stone. Emile Henry has gorgeous pizza stones that can be put right from the freezer into the oven…and you can cut the pizza right on it too!
Be sure to preheat the pizza stone in the oven while the oven itself is heating. This will give the crust an amazing crispy texture.
**Pro Tip: Use a baking stone ABOVE the pizza and BELOW the pizza. This allows the pizza to cook evenly. See the tip in action in this picture below.**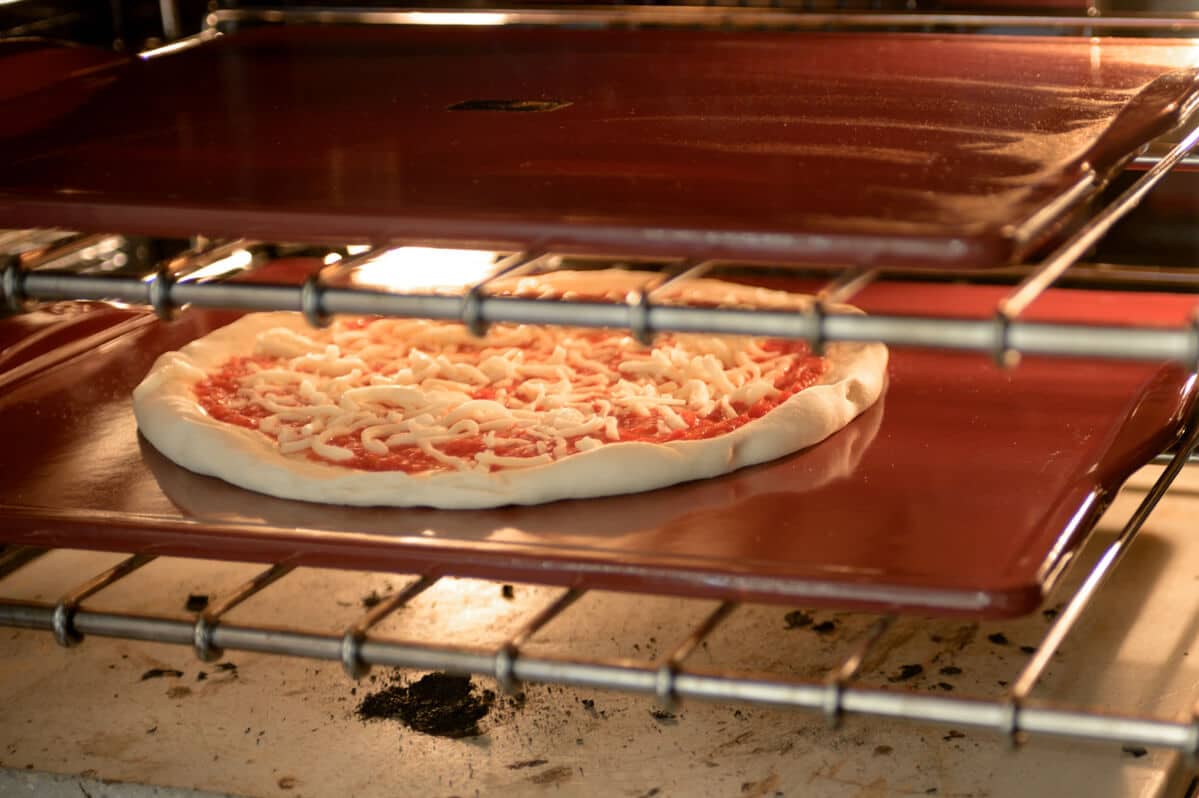 Can I freeze a homemade pizza?
Yes! There are two ways to do this:
Freeze the Dough: Make the dough and let it rise before you freeze it. Divide it into the size dough balls you'd like and wrap well with plastic wrap, then place it in a zippered bag. You can freeze the dough for up to 3 months. When you are ready to use it, allow it to defrost fully in the refrigerator before rolling your pizza dough. We take it out the night before we want to bake it.
Freeze the Pizza: In order to freeze a whole pizza, you'll want to par bake the crusts. Press out the dough into the size pizzas you'd like. Bake the dough for about 3-5 minutes. The dough should still be very pale, but it should feel dry. Top the pizzas, then double wrap each pizza and freeze. These pizzas are fine to go straight into the oven from the freezer for an easy weeknight meal.