Tastes of Lizzy T participates in affiliate advertising programs. We may earn a commission when you make a purchase through links on our site.
Asiago Cheese Bread. A crispy crust, soft inside with an awesome Asiago cheese flavor. So good with soup, salad, or on a sandwich.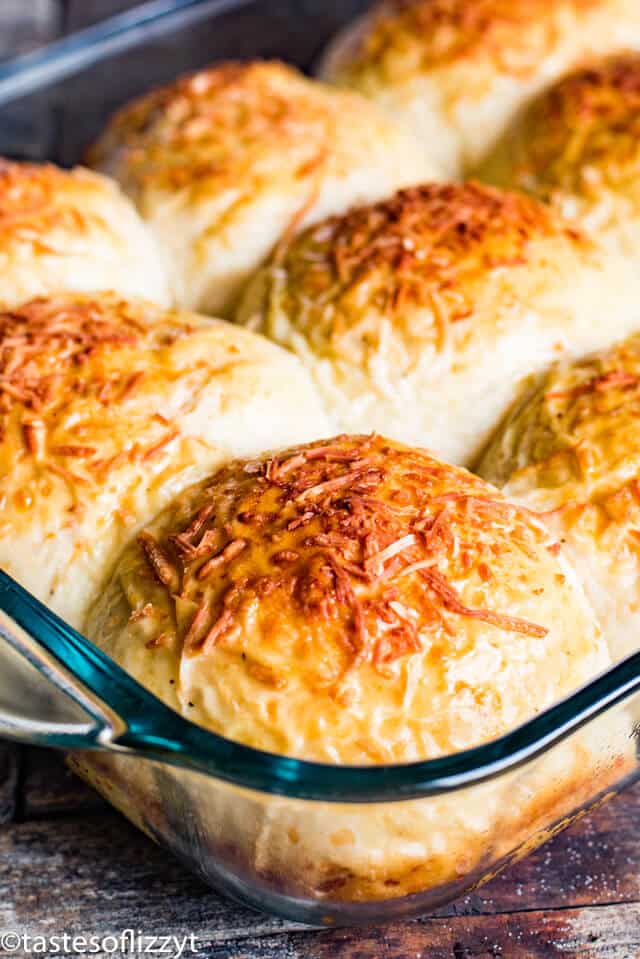 Asiago Cheese Bread Recipe
Thank you to Red Star Yeast for partnering with us for this recipe. As always, all opinions are our own.
The first time I tried Asiago Cheese Bread was the first time I ever stepped inside a Panera Bread.  It was probably 17 years ago or so…I can't remember for sure. We were newly married and at that time, I didn't know all the wonderful-baked-goodness that was held behind Panera's doors. All I knew was that I had a coupon for a free loaf of bread. And I'm all about free food.
I stepped inside the restaurant and gawked at all of the freshly baked breads and sweet treats sitting out. My eyes went to the wall of bread. How do I ever choose just one to try? Then my eyes hit "Asiago Cheese Bread". I had never had "Asiago" before, but I knew what "Cheese Bread" meant, and I immediately knew what loaf of bread would be coming home with me that day. I also knew that I'd need to find a recipe that I could easy make in the comfort of my home.
Fast forward 13 years or so to a few weeks ago when I happened across a recipe for Asiago Cheese Bread. Those memories of my first taste of Panera were fresh in my mind. After a quick trip to the store to buy Asiago cheese, I had this loaf rising in the oven.
What is Asiago Cheese?
Asiago is a mild cheese made from milk that is more moist than Parmesan or Romano. It can come in several different forms, but you'll want to find a chunk of Asiago, generally in the from of a triangle or wedge. Wondering where to buy Asiago cheese? I find it in the deli section of our grocery store where they have chunks of specialty cheeses.
Oh man…is this bread ever good. I didn't go through the trouble of doing a side-by-side comparison with Panera's Asiago Cheese Bread, but I know that this bread is excellently full of flavor and all kinds of wonderful.
One Dough…Three Recipes
This is a basic bread dough that is delicious as a loaf of bread, dinner rolls or even bread bowls. The biggest differences between making each type of bread is going to be in the type of flour you use and the baking time.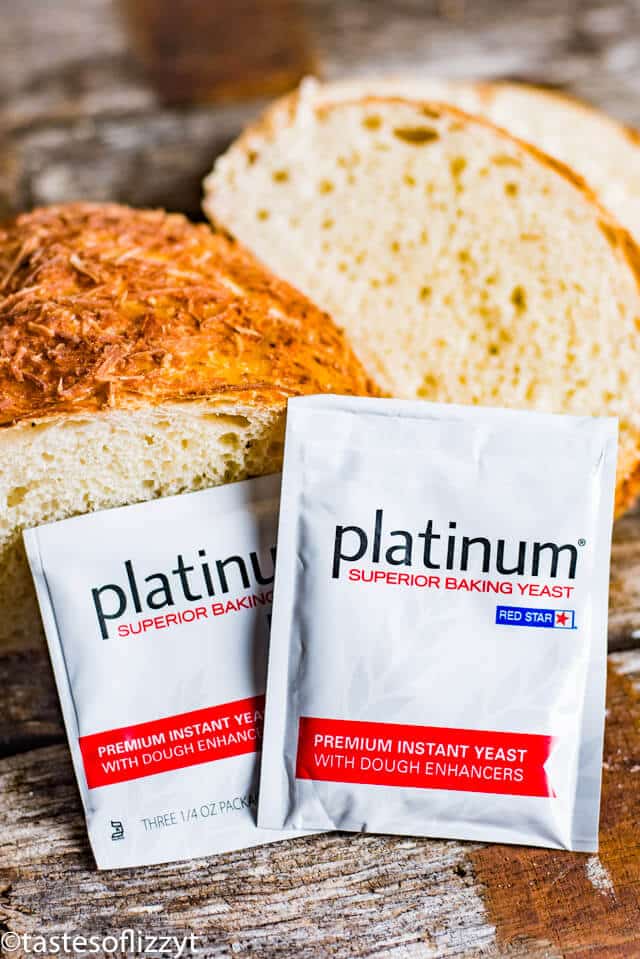 How to Make Cheese Bread
This basic dough recipe makes two loaves of bread. It's an easy dough to mix up! Here are some pointers.
We use a stand mixer to knead bread doughs. If you don't have a stand mixer you can knead with your hands. If you happen to have a bread maker, you can use the dough setting and let the bread machine knead for you!
My favorite yeast is Red Star Platinum Superior Baking Yeast. It never fails to produce a tall, fluffy, homemade bread. It's an instant yeast, which means it can be mixed right into the flour with no need to "proof" the yeast. This makes your bread baking easier than ever!
You can use bread flour or all-purpose flour for this dough recipe (recommendations below). In general, all-purpose flour will yield a softer bread while bread flour yields a chewier loaf.
This recipe is a savory cheese bread with a hint of black pepper. You can leave out the black pepper if you'd like, but it does add a little zing, making the bread pair well with soups and salads.
Heat the milk to 120-130 degrees Fahrenheit. It's important to get the right temperature for the milk so that the yeast activates. If the milk is too hot, it will kill the yeast. I usually heat the milk in the microwave, then give it a stir and check the temperature before adding it to the flour mixture.
I like to allow the bread dough to rise in the a slightly warmed oven. I turn on the oven and set it to the lowest temperature (170 degrees Fahrenheit).  Let the oven start to heat for 1-2 minutes, then turn off the oven (don't forget this step!). Place the bowl with the bread dough inside into the warm oven to rise. I find this works perfectly and allows the dough to rise more quickly than just having the dough sit on the counter.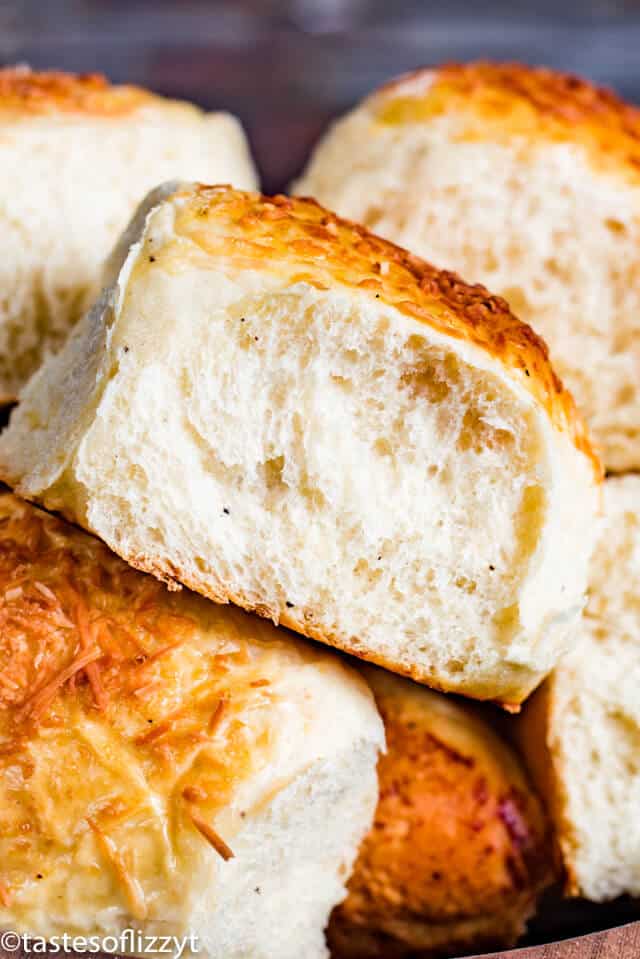 Cheesy Dinner Rolls
Our favorite way to bake this bread is dinner roll style. For dinner rolls you can use all-purpose flour which will give you a softer textured roll.
Mix and knead the dough, allow it to rise and then divide the dough into 12 dough balls of equal size. This will give you 12 rolls. If you'd like you can make the dough balls smaller to yield more rolls, but 12 rolls is perfect for us.
Spray a 9×13 pan with cooking spray, place the dough balls in the prepared pan in 4 rows of 3 dough balls. Cover the pan and allow the rolls to rise until they are almost double. Brush the top of the rolls with egg, the sprinkle asiago cheese on the rolls. Bake the rolls for 22-24 minutes or until the rolls are golden brown on top. Serve the rolls warm.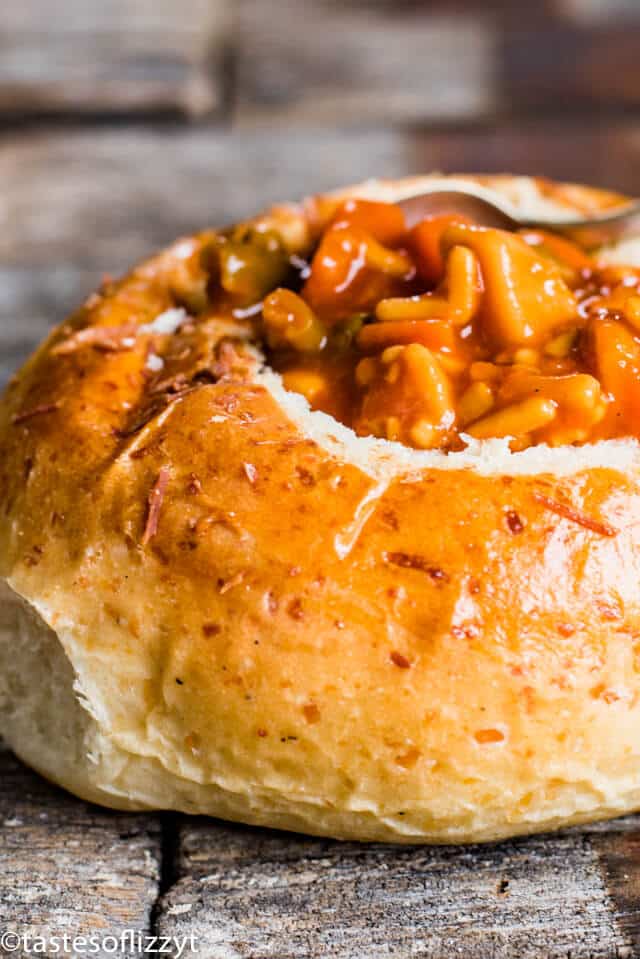 Bread Bowl Recipe
The kids LOVE when I make bread bowls and them with soup, stew or macaroni and cheese. This dough recipe is perfect for making savory homemade bread bowls! I recommend using bread flour if you are making bowls because it will yield a sturdier bread that will hold up to whatever you fill it with.
Mix and knead the bread dough and allow it to rise. Divide the dough into 4 large dough balls. Allow the dough to rise about 20 more minutes. Don't worry if the dough hasn't completely doubled. Brush the top of the large dough balls with egg and sprinkle with asiago. Bake for about 30-35 minutes or until the top of the bread bowls are golden brown.
Allow the bread bowls to cool on a wire rack. Slice off the top of the bread bowl, then use your fingers to pull out the fluffy interior, leaving at least ¾ inch bread on the bowl walls. Fill up the bread bowls with whatever you'd like and serve immediately.
If there's any leftovers after you "sample" it fresh from the oven, serve it with a summer pasta salad or with your favorite chicken salad or lunch meats. And when fresh tomato season comes? You can bet I'll be eating a BLT sandwich with this bread!
Other Yeast Bread Recipes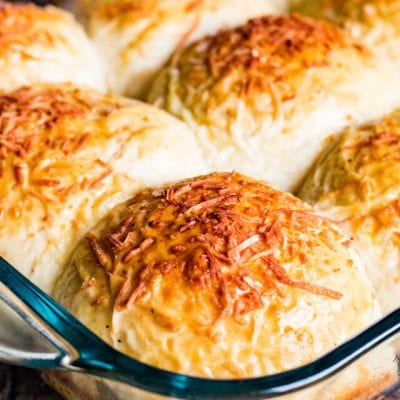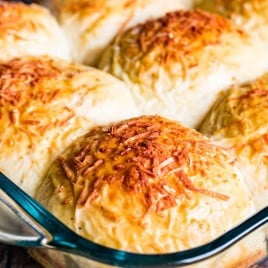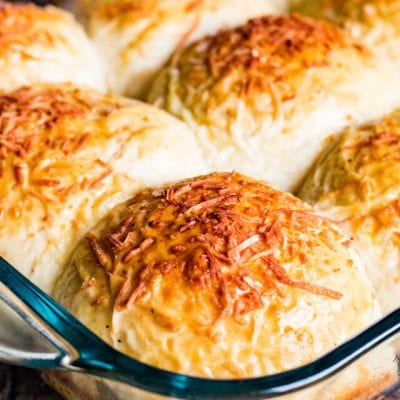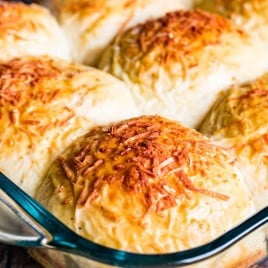 Asiago Cheese Bread
Asiago Cheese Bread. A crispy crust, soft inside with an awesome Asiago cheese flavor. So good with soup, salad, or on a sandwich.
Total Time
1

hour
20

minutes
---
Ingredients
3 1/4

cups

all-purpose flour

1

package

Red Star Platinum Superior Baking Yeast

(2 ¼ teaspoons)

1 1/2

teaspoons

salt

1

teaspoon

granulated sugar

1/4

teaspoon

black pepper

1 1/4

cups

milk

2

tablespoons

butter

1 1/2

cups

shredded Asiago cheese

(divided)
Instructions
In the bowl of a stand mixer, combine 1 ½ cups flour, yeast, sugar, salt and pepper. Put the milk in a microwave safe bowl. Add the butter. Heat the milk to 120-130 degrees so that the butter starts melting. Make sure the temperature is just right so that it is warm enough to activate the yeast, but not kill it. Stir the milk mixture into the flour mixture and mix on low speed using the paddle attachment until smooth. Add in 1 ¼ cups shredded cheese and mix just until combined.

Gradually add in 1 ¾ cups flour to make a soft dough. Knead in the stand mixer with the dough hook for 5 minutes.

Spray a bowl with cooking spray. Add the dough to the bowl, then turn the dough over so the cooking spray coats both sides of the dough. Cover the bowl and allow the dough to rise in a warm place until it is double (anywhere from 1-2 hours).

After the dough is doubled, punch it down and form it into two loaves. Place the loaves on a baking sheet that has been sprayed with cooking spray. Cover the loaves and allow them to rise again until doubled, which will take 30-45 minutes.

Preheat the oven to 375 degrees.

Make 3-4 cuts in the top of the loaves with a serrated knife. Brush the tops of the loaves with the beaten egg and then sprinkle the remaining cheese on top. Bake for 30-35 minutes until lightly browned.
Notes
You can also knead this dough by hand or use your bread machine on the dough setting.
Nutrition
Calories:
128
kcal
|
Carbohydrates:
16
g
|
Protein:
5
g
|
Fat:
4
g
|
Saturated Fat:
2
g
|
Cholesterol:
18
mg
|
Sodium:
315
mg
|
Potassium:
55
mg
|
Sugar:
1
g
|
Vitamin A:
130
IU
|
Calcium:
110
mg
|
Iron:
1
mg
Adapted from Food.com