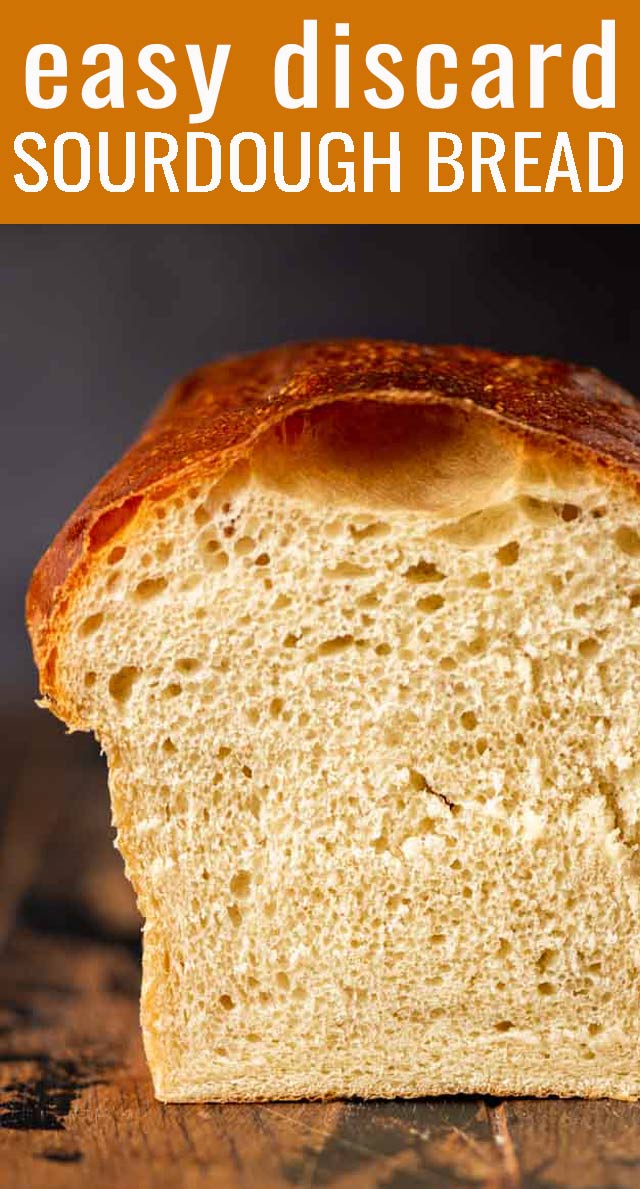 The best homemade bread! Soft, chewy sourdough bread with a beautiful golden brown crust. This easy homemade bread recipe makes two loaves and is the perfect white sandwich bread.
If you're looking for a way to use up sourdough discard, this recipe is it! No need to have active, bubbly starter for this recipe. It's quick. It's easy, it's delicious…and perfectly sliceable for sandwiches.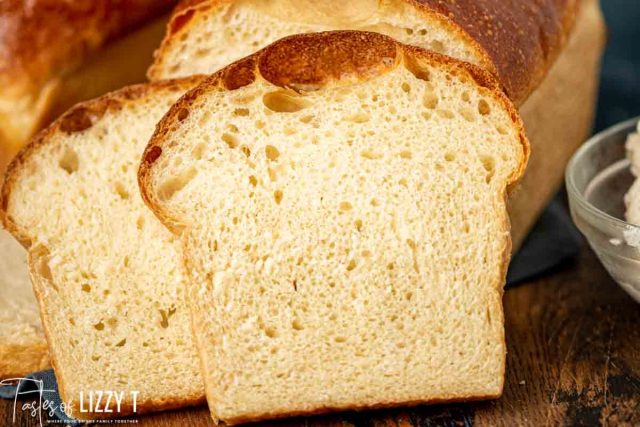 Why you'll love this sourdough recipe:
thick, crusty, rustic sourdough bread
tangy flavor and soft texture
great way to use sourdough discard
tips for golden brown crust
ready quickly…no need to wait overnight
Sourdough Bread Starter
It's important to know that you need a sourdough starter before you make this homemade bread. Sourdough starter takes at least 48 hours, but has better flavor the longer it sits. You can find complete instructions on how to make sourdough bread starter here. It's an easy recipe!
The sourdough does not have to be active to use in this recipe.
Easy Sourdough Bread Recipe
We call this a "lazy" sourdough bread. If you are looking for an artisan sourdough bread, this is not it. Those type of loaves have to rise overnight. This recipe is for when you want a quick loaf of bread, which is why it still uses yeast.
This bread isn't as chewy as an artisan loaf, but if you use bread flour has a chewier texture than traditional white bread. It's a great way to use up sourdough discard since it still has yeast to help it rise.
Once you have the sourdough starter discard, mixing the bread is just like any other bread. This is an easy recipe we've made over and over again and had turn out perfectly every time. I love how the crust browns into a beautiful color that reminds me of autumn.
This bread is perfect alongside a bowl of soup, as French toast, in casseroles and sliced for sandwiches.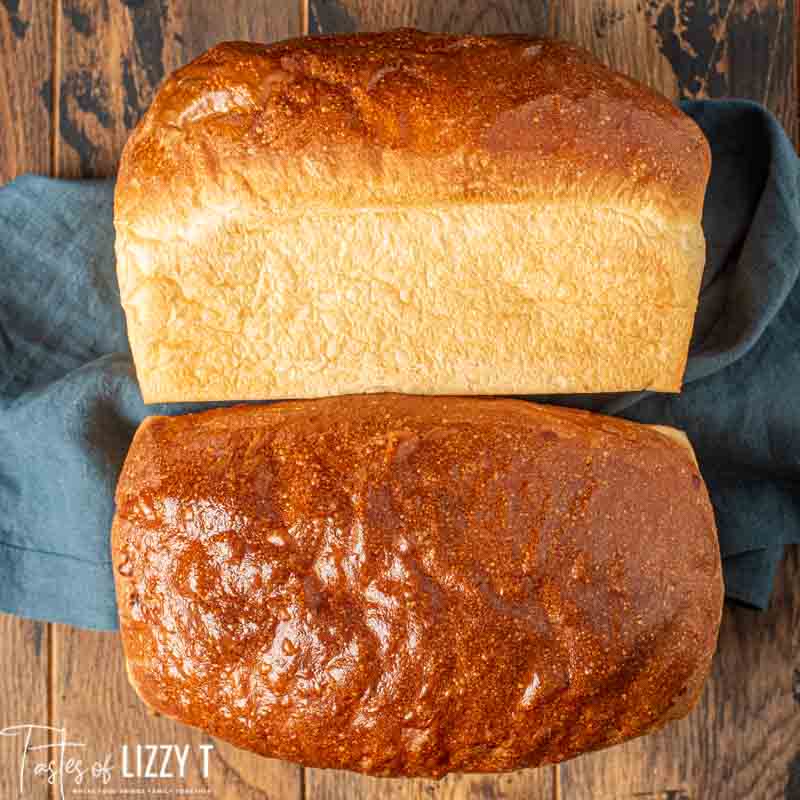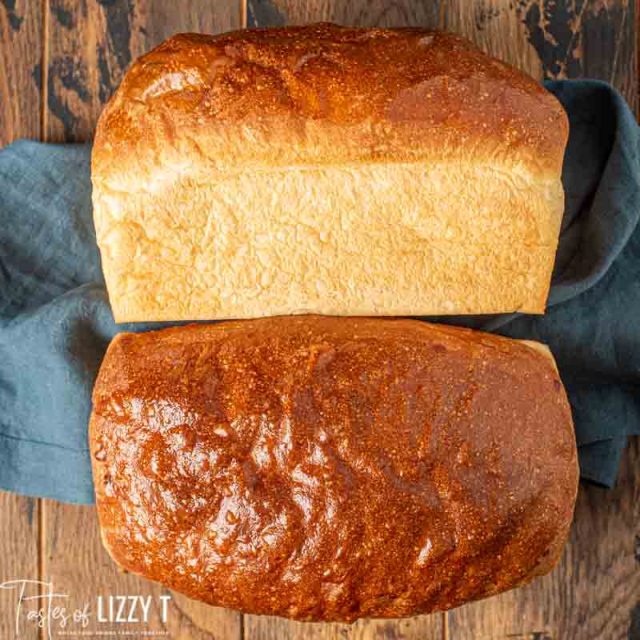 How to Make Sourdough Bread
When I mix up yeast breads I use my stand mixer to knead the dough. If you happen to have a bread maker, you could use the dough setting and knead the dough that way.
But don't worry…if you don't have either of those appliances you can still make this bread! Simply mix the dough up in a large bowl and then knead the dough by hand for about 5-6 minutes.
About the milk: You want the milk to be warm, about 110-115 degrees so that the yeast can start to activate. Be sure it isn't too hot!
About the yeast: The most important thing to remember about yeast is to make sure it is fresh. There's nothing worse than getting part way through your homemade bread recipe and realize that the bread isn't rising due to old yeast. Our favorite yeast is Red Star Platinum Yeast. It produces beautiful, tall loaves, every time. This yeast is an instant yeast so you don't have to wait 5 minutes for the yeast to "proof". Add the yeast to the warmed milk and then you're immediately ready to add in the rest of the ingredients and mix.
About the flour: To make a rustic, chewy loaf of bread, you'll want to use bread flour, which is a high gluten flour. If you want your bread softer in texture you can use all-purpose flour. The recipe calls for 4 1/2 cups of flour. The dough should be slightly tacky when you touch it. If you feel you need to add a little more flour (especially if kneading by hand), add the flour a tablespoon at a time. I wouldn't add more than an additional 1/2 cup flour. The more flour you add, the drier and harder your bread will be.
About rising bread dough: To allow the bread dough to rise until it is almost double in size. I like to set my oven to 170 degrees for a minute or two to let it warm. Then turn off the oven and place the covered bowl (with the dough inside) on the oven rack. Close the oven door and your dough will have a cozy, warm place to rise. My dough normally takes about 30-35 minutes to rise. This can potentially take around 60 minutes though, so be sure you plan enough time. Temperature, humidity and altitude can all play a part in how long it takes bread dough to rise.
The second bread dough rise: After the dough has risen once, you'll divide the two in two, shape them into loaves and place them in a greased 9×5 or 8×4 loaf pan. Either size will work. Cover the pans and allow the loaves to rise for an additional 20-25 minutes before you bake them.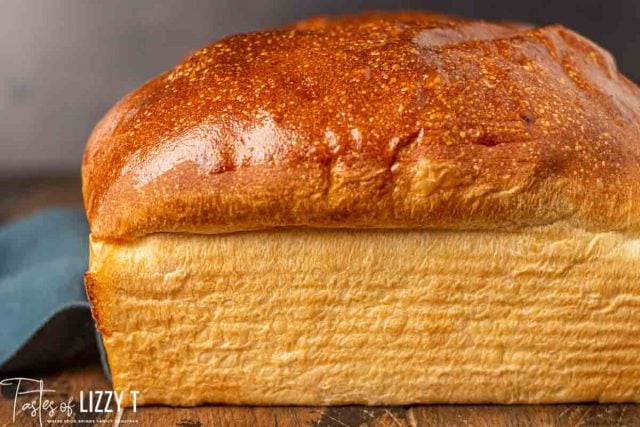 Golden Brown Bread Crust
To get this lovely golden brown color, brush a tablespoon of oil on top of the loaf of bread once the bread loaves have risen.
Other Sourdough Recipes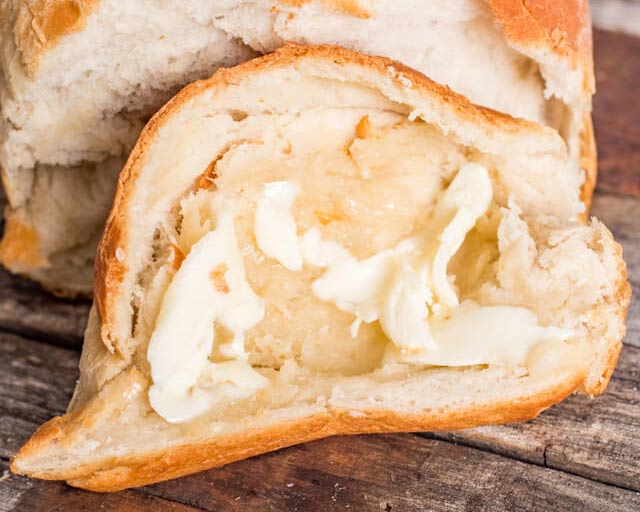 What I Need to Make Sourdough Bread
Sourdough Bread with Discard
The best homemade bread! Soft, chewy sourdough bread with a beautiful golden brown crust. This easy homemade bread recipe makes two loaves and is the perfect white sandwich bread.
Ingredients
1 1/2

cups

warmed milk

(110-115 degrees Fahrenheit)

2 1/2

teaspoons

instant yeast

(I love Red Star Platinum)

1

cup

sourdough starter

(discard works great in this recipe)

1/4

cup

canola oil

1

teaspoon

salt

1

tablespoon

granulated sugar

1/2

teaspoon

baking soda

4 1/2

cups

bread flour

(plus an additional 1/2 cup for handling the dough)

2

tablespoons

canola oil

(for brushing the tops of the loaves)
Instructions
Pour the warmed milk into the bowl of a stand mixer*. Sprinkle the yeast over the milk.

Add the sourdough starter, canola oil, salt, sugar, baking soda and flour.

Using the dough hook, mix the ingredients on medium speed until they are combined. Then set the mixer to medium speed and knead for 4-5 minutes. The dough should be slightly tacky to the touch. If you think the dough is too wet, add additional flour 1 tablespoon at a time, being careful not to add too much flour.

Transfer the dough to a large bowl sprayed with cooking spray. Cover the bowl and allow the dough to rise in a warm place for 30 minutes or until double.

Divide the dough into two loaves and place them in greased 8×4 or 9×5 loaf pans.

Cover the loaf pans and allow the dough to rise for another 20 minutes.

Preheat the oven to 400 degrees Fahrenheit.

Uncover the bread pans. Brush the top of the dough lightly with oil.

Bake the bread loaves for 25-30 minutes. The top should be golden brown and the loaves should sound hollow when you tap it.

Allow the loaves to cool 10 minutes in the pans, then move them to a wire rack to cool completely.

Store in an airtight container.
Notes
*If you don't have a stand mixer, just mix the ingredients in a large bowl and then knead by hand for 5 minutes.
**We call this a "lazy" sourdough bread. If you are looking for an artisan sourdough bread, this is not it. Those type of loaves have to rise overnight. This recipe is for when you want a quick loaf of bread, which is why it still uses yeast.**
Nutrition
Calories:
156
kcal
|
Carbohydrates:
25
g
|
Protein:
4
g
|
Fat:
3
g
|
Cholesterol:
1
mg
|
Sodium:
153
mg
|
Potassium:
68
mg
|
Fiber:
1
g
|
Sugar:
1
g
|
Vitamin A:
30
IU
|
Calcium:
25
mg
|
Iron:
1.3
mg