Tastes of Lizzy T participates in affiliate advertising programs. We may earn a commission when you make a purchase through links on our site.
Use leftover sourdough discard in this easy to roll dough! This recipe for sourdough pie crust is made quickly in the food processor and has a great flavor.
Table of Contents
My grandma's famous pie crust recipe never fails me. But with so many families having sourdough in their refrigerators this year, a sourdough pie crust was first on my holiday baking list this fall.
We took my grandma's pie dough and made a sourdough version. It uses the same tips and tricks to create a deliciously tender dough, but has the added bonus of sourdough flavor.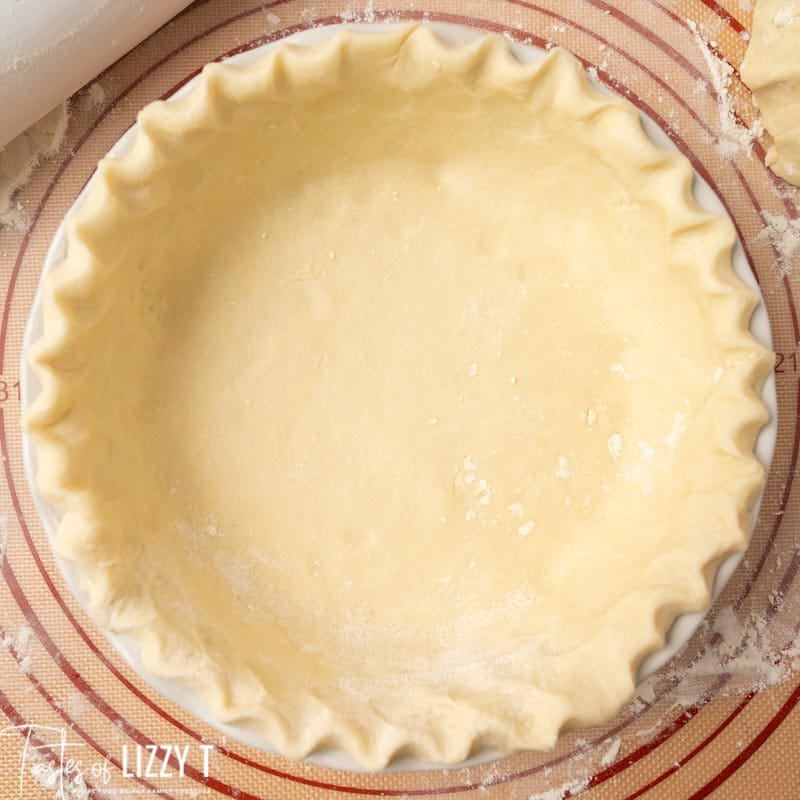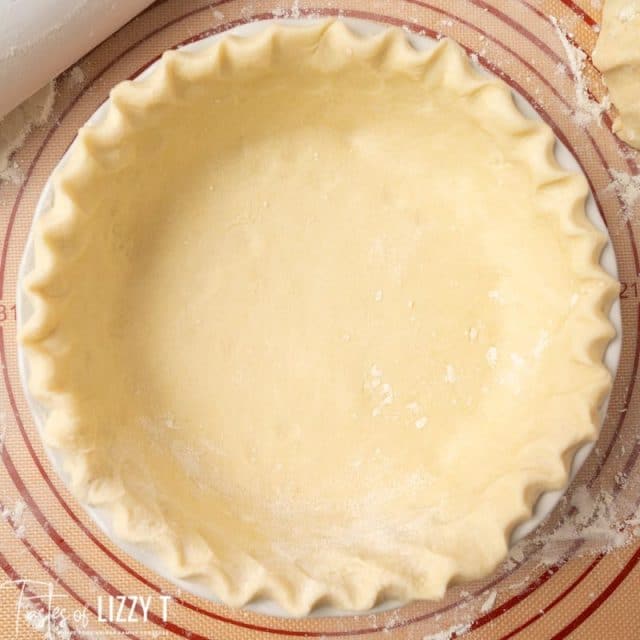 Why you'll love this recipe:
uses up sourdough discard
classic pie crust ingredients
tangy sourdough flavor
tips for a flaky crust
easy to roll
makes enough for a double crust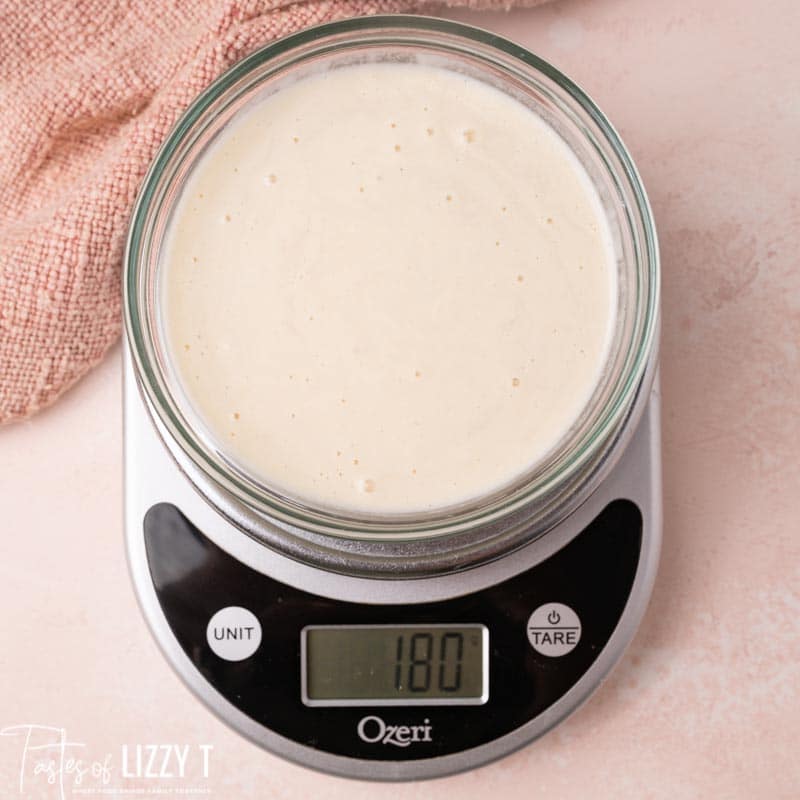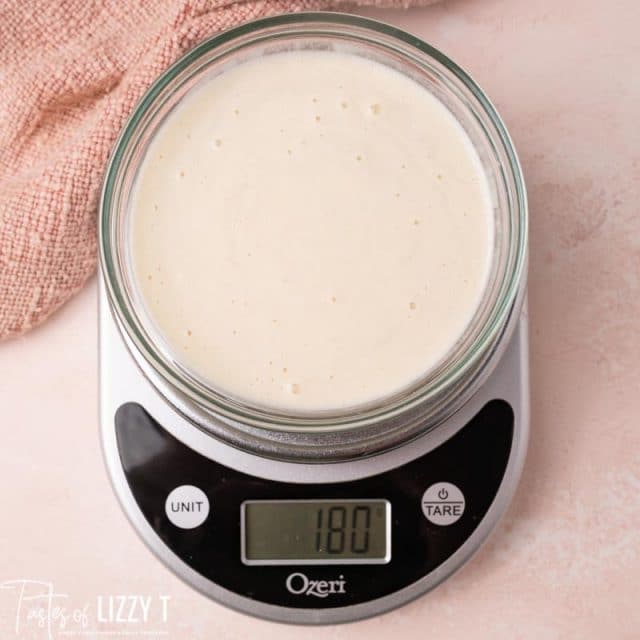 What is sourdough discard?
Sourdough bread has been a comforting classic for years, but this year it has become even more popular than ever. If yeast is scarce you can learn how to make bread with sourdough which has a naturally occuring yeast.
You can read our complete sourdough guide, but once you start making sourdough, you either have to bake with it or discard part of the start or it will keep growing. In order to not be wasteful, you can make recipes with the sourdough discard. These discard recipes use other leavening agents (baking powder, baking soda or yeast) to get a rise in the baked good. See below the recipe for some of our favorites.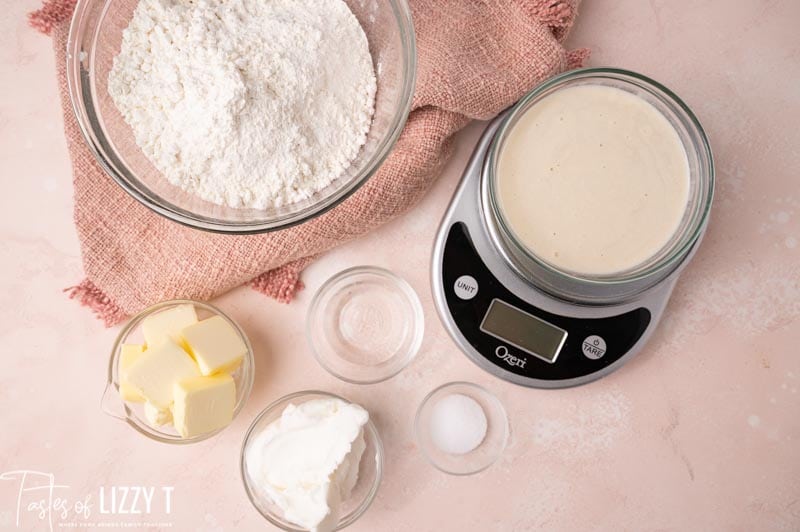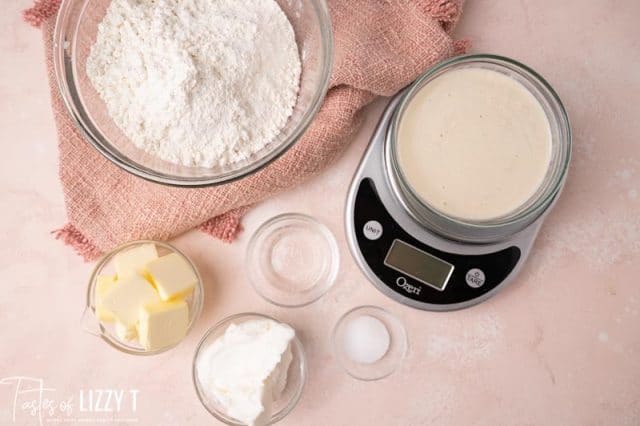 Ingredients in Sourdough Pie Crust
Pastry flour. Pastry flour has less protein than all-purpose flour which means it will stay more tender.
Salt.
Shortening. We prefer plain shortening over the artificial butter flavor shortening.
Cold butter. Using half butter and half shortening gives you the perfect flakiness and great flavor.
White vinegar. Adding vinegar helps to tenderize the crust and also inhibits gluten development, keeping your dough soft. You need just a bit of this and don't worry…you won't taste it once the pie is baked. However, if you don't want to use it, you can use ice water instead.
Sourdough starter. This can be sourdough discard and does not have to be bubbly and active.
Ice water. It's important to keep ingredients cold while mixing pie dough, so using ice water helps with this.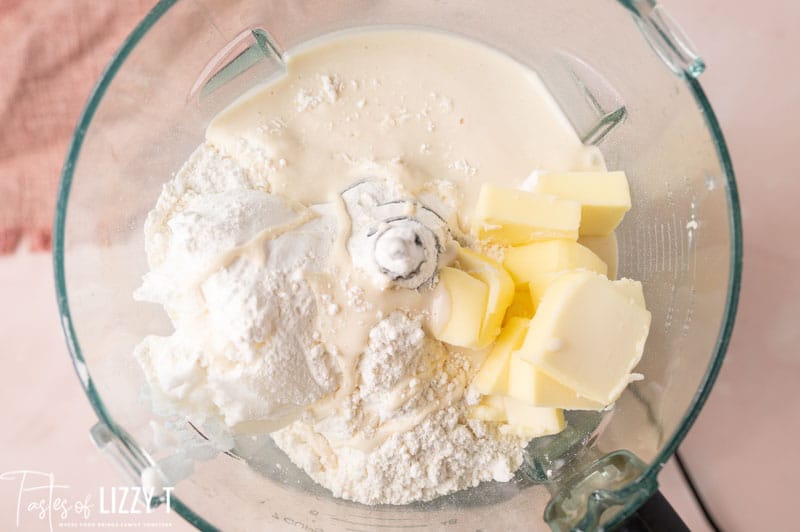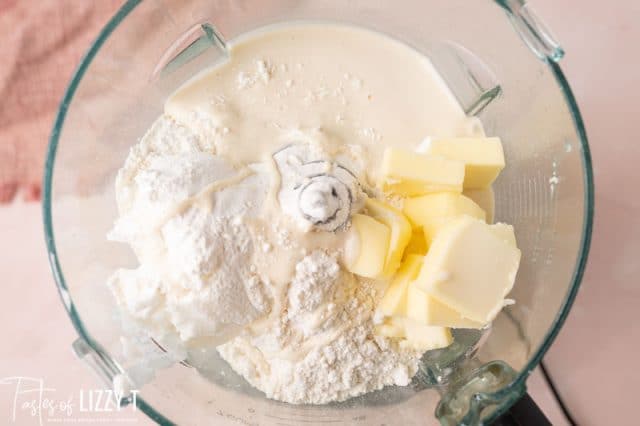 How to Mix Pie Dough
There are two ways that we mix pie dough:
Food Processor. We've only been mixing dough this way for about a year because frankly, I didn't want to wash an extra appliance. However, using a food processor is really fuss free and less messy than using a bowl. So if you have a food processor, give this technique a try.
Pastry blender. The way we've made pie dough in the past is to mix it in a bowl using a pastry cutter to cut in the butter and shortening. I really do still like this method, it just takes a little more arm work to get the dough mixed.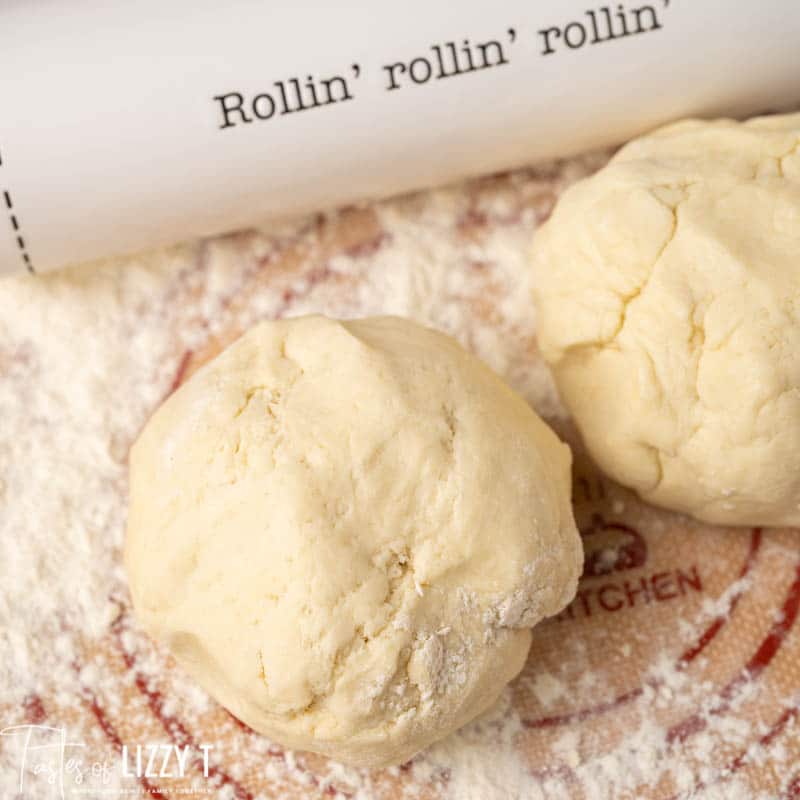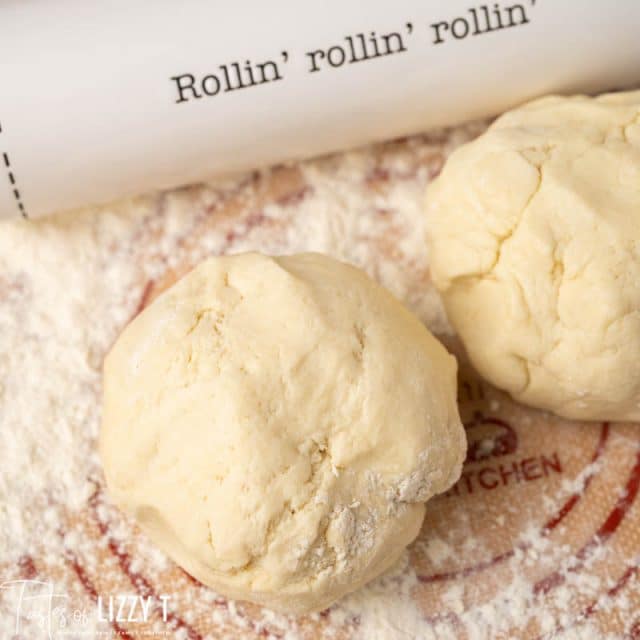 Tips for Making Sourdough Pie Crust
Keep the ingredients and bowl as cold as possible. If the butter and shortening are cold, they'll melt as the pie bakes, creating flaky layers.
Measure the flour carefully. Weighing the flour is the best bet to get the correct amount.
Use both shortening and butter for the best flavor and texture. We tested this recipe with all butter and all shortening. Both were ok and you can totally make this dough that way if you'd like, but we liked an equal amount of each best.
Our sourdough is 100% hydration sourdough. We say to add the water slowly to account for any difference in the type of sourdough starter you have.
Allow the dough to rest for an hour. This allows for the sourdough flavor to develop, but also helps to chill the dough for baking.
This recipe makes enough for a double crusted 9″ deep dish pie. If your pie plate is small, you may have dough leftover.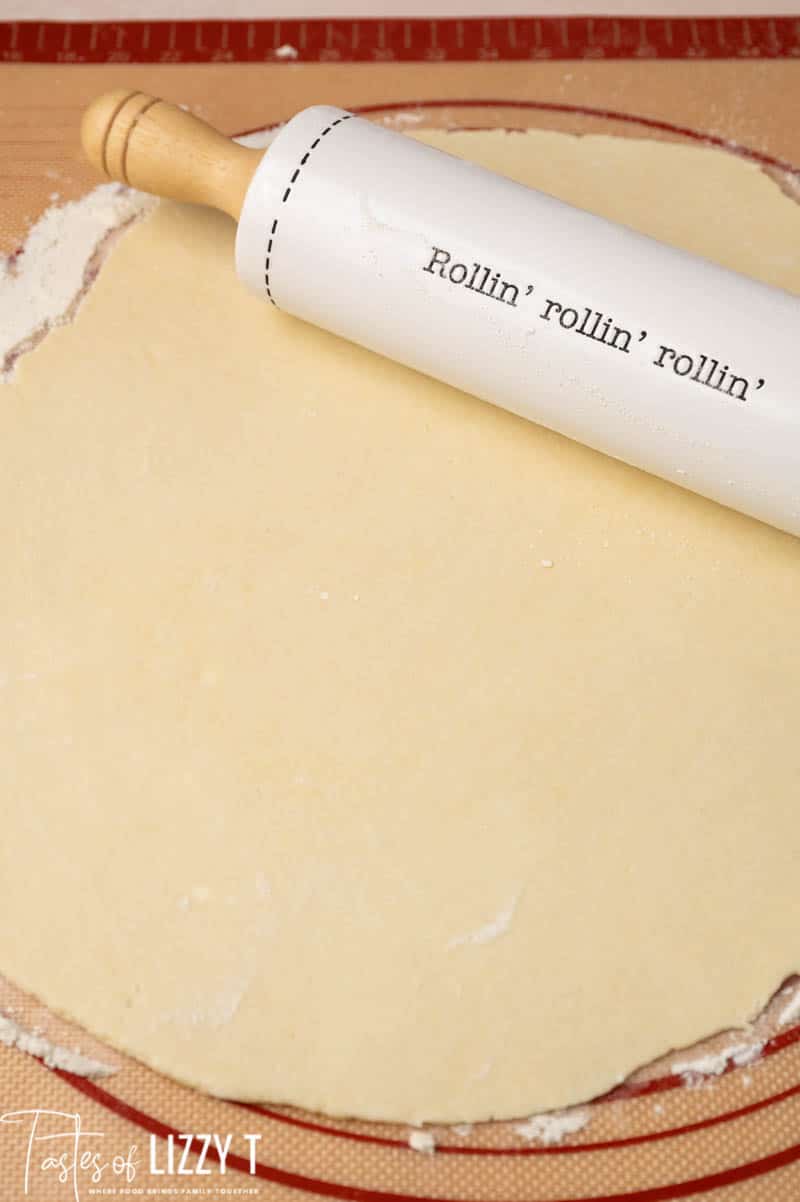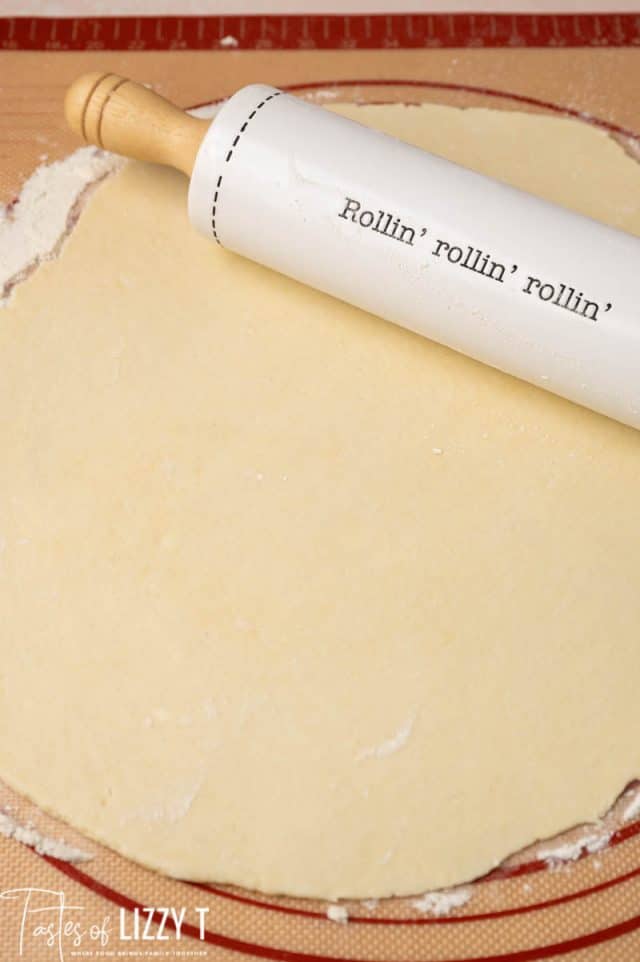 What to use pie dough for:
Pie crust is the basis for so many of my favorite recipes. It doesn't matter if it is a pumpkin pie, apple pie or even filled with potato chips (yes, you need to check that one out). But you know what? We mostly make this pie dough for things other than savory pies or traditional pie.
Here's a new one, though….I love using a cookie cutter to make pie crust cookies to dip in pudding, or a whipped cream fruit salad. So much better than using a spoon!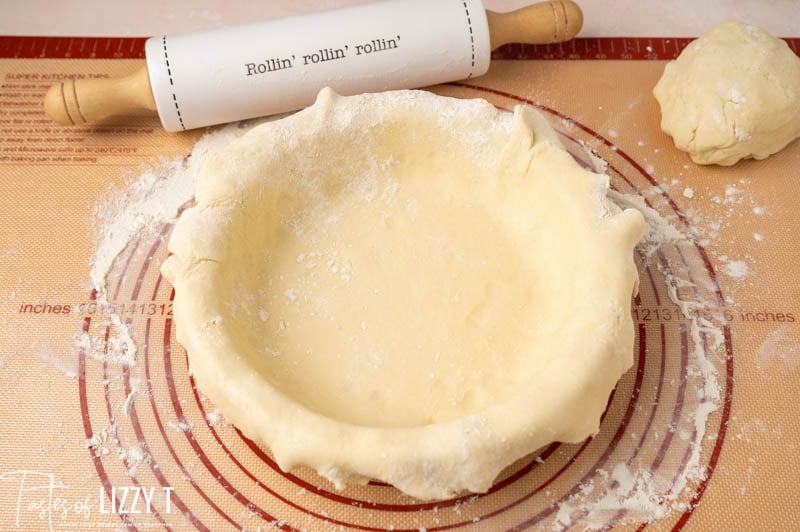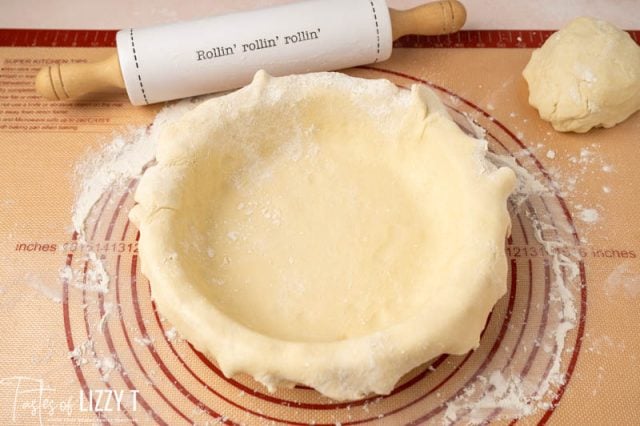 Can you make this in advance?
Yes! If you are making this pie crust in advance, store it up to 2 days in the fridge, or up to 3 weeks in the freezer. Make sure the dough is well wrapped in an airtight container.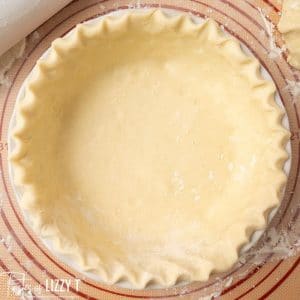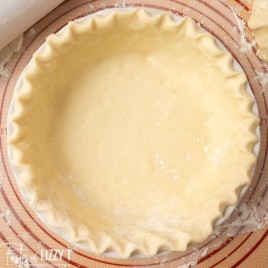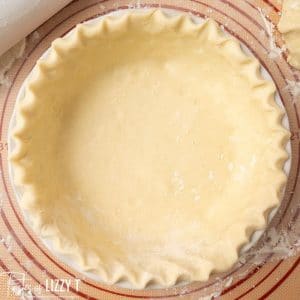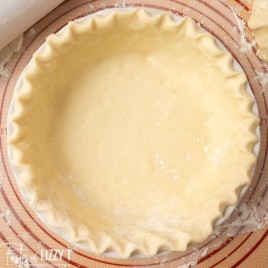 Sourdough Pie Crust
Use leftover sourdough discard in this easy to roll dough! This recipe for sourdough pie crust is made quickly in the food processor and has a great flavor.
---
Ingredients
3

cups

pastry flour*

390 grams

1

teaspoon

salt

6 grams

½

cup

shortening

½

cup

cold unsalted butter

(cut into cubes)

1

tablespoon

white vinegar**

(optional)

¾

cup

sourdough starter discard

180 grams

2-4

tablespoons

ice cold water
Instructions
Sift the flour and salt into a large mixing bowl.

Add the flour mixture, shortening, butter, vinegar, sourdough discard and two tablespoons of ice water into the bowl of a food processor. Put the lid on and pulse until the dough starts to come together.

Open the lid, scrape the sides and make sure that the ingredients are getting mixed evenly.

Put the lid back on and pulse again until completely combined. If needed, add another tablespoon or two of ice water or until the dough is holding together but don't add so much water that it is sticky.

Split the dough into two dough balls.

Note: This sourdough is best if you refrigerate it for an hour before baking. You can roll it out first so it is easier, or you can flatten the dough balls into discs, wrap in plastic wrap and refrigerate for one hour.

After the dough has refrigerated for one hour, sprinkle flour on the work surface and use a rolling pin to roll out the dough about ½ an inch larger than your pie pan.

Lay the crust in the pie dish and press down lightly on the bottom and up the sides of the pan.

If you are making just a bottom crust, turn the edge under and use thumbs "flute" the edges of the dough.

If you are making a double pie crust, tear off any excess, roll out the second dough ball and lay it over top the pie filling.

Flute the edges, poke holes in the top and bake as directed in your pie recipe.
To blind bake a pie crust:
Preheat the oven to 375º Fahrenheit.

Place parchment paper over the dough lined pie plate. Fill the pie with dry beans or pie weights and evenly distribute them across the bottom.

Bake for 15 minutes. Then remove the weights and parchment paper. Poke holes in the bottom of the pie crust and bake again for an additional 7 minutes for a partially baked crust or 12-15 minutes for a fully baked crust. For fully baked, bake until the crust is golden brown.
Notes
*If you can't find pastry flour, the next best would be cake flour. You can use all-purpose flour but the crust won't be as tender.
**White vinegar is optional. If you choose not to use it, use cold water instead.
The calories shown are based on the recipe serving 8, with 1 serving being ⅛ of the pie dough. Since different brands of ingredients have different nutritional information, the calories shown are just an estimate. **We are not dietitians and recommend you seek a nutritionist for exact nutritional information.**
Nutrition
Calories:
390
kcal
|
Carbohydrates:
37
g
|
Protein:
7
g
|
Fat:
25
g
|
Saturated Fat:
11
g
|
Cholesterol:
31
mg
|
Sodium:
294
mg
|
Potassium:
163
mg
|
Fiber:
5
g
|
Sugar:
1
g
|
Vitamin A:
355
IU
|
Calcium:
19
mg
|
Iron:
2
mg
Sourdough Recipes We Love
We've had so much fun working with sourdough and creating all the things! Try one of our favorite recipes, both with discard and active starter.
Sourdough Discard Recipes
These discard recipes use other leavening agents (baking powder, baking soda or yeast) to get a rise in the baked good. See some of our favorite recipes using sourdough discard here: