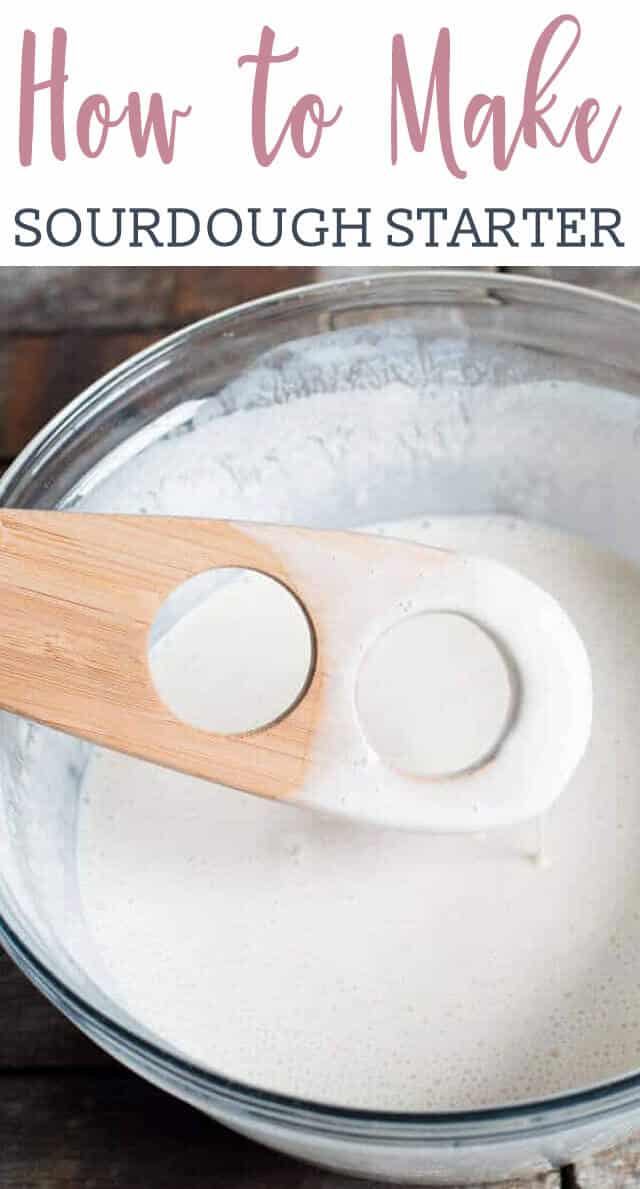 If you've ever wondered how to make sourdough starter, here is the easy way! Just 3 ingredients and 5 minutes and you are on your way to sourdough bread, pancakes, cakes and more.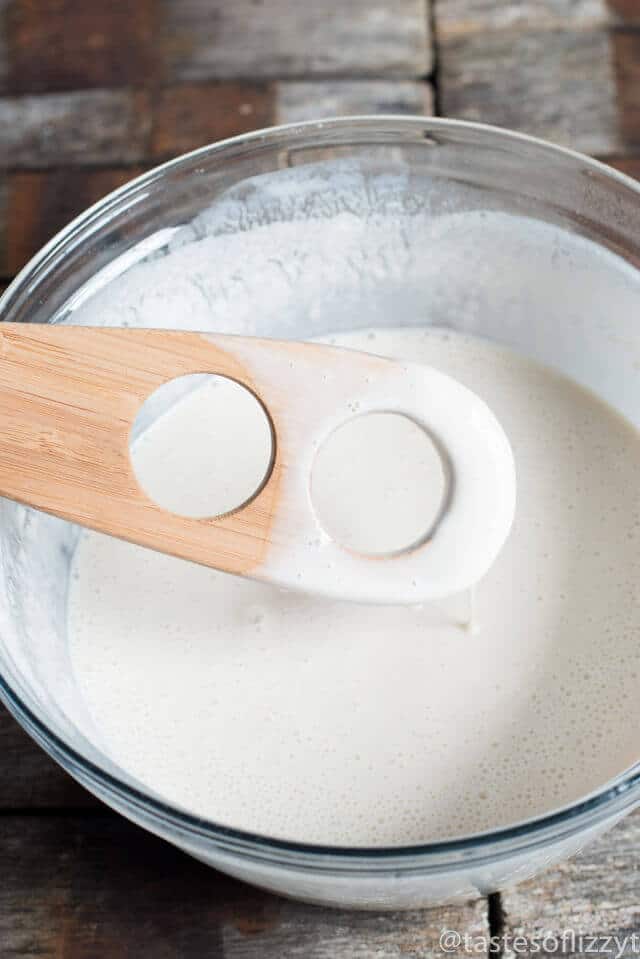 How To Make Sourdough Starter
What do you do when your Ohio Januarys and Februarys drag out long, dark and cold?
You bake bread.
Because the aroma of freshly baked bread brightens even the coldest, darkest days.
This past winter I tackled two types of sourdough. One is a sweet sourdough, the starter needed for this Amish Friendship Bread. The other sourdough is a classic sourdough that bakes up beautiful loaves of bread, biscuits, waffles, pancakes and even a chocolate cake.
Sourdough Starter with Yeast
I've learned a lot about sourdough over the past few months but I know I still have much to learn. I'm showing you today how to make sourdough starter. An easy sourdough starter recipe. Sourdough purists and professionals, just turn your eyes away. I know you can make sourdough starter without using yeast, but because I was just jumping into to sourdough itself, I wanted to start simply. And I think you will all find that this way to make sourdough is foolproof.
And someday soon? I promise I'll try another sourdough starter 100% without yeast. Just give me time.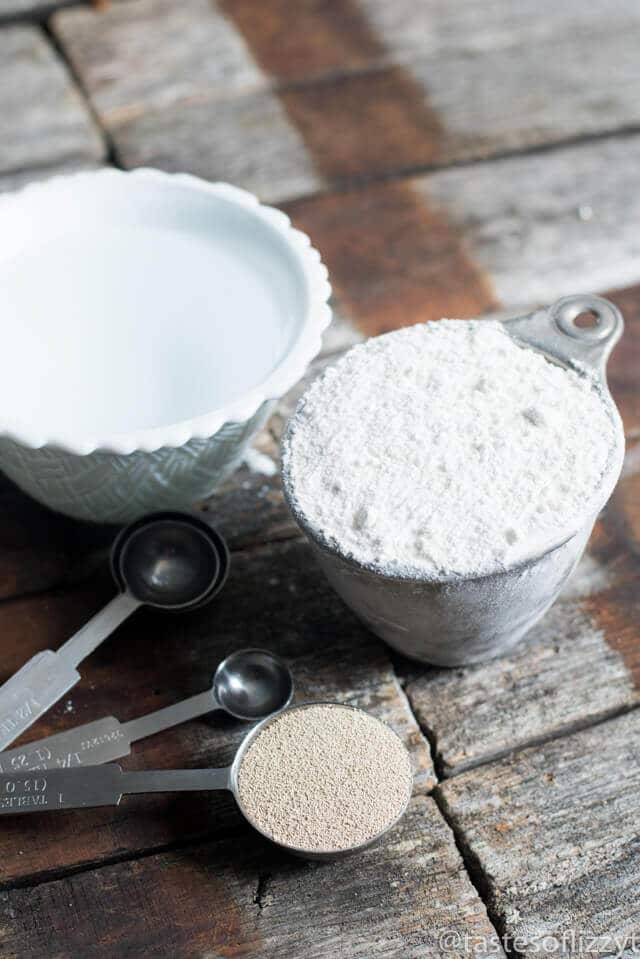 Sourdough Starter Recipe
All you need is three ingredients to make sourdough starter: all-purpose UNBLEACHED white flour, yeast and warm NON-CHLORINATED water.
You may have heard to only use glass or ceramic bowls and wooden spoons when making sourdough. That means no metal or stainless steel. Why? Sourdough is made sour by acids, and acids react to metals. Many will say that stainless steel bowls are made a better quality these days and it won't really matter if you use stainless steel. I prefer to stick with glass bowls and wooden spoons, because if I'm going through the trouble of making sourdough, I want it to turn out correctly.
Make sure your water is warm, but not hot. If the water is hot, it will kill the yeast. The water should be about 95-100 degrees. And it should be non-chlorinated water.
Allow your starter, once it is mixed, to sit out on the counter for 48 hours. I also like to put mine in the oven and turn on the oven light. That little bit of warmth gets the yeast movin'! But….make sure you take it out of the oven if you decide to bake something in that 48 hours. I've ruined several sourdough starters by turning on the oven while the starter was in there. Ooops.
Stir the sourdough several times over the 48 hours. The sourdough will separate after it bubbles. That liquid on top is the "stuff" that ferments and makes your bread sour.
After 48 hours, the sourdough is ready to bake with, but if you decide not to bake right away, simply store it in a covered glass jar (here's our favorite) in the refrigerator.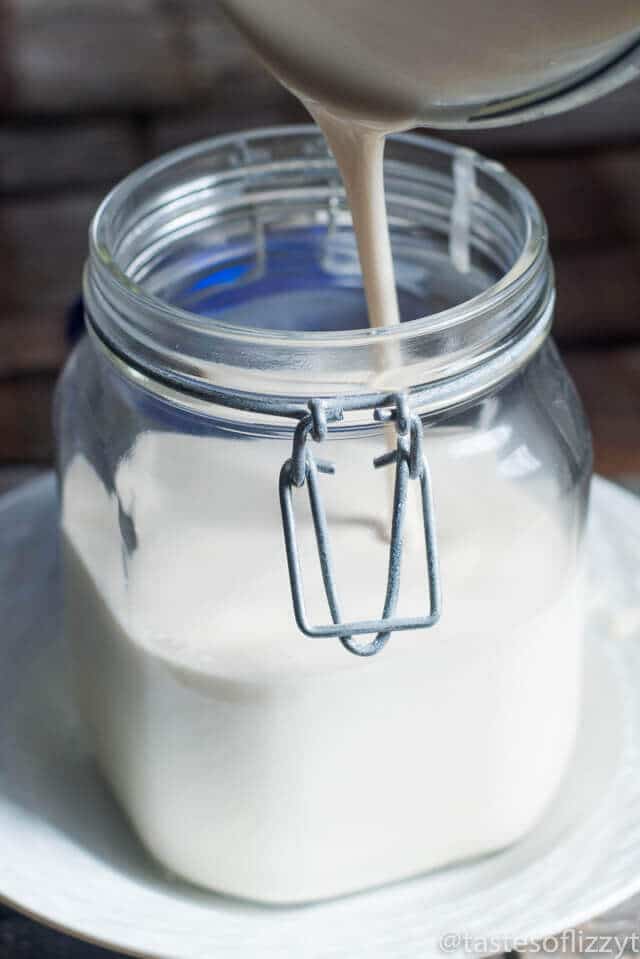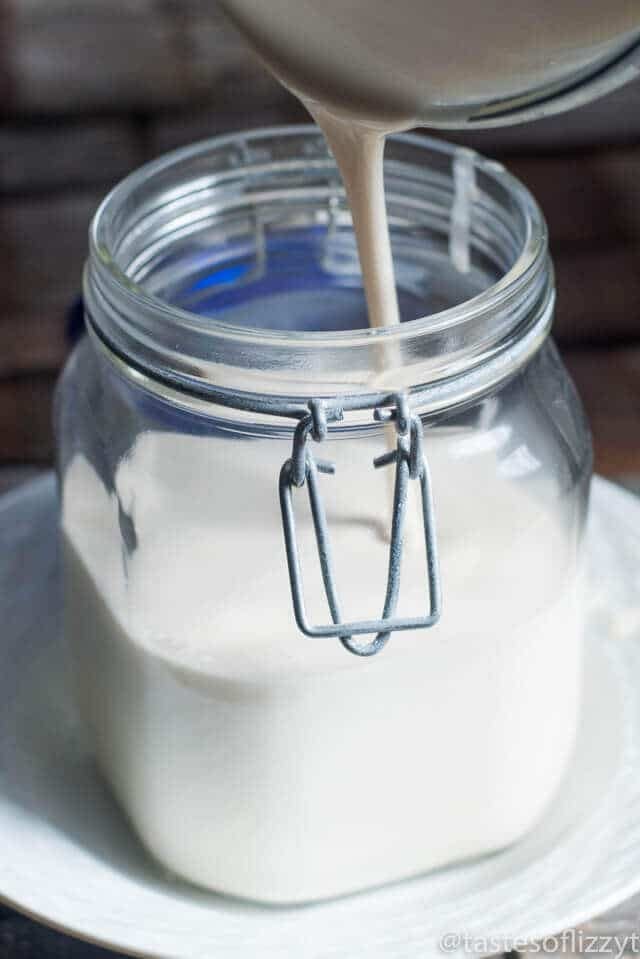 What to feed sourdough starter
As you continue to keep your sourdough, you'll have to feed it almost every day to keep it active.
If you are storing your starter at room temperature to use almost daily, you'll need to feed it daily. Depending on how much you keep, you can discard about half the starter (use it in sourdough pancakes) and feed it equal amounts of the unbleached flour and non-chlorinated water.
If you don't use your sourdough often, feed it weekly with equal amounts of flour and water. There will be a cloudy liquid on top of the starter. That is called "hooch" and it means your starter is hungry. Stir that liquid in, then feed. Do this weekly.
Once your sourdough is refrigerated, be sure to remove it from the fridge 48 hours before you are ready to bake. Mix it, feed it, then watch for it to bubble. If it doesn't bubble, feed the starter with equal amounts of water and flour. It can also be helpful to discard half of the starter before feeding it. This is good so that the starter has enough food, but also so that you don't end up with too much starter.
How much sourdough starter to keep?
You can replenish your starter after you've used some up by adding 1 cup of flour and 1 cup of water to at least half a cup of starter.
And that's about it! Please share your hints for making sourdough. What have you had success with? I know many of you are pros and can help me along my sourdough journey!
Items that will help your sourdough making process:
Easy Sourdough Starter Recipe
If you've ever wondered how to make sourdough starter, here is the easy way! Just 3 ingredients and 5 minutes and you are on your way to sourdough bread, pancakes, cakes and more.
Ingredients
2

cups

all-purpose unbleached flour

1

package

active dry yeast

2

cups

warm non-chlorinated water
Instructions
In a glass or ceramic bowl, combine together the flour and the yeast using a wooden spoon.**

Pour the warm water over the flour and mix well.

Loosely cover the bowl with wax paper or plastic wrap.

Place the bowl in a warm place. (I like to put it in the oven and leave the oven light on.)

Allow the sourdough to ferment and bubble for 48 hours, stirring two or three times throughout the two days.

After 48 hours, use some of the sourdough in your favorite recipe and store the remainder in a closed glass or ceramic container in the refrigerator.

To replenish the sourdough, simply add 1 cup of flour and 1 cup of warm water to at least 1/2 a cup of the starter.

After the sourdough is refrigerated and you are ready to bake again, remove the starter from the refrigerator 24 hours before you are ready to bake so it can activate again.
Notes
** Do not use any metal spoons or bowls when you make sourdough.
Nutrition
Calories:
310
kcal
|
Carbohydrates:
64
g
|
Protein:
9
g
|
Sodium:
2
mg
|
Potassium:
111
mg
|
Fiber:
2
g
|
Calcium:
13
mg
|
Iron:
3.9
mg