Follow these hints for the softest, fluffiest Sourdough Rolls. This easy homemade dinner roll recipe gets its flavor from sourdough. Need a sourdough starter? Find one here.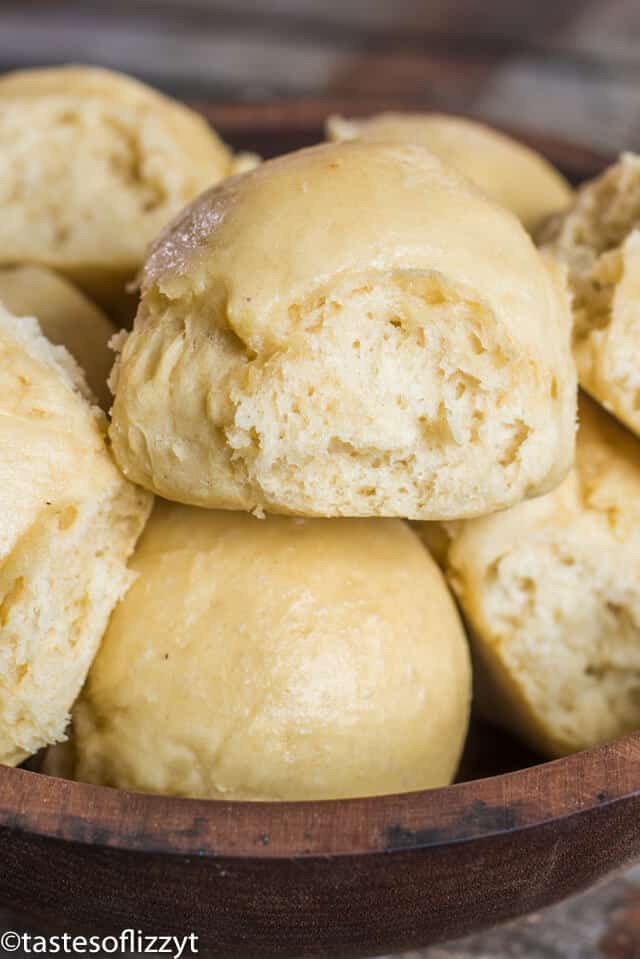 Sourdough Rolls Recipe
I am so intrigued by homemade sourdough and am far from an expert, but I've been enjoying using up the starter that I've been learning on…and these sourdough rolls are coming just in time for the holidays!
Does sourdough bread taste sour?
Have you ever wondered what exactly sourdough tastes like? Is it sour? Well, yes it is slightly sour. I actually consider it more "tangy" than sour. To some extent you can control the "sourness" of your sourdough bread. How long you ferment the starter and when the starter was actually started can all play a part in the flavor of the bread. You can also add a touch of sugar to take down the "tang" level.
It's important that each sourdough starter can taste slightly different. Some will be stronger than others. So just keep working at it to find one (or buy one) that you like.
How to Make Sourdough Starter
As I said, we are just learning the ins and outs to making sourdough starter. We'll keep updating our posts as we learn new tips and tricks, but you can read how we get our starter going in this post.
The Best Yeast for Rolls
We often get asked why our sourdough breads have yeast in them. Isn't that the point of sourdough…to not use yeast? True sourdough bread does not have yeast. We may share some of those recipes as we learn more, but we also strive to share recipes that are easy for the home cook. That guarantee success. So for that reason we still use yeast in our sourdough breads. I love Red Star® Platinum Superior Baking Yeast®. No this isn't sponsored (although I have worked with Red Star in the past)…I just LOVE their yeast. The Platinum Superior yeast gives the best rise and the best results every time. I highly recommend it!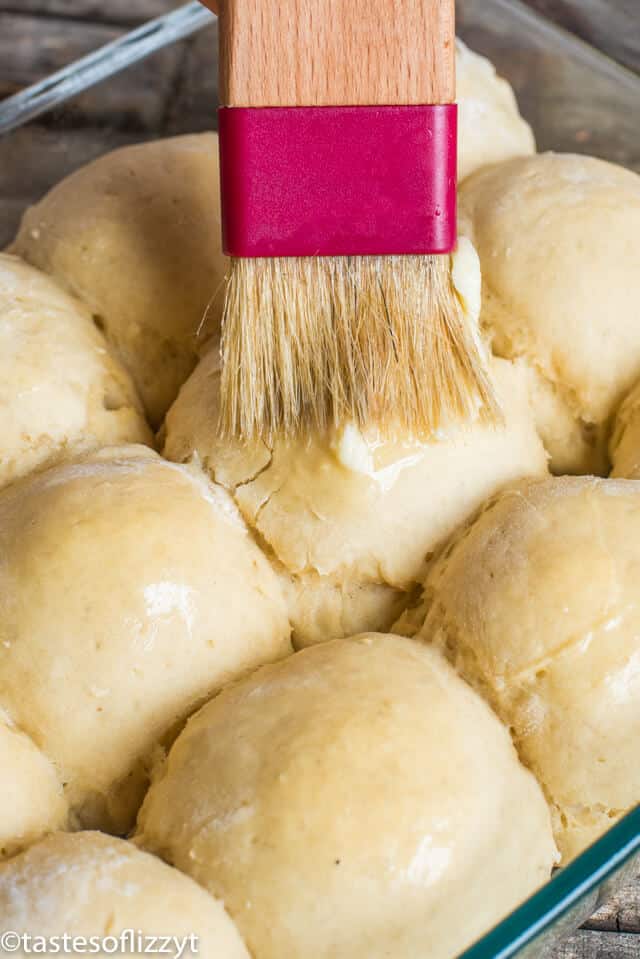 How do you make homemade sourdough rolls?
This is one of the easiest yeast bread recipes I make. We like to use the stand mixer to mix and knead yeast dough, don't worry if you don't have one. You can knead the dough by hand. Or if you're lucky and have a bread machine, knead the dough using the "dough" setting. That is the easiest yet!
Here are a few hints:
I already talked about our hint for the yeast. Try that yeast. Trust me.
Be sure that your water isn't too hot when you add the yeast. It should be around 110-115 degrees Fahrenheit.
These rolls rise twice, so be sure to plan ahead for that.
We use all purpose flour because we like soft rolls. If you'd like a chewier dinner roll, you can use bread flour.
We normally use granulated sugar in this recipe, but we've also used coconut sugar and honey. Choose whichever you'd like.
Use eggs that are at room temperature so it doesn't affect the yeast.
Also make sure your sourdough starter is at room temperature.
Add the flour slowly! The exact amount you need will depend on everything from the sourdough starter to the temperature/humidity outside. If you add too much, your rolls will be dry.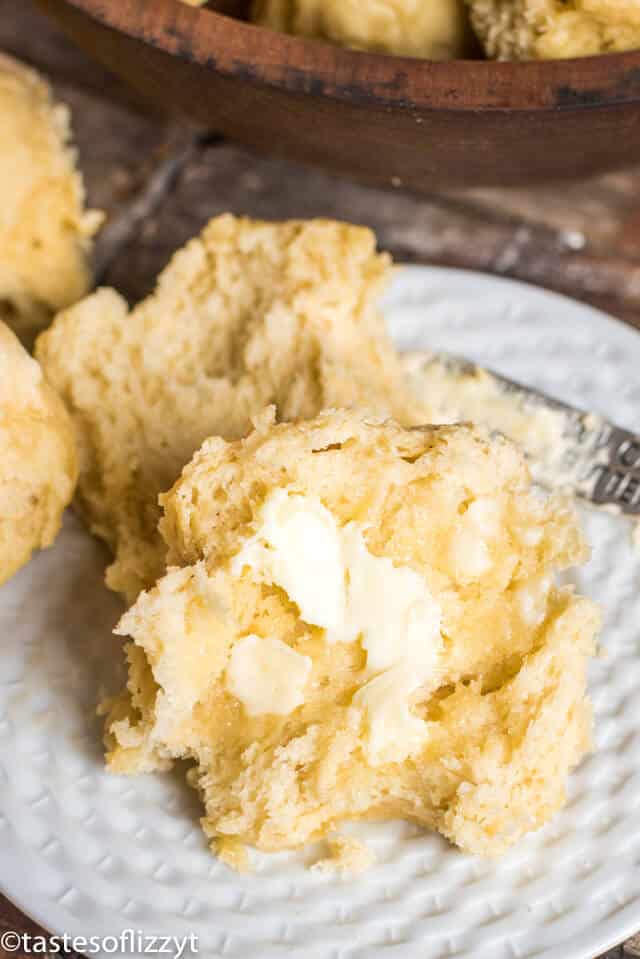 How do you keep bread rolls warm?
This is our favorite way to keep rolls warm: heat dry rice or beans in a cloth bag or kitchen towel. Do this right before serving. Take the cloth of rice or beans and place it in the bottom of the bread basket. Then line the basket with a pretty towel. Place the rolls on the basket and use any extra cloth material from the towel to cover the rolls.
How do you reheat dinner rolls without drying them out?
Preheat the oven to 350 degrees. You can place the rolls on a baking sheet and brush them with butter (this prevents them from drying out). Warm them for 5-7 minutes (or for as long as it takes to heat them). You can also wrap the rolls in foil, then place them in the oven. This method works great for reheating and is so easy!
Other Sourdough Recipes
Sourdough Rolls
Follow these hints for the softest, fluffiest Sourdough Rolls. This easy homemade dinner roll recipe gets its flavor from sourdough.
Ingredients
1/2

cup

warm water

1

tablespoon

sugar

1

package

Red Star Platinum Baking Yeast

(2 1/4 teaspoons)

2

large

eggs

(room temperature)

3

tablespoons

vegetable oil

1

cup

sourdough starter

(at room temperature)

1

teaspoon

salt

4

cups

all-purpose flour*

(slightly adjust this based on differing starters)
Instructions
In the bowl of a stand mixer, pour in the warm water and sugar.

Sprinkle the yeast over the water. Allow it to sit for 2-3 minutes. *Be sure the water isn't too hot. It should be about 110-115 degrees Fahrenheit.)

Add the eggs, oil, starter and salt. Mix gently until combined.

Add 3 cups of flour and mix the dough using the beater blade until combined. At this point, add about another 1 cup of flour if necessary. I've found that sourdough starters are often varying in consistency, sometimes thicker or thinner than other times. Add enough flour so that the bread dough feels slightly tacky. It should not feel dry, but yet shouldn't stick all over your hands. We find that 4 cups of flour works great. The dough will get less sticky as you knead it, so be careful not to add too much flour at the start!

Knead the dough using the dough hook on the stand mixer for about 7 minutes or until the dough feels smooth, springs back if you touch it and doesn't feel too sticky. *You can also use the dough setting on a bread machine to knead the dough...or knead by hand! Just be careful not to add too much flour.*

Place the dough in a greased bowl, cover it with cheesecloth or loosely with plastic wrap and set it in a warm spot. Allow the dough to rise for 1 hour or until doubled.

Divide the dough into 12 balls. (Or if you want smaller rolls, make 15.)

Roll the dough between your hands to make a smooth ball, then place the dough balls in a greased 9x13 baking pan.

Allow the dough to rise again until almost doubled.

Bake the rolls in an oven preheated to 375 degrees Fahrenheit for about 20 minutes.

Serve the rolls warm and store any leftovers in an airtight container.
Notes
The calories shown are based on the recipe making 12 rolls, with 1 serving being 1 roll. Since different brands of ingredients have different nutritional information, the calories shown are just an estimate. **We are not dietitians and recommend you seek a nutritionist for exact nutritional information.**
Nutrition
Calories:
216
kcal
|
Carbohydrates:
36
g
|
Protein:
5
g
|
Fat:
4
g
|
Saturated Fat:
3
g
|
Cholesterol:
31
mg
|
Sodium:
206
mg
|
Potassium:
56
mg
|
Fiber:
1
g
|
Sugar:
1
g
|
Vitamin A:
45
IU
|
Calcium:
11
mg
|
Iron:
2.1
mg