Tastes of Lizzy T participates in affiliate advertising programs. We may earn a commission when you make a purchase through links on our site.
Sour cherry hand pies have all the elements of a cherry pie, but compact and portable. Flaky pie crust and a from scratch cherry filling. You'll love this fun dessert!
I'm a 40-something year old with an addiction to Pop Tarts. It's true. I can't buy them because I'll eat the entire box in a lightning speed amount of time.
But here's the problem…do you know how easy it is to make Pop Tarts at home? It's so easy. Call them hand pies like your grandma did or homemade pop tarts like kids today, just make them. They are the ultimate handheld comfort food!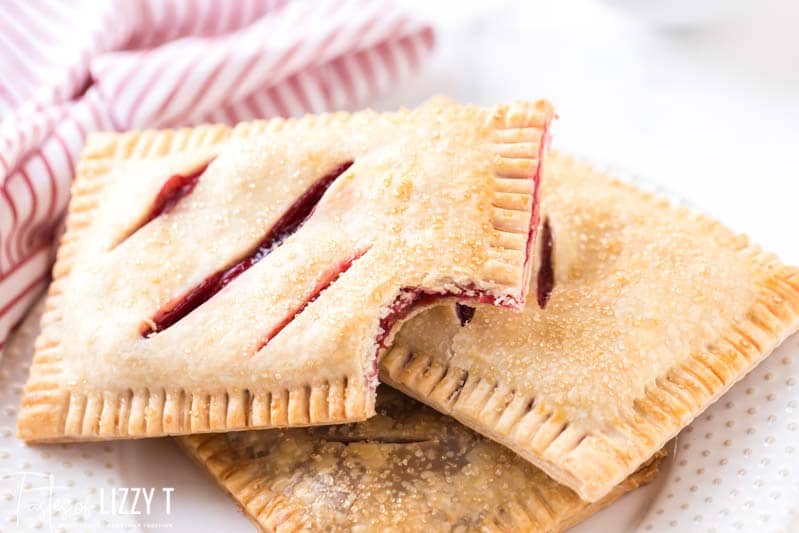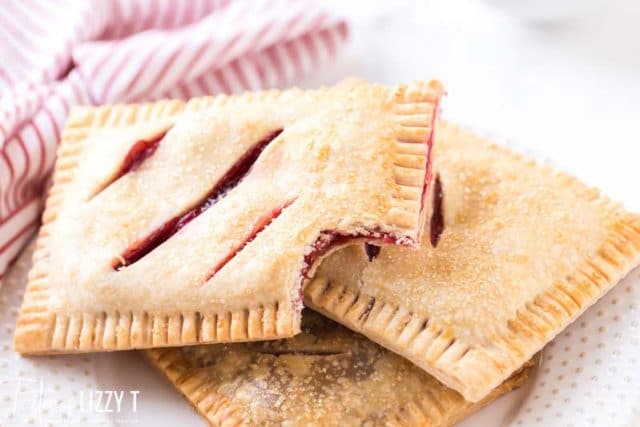 What you'll love about this recipe:
Makes a small batch. Only 4 pies!
Use store bought pie crust for a shortcut or homemade.
Delicious sour cherry pie filling is sweet and tangy.
The perfect portable dessert for kids.
What is a hand pie?
A hand pie is traditionally a small piece of pie crust (or other type of dough) with a filling over half of it. You fold the dough and crimp (or in this case place another piece of dough overtop and crimp) in order to form a pocket. It's like a pie, but handheld. Simple as that.
Where do hand pies come from? Nearly every culture has their own hand pie. From empanadas to pasties, from meat fillings to sweet fillings, you're sure to find something to love in a hand pie.
But our favorite? The old fashioned Amish style fruit filled hand pie.
Sour Cherry Filling
Here's the ingredients you'll need for this simple filling:
Sugar: to sweeten the tart cherries.
Cornstarch: to thicken the filling.
One can of red tart cherries: Can you use a dark sweet cherry? Maybe…but the filling will be much sweeter rather than tangy. Red tart cherries are soooo good in pies and other baked goods!
Vanilla: for a touch of warmth. Almond also pairs well with cherry flavor. If you choose almond, I'd only use ½ teaspoon because it seems stronger than vanilla.
Red food coloring: This is totally optional. Only use it if you want a traditional, vibrant red color for the filling.
In our raspberry sauce and strawberry topping we add in a touch of butter for richness. You can do that with this cherry filling too!
Tips for Making Hand Pies
I have big love for homemade pie crust, so we use my grandma's pie crust recipe for the base of these sour cherry hand pies. It is a double pie crust, and you may have enough to make about 6 hand pies (pop tart size) from that recipe.
You can use your own favorite pie crust in this recipe, or you can buy pre-made pie dough at the store. Everyone needs a shortcut at one time or another!
Use a pizza roller or a small knife to cut rectangles. Or you can make them any shape you'd like!
Don't overfill the hand pies. They are small anyway and you don't want that filling to bake out!
Sprinkle the tops with a coarse sugar. Not only does this look pretty, but it gives the pies a burst of flavor too.
How to Crimp a Hand Pie
There are two tips to crimping a hand pie.
Make sure you leave at least 1/4″ edge when putting the filling in. If the juices run to the edges, they may not seal as well.
Use a fork to press down and "crimp" the edges together.
If the edges aren't sticking at all, you could brush them with a bit of water or egg wash first. This may help them seal.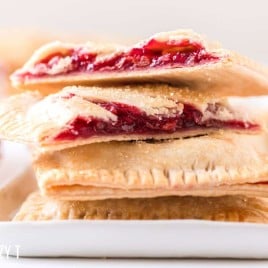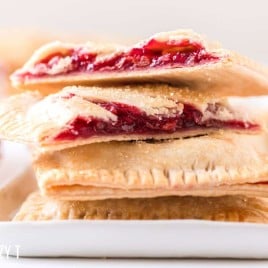 Sour Cherry Hand Pies
Sour cherry hand pies have all the elements of a cherry pie, but compact and portable! Flaky pie crust and a from scratch cherry filling. You'll love this fun dessert!
---
Ingredients
½

cup

granulated sugar

3

tablespoons

cornstarch

14.5

ounces

Pitted Red Tart Cherries, drained well except for ½ cup liquid

(1 can)

1

teaspoon

vanilla extract

2

pre-prepared pie crusts

1

tablespoon

milk

1

large

egg

beaten

Turbinado sugar or coarse sugar

5

drops red food coloring

optional
Instructions
Preheat oven to 350 degrees Fahrenheit.

Mix cornstarch and sugar together in a small saucepan.

Slowly whisk in reserved ½ cup cherry liquid until completely combined with cornstarch and sugar. Cook over medium high heat until mixture is bubbling while stirring frequently

Stir constantly for 5-7 minutes or until mixture is very thick and the color lightens significantly.

Take off heat and stir in vanilla, cherries, and food coloring (if using). Set aside.

Roll out pre-prepared pie crust and cut in equal rectangular shapes.

Place cherry mixture into the center of one piece of dough, keeping the mixing 1 inch away from all sides. (Note: the amount of filling depends on how large your piece of dough was cut. I made mine fairly large and put about ¼ cup of filling in each hand pie).

Place another rectangular piece of dough directly on top of cherry mixture.

Seal off the sides of the hand pie by crimping each side of the dough with a fork.

Make egg wash by whisking together milk and egg until combined. Brush over each hand pie.

Make three slits into each hand pie and sprinkle with coarse sugar.

Place on a parchment lined sheet pan and bake for 20-25 minutes or until golden brown and bubby.
Notes
The calories shown are based on the recipe making 4 pies, with 1 serving being 1 hand pie. Since different brands of ingredients have different nutritional information, the calories shown are just an estimate. **We are not dietitians and recommend you seek a nutritionist for exact nutritional information.**
Nutrition
Calories:
608
kcal
|
Carbohydrates:
92
g
|
Protein:
8
g
|
Fat:
24
g
|
Saturated Fat:
7
g
|
Cholesterol:
47
mg
|
Sodium:
375
mg
|
Potassium:
197
mg
|
Fiber:
3
g
|
Sugar:
25
g
|
Vitamin A:
814
IU
|
Vitamin C:
2
mg
|
Calcium:
38
mg
|
Iron:
4
mg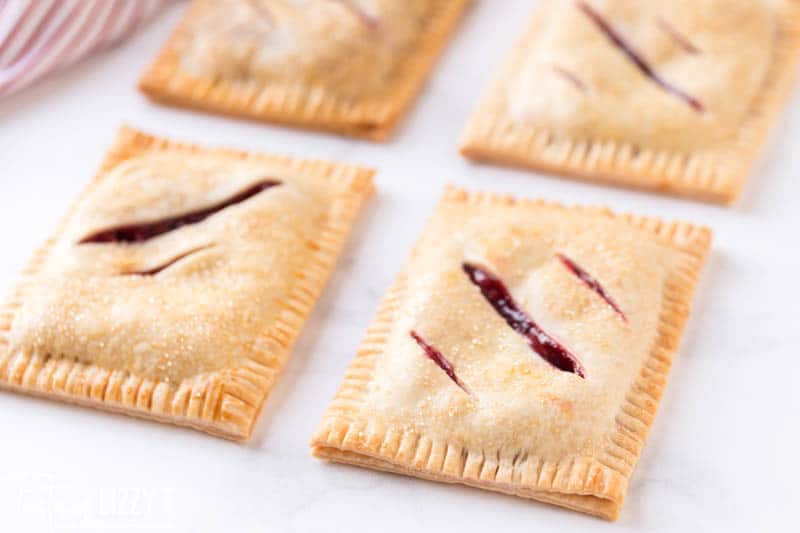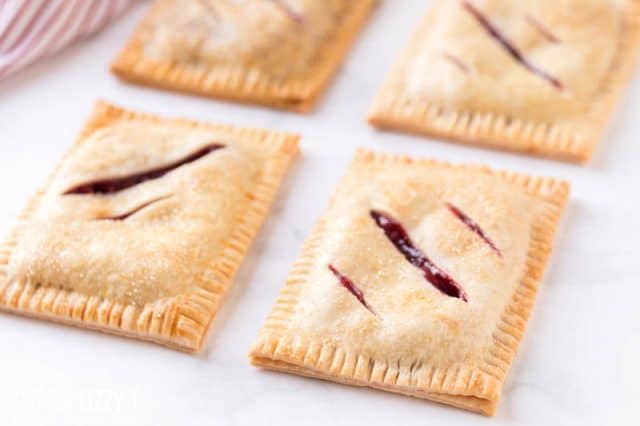 Frequently Asked Questions
Can you make other shapes?
Yes! This works great as small circle hand pies or half circle shaped hand pies.
How do you store hand pies?
Store these fruit pies in an airtight container at room temperature. You can also freeze them for up to two months.