Strawberry Rhubarb Slab Pie
Tastes of Lizzy T participates in affiliate advertising programs. We may earn a commission when you make a purchase through links on our site.
Fresh, fun and delicious, this Strawberry Rhubarb Slab Pie is a unique and tasty twist on a classic treat!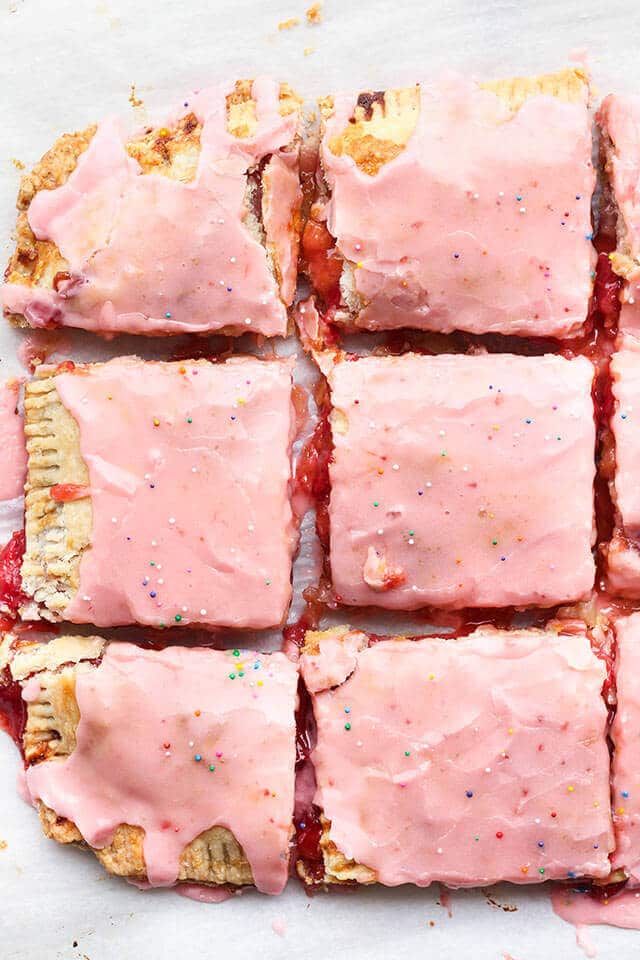 Hi friends! It's Kristie here from The Sweet & Simple Kitchen and I am pumped to share this Strawberry Rhubarb Slab Pie with you all.
Five Words; Giant. Strawberry. Rhubarb. Pop. Tart. I don't know about you guys, but this recipe is literally all of my childhood dreams come true. Are we on the same page here? Okay good – let's continue.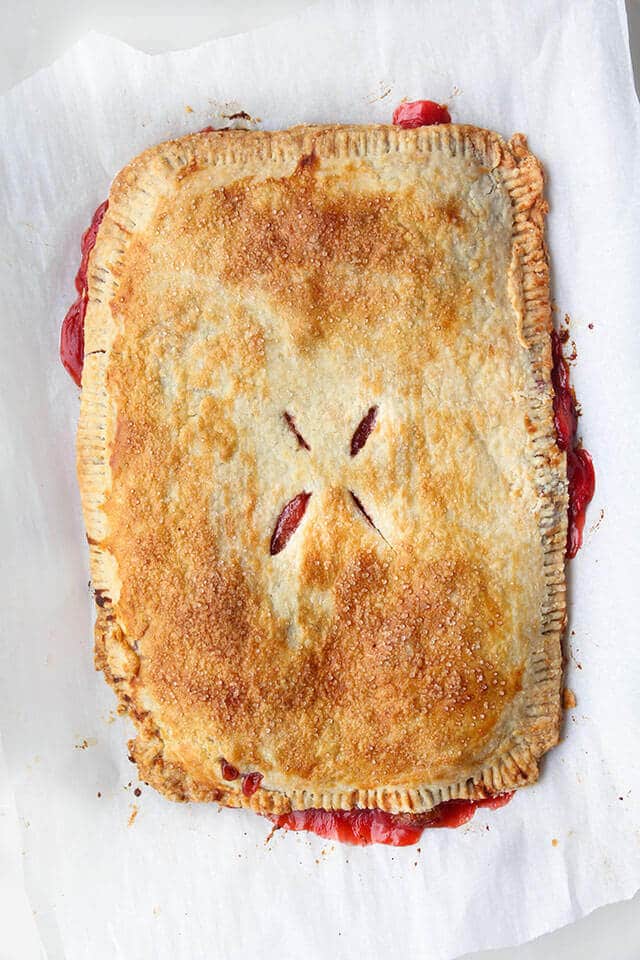 I love baking with fresh rhubarb. It's tart flavor pairs amazingly with spices, fresh citrus, berries, almond extract. Not to mention that gorgeous pink color has the power to make any dessert positively irresistible.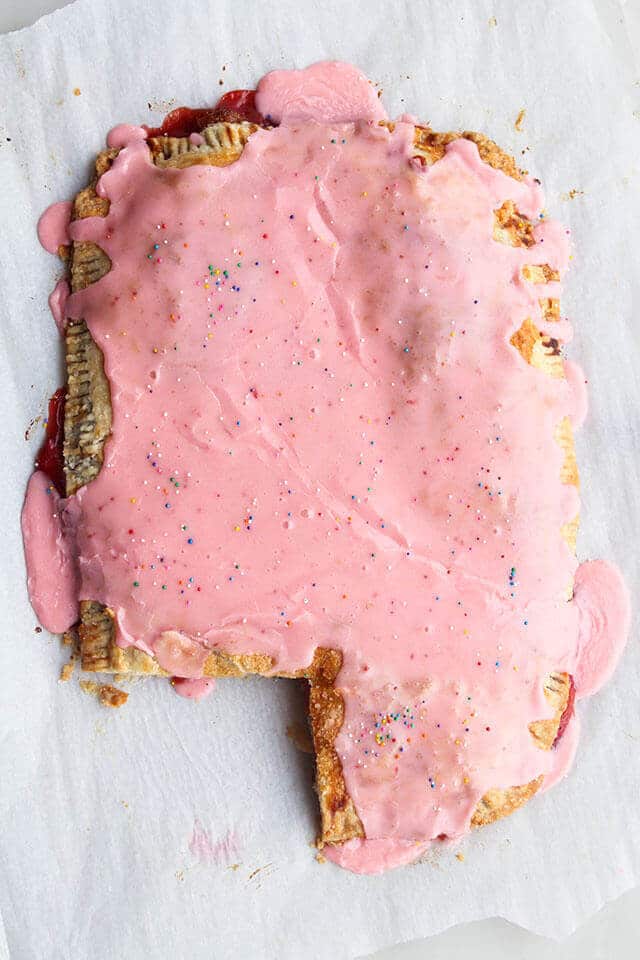 So last weekend, when I found the most incredible, vibrant pink stalks of rhubarb during my weekly farmers market stroll; I wasted no time loading up a bunch of stalks to take home with plans to bake them into something delicious.
I thought seriously about baking a classic Strawberry Rhubarb Pie – however, on this morning I was feeling particularly nostalgic & in need of something that reminded me of my childhood. Pop tarts. I wont lie… I used to love those things. However, nowadays I prefer my tarts homemade. So homemade pop tarts it was!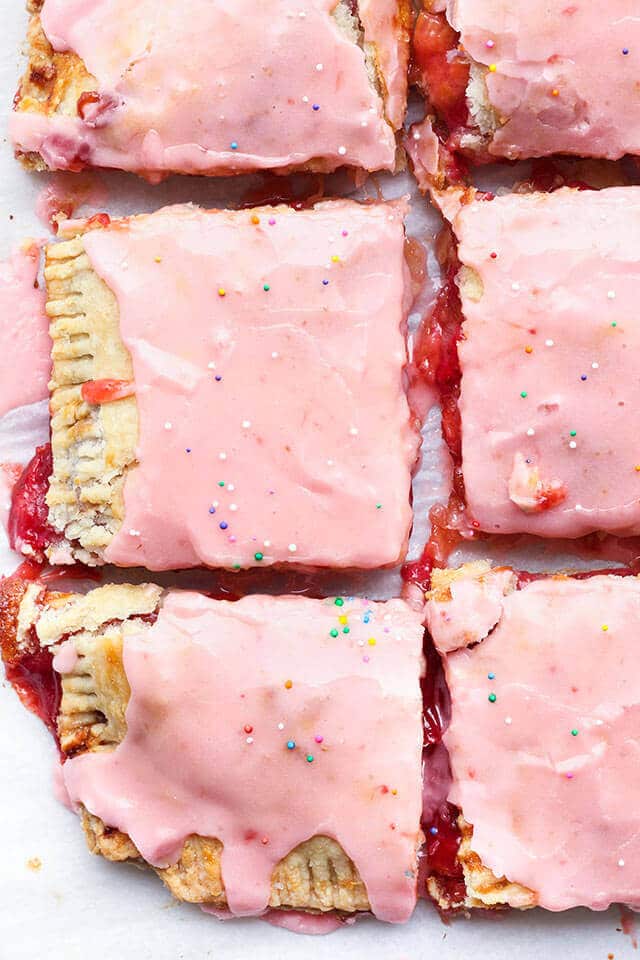 But why make a bunch of little pop tarts when you can just have one giant one? Such was my thought process on the morning this Strawberry Rhubarb Slab Pie was born. I have no regrets.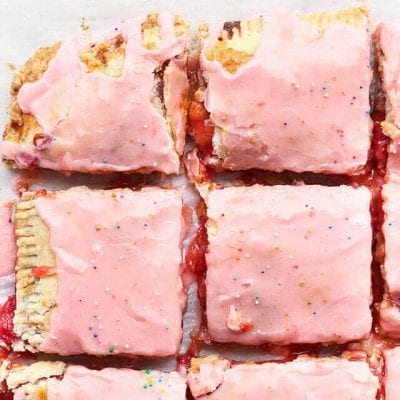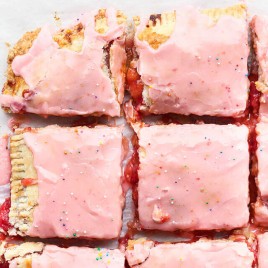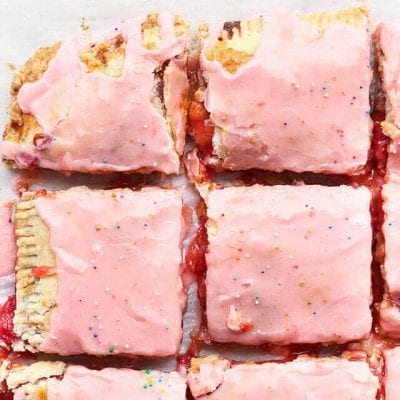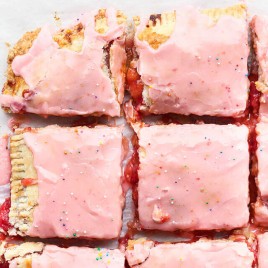 Strawberry Rhubarb Slab Pie
Fresh, fun and delicious, this Strawberry Rhubarb Slab Pie is a unique and tasty twist on a classic treat!
Cook Time
2

hours
30

minutes
---
Ingredients
Pie Crust
½

cup

ice water

1

tbsp

lemon juice

2 ½

cups

all purpose flour

½

tsp

salt

2

tbsp

granulated sugar

¾

cups

butter

, cold & cut into cubes

¼

cup

shortening

, cold
Strawberry Rhubarb Filling
2

tbsp

butter

, cold

1

cups

rhubarb

, cut into 1 inch cubes

½

cup

brown sugar

1

tsp

lemon zest

2

cups

strawberries

diced

½

cup

granulated sugar

Juice of ½ lemon

½

tsp

cinnamon

¼

tsp

ginger

1/8

tsp

nutmeg

3

tbsp

corn starch

2

tbsp

all purpose flour

½

tsp

vanilla

¼

cup

almond meal

(optional)
Egg Wash
1

large

egg

1

tbsp

milk

1

tsp

granulated sugar
Lemon Strawberry Glaze (Optional)
1

tbsp

fresh strawberry puree

(or jam)

Juice of ½ lemon

¼

tsp

vanilla

2

tbsp

warm water

(plus more if needed)

2

cups

powdered sugar

Sprinkles

(optional)
Instructions
Make the pie crust:
In a liquid measuring cup, add ½ cup of very cold water and stir in the lemon juice. Place in refrigerator until ready to use.

In a large mixing bowl, whisk together flour, salt and granulated sugar. Add in your cubes of butter and shortening. Lightly toss to evenly coat all of the cubes in flour.

Using a pastry cutter or your fingers, work the butter / shortening into the flour mixture until most of the butter chunks are the size of peas, with some larger almond-sizes chunks remaining. The rest of the mixture should look like coarse sand.

Drizzle half of the ice water & lemon juice mixture over the dry ingredients and gently toss with your hands or a spatula. Drizzle the remaining half of the wet ingredients and gently stir with the spatula until a ragged dough forms.

Tip: Avoid the temptation to add more water as this can run the risk of making a chewy dough as opposed to the more desired flaky dough.

Turn the dough out onto a lightly floured work surface & divide into 2 equal portions. Shape the doughs into rectangles about 1 inch thick and wrap with plastic wrap. Refrigerate for at least 1 hour or make ahead and refrigerate for up to 2 days.
Make the egg wash:
In a small bowl whisk together egg, milk and sugar; place in refrigerator until ready to use.
Strawberry Rhubarb Filling:
Heat 1 tbsp of the butter in a large sauté pan over medium-high heat. Sauté the chopped rhubarb w/ 1 tbsp of the brown sugar until it softens slightly, about 5 minutes.

Transfer the rhubarb to a large bowl, sprinkle with the lemon juice and allow it to cool completely to room temperature. Place in the refrigerator if needed.

Meanwhile, in a medium bowl, whisk together the sugars, flour, cornstarch, cinnamon, ginger and lemon zest.

After 1 hour, use a slotted spoon to transfer the macerated strawberries into the bowl with your cooled rhubarb, leaving behind any excess juices.
Assembly
Next, remove your chilled pie dough disks from the fridge & lightly flour a cool, dry work surface. Unwrap one disk and lightly flour its surface. Use a rolling pin to roll the dough into a ¼ inch thick rough rectangular base for your pie; Lift the crust onto a sheet pan lined with parchment paper.

Next roll the remaining pie dough in the same fashion as the first, into a ¼ inch thick rough rectangle. Set aside.

Sprinkle the base of the pie dough, with the almond meal – (this will help to absorb any excess juices from your filling and prevent a soggy pie crust)

Next finish preparing your filling; Add the strawberries to your sugar mixture. Stir in rhubarb, and vanilla; Stir gently with a spatula until evenly coated.

Pour the filling onto the pie base on the sheet pan to evenly distribute among crust, leaving a 1 inch border. Dot the filling with chunks of the remaining 1 tbsp of chilled butter.

Brush the edges of the pie base with egg wash. Gently lift the other pie dough on top of the filling and use a fork to press around the edges. Cut off any rough or excess dough around the edges if desired.

Brush the top of the pie evenly with the egg wash. Sprinkle with coarse sugar and cut a few slits in the pie for steam release while baking.

Place pie on a baking sheet to prevent bubbly filling from falling to the bottom of your oven and bake in the lower third of the oven at 375 degrees 30 – 35 minutes or until the crust is golden brown and the filling is bubbling.

Remove from oven and allow to cool for 10 – 15 minutes before glazing.
Lemon Strawberry Glaze
While your pie cools, make your glaze.

Place all ingredients in a bowl and whisk together until smooth and creamy. You want it to be thick but still pourable. If your glaze is too runny, add in a bit more icing sugar 1 tbsp at a time. If your glaze is too thick add in more water 1 tbsp at a time.

Use a spoon to glaze the pie & sprinkle with sprinkles if desired. Allow to set for 10-15 minutes before slicing. Enjoy!
Nutrition
Calories:
353
kcal
|
Carbohydrates:
45
g
|
Protein:
1
g
|
Fat:
19
g
|
Saturated Fat:
9
g
|
Cholesterol:
49
mg
|
Sodium:
225
mg
|
Potassium:
86
mg
|
Fiber:
1
g
|
Sugar:
40
g
|
Vitamin A:
445
IU
|
Vitamin C:
16.3
mg
|
Calcium:
33
mg
|
Iron:
0.4
mg