Use frozen or fresh raspberries to make this easy raspberry sauce. It's a raspberry reduction that gives a pop of color, perfect for cheesecakes, ice cream and pancakes.
One thing we've learned from our kitchen adventures over the past 25 years is that almost every dessert can be enhanced by a great sauce. This easy raspberry sauce is one of our all-time favorites.
This homemade raspberry sauce recipe is a true game-changer. I add a secret ingredient to the dessert sauce that makes takes it to the next level. Perfect for special occasions or random summer Saturdays when you have fresh berries.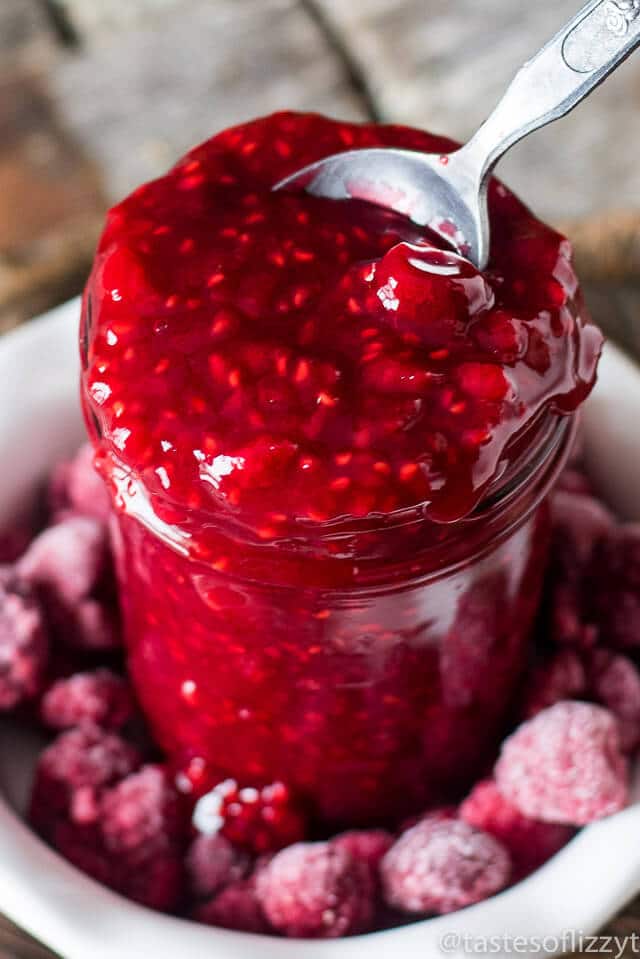 Why you'll love this easy raspberry sauce recipe:
This raspberry sauce is incredibly easy to make. Even if you're new to cooking or are feeling a little bit intimidated by the idea of creating a sauce from scratch, this recipe is designed to be accessible and straightforward. All it takes are a few simple ingredients and less than 25 minutes.
It solves a common problem many home cooks face: how to add a quick and unique flavor punch to everyday dishes. Too often, we find ourselves stuck in a cooking rut, using the same recipes and flavor profiles over and over again. The Easy Raspberry Sauce breaks through that monotony, bringing a fresh and fruity twist to both savory and sweet dishes.
It's versatile. You can drizzle this delicious raspberry sauce over ice cream for an elevated dessert experience, add it to your smoothie bowl to make breakfast a bit more special, or even mix it into your savory dishes, like grilled chicken or baked ham, to add a sweet and tangy dimension. It's the secret weapon you didn't know your kitchen needed!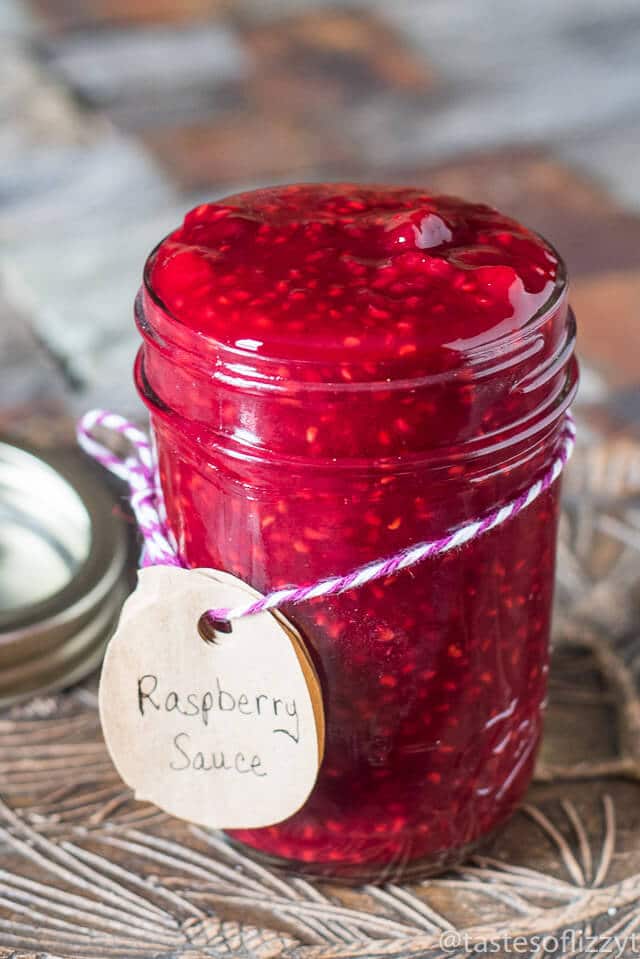 ⭐️ ⭐️ ⭐️ ⭐️ ⭐️ Reader Phyllis says, "This is so amazing, our family loves it in yogurt on ice cream and pancakes. Yum good on everything. Thank you so much for sharing. Has become our favorite!"
⭐️ ⭐️ ⭐️ ⭐️ ⭐️ Reader Tyzer says, "Wonderfully simple and flavorful sauce! I steeped a large habanero (seeded and cut) in my sauce while the raspberries and water were breaking down. It added a delicious level of heat to it!"
Is this the same as raspberry coulis?
Raspberry sauce is a broad term that can refer to a wide range of preparations. It could be a chunky sauce or smooth, sweet or tangy, and it might contain various added ingredients such as spices, vinegar, or other fruits such as orange juice. It's often used as a topping for desserts, but can also complement savory dishes.
Raspberry coulis, on the other hand, is a specific type of sauce. The word 'coulis' is derived from the French verb 'couler', which means 'to flow'. A coulis is traditionally a smooth, strained sauce made from pureed fruit or vegetables.
A raspberry coulis recipe typically blends raspberries, sugar, and a bit of lemon juice, and then strains out the seeds for a velvety, smooth consistency. The primary goal of a coulis is to enhance the natural flavor of the fruit, so it's less common to see additional flavorings used.
What is raspberry sauce made of?
There are only 6 ingredients in this raspberry sauce: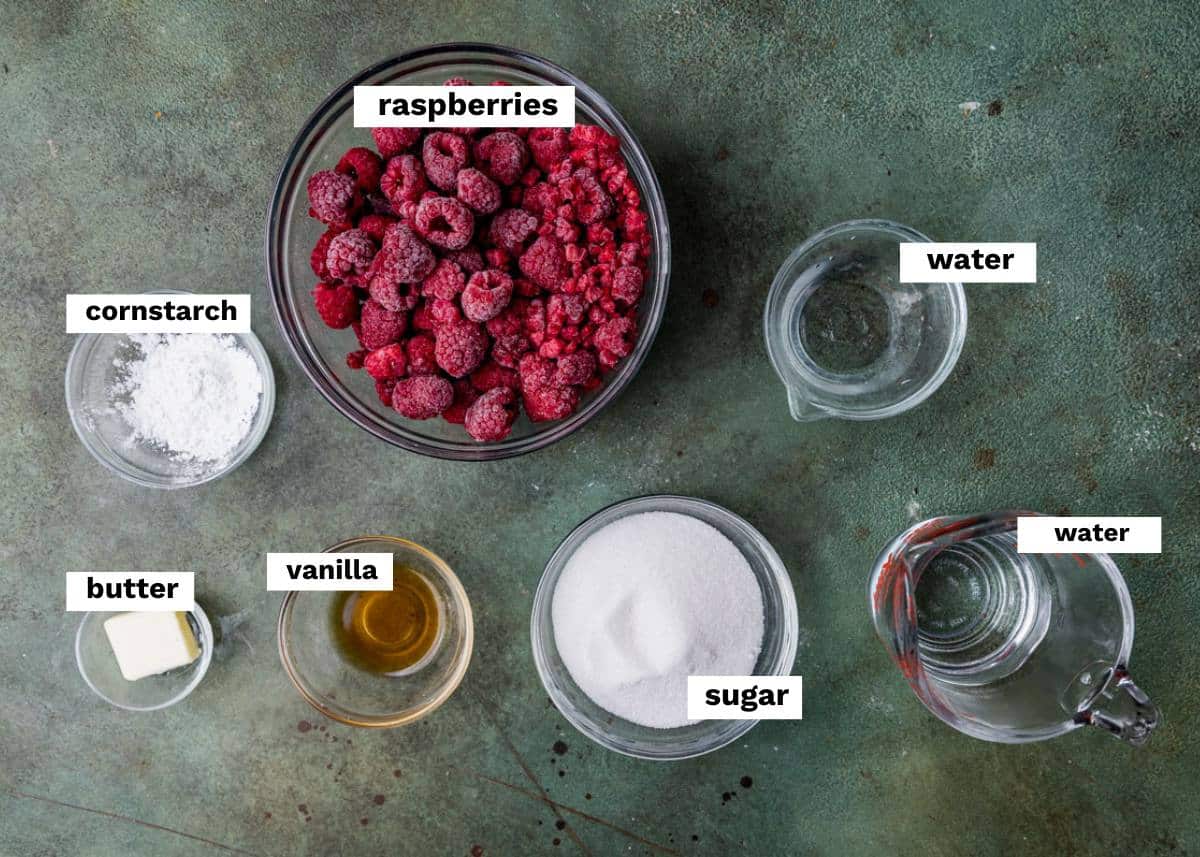 Raspberries. Fresh or frozen raspberries work. You do not have to thaw frozen raspberries before cooking them.
Cornstarch. This is what thickens the sauce.
How to Make Raspberry Sauce
This easy recipe is very similar to our homemade strawberry topping. Here's how you make it:
Place 1 ½ cups raspberries in a saucepan with sugar and water. Cook over medium-low heat until the mixture is at a gentle boil. Reduce the heat and add vanilla.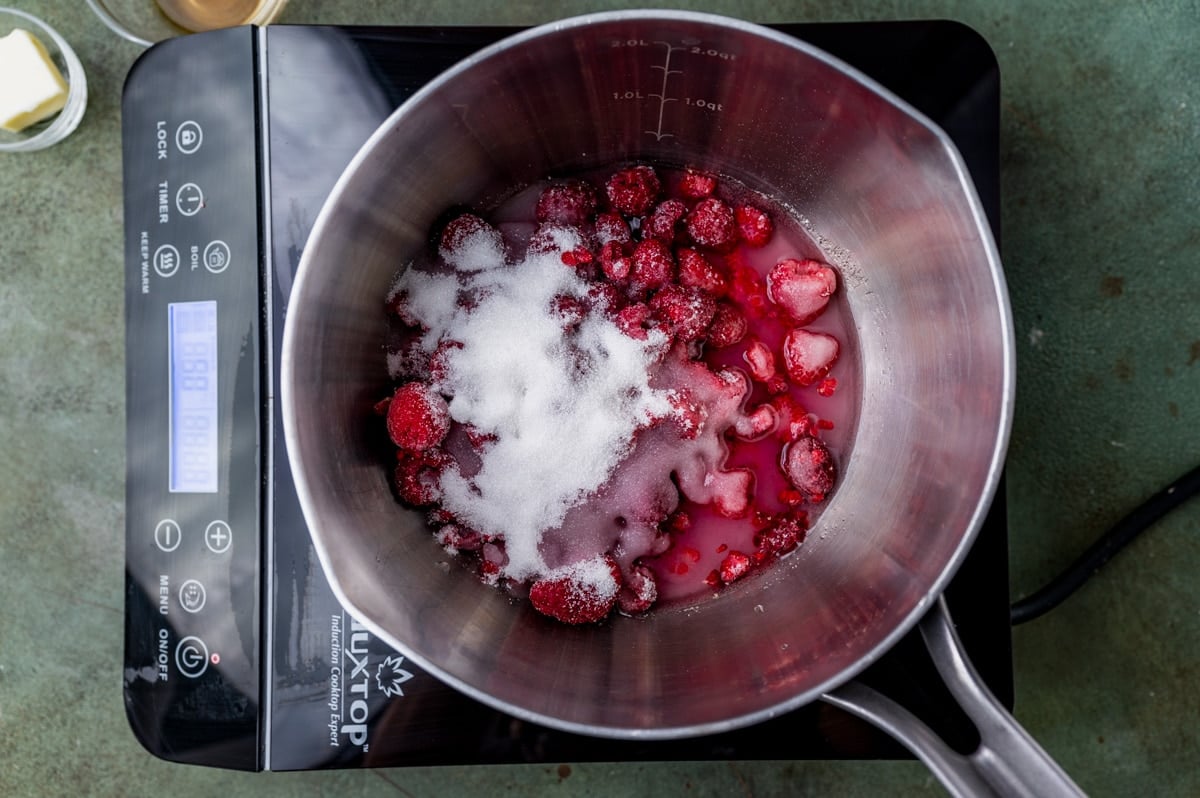 In a small cup, combine the cornstarch and water. Whisk this together until it is smooth. Don't just throw the cornstarch into the raspberry mixture or you'll end up with little clumps of white cornstarch in your beautiful red raspberry sauce. And nobody wants that. Mixing the cornstarch with water first helps the cornstarch to completely mix in.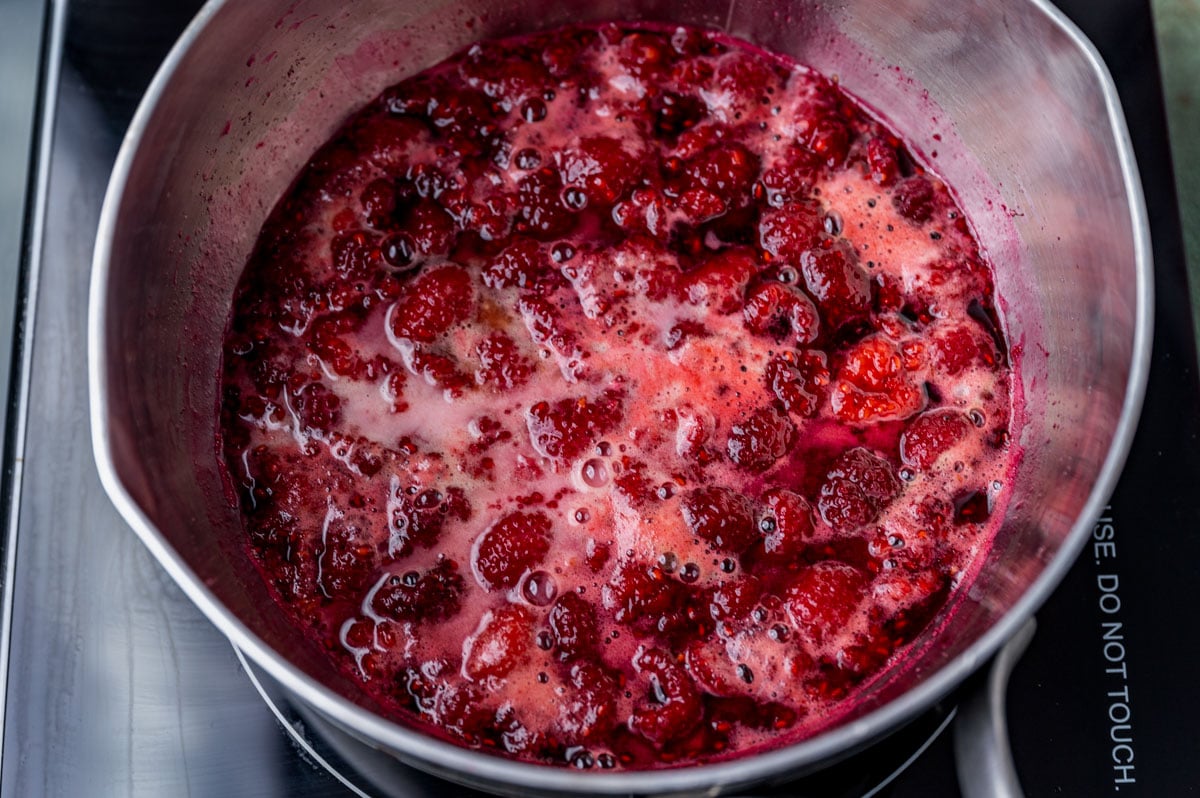 Once the cornstarch and water are mixed, add it to the raspberry sauce. Cook and stir this mixture until it is slightly thickened. Maybe 3-4 minutes, depending on how hot your mixture is.
Then remove the pan from the heat and add butter. The butter is our secret ingredient that adds a delicious richness to the raspberry sauce.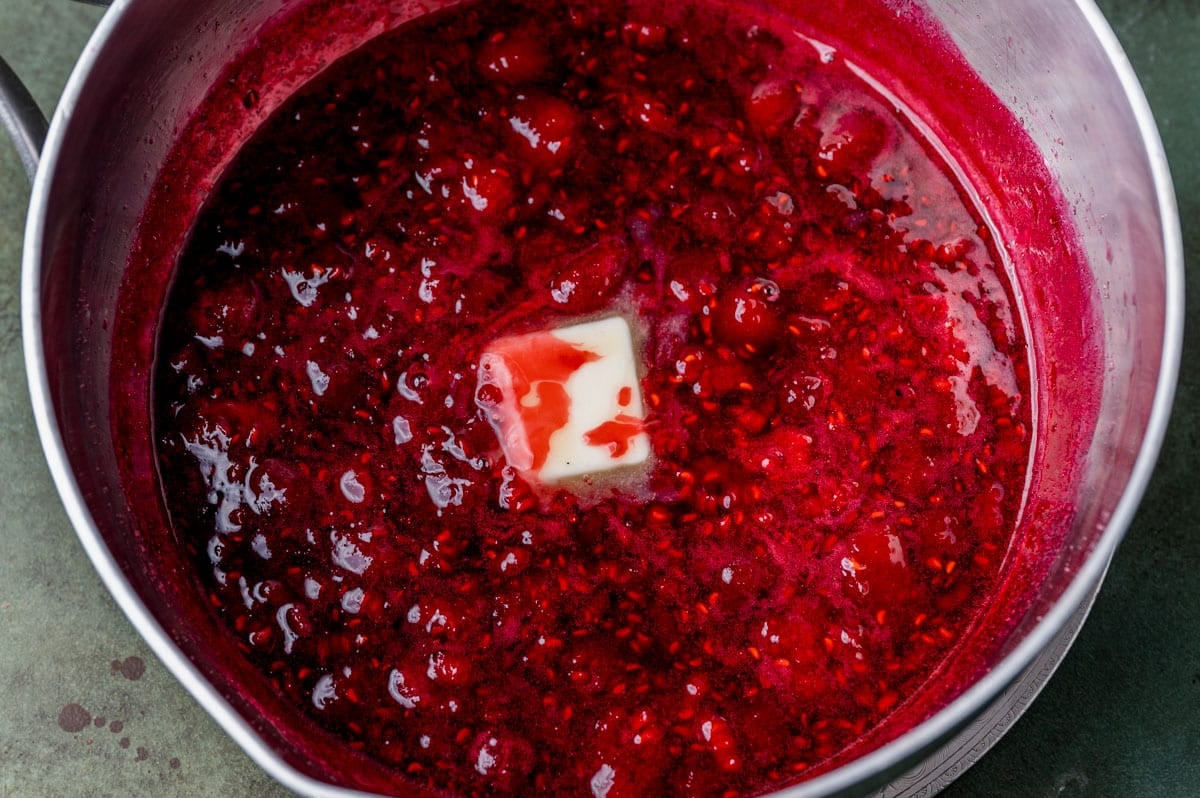 Let the mixture cool, then add the remaining raspberries (from the original 12 ounce bag) and stir gently.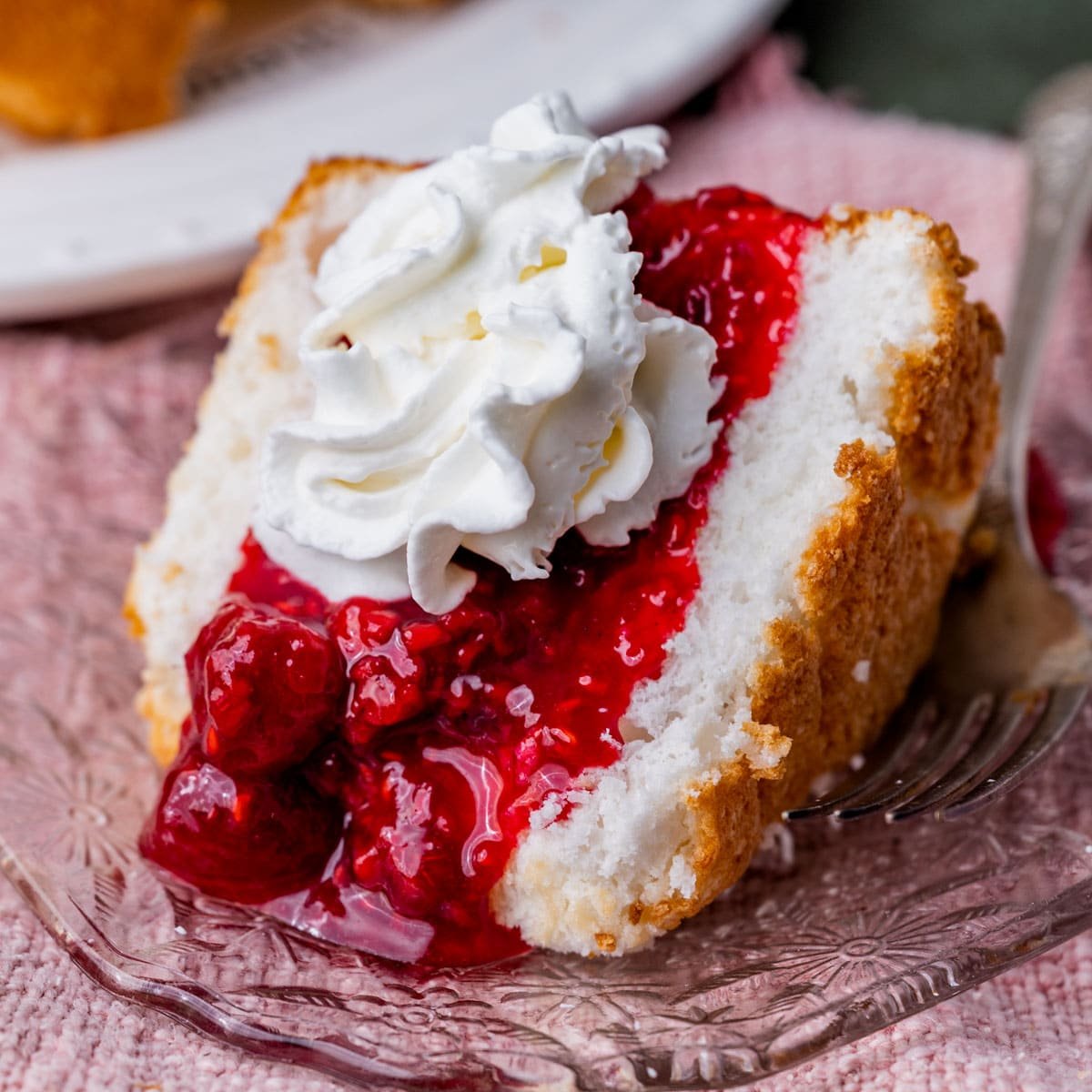 How to Use Raspberry Sauce
Think of this raspberry sauce as the perfect topping on:
And you know what? The leftovers, I just ate with a spoon. 😋 There are countless different ways to experiment with this sauce.
Frequently Asked Questions
Are fresh raspberries or frozen raspberries best?
Frozen raspberries are conveniently available year-round and are typically frozen at their peak, retaining their nutritional value and flavor. For recipes like our Easy Raspberry Sauce, both fresh and frozen raspberries can be used.
If you opt for frozen, remember there's no need to thaw them before use.
Can I reduce the sugar?
Yes. I've made this with ½ cup of sugar successfully.
Can I add lemon?
Yes. Lemon and raspberries go so well together. Use fresh lemon juice instead of water in the cornstarch slurry for a little bit of an acidic tang.
Can I use this sauce to fill a cake?
The sauce as the recipe is written is slightly runny and I would not recommend using it as a cake filling. You could try lowering the water or increasing the cornstarch to make it thicker.
Can I strain the seeds?
Yes, if you'd like you can strain the seeds. If you want a completely smooth sauce, don't worry about holding back raspberries to add in at the end. Add them all at the beginning, then strain out the seeds through a fine mesh sieve after you make the sauce. This strained raspberry sauce is known as raspberry coulis. It is elegant, vibrant and smooth.
Can you freeze this sauce?
Yes. This sauce freezes well. Store for up to 8 weeks in a freezer-safe container.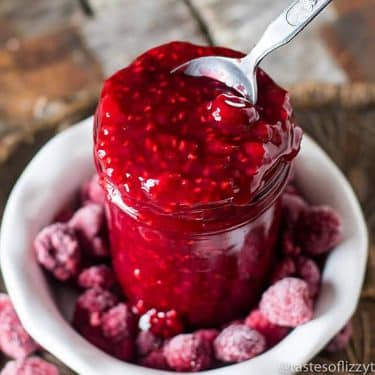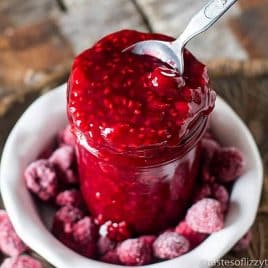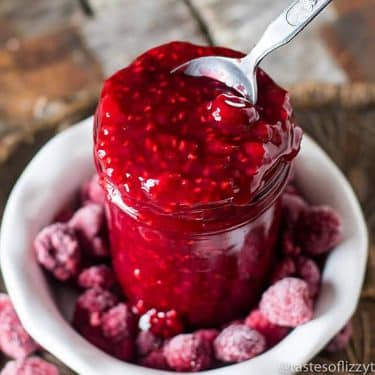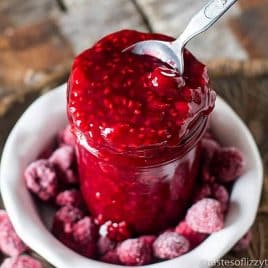 Easy Raspberry Sauce
Use frozen or fresh raspberries to make this easy raspberry sauce. Perfect for cheesecakes, ice cream and pancakes!
---
Ingredients
12

ounces

frozen unsweetened raspberries, divided

about 2-2 ½ cups of raspberries

3/4

cup

granulated sugar

150 grams

1/2

cup

water

4 ounces

1/2

teaspoon

vanilla extract

2

teaspoons

cornstarch

6 grams

2

tablespoons

water

30 grams

1

tablespoon

salted butter
Instructions
In a small saucepan over medium heat, stir together 1 ½ cups raspberries, sugar and water until the sugar is dissolved. Heat the mixture to boiling, stirring often.

In a small cup, combine the cornstarch and two tablespoons of water. Mix well. Pour this into the boiling raspberry mixture. Stir and boil over medium-low heat for 4 minutes or until the mixture has thickened a bit.

Remove the pan from the heat. Add 1 tablespoon of butter and mix until the butter has completely melted.

Allow the mixture to cool for 15 minutes, then add the last of the raspberries and stir to mix. Cool to room temperature, then serve over whatever dessert you'd like!
Notes
Makes 2 ¼ cups sauce. Store leftovers in an airtight container in the refrigerator.
Refer to the article above for more tips and tricks.
The calories shown are based on the recipe serving 10, with 1 serving being 1/10 of the sauce. Since different brands of ingredients have different nutritional information, the calories shown are just an estimate. **We are not dietitians and recommend you seek a nutritionist for exact nutritional information. The information in the nutrition box are calculated through a program and there is room for error. If you need an accurate count, I recommend running the ingredients through your favorite nutrition calculator.**
Nutrition
Serving:
110
g
|
Calories:
87
kcal
|
Carbohydrates:
19
g
|
Fat:
1
g
|
Cholesterol:
3
mg
|
Sodium:
11
mg
|
Potassium:
51
mg
|
Fiber:
2
g
|
Sugar:
16
g
|
Vitamin A:
45
IU
|
Vitamin C:
8.9
mg
|
Calcium:
8
mg
|
Iron:
0.2
mg