Tastes of Lizzy T participates in affiliate advertising programs. We may earn a commission when you make a purchase through links on our site.
If you're looking for the best homemade brownie recipe, look no further! These fudgy brownies are thick, rich, and perfectly chocolatey.
I am 100% a sucker for a brownie. You can often find in our kitchen brownies stuffed with Oreos, mint brownies, espresso brownies or caramel brownies. The only thing better than a warm brownie….is a warm brownie with ice cream on top. Best dessert ever!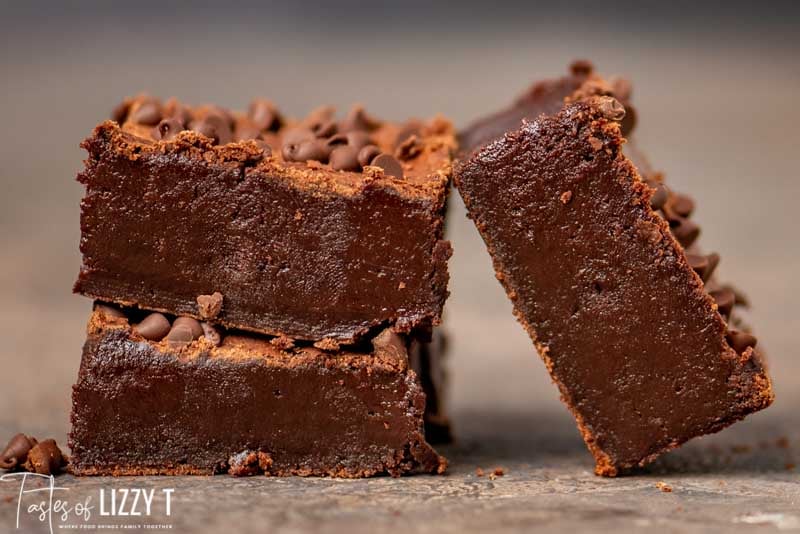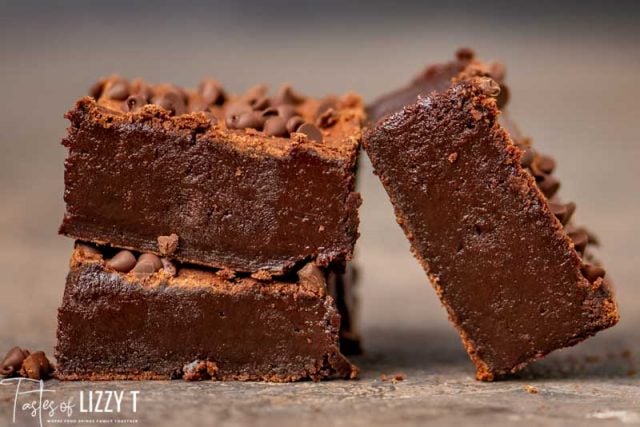 Fudgy Brownies Recipe
There is absolutely nothing like a homemade brownie. I'll honestly take a brownie any way I can get it. Box mix brownies are delicious (see below for our brownie mix hack!), but if you've never made homemade brownies, you're missing out on the fudgiest brownies around. You'll get major "brownie points" for serving up this delicious treat!
I like my brownies how I like any other dessert: thick, soft, and chewy. Those are the three deadly words that will get me up and baking any time or any day.
How thick should a brownie be?
Brownies are most oven baked in a 9×13″ pan. This will give you brownies about 1″ thick. If you'd like thicker brownies you can use a smaller pan, but the brownies may take longer to bake.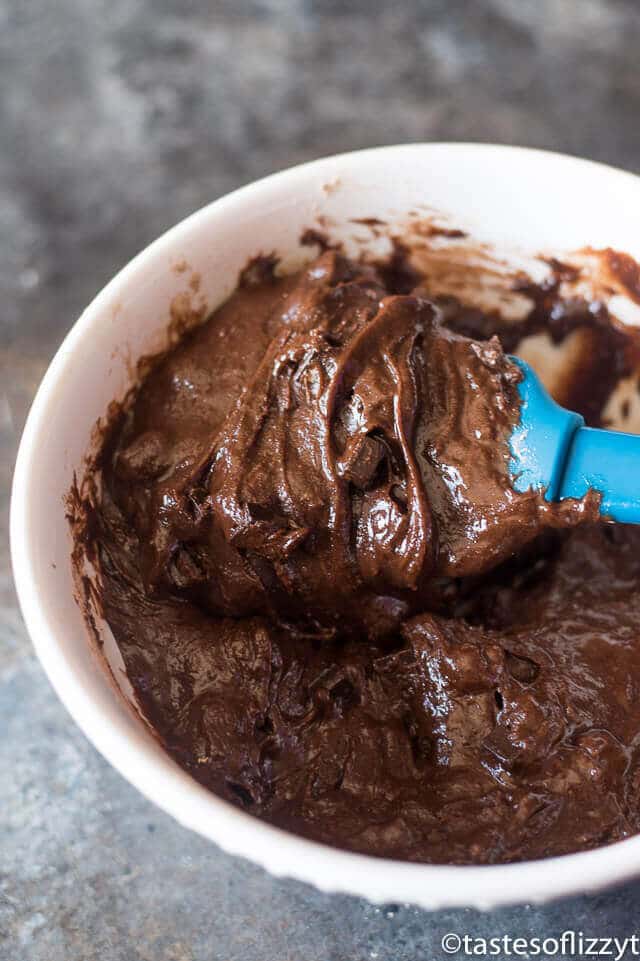 How do you make chocolate brownies from scratch?
These fudgy brownies are easy to make.
In a saucepan over low heat, melt the butter, then add the sugar and stir to combine. Heat just until the mixture is hot, but don't let it bubble. Watch for it to start looking shiny as you stir it.


Using a hand mixer, mix the eggs until they are frothy and well blended. This is what helps get that tissue paper top that everyone loves on brownies.
Mix in the cocoa, salt, baking powder, and vanilla and mix until smooth.
Add the sugar/butter mixture into the egg mixture and mix it well.
Now it's time to add in the flour and chocolate chips! We like to use mini chocolate chips and add them while the batter is warm. The chocolate will melt in a little which is what makes the brownies so fudgy.

Mix again, just until well blended and the flour is mixed in.
Put the batter in a lightly greased 9 x 13 pan. Bake at 350 for about 30 minutes. If you test it with a toothpick, remember that there are chocolate chips in there. If it looks done around the edges and slightly puffed up in the middle, take it out.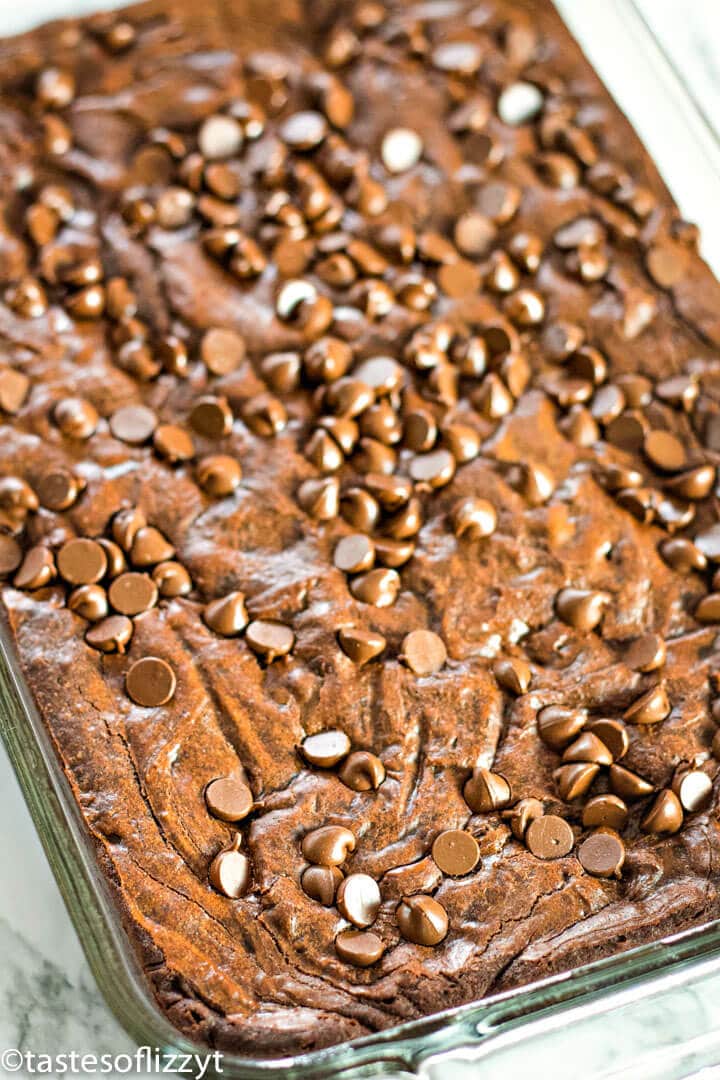 Can you use butter for oil in brownies?
Many box mixes call for oil, but these homemade brownies call for butter. This adds to the fudginess and richness. Butter always makes baked goods taste better!
How can you tell if brownies are undercooked?
It can sometimes be hard to tell if brownies are undercooked. We actually like slightly undercooked brownies, but we don't brownie soup.
The best test is to stick a toothpick in the center of the pan. It should come out mostly clean. If it comes out with any wet batter, the brownies most likely aren't done.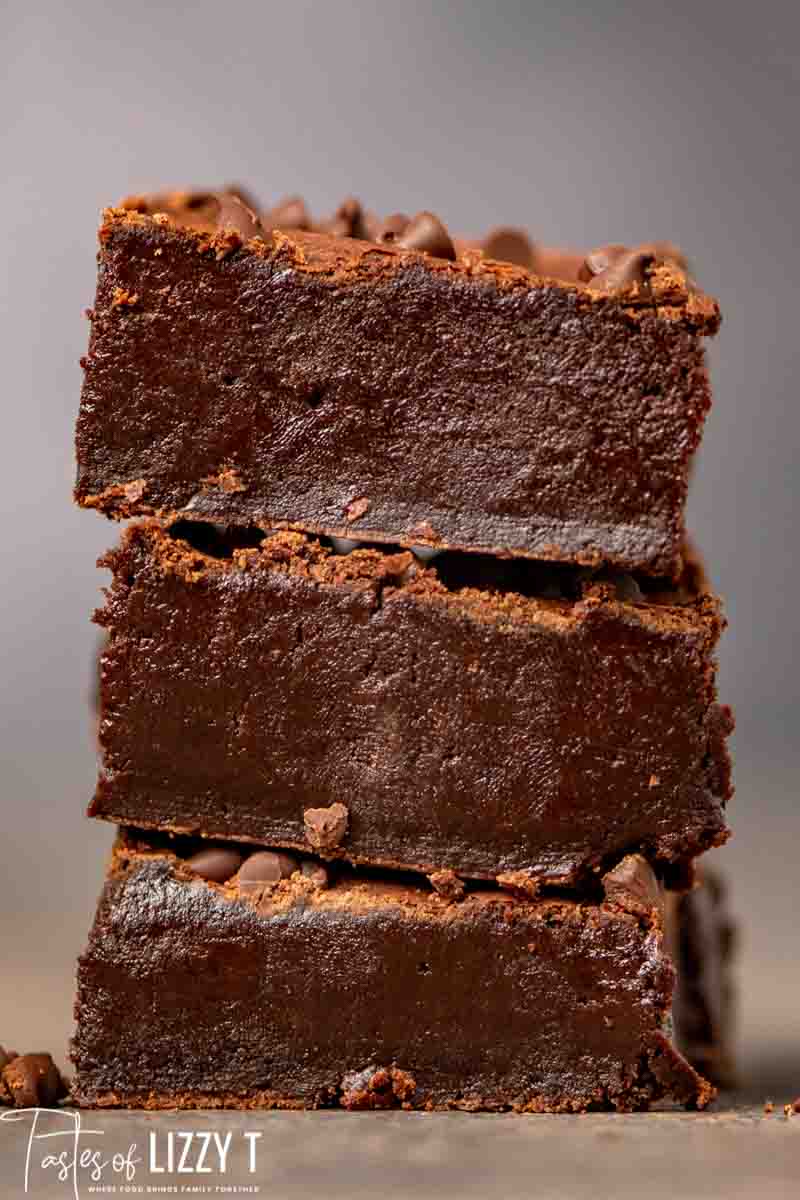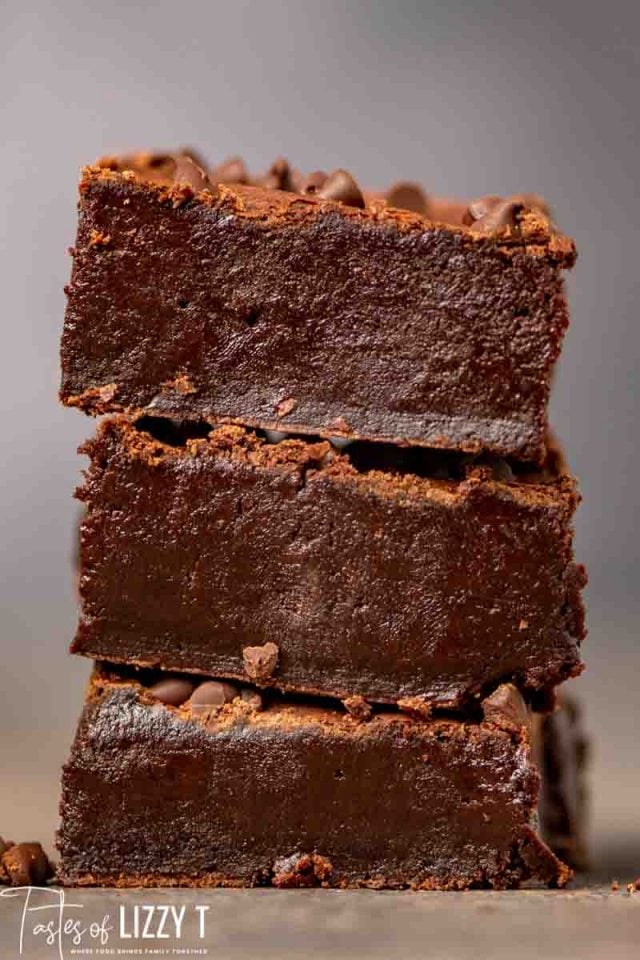 Why do brownies get hard?
It's best if you use a glass pan or light metal pan for baking brownies. Darker colored pans can cause the edges to become to hard. Be sure to test the brownies and not overbake them. This should prevent the edges from getting too hard.
How to Cut Brownies
It may sound strange, but we find that brownies cut cleanly when we use a plastic knife. They actually sell plastic knives that work perfectly for brownies. You can get one on Amazon here.
Frosted Brownies
For my birthday, I frosted these brownies with peanut butter frosting. They were soooooo good. That's what I did to make the Reese's Peanut Butter Brownies. You can also use chocolate buttercream or even vanilla frosting. After you frost them, sprinkle them with nuts, chocolate chips or sprinkles!
How long do brownies last?
Brownies are best when stored in an airtight container at room temperature. They should be eaten within 1-2 days.
Can you freeze brownies?
Yes, you can freeze brownies. If the brownies are already cut, we recommend freezing them individually. Wrap each square in plastic wrap, then place the individually wrapped brownies in an airtight container or in a storage bag. Freeze for 2-3 months.
When you are ready to defrost the brownies, allow them to come to room temperature before unwrapping them. This will help prevent them from drying out.
Other Brownie Recipes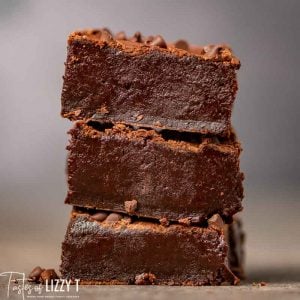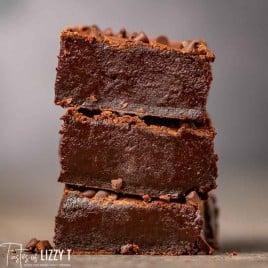 ---
Ingredients
1

cup

unsalted butter

2 1/4

cups

sugar

4

large

eggs

1 1/4

cups

cocoa powder

1

teaspoon

salt

1

teaspoon

baking powder

1

tablespoon

vanilla extract

1 1/2

cups

flour

2

cups

mini chocolate chips
Instructions
Preheat the oven to 350 and lightly grease a 9×13 pan.

In a saucepan over low heat, melt the butter, then add the sugar and stir to combine. Heat just until the mixture is hot, but don't let it bubble. Watch for it to start looking shiny as you stir it.

As the butter is heating, n a large bowl beat the 4 eggs until they are fluffy and well blended.

Add in the cocoa, salt, baking powder, and vanilla and mix till smooth.

Add the hot butter & sugar mixture to the egg & cocoa mixture, stirring until smooth.

Add the flour and chocolate chips, again stirring until smooth.

Pour the batter into your prepared pan. Bake for about 30 minutes or until the edges of the brownies look set and a toothpick inserted in the center comes out mostly clean. It's ok if a few crumbs stick to the toothpick…the middle should be very moist, but not unbaked!
Notes
The calories shown are based on the brownies being cut into 20 pieces, with 1 serving being 1 brownie. Since different brands of ingredients have different nutritional information, the calories shown are just an estimate.
Nutrition
Calories:
321
kcal
|
Carbohydrates:
45
g
|
Protein:
4
g
|
Fat:
15
g
|
Saturated Fat:
9
g
|
Cholesterol:
64
mg
|
Sodium:
145
mg
|
Potassium:
128
mg
|
Fiber:
2
g
|
Sugar:
33
g
|
Vitamin A:
380
IU
|
Vitamin C:
0.1
mg
|
Calcium:
46
mg
|
Iron:
1.6
mg
Recipe from King Arthur Flour