My guilty pleasure? 100% from-scratch gooey caramel brownies. An egg-free dessert recipe that is best served warm with a scoop of ice cream.
My husband and I are coming up on 19 years of marriage. Through those 19 years we've had many guilty pleasures as far as recipe infatuations. We tend to go in streaks. For awhile we were addicted with homemade caramel lattes. After that? Microwave cakes (just wow…). More recently? Every type of baked nacho you can think of from sweet & spicy to taco-flavored.
But early in our marriage, we were 100% in love with these: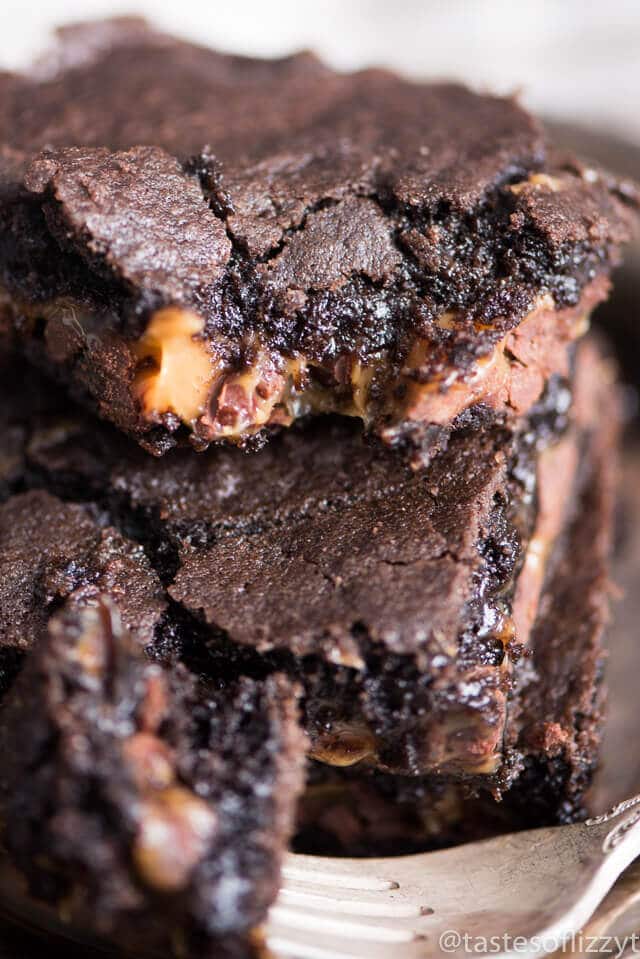 Caramel Brownies. The gooiest, fudgiest brownies you'll ever find, stuffed with soft caramel. It's not surprising we'd be crazy for these, right?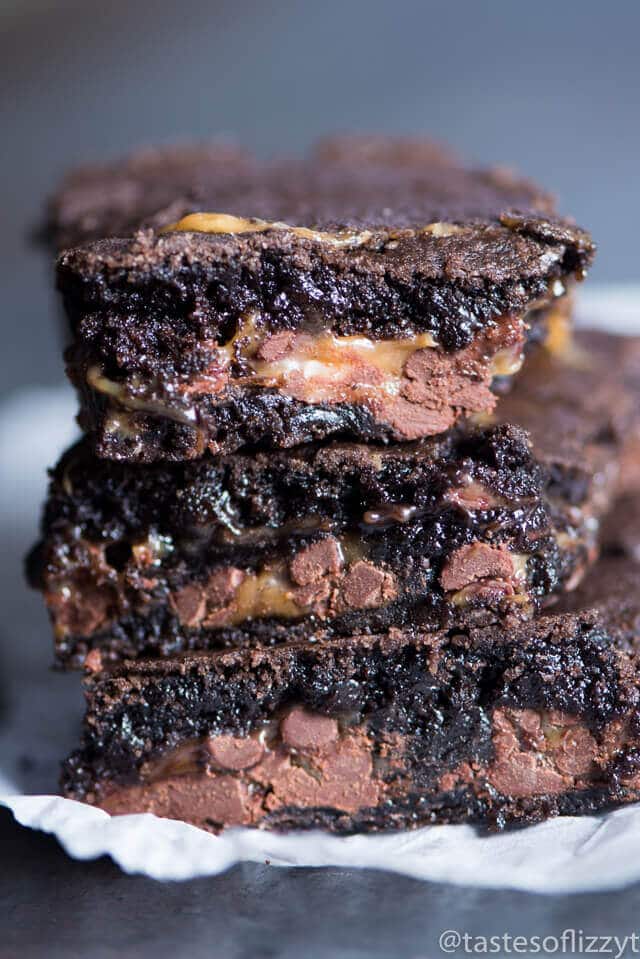 So when Carrian from Oh, Sweet Basil asked me to review her new cookbook, you can imagine how excited I was to see this recipe for Caramel Brownies inside. All of the memories of those fudgy caramel brownies with ice cream came rushing back. We'd serve these caramel brownies to family & friends at picnics and potlucks, but often made a pan just for us to enjoy on a lazy Saturday evening.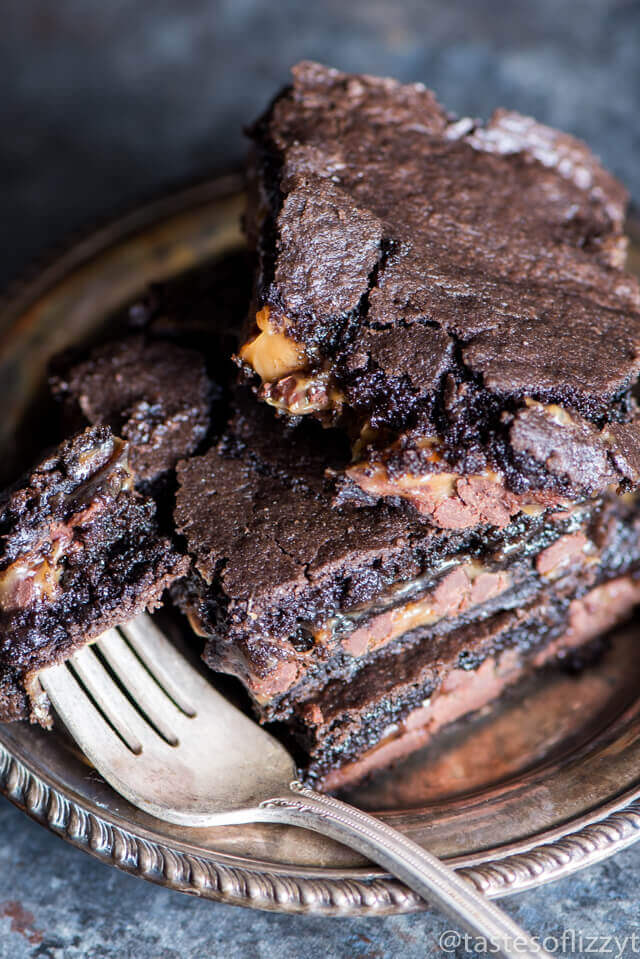 I love that these caramel brownies are egg free. Great news for those of you with egg allergies!
They're also extremely soft and fudgy. And I don't know about you, but that's what I love about brownies. The caramel gives them an extra dose of gooeyness. You'll want to allow the brownies to cool completely before cutting them. If you're short on time, pop the pan into the refrigerator for a quick cooldown. After they cool, they'll be perfectly sliceable.
But really, I think they're best served warm with a scoop of ice cream on top.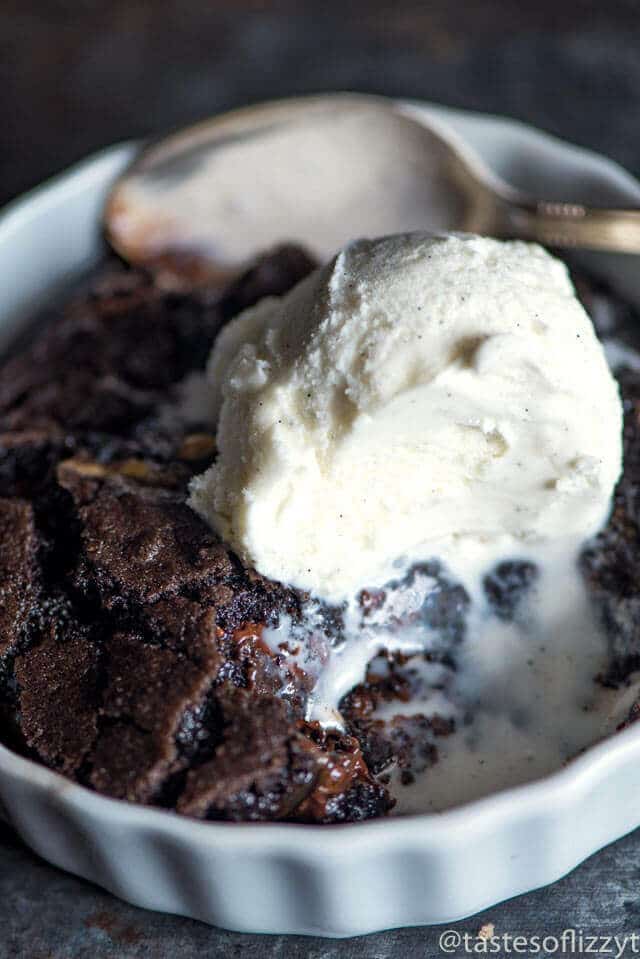 Be sure to check out Cade and Carrian's cookbook. I personally can't wait to try their Sweet Potato Rolls, Lemon Greek Potatoes and Busy Day Casserole. 100% pure comfort food! Read more about their cookbook below.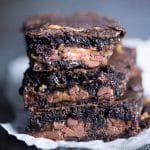 Caramel Brownies
My guilty pleasure? 100% from-scratch gooey caramel brownies. An egg-free dessert recipe that is best served warm with a scoop of ice cream.
Ingredients
1

package

caramel squares, unwrapped

11 ounces

2/3

cup

plus two tablespoons evaporated milk

divided

1 1/2

cups

all-purpose flour

2

cups

granulated sugar

1/2

cup

plus 1 tablespoon Dutch processed cocoa powder

1 1/2

teaspoons

baking powder

1 1/2

teaspoons

baking soda

1

teaspoon

salt

3/4

cup

plus 1 tablespoon unsalted butter

melted

1 1/4

cup

chocolate chips
Instructions
Preheat the oven to 350 degrees F. and grease a 9x13 baking pan.

Place caramels and 1/3 cup evaporated milk in a microwave-safe dish. Heat at high power in 30-second intervals, stirring in between each, until smooth and melted.

In another large bowl, whisk together the flour, sugar, cocoa, baking powder, baking soda, and salt.

Add the melted butter and remaining 1/3 cup plus 2 tablespoons evaporated milk and stir with a wooden spoon until the batter is thick, with no floury streaks remaining.

Spread and press half of the batter in the prepared pan. Bake 8 minutes, remove from the oven, and sprinkle evenly with chocolate chips. Slowly pour the melted caramel evenly over the entire surface of the brownies to be sure that everything is covered in caramel.

Using your hands, scoop up palm-sized portions of the remaining brownie batter and press flat between your hands. Gently lay over the caramel until covered. Return to oven and bake 15 minutes.

Cool before cutting into bars.
Nutrition Facts
Caramel Brownies
Amount Per Serving
Calories 508
Calories from Fat 171
% Daily Value*
Total Fat 19g 29%
Cholesterol 39mg 13%
Sodium 425mg 18%
Potassium 223mg 6%
Total Carbohydrates 81g 27%
Protein 5g 10%
* Percent Daily Values are based on a 2000 calorie diet.
Amazon Description
"Welcome to Our Sweet Basil Kitchen!
Cade and Carrian Cheney are the husband-and-wife team behind the popular Oh, Sweet Basil food blog. Carrian grew up in the Pacific Northwest and prefers garden-fresh produce, natural ingredients, and healthy eating. Cade, raised in South Carolina, loves all things Southern—particularly if it involves a grill.
Together, they have collected more than 100 recipes that combine their love of fresh ingredients with unexpected flavor combinations and mashups of tried-and-true family favorites. Their innovative dishes will elevate and reinvigorate your everyday recipes and impress your friends and family.
The Cheneys believe that 'Cooking isn't just about the food, it's about the hands that created it. For us, that means sharing a little Southern comfort and a little farm-to-table. But wherever you are and whatever flavors you are sharing, remember that good food and good people make for a good life.'"
192 pages of delicious recipe inspiration. Buy it here!