S'more Brownie Batter Bars
Tastes of Lizzy T participates in affiliate advertising programs. We may earn a commission when you make a purchase through links on our site.
S'more Brownie Batter Bars…Gooey bars with brownie batter sandwiched between marshmallow covered Golden Grahams and toasted marshmallows on top!

Every year during the summer my family and I will all go on a week long vacation by the beach. One of our favorite things to do (besides relax on the sand or in the cabin) is cook s'mores over the firepit. We have tried alot of things on our s'mores. One of my favorites is cookie dough! We have also tried Starburst and Twinkies over the fire. When it comes to baking, anything is possible! That includes outdoor cooking, too. We've figured out that just about any chocolate candy bar you can think of will taste good on a s'more. Reese's, Snickers, and Kit Kat's, you name it. But to me, the best way to eat marshmallow, chocolate, and graham cracker by far is to put it in a pan and eat it in little (or big) squares.
Here's what these layered bars are all about.  The bottom layer is like Rice Krispie treats, only you're going to use Golden Grahams.  That idea is nothing new. In fact, I've been eyeing these Golden Graham S'mores bars from My Baking Addiction since she posted them last fall.
What's different about this recipe is the brownie batter layer in the middle. You see it there, all thick and chocolatey?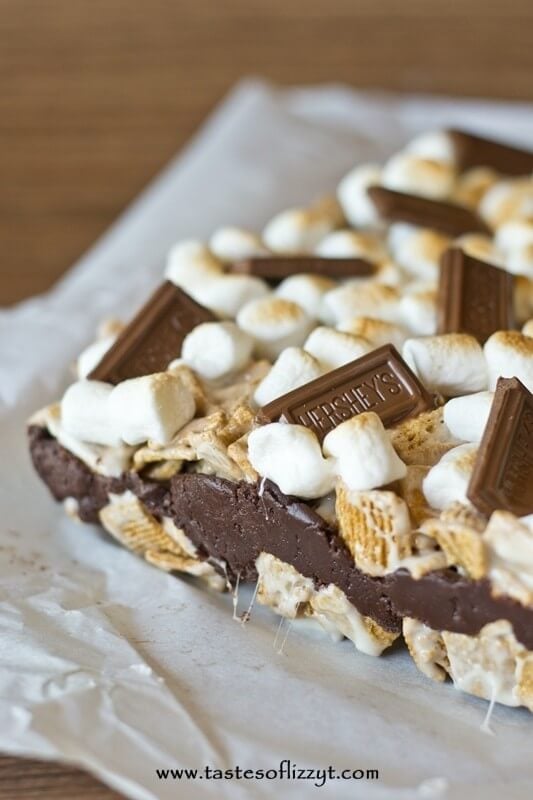 We made this brownie batter simply by adding some 4 ounces of softened cream cheese and 6 tablespoons of melted butter to a brownie mix.
We've done the brownie mix, cream cheese, and butter thing before. Our Buckeye Brownie Cookies were just that- plus an egg. We didn't add the egg this time because you will be eating this as raw batter. You don't have to cook the brownie part. I personally love eating raw cookie dough, pie dough, brownie batter, you name it. I have no self-control whatsoever of how much I eat. If I have one little lick, it's all downhill from there.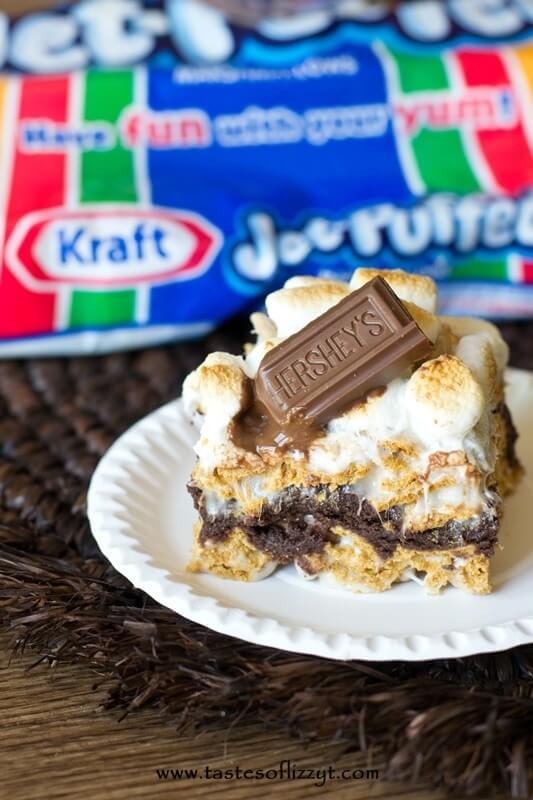 On top of the brownie batter is more crunchy Golden Graham goodness.  You can stop there if you'd like.  We went an extra step and added some mini marshmallows on top and popped them into the oven to broil for just 3 minutes. When those marshmallows are nice and toasty, put a piece of Hershey's chocolate bar on the top just a few minutes after broiling so they will stick in but not melt completely.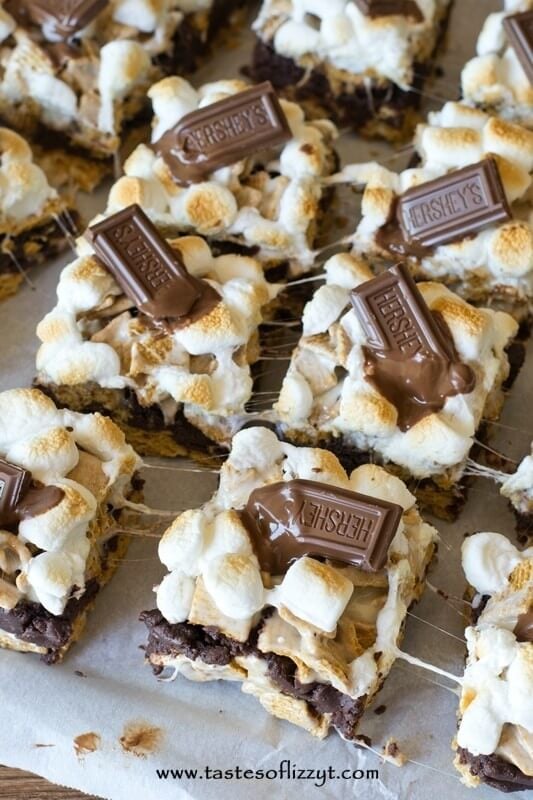 You then have a desicion: eat it now, or stick it in the fridge to set a bit more. My desicion? Eat one when no one's watching and then you can save the rest for later in the day. My brother and sister and I were all watching these S'more Brownie Batter Bars like a hawk to make sure my mom and dad didn't eat them all without us. So if you're eating a treat in our family, five bars will be missing instead of one. That's just how it goes. We like our sweets.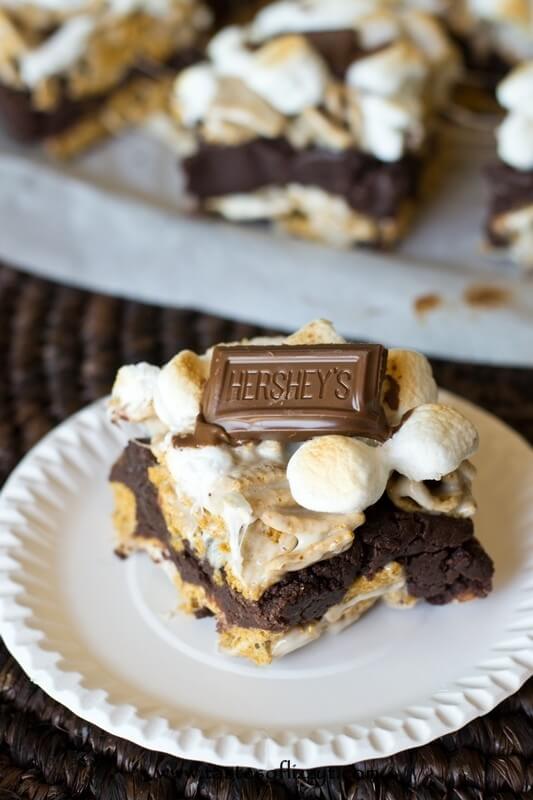 A couple of hints for making these S'more Brownie Batter Bars:
1. Line your 8×8 baking pan with parchment paper.  This makes for super easy cleanup. Of course, it's not necessary, but so worth it in my opinion. You could also use aluminum foil, or just spray the pan with cooking spray.
2. Make up your brownie batter first so it is already to go once your Golden Grahams mixture is done.  You'll want to work quickly to press the layers into the pan since the marshmallow will start to harden.  You'll probably also want to keep some butter or cooking spray nearby to spread on your hands so you don't end up with marshmallows sticking everywhere. Which wouldn't actually be that bad because more on your hands means more to taste test! 🙂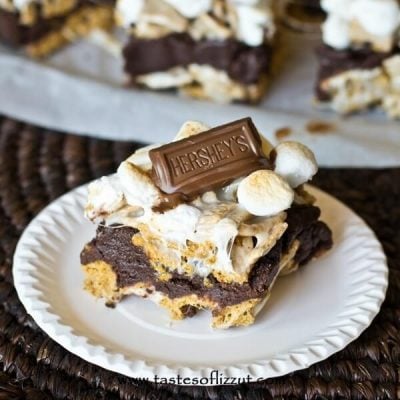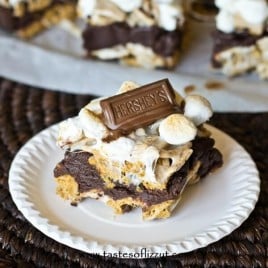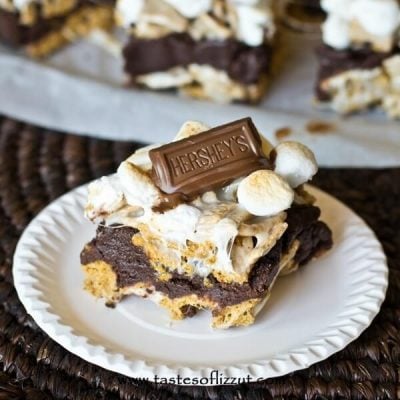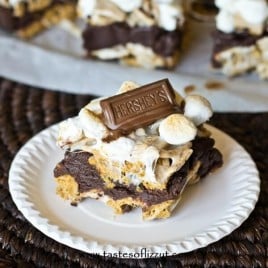 S'more Brownie Batter Bars
Gooey bars with brownie batter sandwiched between marshmallow covered Golden Grahams and toasted marshmallows on top!
---
Ingredients
1

box

Betty Crocker Dark Chocolate brownie mix

13x9 family size

4

ounces

cream cheese

softened

6

tablespoons

butter

melted

6

cups

Golden Graham cereal

40

large marshmallows

3

tablespoons

butter

1 1/2

cups

mini marshmallows

2

Hershey bars

broken into pieces
Instructions
Line an 8x8 baking pan with parchment paper, tin foil, or grease with butter.

In a medium size bowl, mix together the brownie mix, softened cream cheese and melted butter. You may have to use your hands to mix and get all of the brownie powder combined. Set aside.

Place the Golden Graham cereal in a large bowl. Set aside.

In a large saucepan, melt the butter and marshmallows over medium heat, stirring constantly until the marshmallows are melted. Pour the melted marshmallows over the Golden Grahams and mix until all of the cereal is coated. With buttered hands, take half of this mixture and press it into the bottom of the baking pan that has been covered with parchment paper.

Working quickly, press all of the brownie batter on top of the cereal mixture so that it covers the cereal. Butter your hands again, then press the rest of the Golden Graham mixture on top of the brownie batter.

Sprinkle the mini marshmallows on top of the layered bars. Set the oven to broil on high and put the s'more bars on the top oven rack for 3 minutes. Watch closely and remove as soon as the marshmallows get lightly browned. Allow the bars to cool for 2-3 minutes, then put the Hershey's squares on top of the bars. Place the Hershey pieces so that when you cut the bars, each bar has one piece of chocolate in the middle.

Cut the bars into squares and serve. These bars are best if eaten the same day, but will stay good for about 2 days at room temperature.
Nutrition
Calories:
367
kcal
|
Carbohydrates:
57
g
|
Protein:
3
g
|
Fat:
14
g
|
Saturated Fat:
7
g
|
Cholesterol:
25
mg
|
Sodium:
256
mg
|
Potassium:
45
mg
|
Fiber:
1
g
|
Sugar:
37
g
|
Vitamin A:
490
IU
|
Vitamin C:
5.7
mg
|
Calcium:
17
mg
|
Iron:
2.7
mg