Tastes of Lizzy T participates in affiliate advertising programs. We may earn a commission when you make a purchase through links on our site.
A true classic without the campfire! Sweet and salty, this s'mores dip recipe has the classic warm melted chocolate, gooey toasted marshmallows, graham crackers to dip with and for a fun twist, we've added salted pretzels to give it a bang factor.
We're all about desserts here, especially when chocolate is involved. Did you check out our Girl Scout Samoa S'mores Dip recipe? What about our Peanut Butter S'mores Bars? (Seriously, the peanut butter lover in your house will thank you!) You also have to try our S'more Brownie Batter Bars!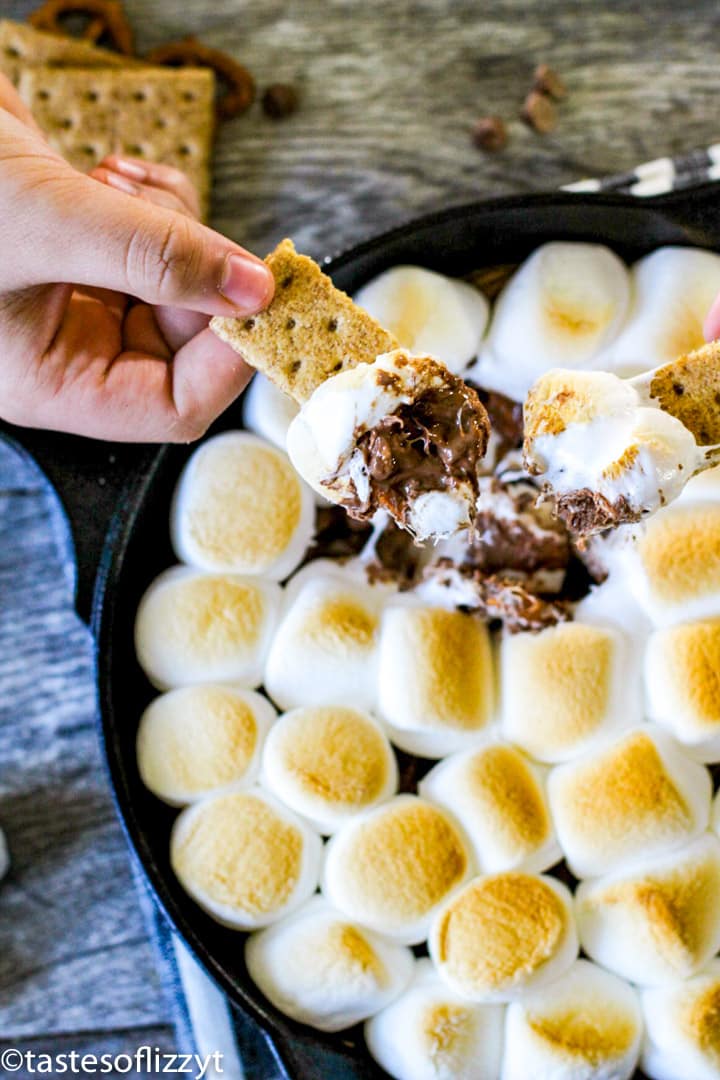 We've mentioned before that we love to pack up S'more supplies for trips to the beach. Unfortunately, mother nature loves to rain on those evenings you're longing for a the perfect breeze to light a campfire and to roast marshmallows on a stick. Thankfully, the oven is just as good for baked S'mores recipes, such as this super easy sweet and salty pretzel S'mores dip recipe.
What is S'mores dip?
S'mores dip takes everything you love about a S'mores sandwich and puts it into a dip that is melted and perfect for dipping with graham crackers, pretzels, or you can dig right in with a spoon if you're about that kind of life. No judging here.
For this sweet and salty dessert dip recipe, we've decided to line the bottom of our cast iron pan with bite size pretzels for an extra crunch and hint of saltiness that goes so well with chocolate.
Can you reheat s'mores dip?
Yes! If you're microwaving it, be sure to only do it on 10 second increments because the marshmallow loves to expand quickly when microwaved. Our suggestion is to reheat the s'mores dip in the oven for a few minutes, if desired.
Can you refrigerate s'mores dip?
Keep the graham crackers in the sleeve or in a container outside of the fridge and you're free to refrigerate the dip up to two days.
Who invented s'mores?
We're not sure! If you want a fun read, The National Geographic has a few ideas in their article here. One thing is for sure, whoever invented s'mores is a genius that the world is grateful for. (I too love their idea of a kid creating a messy s'more!)
How To Make S'mores Dip
For this dessert dip recipe you need 4 ingredients! Pretzels, chocolate chips (milk or semi-sweet -it's up to you), marshmallows, and graham crackers for dipping. Did you know Nabisco actually has graham crackers specifically designed for dipping? Take a look the next time you're out. They may be seasonal, but it's worth looking into!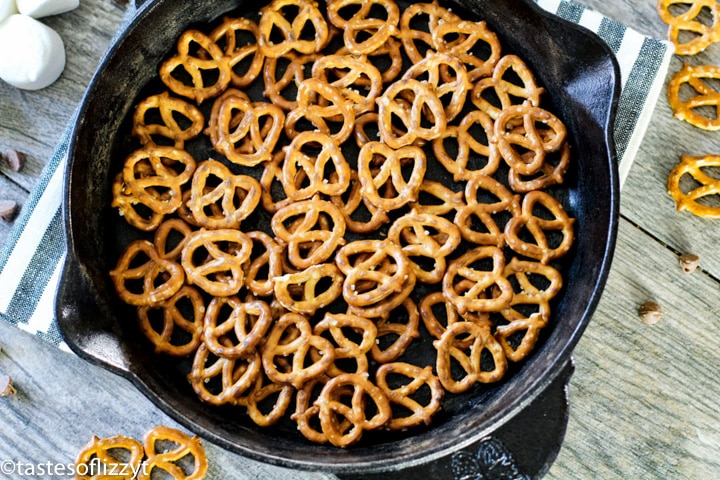 Line your pan with pretzels. Quick tip, you are more than welcomed to heavily grease your pan with butter or use parchment paper if you're using a baking pan for easier cleanup.
You just want to coat the bottom with pretzels, not too much or too little. You can also use thin pretzel sticks if desired.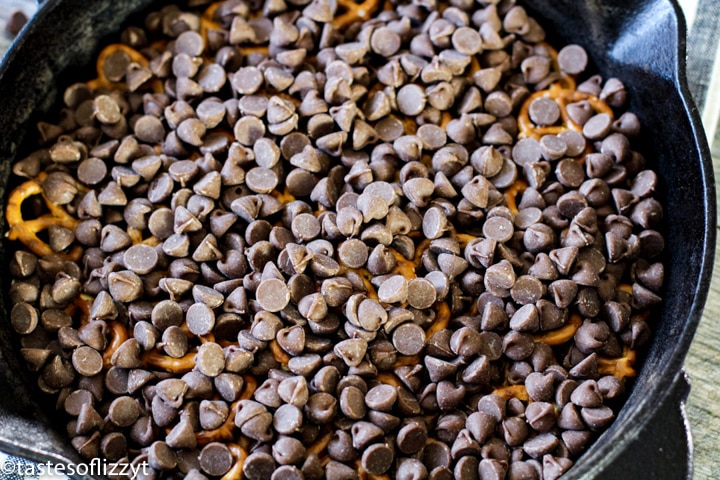 Next, you'll add your chocolate chips. Be generous here! If you want to use full-size Hershey bars, you can, just cut them to fit.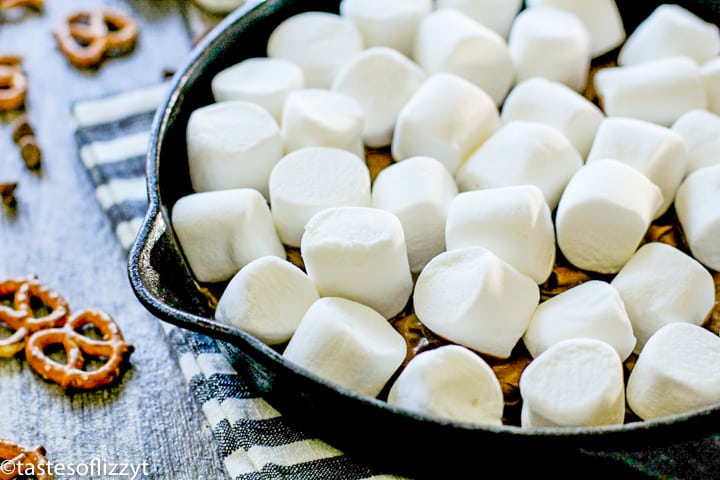 Next, top with marshmallows. You want a little wiggle room for the marshmallows to expand when cooking.
How long do you bake s'mores dip for?
This s'mores dip is quick, you're just baking for a few minutes until the chocolate melts. What I love about adding in the pretzels is that it acts as a barrier, keeping the chocolate from burning, because burnt chocolate will totally ruin our dip experience.
For a true campfire s'mores experience, turn on the broiler at the very end for just a few seconds WATCH IT to keep it from burning. Turn the broiler off as soon as your marshmallows begin to brown and pull out your s'mores dip to serve while still hot (well, warm).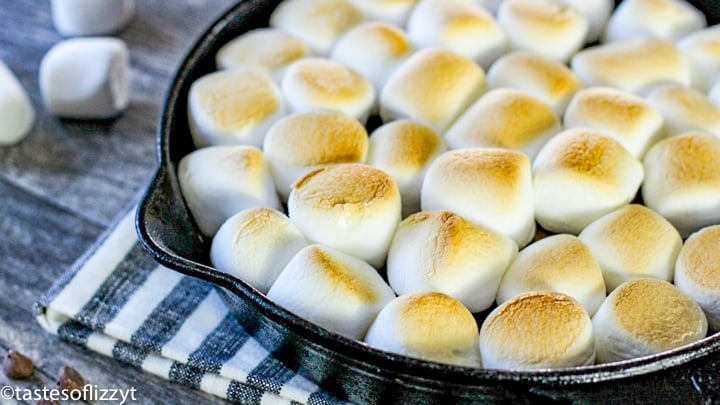 What can you add to s'mores dip?
S'mores dip is known for the typical 3 ingredient s'mores recipe. But s'mores are meant to be fun and experimented with. My suggestion would be to add in ingredients to your dip that go well with melted chocolate. Here are some fun add in ideas:
blueberries or raspberries
peanut butter or chopped peanut butter cups
chopped Oreo cookies or Butterfinger bars
caramel drizzled on top
Peeps instead of classic marshmallows
bacon bits (let us know if you make it)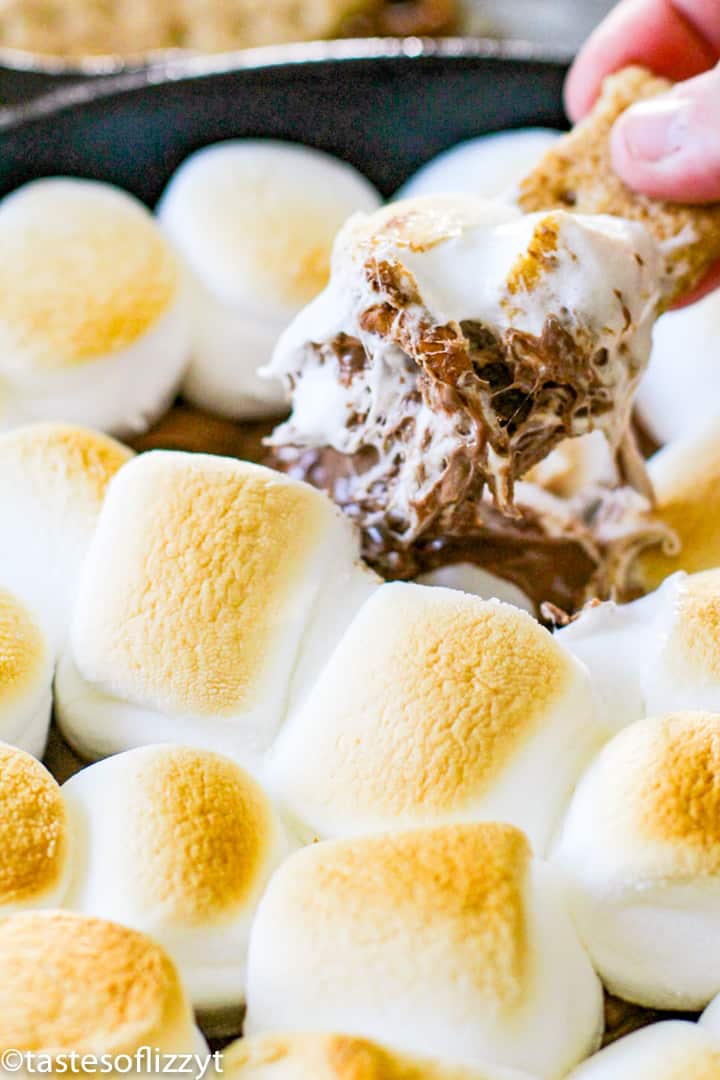 We hope you enjoy this sweet and salty pretzel s'mores recipe that is easy to make! We know you'll love these other chocolate recipes too!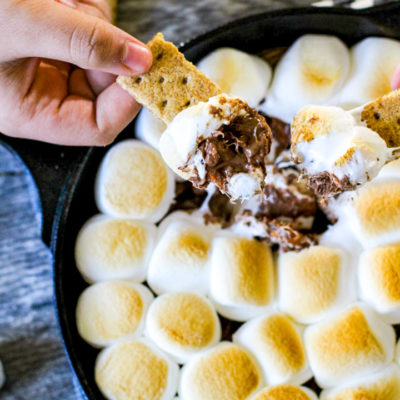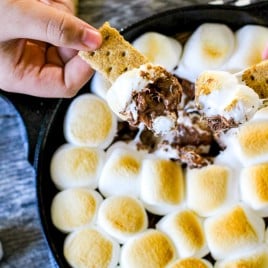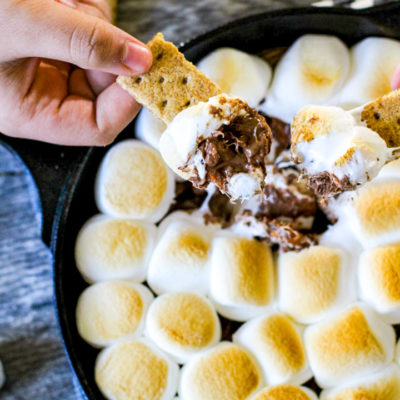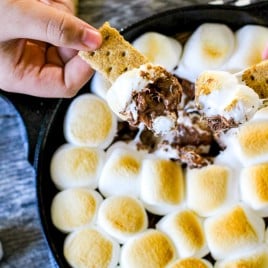 S'mores Dip
A true classic without the campfire! Sweet and salty, this s'mores dip recipe has the classic warm melted chocolate, gooey toasted marshmallows, graham crackers to dip with and for a fun twist, we've added salted pretzels to give it a bang factor.
---
Ingredients
1 ½

cups

thin pretzels

1 ½

cups

semi-sweet chocolate morsels

(or milk chocolate)

10

ounces

large marshmallows

(about 16 of them)

graham crackers for dipping
Instructions
Preheat oven to 400 degrees Fahrenheit.

Lightly grease a cast iron skillet or oven safe pan.

Line the bottom with pretzels, then layer over them the semi-sweet chocolate morsels.

Place the marshmallows where they are gently touching each other over the chocolate.

Cook s'mores dip for 3-5 minutes. To get a beautiful roasted look on top of the marshmallows, place under the broiler for a few seconds until the top has darkened a bit. Watch this closely as they may burn quickly.

Serve the dip warm with graham crackers.
Notes
The calories shown are based on the recipe serving 10, with 1 serving being 1/10 of the dip. Since different brands of ingredients have different nutritional information, the calories shown are just an estimate. **We are not dietitians and recommend you seek a nutritionist for exact nutritional information.**
Nutrition
Calories:
243
kcal
|
Carbohydrates:
38
g
|
Protein:
2
g
|
Fat:
8
g
|
Saturated Fat:
5
g
|
Cholesterol:
1
mg
|
Sodium:
147
mg
|
Potassium:
141
mg
|
Fiber:
2
g
|
Sugar:
22
g
|
Vitamin A:
10
IU
|
Calcium:
16
mg
|
Iron:
2
mg