Chocolate Chip Funny Cake Pie is an old recipe with timeless appeal. Chocolate fudge is topped with a soft, buttery cake and bakes inside a pie shell. Top with ice cream for a delicious pie a la mode.

Chocolate Chip Funny Cake Pie
Last Saturday, I ran my first half marathon. Wahoo! Running 13.1 miles was a little harder than I thought, but it was definitely worth it. You can't have pie without ice cream, you can't have ice cream without pie, and you can't finish a long run and not have both. Pie is probably my favorite dessert, but when it's warm, with a big scoop of ice cream on top, it's even better! In my opinion, it's the best way to get your strength back after a run. But it doesn't matter why you're eating it, because I'm here to tell you that this Chocolate chip funny cake pie is the best with some wonderful ice cream on top.
If you run like me and my mom, you'll understand;)
Where did Funny Cake Pie come from?
So where in the world did we get the name "Funny cake pie?" Well, as much as I'd like to take credit for it, I can't. We came across it in an old Mennonite cookbook, being drawn in by the name. I wondered why they called it that though. Was it because it's like cake, but in a pie crust, and it's just weird? Or maybe while they were making it, they were making funny jokes? I've read that it is probably based on the method in which you make the pie. Some funny cake pie recipes call for the following layers: pie crust, cake batter, chocolate. Then when the pie bakes, the chocolate falls beneath the cake and ends up being right above the pie crust. You can make it that way if you'd like, but we make the cake pie with the chocolate starting just above the crust.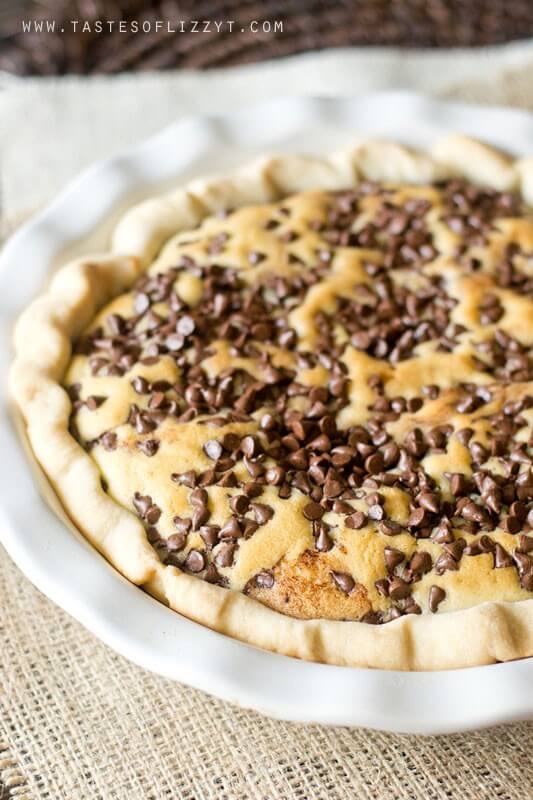 Homemade Pie Crust Vs Store Bought Pie Crust
If you have time, I highly recommend a homemade pie crust for this pie. Buttery, flaky, delicious. If you'd like a shortcut, simply purchase a store-bought refrigerated pie crust to make this cake pie in. This crust in the picture is just our traditional pie crust recipe. If you've never tried it, you need to! This pie crust is simply perfection. Just place into a pie pan and crimp the edges, just like a normal pie.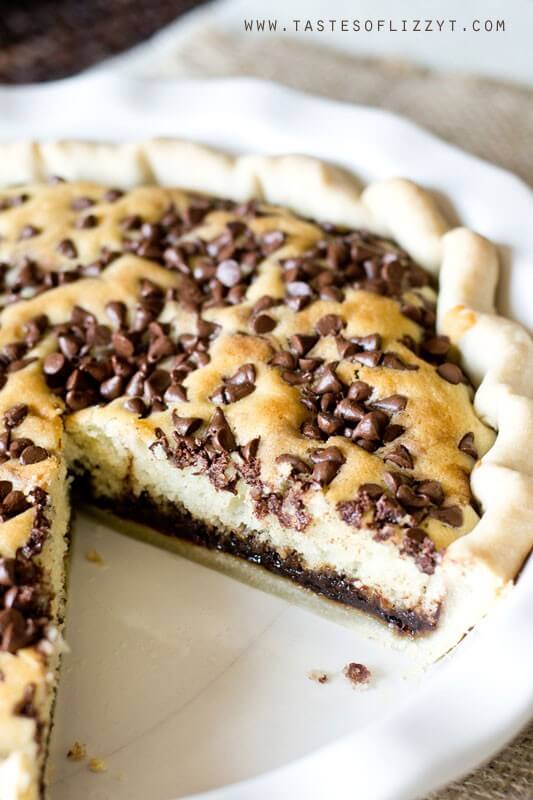 How to Make Funny Cake Pie
Prepare the pie crust.
Next, the fudge sauce. This is a sauce you make by hand, but it's quick and easy; it doesn't even need a stove top. Just some chocolate, some sugar, a few other ingredients, pour it in the pie crust, and there you go!
And then the cake part. Whip up a nice batter (mixing only until the ingredients are combined), and spoon it in on top of the fudge sauce.
Before you bake the cake pie, don't forget to sprinkle some mini chocolate chips on top!
Oh yes, and the ice cream. Use vanilla, chocolate, or whatever you think is best. There you have it! The Funny Cake Pie 😉
Enjoy!
OTHER Pie RECIPES
Tools to Make Pie
Cute Pie Plate: Because if you're taking the time to make pie, serve it up in style!
Hand mixer: I don't pull out my stand mixer for this recipe. It makes a small amount so a hand mixer works perfectly.
Chocolate Chip Funny Cake Pie
Chocolate Chip Funny Cake Pie is an old recipe with timeless appeal. Chocolate fudge is topped with a soft, buttery cake and bakes inside a pie shell. Top with ice cream for a delicious pie a la mode.
Ingredients
Top Part:
1/2

cup

white sugar

1/4

cup

butter

(softened)

1

large

egg

1/2

teaspoon

vanilla

1

teaspoon

baking powder

1

cup

all purpose flour

1/2

cup

milk
Lower Part:
1/2

cup

sugar

1/4

cup

baking cocoa

1/3

cup

hot water

1/4

teaspoon

vanilla

Pie pastry for 1 crust*

1/2

cup

mini chocolate chips
Instructions
Preheat the oven to 375 degrees.

In a medium bowl, cream together the sugar, butter, egg and vanilla.

In a separate bowl, mix together the baking powder and flour.

Add the flour mixture to the sugar mixture alternately with milk.

Mix just until combined.

In a separate bowl, combine the sugar and cocoa. Add the hot water and vanilla and mx until combined completely.

Use a storebought single pie crust or your favorite pie crust recipe ( here's ours! ) and press it into a pie plate.

Pour the chocolate mixture into the pie crust, then spoon the cake batter over top the chocolate. Use the back of the spoon to gently spread the batter over top. Be careful doing this and don't worry if it doesn't cover the whole top. It will spread as it bakes. You want the fudgy chocolate to stay on the bottom of the pie and not get mixed in.

Sprinkle the mini chocolate chips over the pie.

Bake at 375 for 27-30 minutes until the cake is set.
Notes
*If you make our pie crust recipe, you can halve it since this recipe only uses a single crust.
**The calories shown are based on the pie being cut into 8 pieces, with 1 serving being 1 slice of pie. Since different brands of ingredients have different nutritional information, the calories shown are just an estimate.
Nutrition
Calories:
384
kcal
|
Carbohydrates:
57
g
|
Protein:
5
g
|
Fat:
15
g
|
Saturated Fat:
7
g
|
Cholesterol:
41
mg
|
Sodium:
162
mg
|
Potassium:
157
mg
|
Fiber:
2
g
|
Sugar:
32
g
|
Vitamin A:
260
IU
|
Calcium:
67
mg
|
Iron:
1.9
mg