Tastes of Lizzy T participates in affiliate advertising programs. We may earn a commission when you make a purchase through links on our site.
Seasoned Italian sweet sausage and beef mix together and fill these Sausage Stuffed Shells. Top with sauce and cheese for an unforgettable Italian casserole!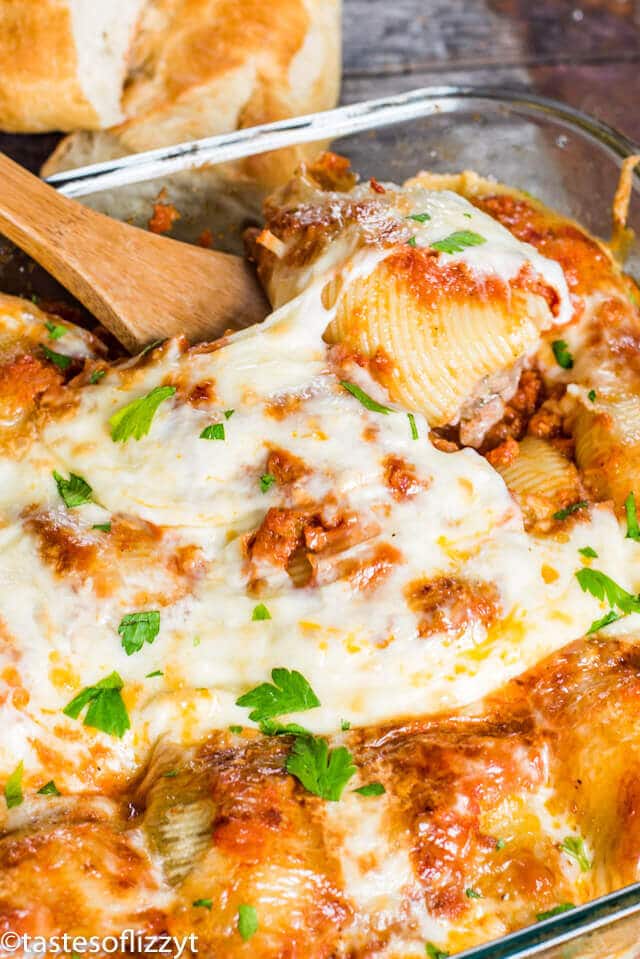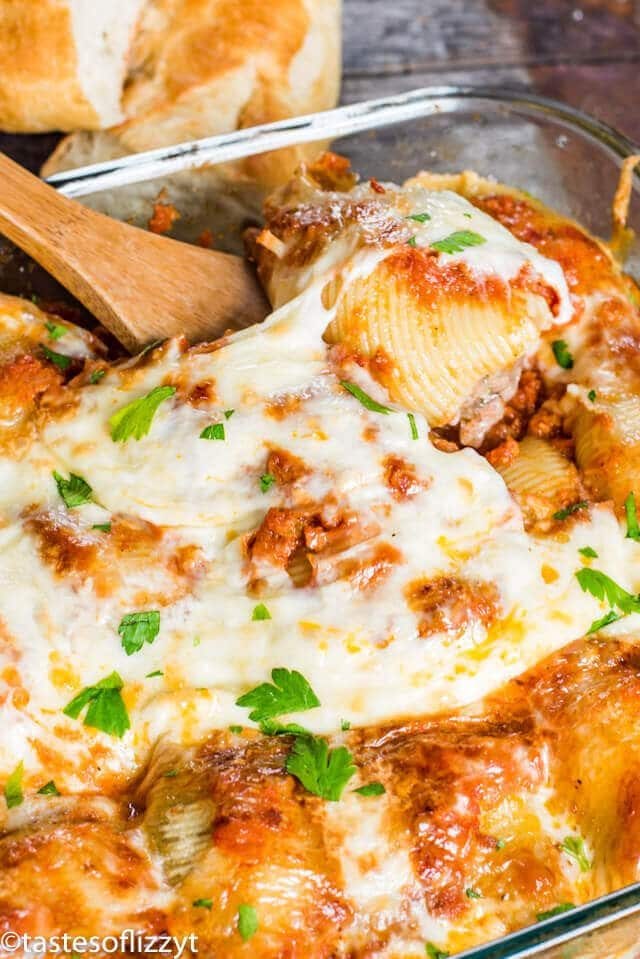 Sausage Stuffed Shells
This is a sponsored post for HemisFares™ brand that is available exclusively at Kroger family of stores.  All opinions are honest and 100% my own.
Nothing says comfort food like a delicious, cheesy Italian casserole.
I grew up loving cheese stuffed shells. It was one of the dinners that I remember making when I was a teenager, learning to cook in my mom's kitchen. I'm not exactly sure what recipe I used back then, but I'm all about the cheese, pasta and sauce and you can't really go wrong when those three ingredients are involved.
For this recipe, I wanted to focus on meat stuffed shells. The guys in my life were thrilled with this! Let's talk about what this recipe is like!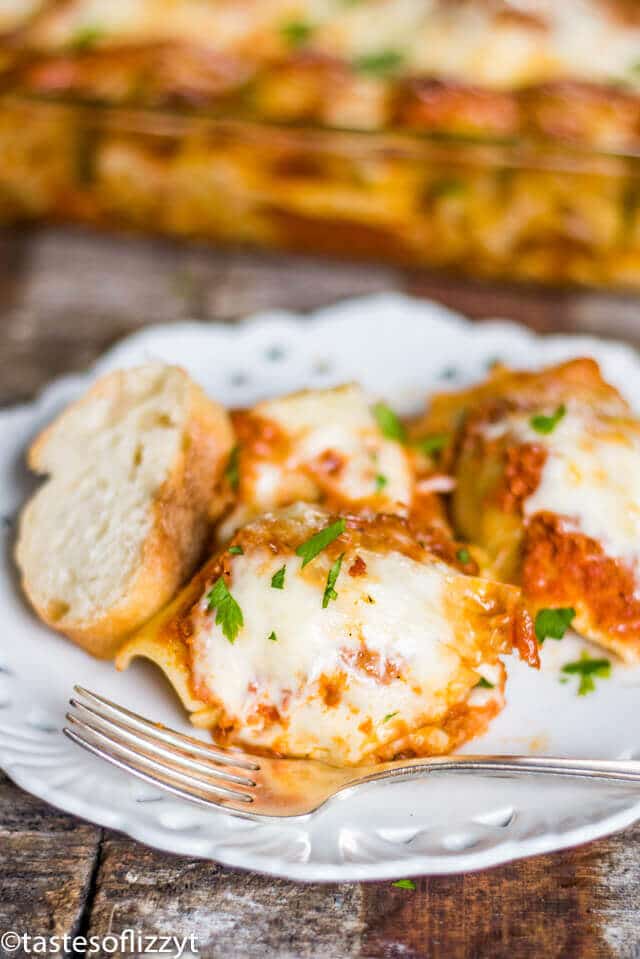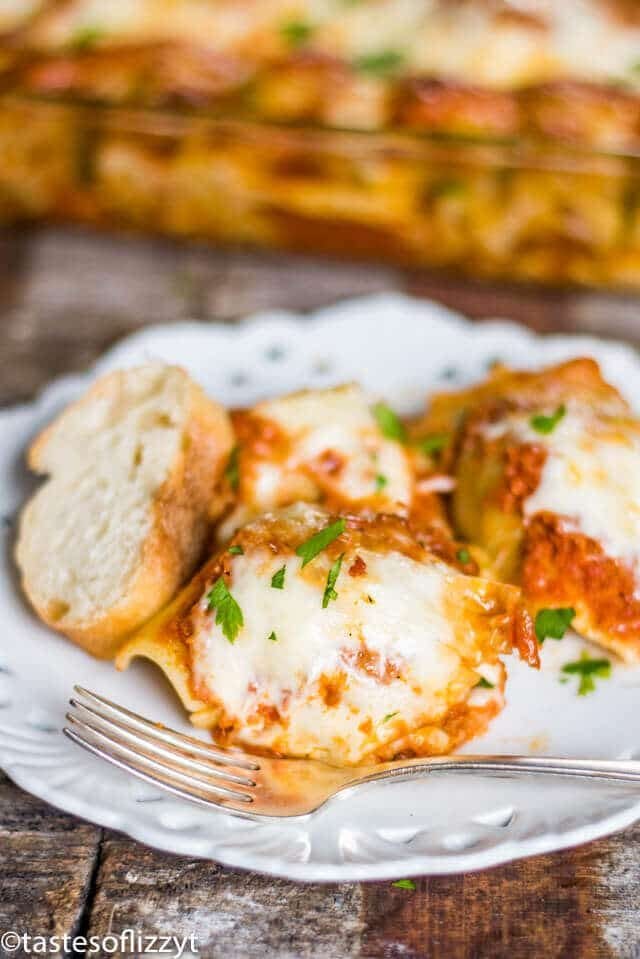 Stuffed Shells with Meat
Just as with our best lasagna recipe, for these jumbo stuffed shells we used both ground beef and sweet Italian sausage. Since the meat is not browned beforehand, be sure you choose a lean ground beef so you don't have extra fat. And I highly encourage you to find sweet Italian sausage. Zesty or hot Italian sausage will work also, but my family loved the flavor the sweet sausage.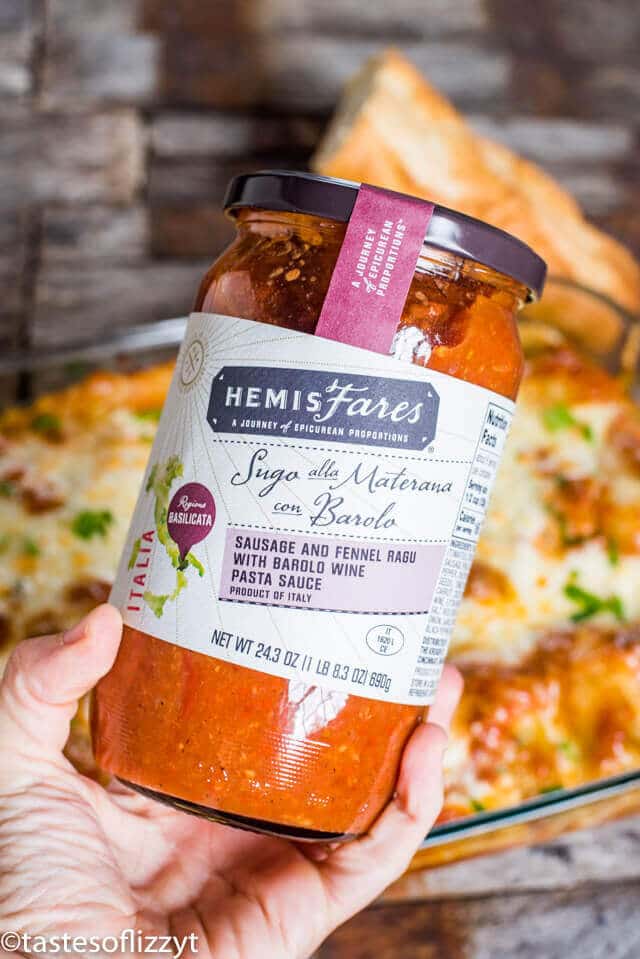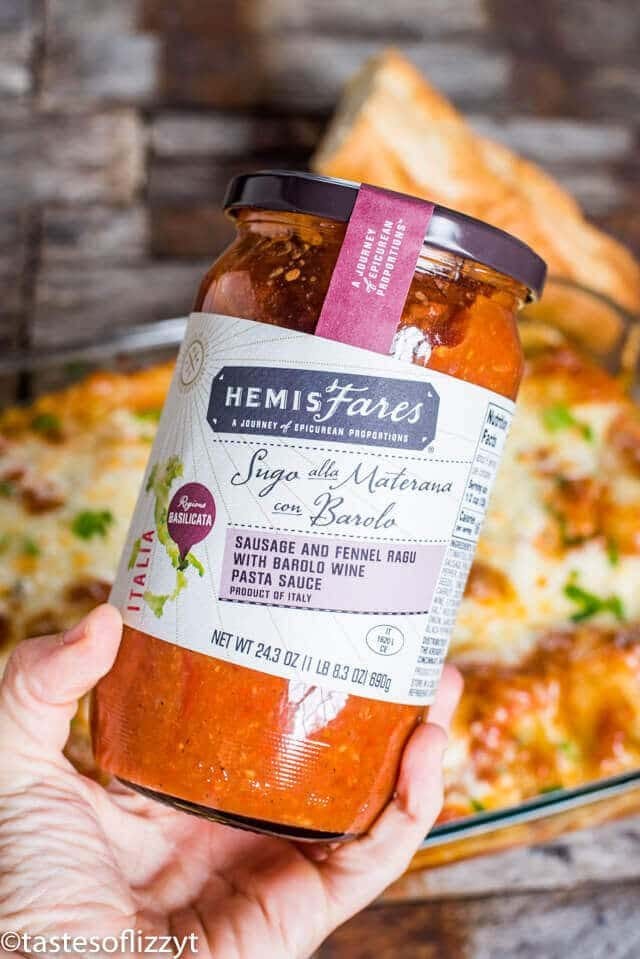 How to Make Stuffed Shells
A few important things to remember when making stuffed shells:
Be sure to buy jumbo stuffed shells. They won't look that big in the box, but when you cook them they'll expand a little bit. You'll need 22-24 shells, but make a few extra in case the shells break when you are stuffing them. Also, don't overcook the noodles. About 9 minutes is all you need to get them al dente. This way they'll still hold their shape when you stuff them.
Get the shells boiling in a big pot of water and then start the meat mixture. To the meat, add in an egg, Parmesan cheese and some Italian bread crumbs, along with basil, parsley and garlic. Simple as that, your meat mixture is done!
Stuff the shells. You can do this by making a 2″ meatball and stuffing it inside, or use an ice cream scooper to scoop up the meat and stuff the shells. You should have enough meat to stuff 22-24 shells, feeding approximately 8 adults.
Squeeze the shells in a 9×13 pan, then smother them with sauce. Because our flavor focus was on sausage, we chose HemisFares Sausage and Fennel Ragu with Barolo Wine Pasta Sauce. If you love trying food from around the world, check out the HemisFares line from Kroger. This specific sauce is Find No.20 from Basilicata and is a robust sauce which originates from the ancient town of Matera. It combines pork and fennel sausage with a splash of Barolo. The rich sauce is delicious and makes this Italian dish all the more authentic!
Sprinkle mozzarella cheese on top of the sauce. Because everyone loves a little sprinkling of cheese!
Baking Stuffed Shells
It's important to cover the casserole before baking. Spray one side of a piece of aluminum foil with cooking spray. Why? The spray will prevent the cheese from sticking to the foil. You want all of that gooey cheese to stay on top of the shells, right? Don't forget to spray the foil!
Allow the sausage stuffed shells to bake for about 40 minutes covered, then uncover them and broil on low for 3-5 minutes. This will give the cheese time to lightly brown. Watch the shells closely to make sure they don't burn!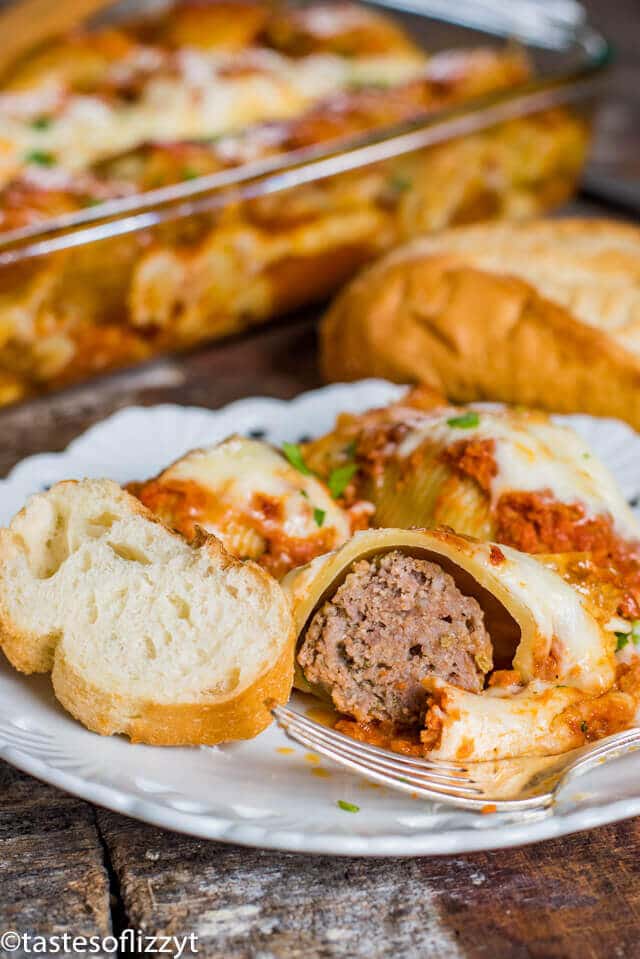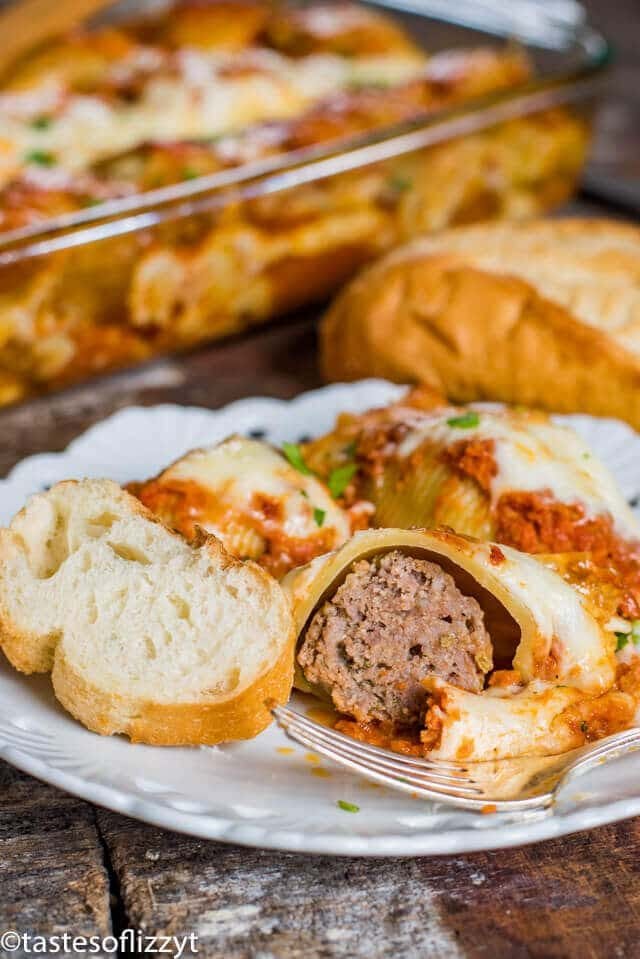 What Goes With Stuffed Shells
We like to serve the sausage stuffed shells with a side salad and a loaf of everything Italian bread. You can serve some green beans or brussel sprouts or corn if you'd like.
Looking for a dessert to serve after this delicious Italian meal? Try this chocolate peanut butter pie or frozen pumpkin pie, both made with HemisFares gelato!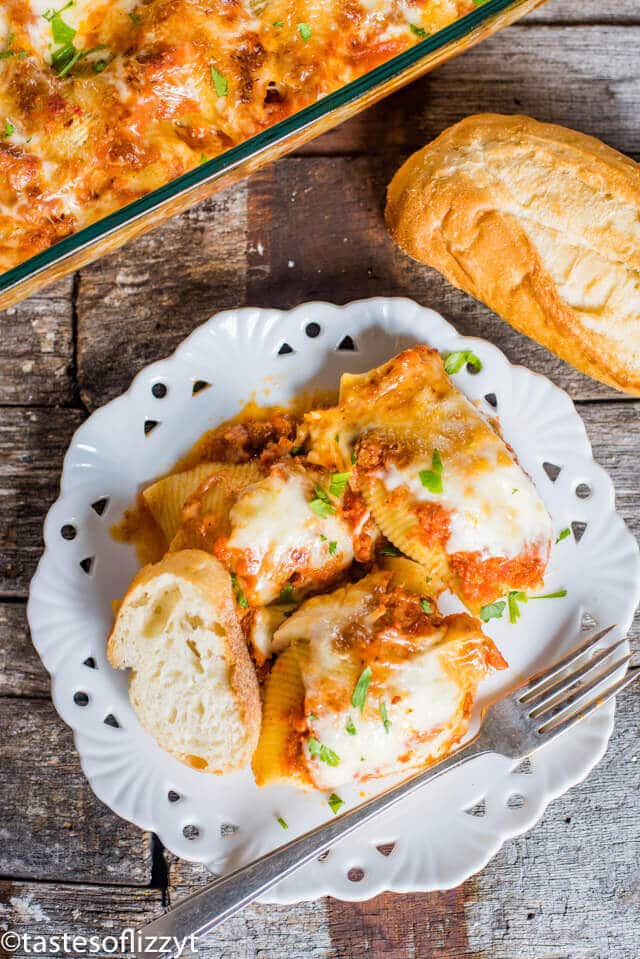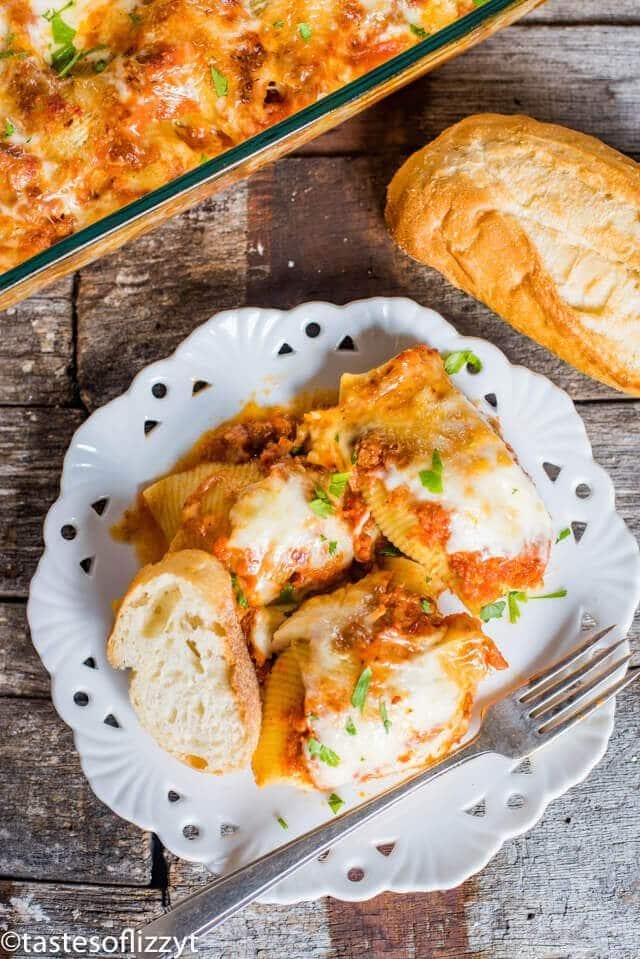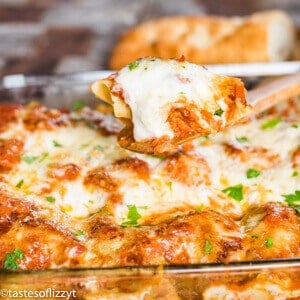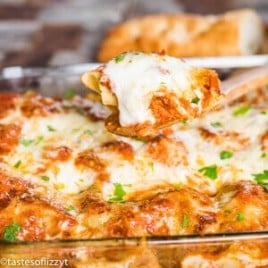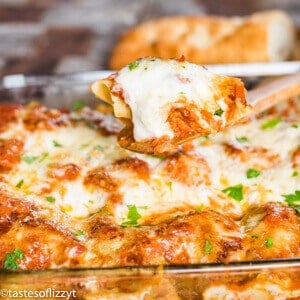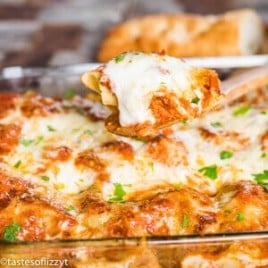 Sausage Stuffed Shells
Seasoned Italian sweet sausage and beef mix together and fill these Sausage Stuffed Shells. Top with sauce and cheese for an unforgettable Italian casserole!
Total Time
1

hour
10

minutes
---
Ingredients
12

ounces

jumbo shells pasta

1

pound

sweet Italian sausage

1

pound

lean ground beef

1

large

egg

1/4

cup

shredded Parmesan cheese

1/4

cup

Italian bread crumbs

1/2

teaspoon

minced garlic

1

tablespoon

dried parsley

1

teaspoon

dried basil

24.3

ounces

HemisFares Sausage and Fennel Ragu with Barolo Wine Pasta Sauce

8

ounces

shredded mozzarella cheese

freshly snipped parsley

(optional)
Instructions
Boil 8 cups of water in a large pan over medium -high heat.

Gently pour the stuffed shells into the boiling water and boil for 9 minutes, then drain and set aside. (You'll need about 22-24 shells, but I boil the whole 12 ounces so I have extra in case some shells break.)

In a large bowl, combine the beef, pork, egg, cheese, bread crumbs, garlic, parsley and basil. Mix well.

Preheat the oven to 350 degrees. Spread about ¾ cup sauce into the bottom of a 9x13 baking pan.

Using an ice cream scoop (or your hands), scoop the meat mixture and gently stuff it into the shells. Place the shells meat side up into the prepared pan, side by side to fill the pan.

Once the shells are all stuffed, pour the rest of the sauce overtop the shells and spread it around to cover all the shells.

Sprinkle the shredded mozzarella cheese over top.

Cut a piece of aluminum foil a little larger than your pan. Spray one side with cooking spray. Cover the baking pan (sprayed side down) and press to seal.

Bake covered for 40 minutes, then uncover and broil on low for 3-5 minutes to brown the cheese (watch this closely!).

After baking, sprinkle the top with fresh parsley and serve.
Notes
The calories shown are based on the recipe making 24 shells, with 1 serving being 3 shells. Since different brands of ingredients have different nutritional information, the calories shown are just an estimate.
Nutrition
Calories:
574
kcal
|
Carbohydrates:
40
g
|
Protein:
35
g
|
Fat:
29
g
|
Saturated Fat:
12
g
|
Cholesterol:
126
mg
|
Sodium:
1193
mg
|
Potassium:
765
mg
|
Fiber:
2
g
|
Sugar:
5
g
|
Vitamin A:
630
IU
|
Vitamin C:
7.5
mg
|
Calcium:
232
mg
|
Iron:
4.1
mg