Tastes of Lizzy T participates in affiliate advertising programs. We may earn a commission when you make a purchase through links on our site.
Chopped Oreos Cookies are folded into this creamy custard-based chocolate Oreo ice cream. If you're a chocolate lover – This one's for you!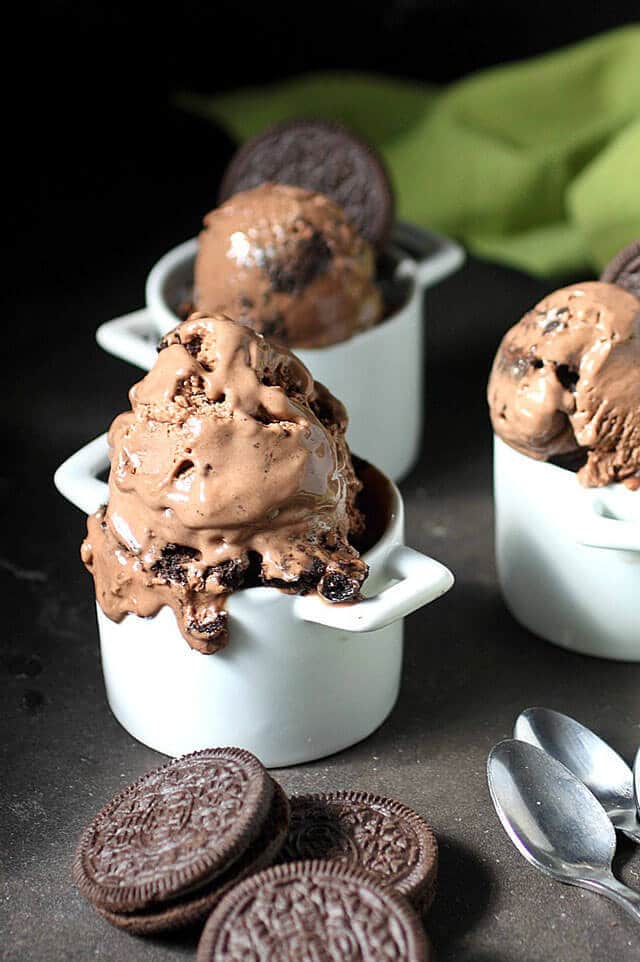 CHOCOLATE OREO ICE CREAM
I became a fan of Oreo cookies as an adult.  Yeah, I know. A cookie lover like me? Strange. In my defense, I didn't grow up eating cookies. Not only did my mom refuse to buy them – But I overindulged on a batch of sandwich cookies once and got really sick. This lead to a ban on all sandwich cookies, including Oreos for over ten years.  
In retrospect, I don't know how I survived. Those were some dark, dark times. It was my husband – The Cookie Monster personified who introduced me to Oreo cookies. I fought it until I dipped a cream-filled chocolate wafer into a glass of milk and took my first bite. I never looked back. I have to pace myself around Oreos or I will eat an entire row without batting an eyelash.
The struggle.
She is real.
It was my love of Oreos which lead me to this Chocolate Ice Cream with Oreo Cookies.
Flow with me… Let's talk about this situation.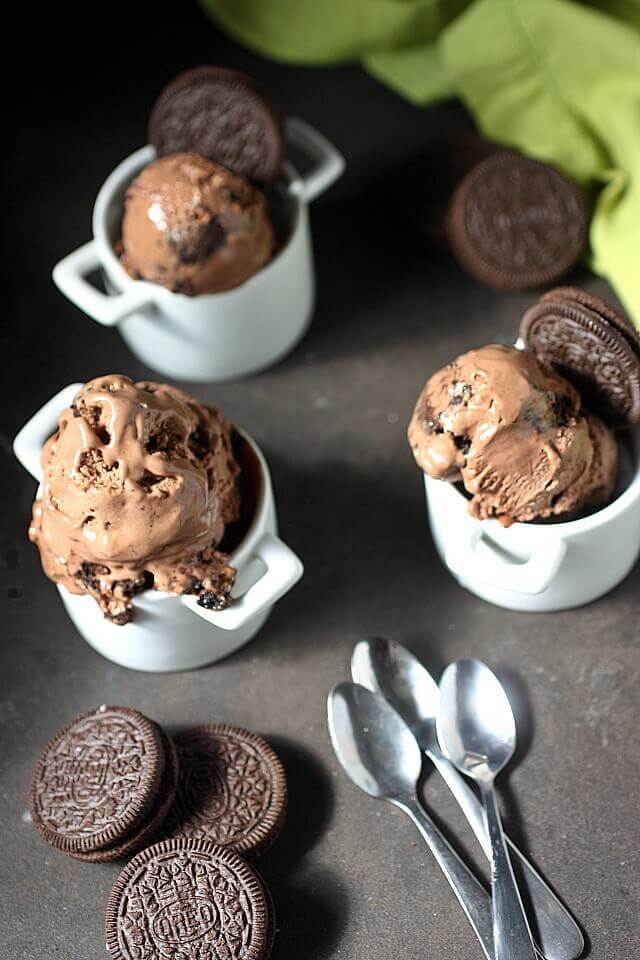 My love of Oreos is unmatched only by my love of chocolate. It was only fitting I combine the two and freeze them into this lip-smacking creamy ice cream.
My secret to a super creamy ice cream is replacing a portion of liquid milk with powdered milk. This helps reduce ice crystals and provides a super creamy mouth feel.  
The ice cream base consists of milk, milk powder, heavy cream and sugar. This is brought to a simmer and then poured over eggs, tempering them. The mixture is then cooked with semi-sweet chocolate, cocoa powder, and vanilla bean paste until thickened.
The custard is then submerged in an ice bath to cool. I like to wait 24 hours before freezing ice cream to allow the flavors to steep. No need here. The chocolate flavor is strong with this one. You churn in your favorite ice cream maker and then fold Oreo cookies into the finished ice cream.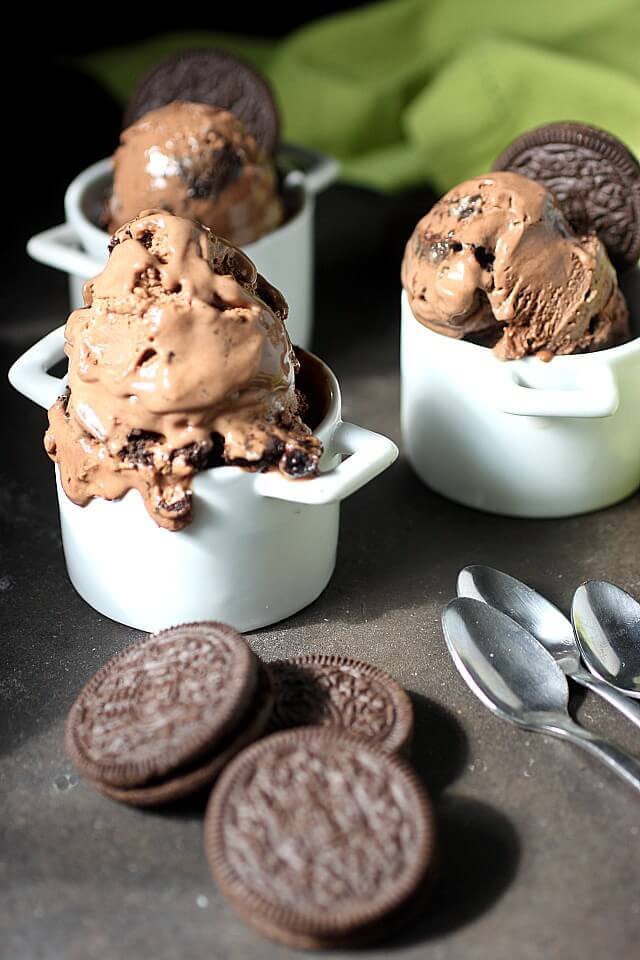 Full disclosure – There's 15 chopped Oreo cookies in this ice cream.
Full-full disclosure – I ate the entire batch over two days. I did not – I repeat – Did not share.
If you dig chocolate and Oreos, this ice cream is right up your alley. And if you feel so inclined to add another 5-10 Oreos…. I stand in raucous applaud.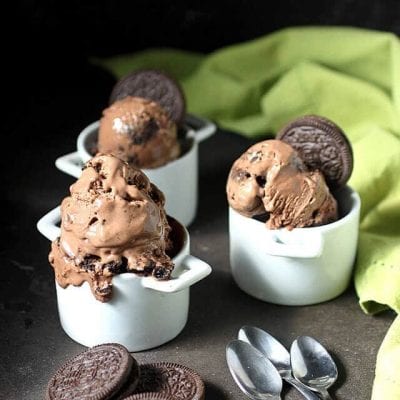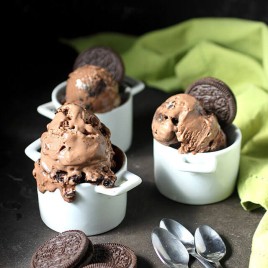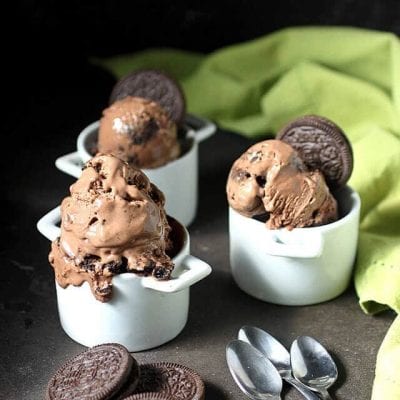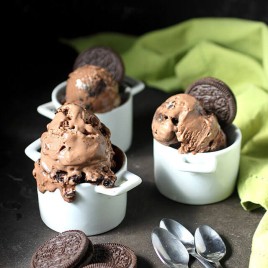 Chocolate Oreo Ice Cream
Chopped Oreos Cookies are folded into this creamy custard-based chocolate Oreo ice cream. If you're a chocolate lover – This one's for you!
Cook Time
7

hours
30

minutes
Total Time
7

hours
45

minutes
---
Ingredients
2

cups

whole milk

1

cup

heavy cream

½

cup

powdered milk

¾

cup

granulated sugar

5

egg yolks

8

ounces

semi-sweet chocolate

1

Tablespoon

cocoa powder

2

Tablespoons

vanilla extract

10-15

oreo cookies

roughly chopped
Instructions
Prepare the ice cream base:

Place the egg yolks in a medium bowl and set aside.

In a medium steel bottomed pot, add the whole milk, heavy cream, powdered milk, and granulated. Whisk the mixture vigorously until the milk powder is fully incorporated into milk and heavy cream. Turn the heat to medium/low and bring the mixture to a full simmer.

Remove from heat, whisking the entire time pour some of the milk mixture into the bowl with the egg yolks to temper. Continue to pour the milk mixture and whisk until the egg yolks are combined. Pour the entire mixture back into the pot, along the melted chocolate, cocoa powder, and vanilla extract. Cook over low heat, whisking the entire time until the chocolate melts, and the mixture is thick enough to coat the back of a wooden spoon thickly. This can take anywhere from 2-6 minutes. Be sure not to let it scorch.

Strain the mixture into a Ziploc bag. Seal the Ziploc bag, immerse it in the ice bath and leave until completely cool.

At this point you can either churn in the ice cream maker according to manufacturer's instructions, or place in the refrigerator overnight to steep, then churn. Fold in the crushed Oreo cookies once the ice cream is frozen.

Transfer the mixture to a container with a tight-fitting lid and place in your freezer.

Makes a little over a quart of ice cream.
Nutrition
Calories:
1067
kcal
|
Carbohydrates:
104
g
|
Protein:
18
g
|
Fat:
64
g
|
Saturated Fat:
35
g
|
Cholesterol:
356
mg
|
Sodium:
290
mg
|
Potassium:
857
mg
|
Fiber:
5
g
|
Sugar:
83
g
|
Vitamin A:
1575
IU
|
Vitamin C:
1.7
mg
|
Calcium:
393
mg
|
Iron:
7.1
mg