How to Make Boxed Brownies Better
Tastes of Lizzy T participates in affiliate advertising programs. We may earn a commission when you make a purchase through links on our site.
Sometimes life calls for a shortcut. This article will give you the top secrets on how to make boxed brownies better than homemade.
Table of Contents
Last week on Instagram I showed brownie hacks I've used for years to make box brownies taste better. On that short video I showed how using 3 Ghirardelli box brownie mixes and baking them together in one pan yields fudgy, deliciously moist brownies.
You all were curious about baking time and pan sizes, so I decided to throw together a quick article to do just that, plus give you other secrets on how to make boxed brownies better than homemade.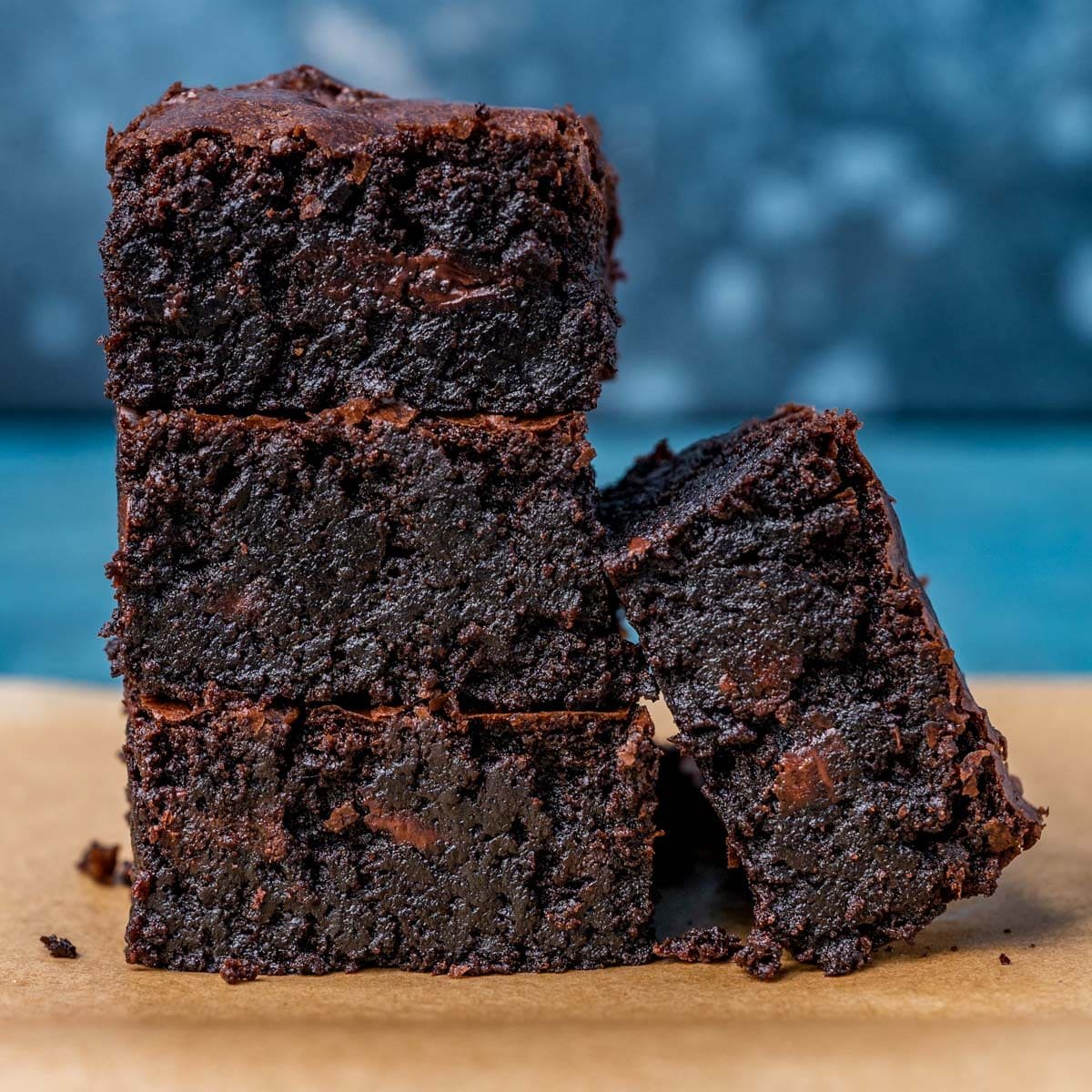 What is the best box brownie mix?
For our family, Ghirardelli box brownie mixes are the best. I prefer dark chocolate because they aren't overly sweet and they have little chocolate chips in the batter. If I want something a little sweeter, the Ultimate Chocolate brownie mix is amazing because you mix in chocolate syrup and chocolate chunks.
Other best brownie mixes are: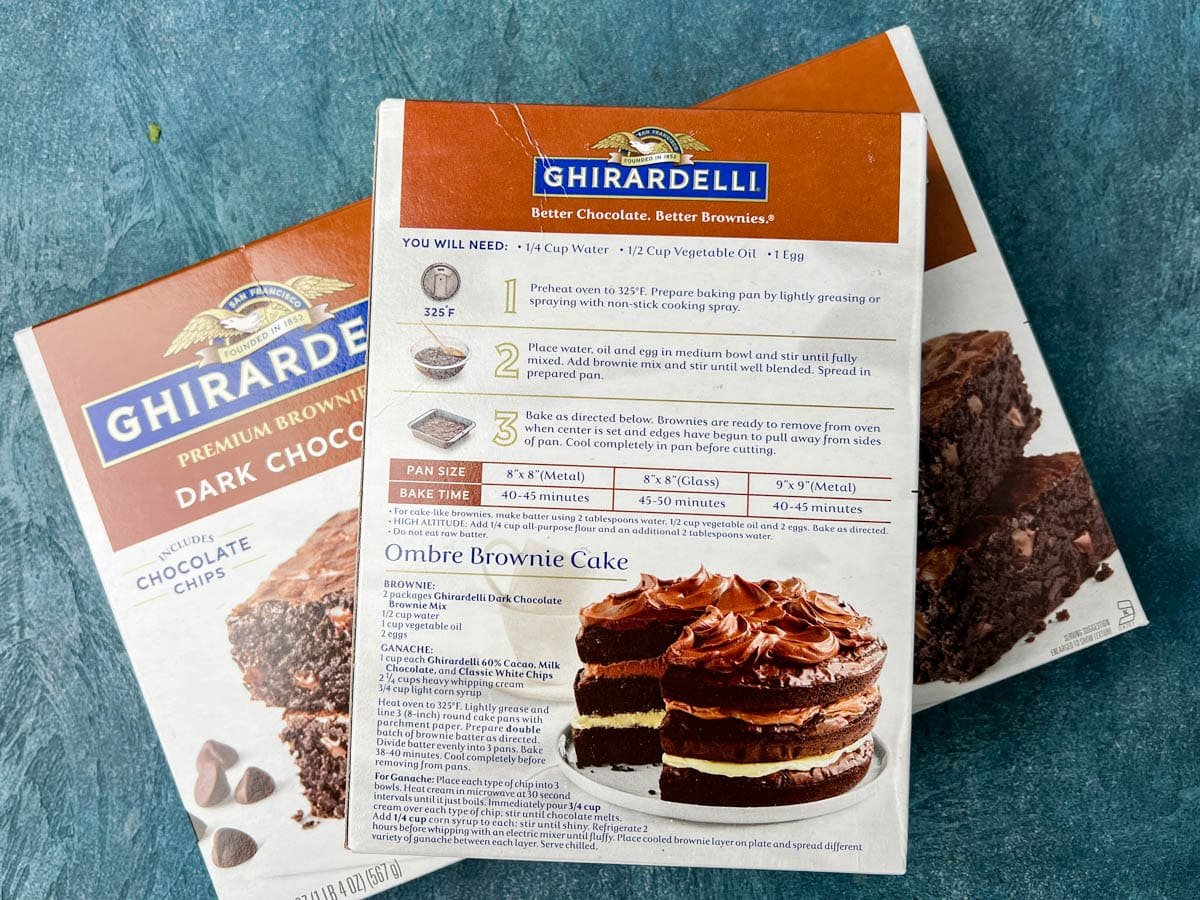 3 Box Brownies in 1 Pan
When I make brownies, I'm making them for a family gathering or a party so I need a good amount of brownies. Here's the best way to make brownies.
I get 3 boxes of Ghirardelli brownies, usually the dark chocolate kind.
Mix up all three boxes with the ingredients on the back in one bowl. So that means 3 box mixes, 3 large eggs, ¾ cup water and 1 ½ cups oil.
Pour the batter into a large stoneware pan. I use the Pampered Chef Stoneware Bar Pan, which can sometimes be hard to find. It measures 10″D x 15.5″W x 1″H and bakes brownies beautifully.
Bake in a preheated 325ºF oven for 50 minutes.
Easy peasy. They are excellent served with ice cream.
Tips for How to Make Box Brownies Better
Double the mixes. Or even triple, as I state above. Some boxes are made to fill 9×13″ baking pans. If this is the type you have, you can easily use 2 boxes and still bake it in one 9×13″ baking dish. It will take about 50 minutes to bake at 325ºF. If it is a smaller batch of brownies (8×8″ baking pan size) you may be able to use three boxes in a 9×13″.
Use a stoneware baking pan. Pampered chef has awesome ones, and you can find them on Amazon. Stoneware cooks the brownies evenly without the edges getting overdone. If you don't have stoneware, use a glass baking pan.
Line the baking pan with parchment paper. If you're not using stoneware, line the baking pan with parchment paper so you can easily remove the brownies to cut and serve. Plus, it makes cleanup a breeze.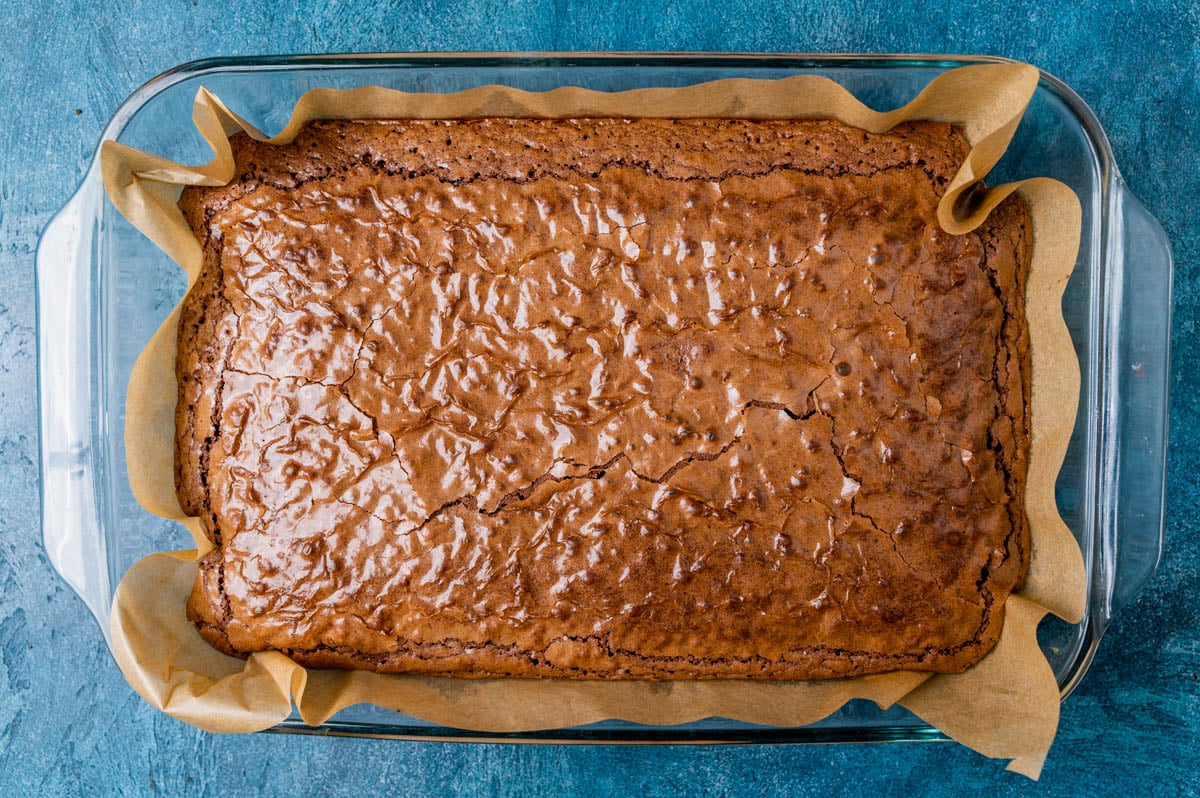 Use milk or buttermilk instead of water. It will add richness and flavor to the brownies.
Replace canola or vegetable oil with butter. Brownies have a lot of oil in them which is what helps them to be moist and stay moist. But sometimes I feel like I can taste the flavor of the oil. If you can too, try using melted butter in place of the oil. Talk about a rich and fudgy brownie…with a slight hint of butter.
Add a tablespoon of instant espresso powder. Or you can replace the water with strong coffee. Instant coffee works great for this if you don't drink coffee regularly. Coffee enhances the chocolate flavor without making the brownies taste like coffee.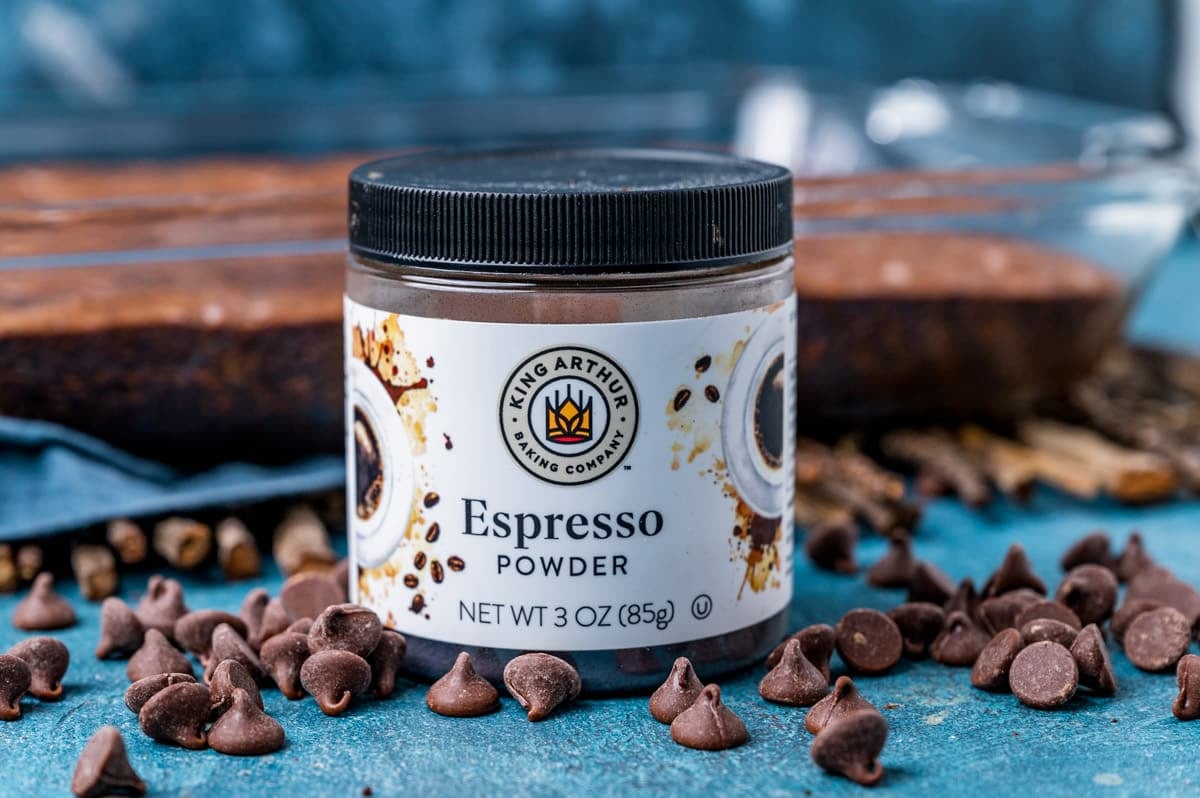 Add 2 teaspoons of vanilla extract. I make homemade vanilla extract so use vanilla in everything and I'm never disappointed.
Bake the brownies until the toothpick has moist crumbs, but no batter. I like to check the internal temperature of baked goods with this awesome probe thermometer to make sure they are done. The brownies should be 210ºF in the center.
Sprinkle flaky sea salt over the top of the brownies. Salt helps to cut the sweetness and enhances the flavor.
Cut the brownies with a buddy knife. Or you can use a traditional plastic knife. If you've ever tried cutting warm brownies only to have them stick all over the knife, a plastic knife is your answer. You'll be amazed at how cleanly they slice through the brownies.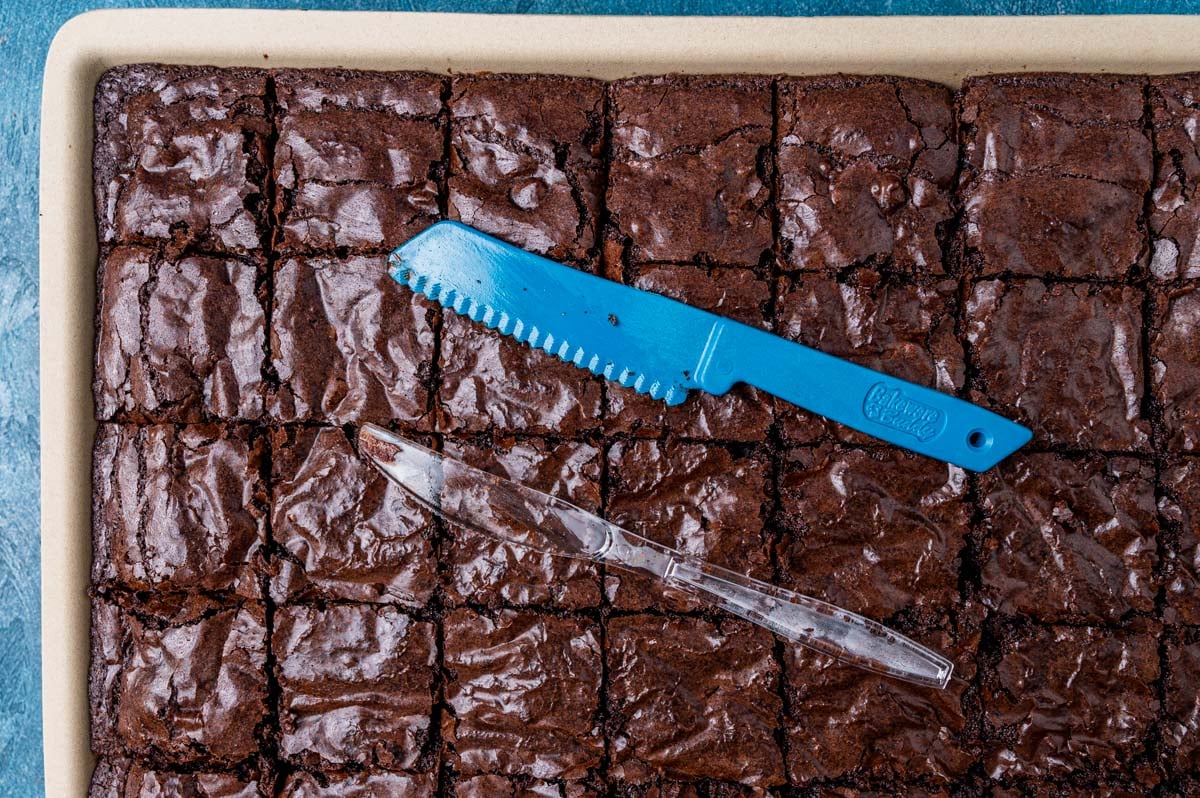 Brownie Add-Ins
If you're looking for something to mix into your brownie batter to add texture, try one of these variations:
semi-sweet chocolate chips or marshmallows
chopped nuts such as peanuts, walnuts, pecans or almonds
Swirl in peanut butter or marsmallow fluff after you have brownie batter in the pan.
Have leftover Halloween candy? Add chopped candy bars.
What about cake-like brownies?
For cake like brownies, most box brownie mixes have you reduce the water by half, then ad an extra egg. These two small changes really do make a difference. I prefer fudgy brownies over cake like, but you can see the difference below here:
Make the brownies a complete dessert by adding ice cream and caramel sauce, but you could also top them with frosting.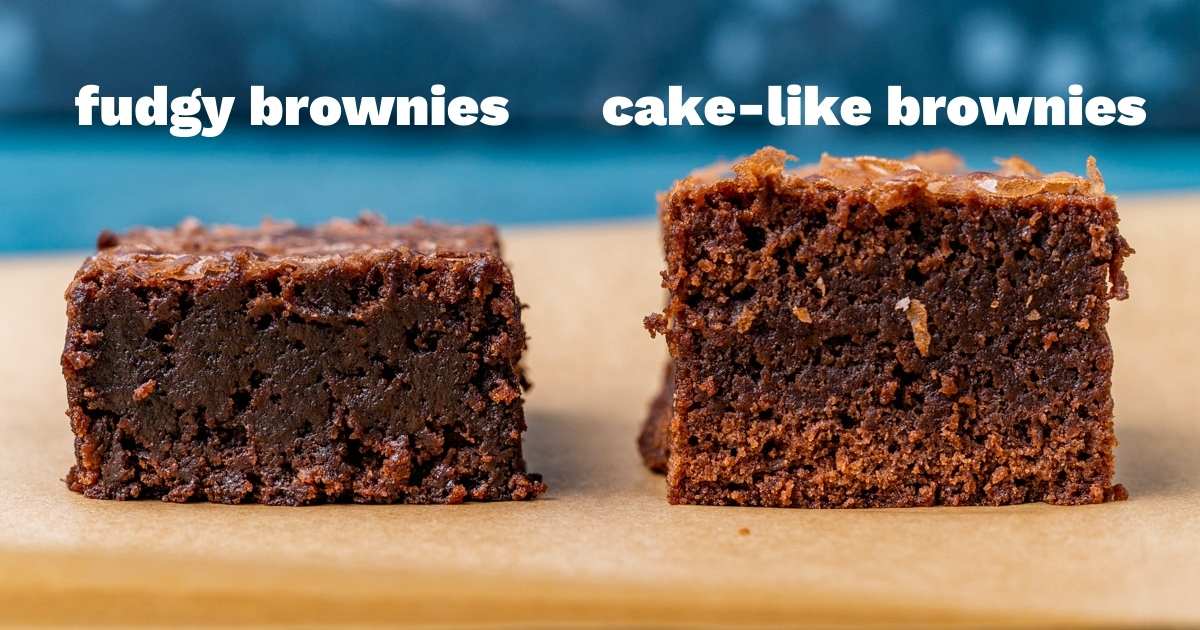 From Scratch Brownies
If you want to compare box brownies to a homemade brownie recipe, try our favorite fudgy brownies. They use butter in place of oil, which is just one reason why I love them so much.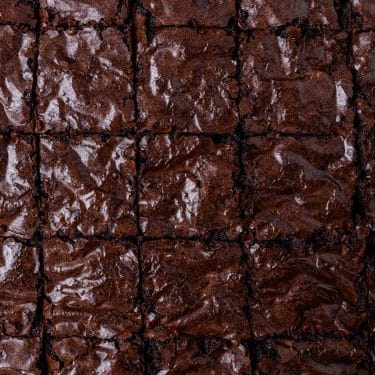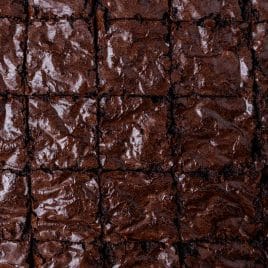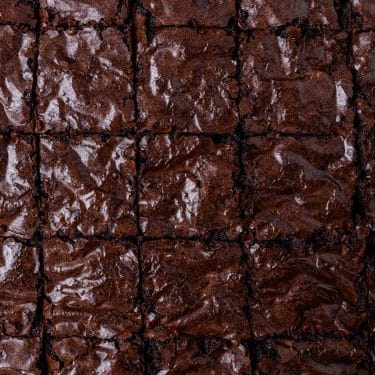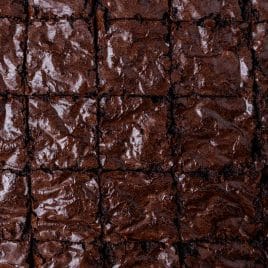 Best Box Mix Brownie Recipe
Sometimes life calls for a shortcut. This article will give you the top secrets on how to make boxed brownies better than homemade.
---
Ingredients
3

large

eggs

1 1/2

cups

vegetable oil

3/4

cup

water

3

boxes

Ghirardelli brownie mixes

(19-20 ounces – mixes that fit an 8×8" baking pan)
Instructions
Preheat the oven to 325ºF. Spray a stoneware bar pan or other large sheet pan (with at least 1" sides, about 14¾" x 10½") with cooking spray. Set aside.

In a large mixing bowl, whisk together the eggs, oil and water.

Add the 3 box brownie mixes and fold together with a rubber spatula, being careful not to over mix the brownies.

Spread the brownie batter evenly in the prepared pan.

Bake for 50 minutes or a toothpick inserted into the center of the brownies have no batter but a few moist crumbs.

Allow the brownies to cool before cutting.

Store in an airtight container at room temperature for up to 4 days. You can store any leftover brownies in the freezer for up to 6 weeks.
Notes
Refer to the article above for more tips and tricks.
The calories shown are based on the brownies being cut into 35 squares, with 1 serving being 1 brownie. Since different brands of ingredients have different nutritional information, the calories shown are just an estimate. **We are not dietitians and recommend you seek a nutritionist for exact nutritional information. The information in the nutrition box are calculated through a program and there is room for error. If you need an accurate count, I recommend running the ingredients through your favorite nutrition calculator.**
Nutrition
Calories:
281
kcal
|
Carbohydrates:
34
g
|
Protein:
3
g
|
Fat:
15
g
|
Saturated Fat:
3
g
|
Polyunsaturated Fat:
6
g
|
Monounsaturated Fat:
5
g
|
Trans Fat:
0.1
g
|
Cholesterol:
16
mg
|
Sodium:
134
mg
|
Potassium:
6
mg
|
Sugar:
22
g
|
Vitamin A:
23
IU
|
Calcium:
3
mg
|
Iron:
1
mg
Brownie Batter Recipes
These recipes use a box brownie mix in a way that is different than plain brownies. But you still get all that delicious fudgy brownie flavor.