Tastes of Lizzy T participates in affiliate advertising programs. We may earn a commission when you make a purchase through links on our site.
Nutella Brownie Cookies are a chocolate twist on one of your favorite recipes. A fudgy, soft cookie with a smooth Nutella center, one of the chocolatiest cookies you've ever experienced!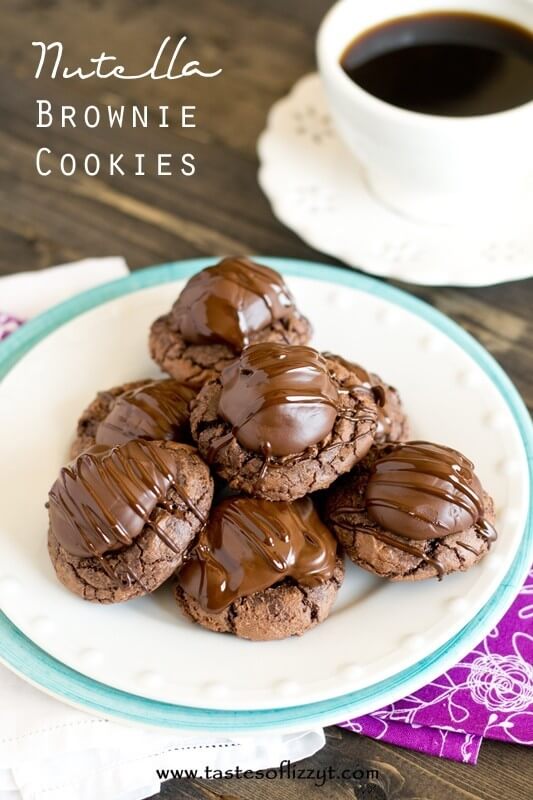 Nutella Brownie Cookies
Ok…I admit it.
I love these cookies way too much!!
You might remember similar versions of these Nutella Brownie Cookies. A peppermint patty flavor, a cookie dough flavor, and of course, our most popular recipe, a peanut butter flavor. I have an enormous sweet tooth for these things. So do many other people I know! The problem was, we had covered all our basic flavors for these cookies. Or so we thought!
An idea struck my mom and me as World Nutella Day crept closer. Uhhh…hello! Nutella inside a fudgy cookie?! That would be the PERFECT way to celebrate Nutella! My only thought was, 'WOW'!
So we have a simple chocolate cookie. We have a Nutella
 and powdered sugar mixture formed and placed on the baked cookie.  What next? Well, if you're a chocolate lover like me, the obvious answer is: more chocolate!
We chocolate lovers know the necessity of TWO layers of chocolate on a very chocolaty cookie.  It's essential. I'll take the most chocolate possible on my cookie please, then double it.
If these cookies didn't already have a name, I'd call them "Little Bites of Heaven!"
Actually, my youth group leader made up a better name for these cookies. We've given him different versions of these cookies before, so when he saw these cookies come into our youth group Sunday morning, he got SO excited. He calls them "little balls of goodness" which made me laugh, because that sounds like something that my brother would say!
A dangerous factor of these cookies is that they're incredibly easy to make. That's for those of you with little patience.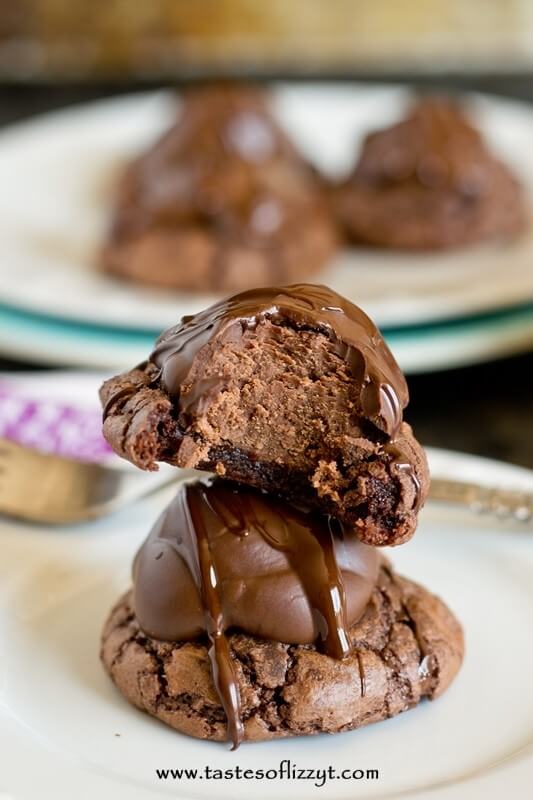 You start with a brownie mix. If you've never tried brownie mix cookies, you are missing out. Add an egg, ½ stick of butter and ½ a block of cream cheese to the dry brownie mix. Mix it up, scoop out 24 mounds of dough, and bake them.
While they're baking, you make the Nutella center which is 1 cup of Nutella, 1 cup of powdered sugar and 3-4 tablespoons of heavy cream. Mix that mixture well and roll it into 24 balls. Then as soon as they're done (no waiting for them to cool!! Yay!) you stick those "balls of goodness" right in the middle of the cookies. Now if you really want to, you can eat them right then and there. But to make them extra delicious and good, we pour melted milk chocolate on top. We went an extra step and drizzled melted dark chocolate over the milk chocolate.
You can never go wrong with too much chocolate. Never ever!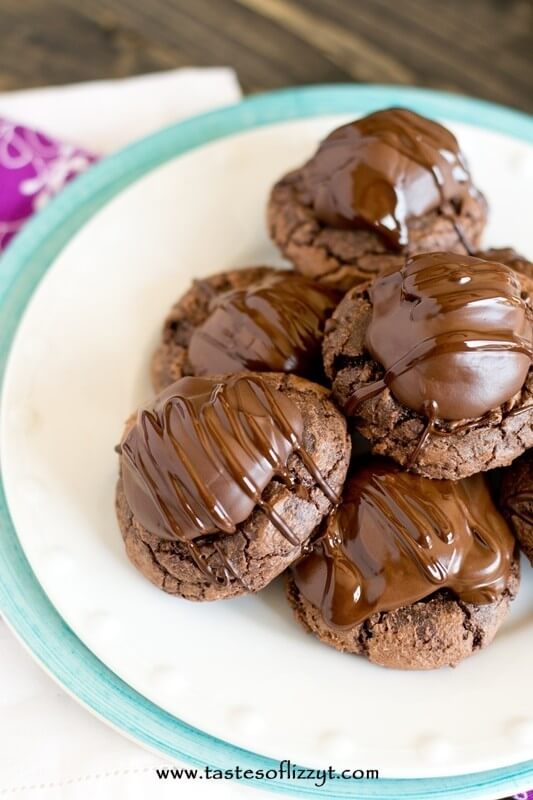 So if you're a chocolate lover like me, which I KNOW you are based on how much you loved the buckeye brownie cookies that we made (thanks, guys!!!), you'll want to try these. In fact, you need to try these. Nutella is like glorified chocolate. So what does that make these cookies?
Little balls of goodness, I suppose!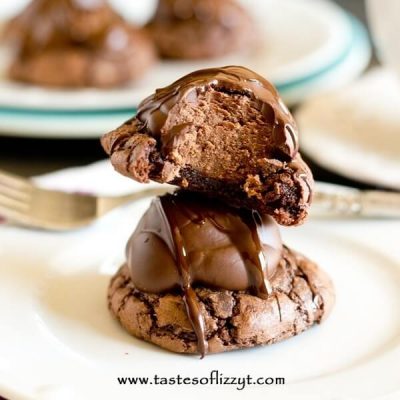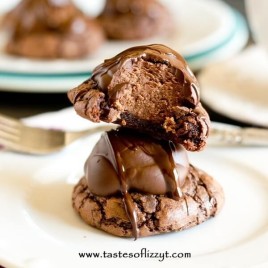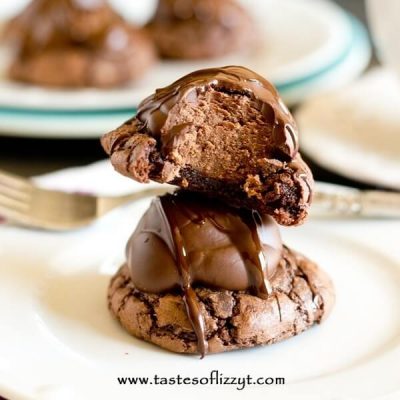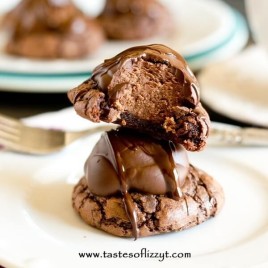 Nutella Brownie Cookies
Nutella Brownie Cookies are a chocolate twist on one of your favorite recipes. A fudgy, soft cookie with a smooth Nutella center, one of the chocolatiest cookies you've ever experienced!
---
Ingredients
Brownie Cookies:
19.5

oucnesa

box fudge brownie mix

(family size)

1/4

cup

butter

melted

4

ounces

cream cheese

(softened)

1

large

egg
Chocolate Topping:
4

ounces

semi-sweet chocolate

1/2

cup

dark chocolate chips

optional
Instructions
Heat oven to 350 degrees. In a medium bowl, beat the brownie mix, butter, cream cheese, and egg. The dough will be a little sticky but very thick. Scoop the dough onto an ungreased cookie sheet, making 24 cookies. Smooth the edges of each to form a round cookie.

Bake for the cookie dough 12 minutes at 350 degrees, keeping an eye out to make sure the cookies don't over cook or under cook.

While the cookies are baking, prepare the Nutella filling. Combine together the Nutella, powdered sugar and heavy cream. The mixture will be very thick. Be sure that all of the powdered sugar gets mixed in. Add more cream as necessary. 3 tablespoons was all we needed.

Roll the Nutella mixture into 24 balls. Cover the balls with plastic wrap while the cookies finish baking.

As soon as the cookies come out of the oven, press a Nutella dough ball lightly into the center of each cookie. Let the cookies cool for 5 minutes, then transfer them to a wire rack to cool completely.

Melt the chocolate a microwaveable bowl for 30 seconds. Stir the chocolate and melt for additional 15 seconds or until the chocolate is completely melted. Spoon about ½ a tablespoon of melted chocolate on top of each cookie so it covers the cookie dough ball.

Let the chocolate set. Store in an airtight container.
Notes
The calories shown are based on the recipe making 24 cookies, with 1 serving being 1 cookie. Since different brands of ingredients have different nutritional information, the calories shown are just an estimate.
Nutrition
Calories:
180
kcal
|
Carbohydrates:
18
g
|
Protein:
1
g
|
Fat:
11
g
|
Saturated Fat:
8
g
|
Cholesterol:
20
mg
|
Sodium:
47
mg
|
Potassium:
110
mg
|
Fiber:
1
g
|
Sugar:
15
g
|
Vitamin A:
165
IU
|
Calcium:
35
mg
|
Iron:
1
mg