Tastes of Lizzy T participates in affiliate advertising programs. We may earn a commission when you make a purchase through links on our site.
The most delicious homemade ice cream? Cooked vanilla custard makes a great base for this Vanilla Frozen Custard recipe. Add your favorite fruits or candies for an easy summer dessert.
Summer means ice cream! Have you ever tried making homemade ice cream? I fell in love with a creamy frozen custard rather than traditional ice cream. We're from the Midwest…what can I say. 🤷‍♀️
You'll need an ice cream machine for this recipe, but with updated countertop electric ice cream machines, this recipe is easier than dragging the family to the store when the ice cream craving hits.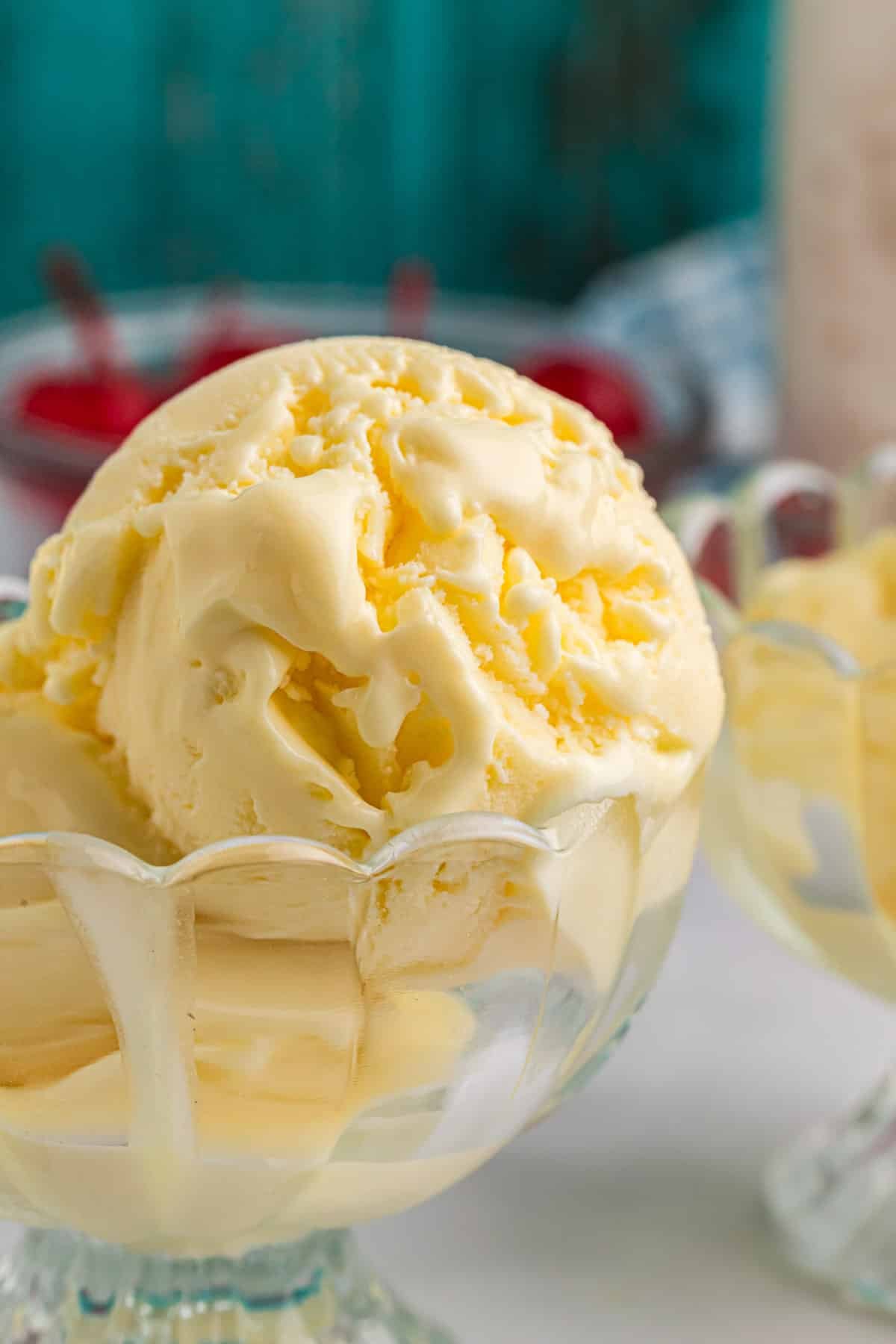 ⭐️ ⭐️ ⭐️ ⭐️ ⭐️ Reader Meg says, "This was AMAZING!! My ice cream making doesn't get it really stiff right out of the maker… but I put it in the freezer over night and tonight it was perfect… I made my amazing hot fudge sauce to go on it!! All I can say is WOW!! It's going to be hard for me to buy ice cream any more!!"
⭐️ ⭐️ ⭐️ ⭐️ ⭐️ Reader Gina says, "This was excellent! We made it with just ½ cup sugar, and I think the flavor was perfect."
Where did frozen custard originate?
Frozen custard originated in Coney Island, New York, in the early 1900's. The World Fair in Chicago in the 1930's helped to seal it as a midwestern favorite.
Now we have restaurants dedicated to selling their version of frozen custard. Culver's, Freddy's, Shake Shack and of course a slew of small local custard shops. It's a favorite summer frozen dessert.
How is frozen custard different than ice cream?
Eggs are the main difference.
Frozen custard is a rich, smooth textured ice cream. Both ice cream and custard have cream, sugar and milk, but custard has one not-so-secret ingredient that ice cream traditionally does not have. Eggs. When eggs are added to dairy, you now have custard.
Some recipes call for using whole eggs, but this recipe only uses the yolks which makes a rich, smooth dessert.
Is frozen custard better for you than ice cream?
Of course it depends on your recipe and what you are adding, but in general, custard has less calories and fat than homemade ice cream.
Can we call it "good for you"? Maybe not…but homemade frozen custard often doesn't have the additives that store bought ice cream has.
Ingredients
Fresh ingredients are best for homemade frozen custard:
Heavy cream. Use half and half for a lighter custard, but I recommend trying it with heavy cream first. You won't regret it. 😋
Whole milk.
White sugar.
Salt.
Egg yolks.
Vanilla extract. Use homemade vanilla extract for amazing sweet treats.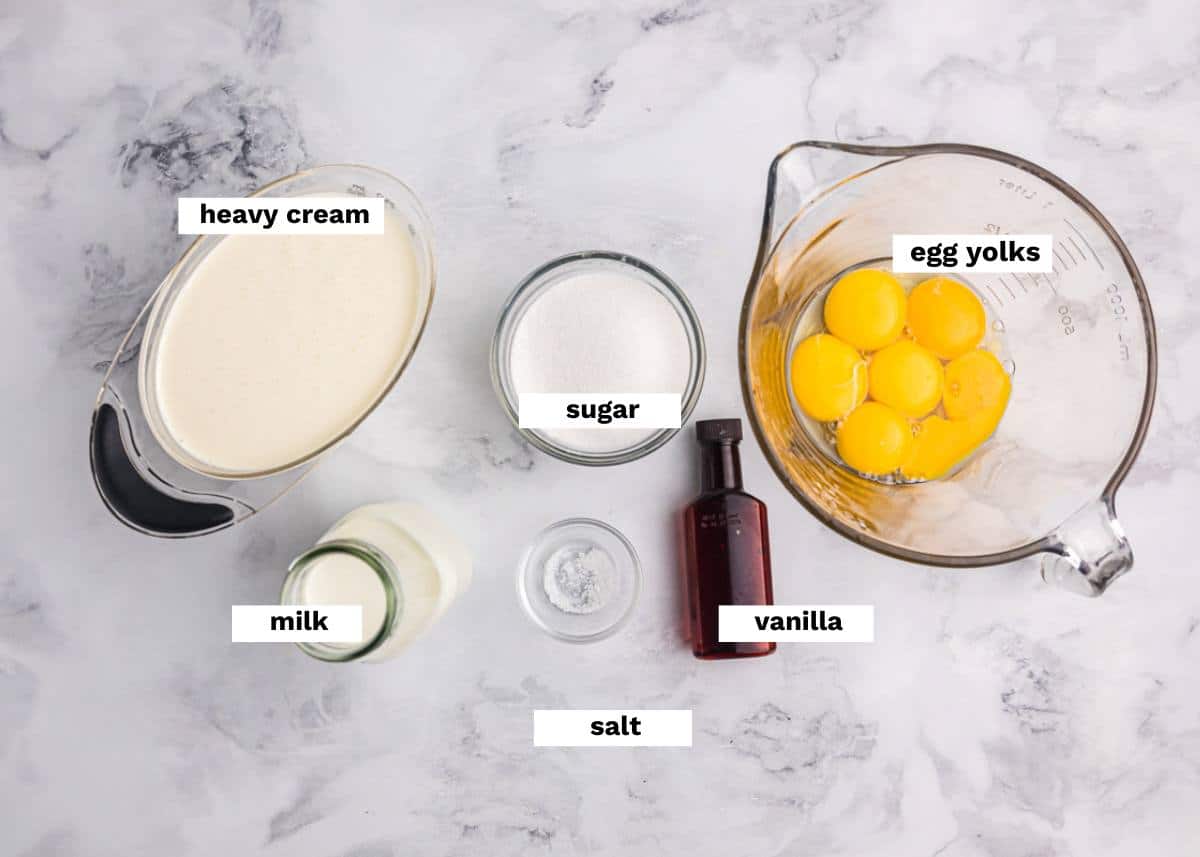 How to Make Vanilla Frozen Custard
There are a few important things to remember when making homemade custard ice cream.
Plan ahead. Because custard has eggs, you cook the ice cream base together on the stovetop. Then you have to refrigerate it until it has cooled down. Only at that time is it ready for the ice cream freezer. You'll need to refrigerate the base for at least 4 hours.
Use heavy cream and whole milk for the creamiest custard. Yes, these are higher in fat. Yes, you can use lower fat milk, but your ice cream won't be as rich and creamy. I suggest first trying the recipe as written, the if you'd like you can lower the milk fat content as you continue to test.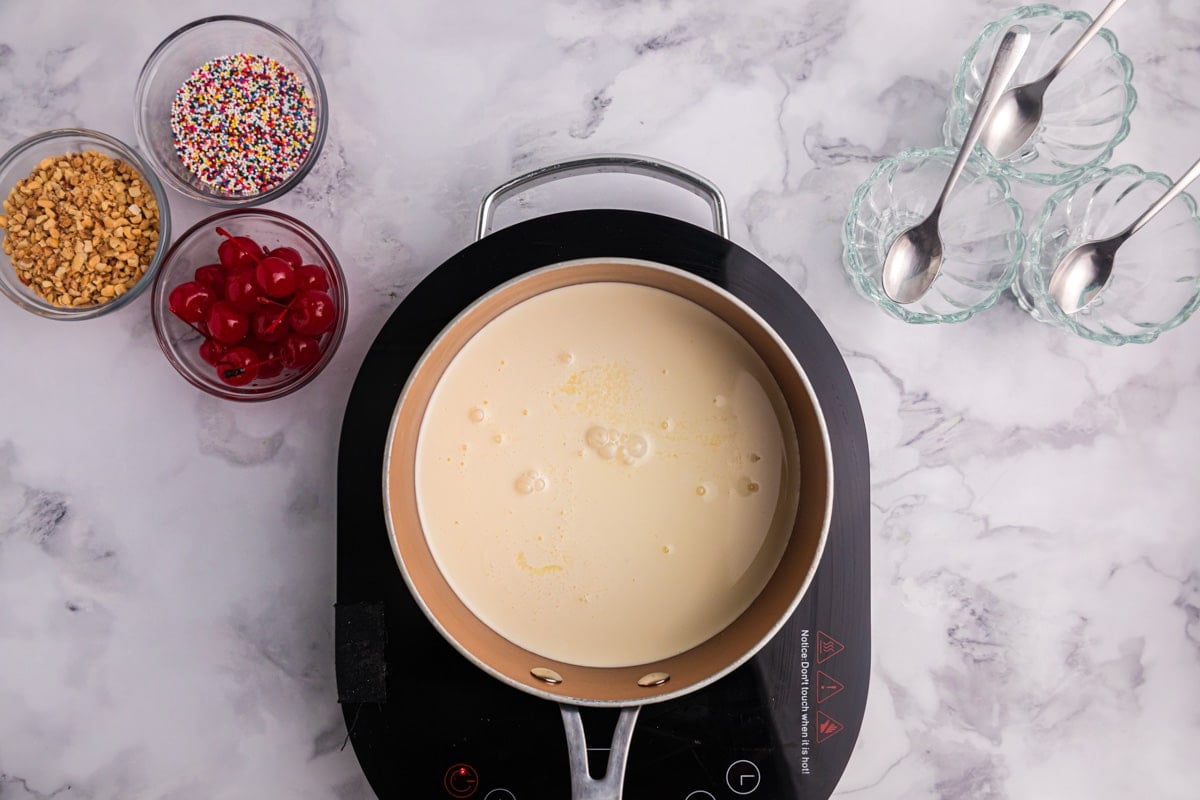 Temper the eggs. Be sure to follow the recipe step by step and don't be tempted to just start dumping ingredients in. (More on tempering eggs below.)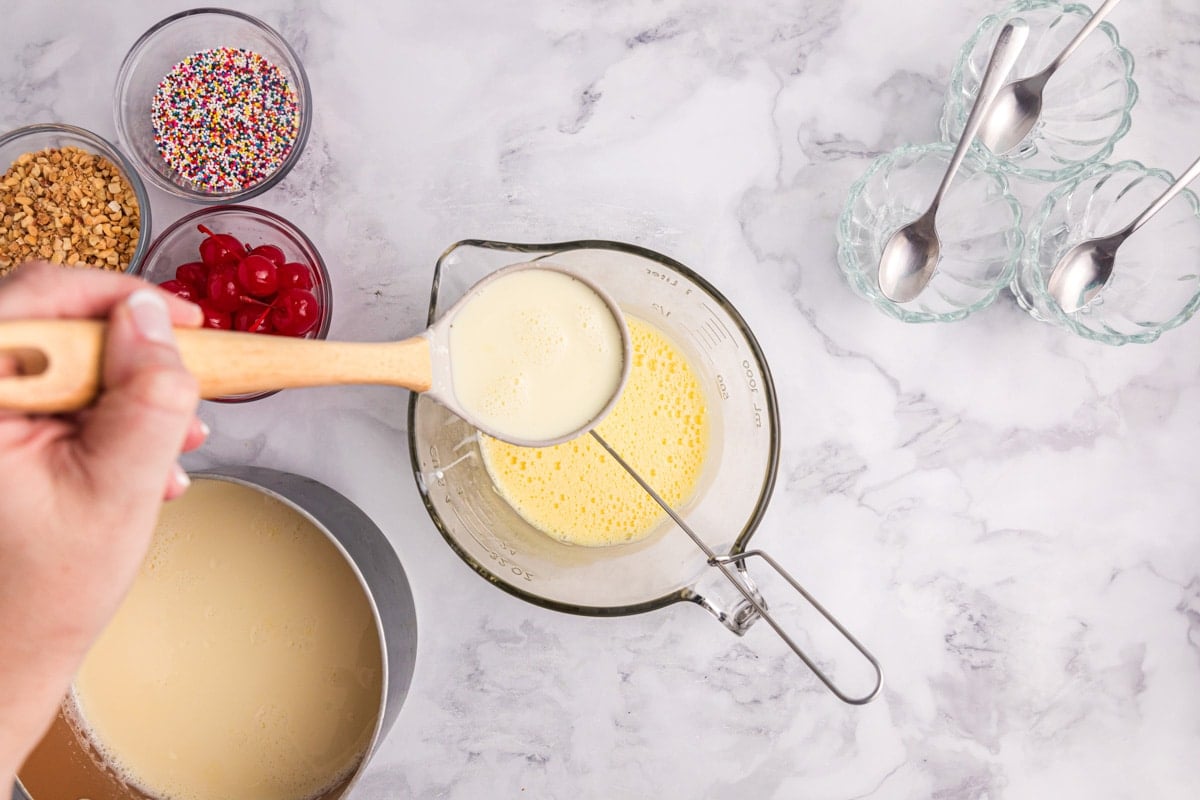 Cook over low heat until the mixture starts to thicken. Don't think it will be pudding thick. You are just looking for the mixture to start to thicken. It will still seem a little runny, but should coat the back of the spoon. Don't overcook the mixture or it may curdle. If you do end up with little pieces in your mixture, run it though a fine mesh strainer so it ends up perfectly smooth.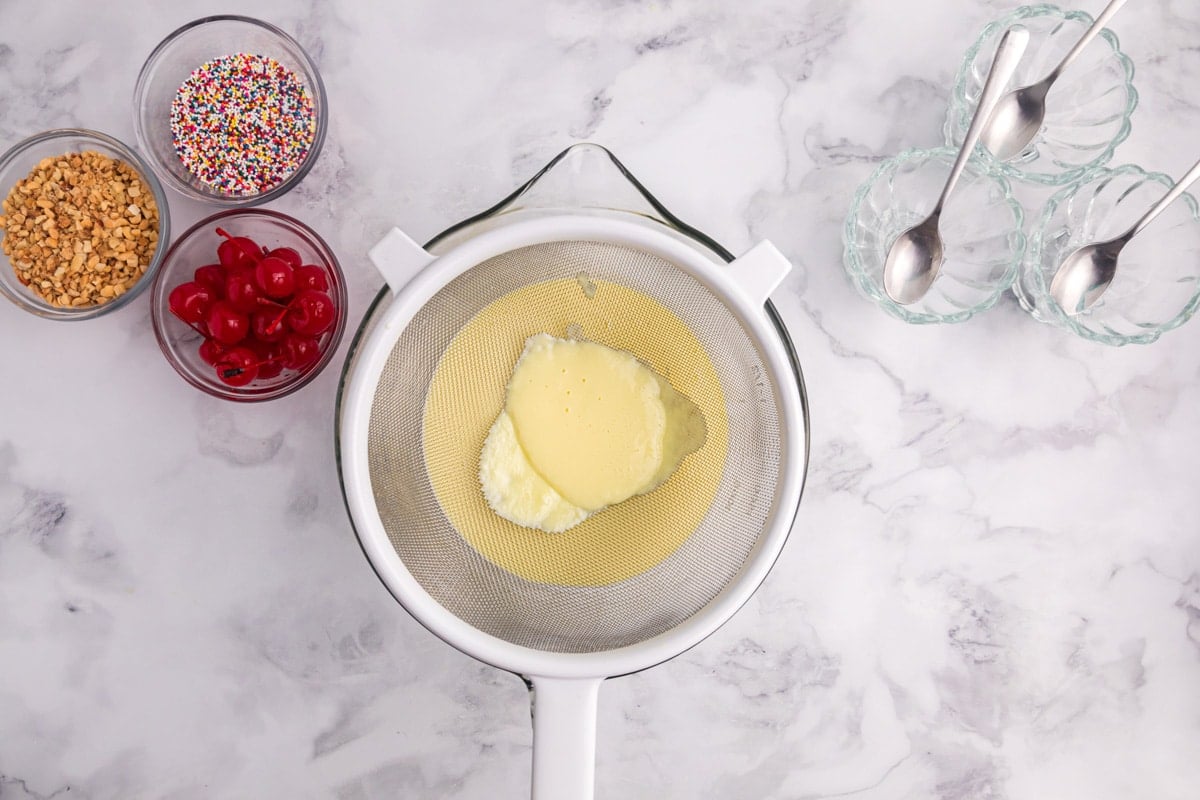 If you have an electric ice cream maker, be sure the drum that holds the ice cream is frozen. You'll want this in the freezer for at least 24 hours before churning ice cream. Follow the manufacturer's instructions for churning the custard.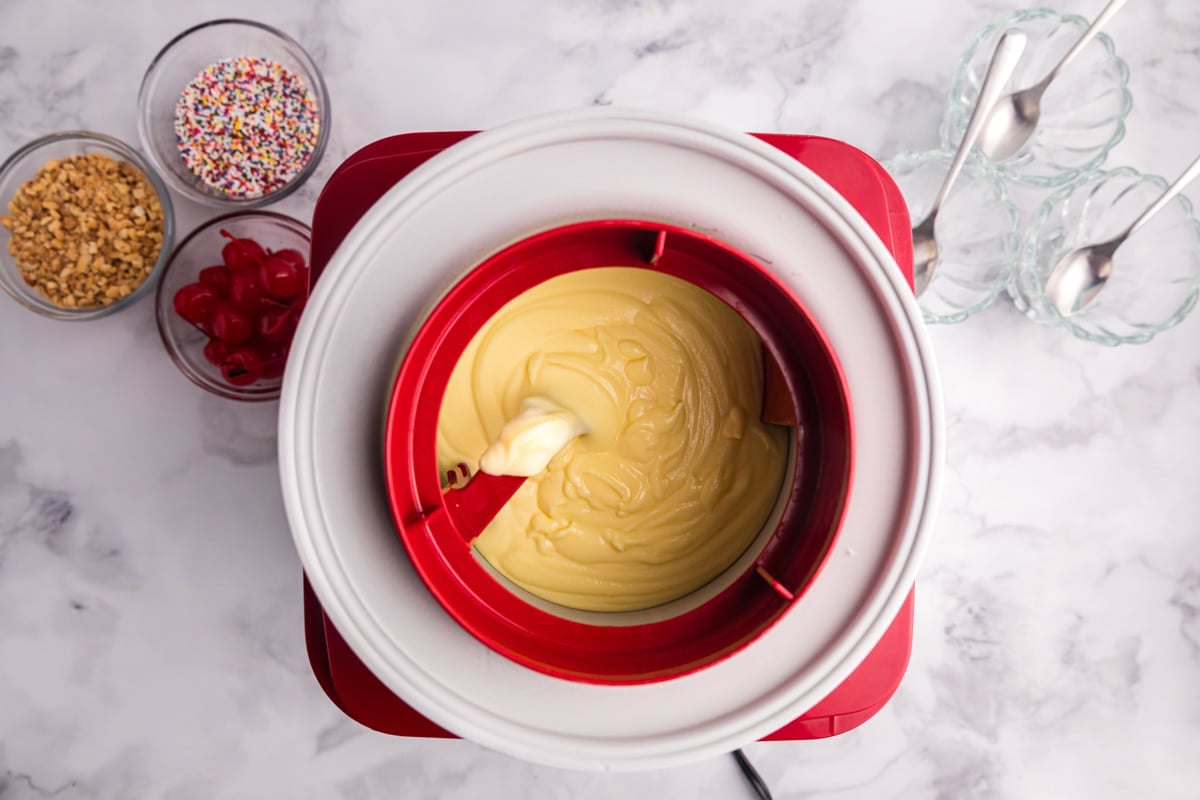 Straight from the ice cream maker, the frozen custard will be soft. If you'd like it harder, transfer it to an airtight container and freeze it until it has reached the texture you'd like.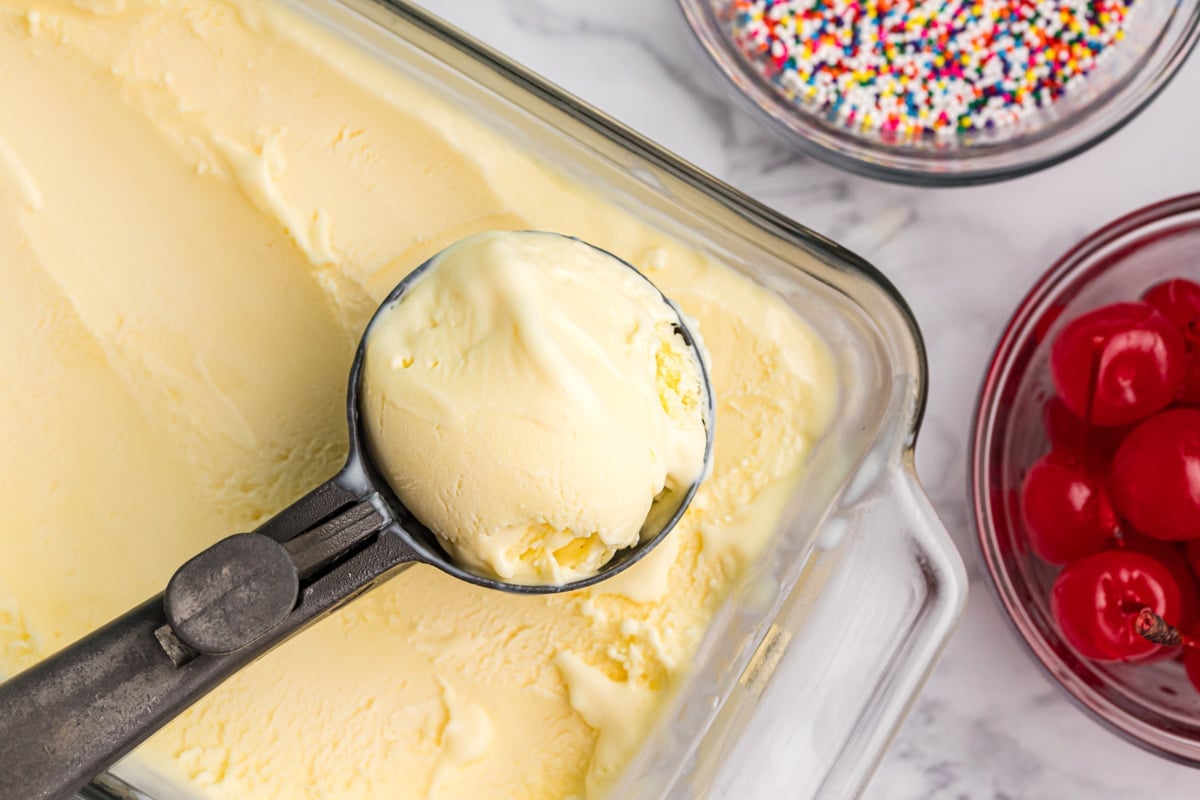 What does it mean to temper eggs?
When you temper eggs, you slowly raise the temperature of cold or room temperature eggs by adding a small amount of hot food or liquid and whisk it in quickly.
Crack the eggs into a bowl, then slowly drizzle ½ cup hot milk mixture into the eggs, whisking the entire time you are drizzling.
It's only after this that you add the egg mixture back into the entire hot milk mix.
Tempering eggs prevents the egg from cooking. No one wants scrambled eggs in their ice cream!
How long should homemade ice cream churn?
Plan between 20-30 minutes for the ice cream to churn in the maker. The exact time will depend on the temperature of the milk mixture and the exact texture of vanilla frozen custard that you desire.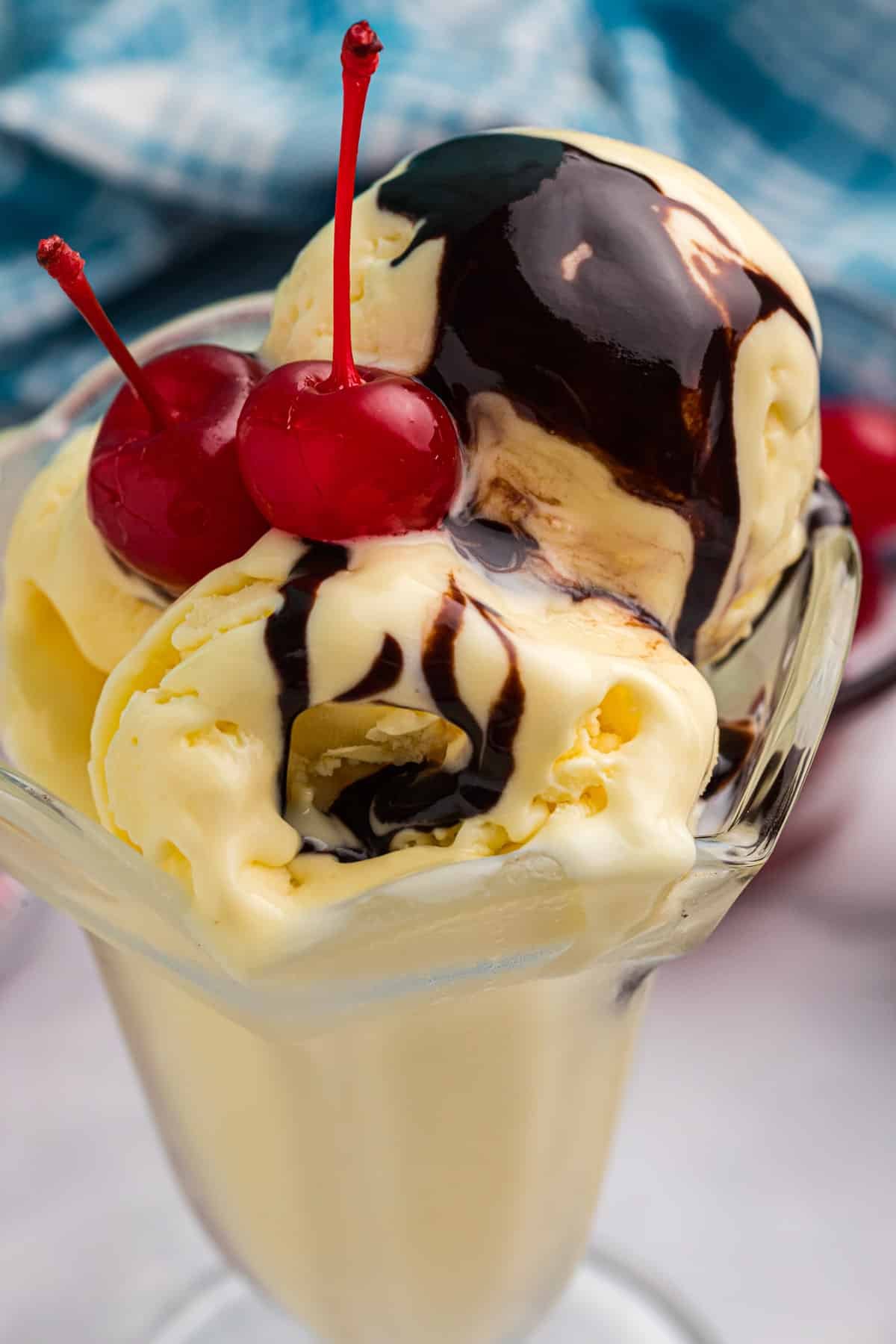 Flavors and Variations
Whether you choose plain vanilla, vanilla bean or a fun overloaded custard, it's delicious to scoop into a cake cone or waffle cone on a warm spring or summer day. Your taste buds will thank you.
For a simple chocolate custard, add chocolate syrup to the custard while it is churning.
This is amazing served over brownies or warm cookies.
Add the custard to a blender, then add a little more milk and some fruit for fun shakes.
And here's a few unique options for a flavor of the day. Yes, we've actually made these flavors!
Make pumpkin dump cake, freeze it, then cut it into pieces. Churn this into the custard.
Make a cheesecake, freeze it, then cut it into cubes and add to the custard during churning. To add a fruit flavor, try strawberry jam.
Throw chopped Nutter Butter Cookies and a large scoop of creamy peanut butter into the custard while it is churning.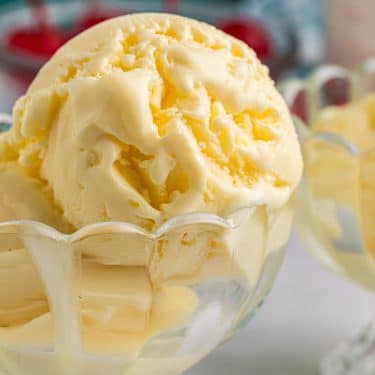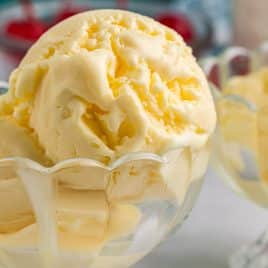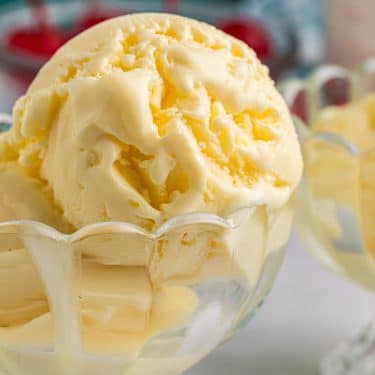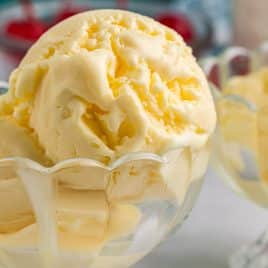 Vanilla Frozen Custard
The most delicious homemade ice cream? Cooked vanilla custard makes a great base for this Vanilla Frozen Custard recipe. Add your favorite fruits or candies for an easy summer dessert.
Chill & Churn Time
4

hours
25

minutes
Total Time
4

hours
40

minutes
---
Ingredients
2

cups

heavy cream

1

cup

whole milk

2/3

cup

granulated sugar

pinch of salt

6

large

egg yolks

2

teaspoons

vanilla extract
Instructions
Add cream, milk, sugar and salt to a small saucepan over medium low heat.

Simmer about 3-5 minutes or until sugar dissolves.

In a separate bowl whisk the egg yolks.

Drizzle about ½ cup of the warm milk liquid into the egg yolks whisking constantly as you drizzle it in.

Whisk the egg mixture back into the pot. Add the vanilla. Return the pot to a medium low heat and cook until mixture starts to thicken.

Take off the heat and pour into a mesh strainer .

Cool the milk to room temperature, then cover and put into fridge to cool completely. This will take at least 3-4 hours to overnight.

Churn ice cream according to manufacturer directions. Serve soft serve from ice cream maker or firm it up in the freezer.
Notes
The calories shown are based on the recipe making 3 cups, with one serving being ½ cup custard. Since different brands of ingredients have different nutritional information, the calories shown are just an estimate.
Nutrition
Calories:
443
kcal
|
Carbohydrates:
27
g
|
Protein:
5
g
|
Fat:
35
g
|
Saturated Fat:
20
g
|
Cholesterol:
297
mg
|
Sodium:
56
mg
|
Potassium:
131
mg
|
Sugar:
24
g
|
Vitamin A:
1475
IU
|
Vitamin C:
0.5
mg
|
Calcium:
119
mg
|
Iron:
0.5
mg
Other Ice Cream Recipes