Tastes of Lizzy T participates in affiliate advertising programs. We may earn a commission when you make a purchase through links on our site.
What's more fun that chewing a giant wad of bubblegum? Bubblegum ice cream!!! Pink chewing gum is infused in milk and heavy cream, then churned to creamy pink mind-blowing bubblegum ice cream perfection!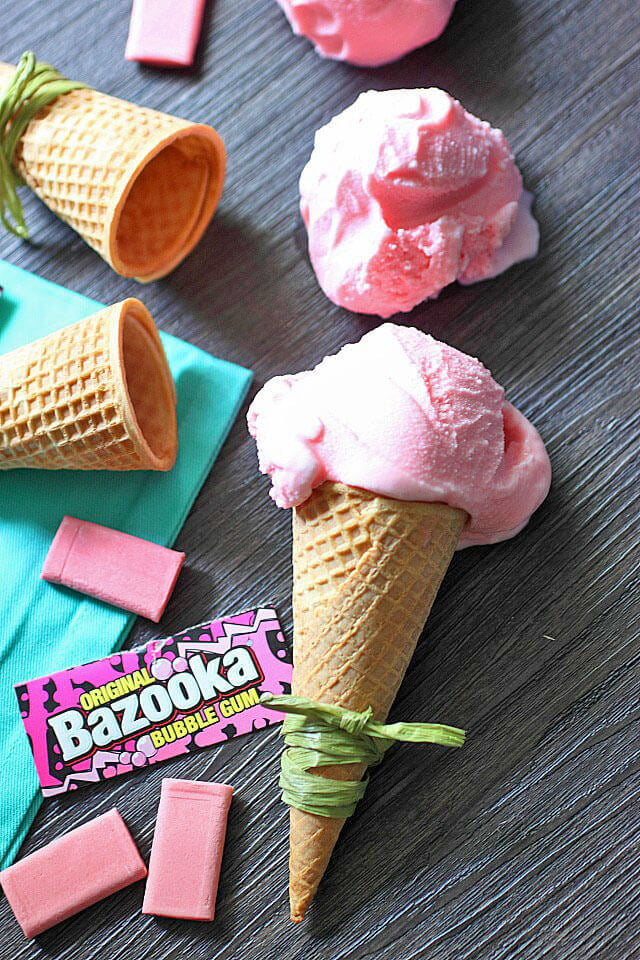 You know what we need? We need some fun around here. Like some real, wholesome kid fun. Adulting has become entirely too hard. Can I just build a fort and play with Barbies? Reacquaint myself with a 64-crayon Crayola box and color outside the lines?
Can we be kids today?
Can we?
Please?
Can we stuff an insane amount of pink bubblegum in our mouths and blow bubbles all the live long day?
Can we?
Please?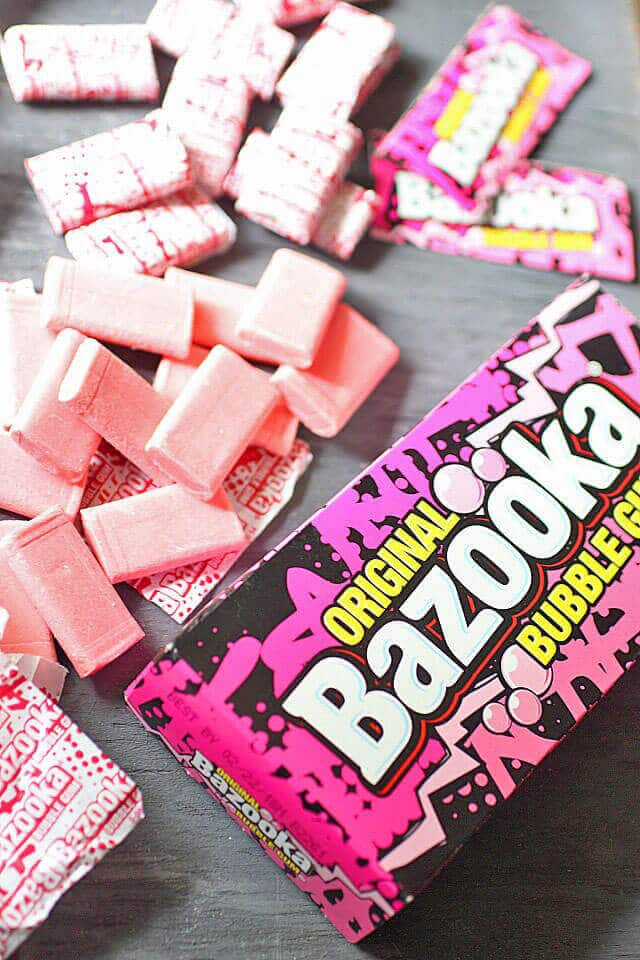 As a kid I chewed an insane amount of Bazooka gum. You young'ns have no idea what Bazooka gum is, so allow me to school you. Bazooka gum was a chewing gum manufactured by the Topps company back in the day, like after WWII. The packaging included one piece of chewing gum and a comic, which, you needed a magnifying glass to read.
Bazooka was the chewing gum equivalent to Cracker Jacks and it was fun to unwrap a piece and try to decipher what Bazooka Joe was up to. I'd promptly stuff 5-8 pieces in my mouth and chew and chew and chew until the gum softened and I could blow a decent bubble. The flavor would dissipate in seconds, yet the bubble blowing kept me busy for at least an hour.
So what better way to leave adulting behind and embrace my inner kid than making a batch of Bubblegum ice cream?
Flow with me.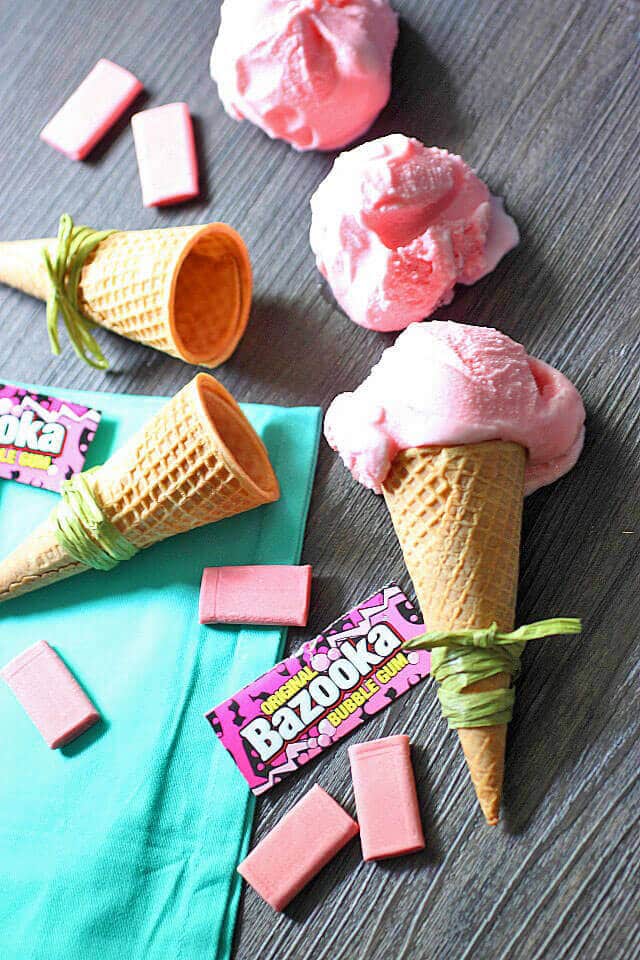 The idea of a bubblegum ice cream has been brewing in my brain for at least a year. Initially I planned to make bubblegum ice cream with Super Bubble, my second favorite bubblegum. Then whilst perusing the aisles of my local Family Dollar I spotted three boxes of Bazooka gum, just waiting for me. I may have jumped for joy at that point because shoppers were staring at me weirdly.
I took my boxes home and unwrapped every single piece of gum, expecting comics. Instead I found some brain teasers, which wasn't as fun.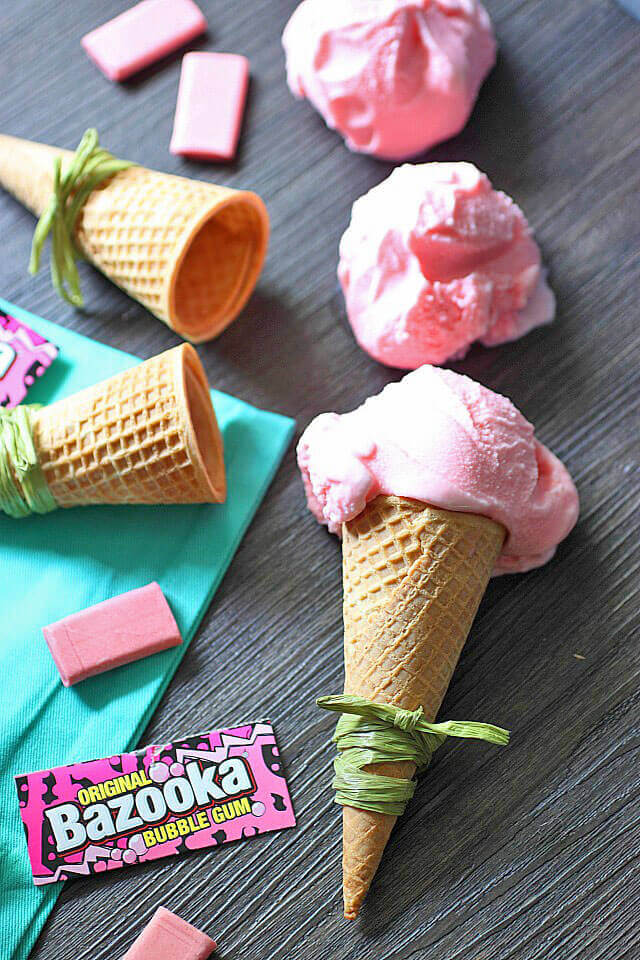 Would you like to know what WAS fun? Stuffing 7 pieces of gum in my mouth at once. The flavor took me back, back, back to when I was 8 and blowing giant bubblegum bubbles. Today, we're turning that very same flavor into ice cream.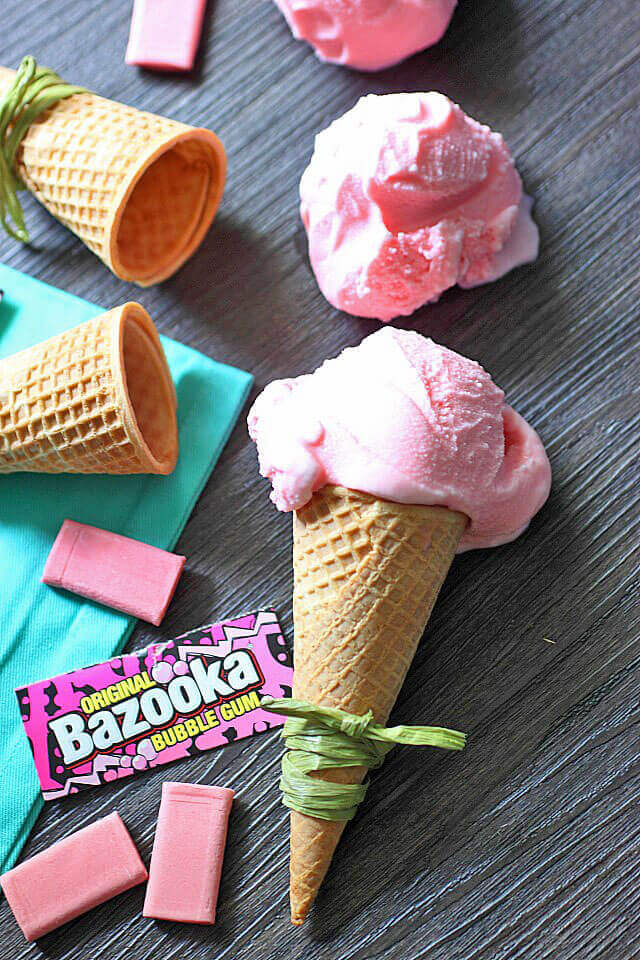 I figured the best way to extract the most flavor was to blend at least 45 pieces of bubblegum in milk and heavy cream until the gum is essentially pureed into the milk. I added very little sugar to the ice cream base, as there is enough sugar in Bazooka gum. Don't be tempted to add more than the recommended 2-3 tablespoons. Once the mixture cooks down, the chewing gum continues to release sugar. Adding more would make the ice cream way too sweet to eat. Trust me.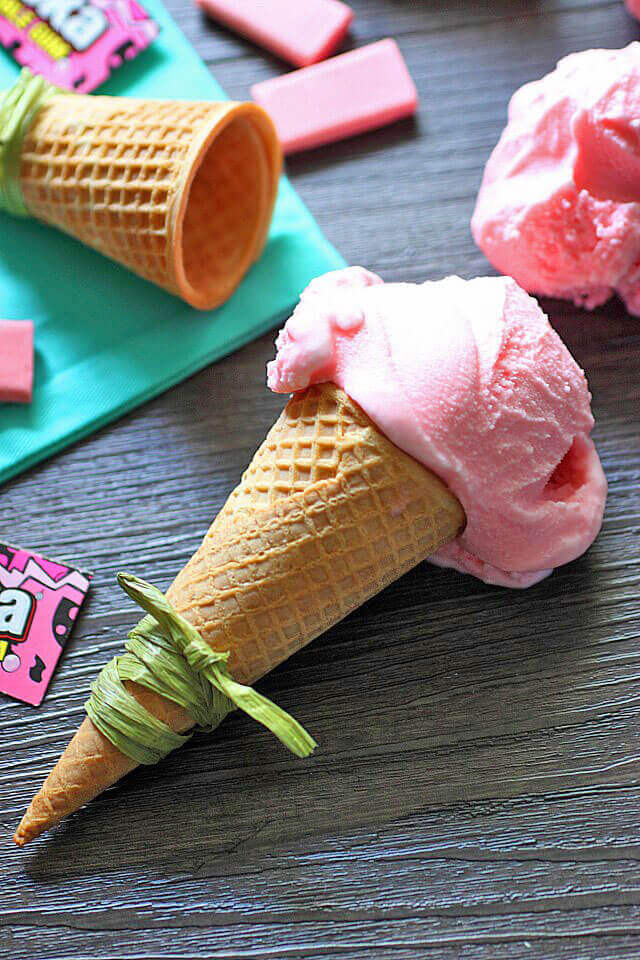 Once the base cools it is churned to creamy perfection. And let me tell you, it is perfection. It tastes like biting into several sticks of gum, except that it's frozen and creamy. It is delicious and nostalgic. An ice cream so powerful that it takes you away from all this adulting business, and back to when your biggest worry was wondering how many pieces of bubblegum would yield a bubble large enough to cover your face.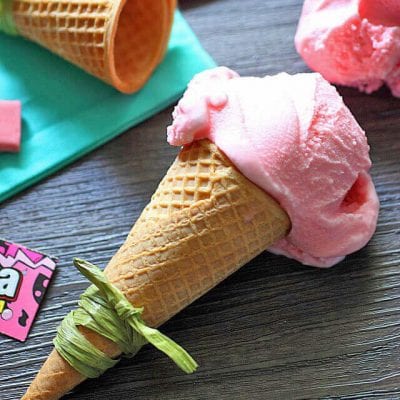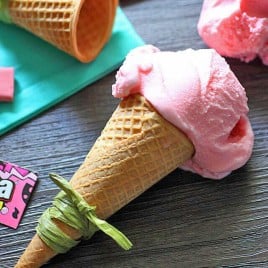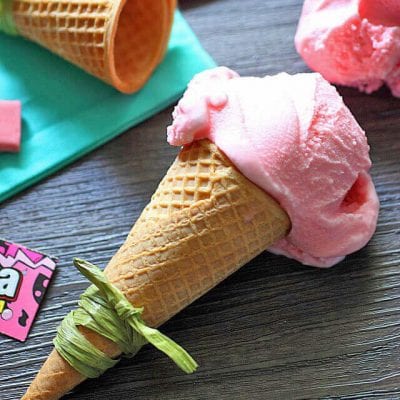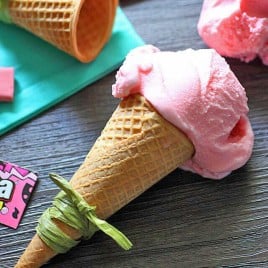 Bubblegum Ice Cream
Bubblegum ice cream!!! Pink chewing gum is infused in milk and heavy cream, then churned to creamy pink mind-blowing bubblegum ice cream perfection!
---
Ingredients
For the Cornstarch Slurry
1

tbsp

plus 1 tsp cornstarch

2

tbsp

whole milk
For the Bubblegum Ice Cream
45

pieces

Bazooka Bubblegum

2

cups

whole milk

1

cup

heavy cream

2-3

tbsps

granulated sugar

pinch

salt
Instructions
Make the cornstarch slurry by combining cornstarch and 2 tablespoons of milk in a small bowl. Stir until the cornstarch dissolves and set aside.

Fill a large bowl with ice water and place a 1-gallon Ziploc bag inside.

Combine the bubblegum, milk, and heavy cream in a blender. Blend on high until the bubblegum pieces are pureed into the milk. Pour the mixture into a medium saucepan, add the sugar, pinch of salt, and bring to a simmer over medium/high heat. Do not let the mixture boil over. Reduce the heat to low and add the cornstarch slurry. Whisking the entire time, cook the mixture until thickened, about 3-5 minutes.

Remove from heat and pour into Ziploc bag. Seal the bag and submerge it in the ice bath. Allow the mixture to cool completely, adding more ice as needed.

Once the mixture has cooled, place a cheesecloth over a fine mesh strainer and strain the mixture at least 3-4 times, washing out the cheesecloth each time. The cheesecloth will be sticky from the gum. Discard the solids.

Pour the mixture into an ice cream maker and freeze according to manufacturer's instructions.

Makes 1 quart of ice cream.
Nutrition
Calories:
239
kcal
|
Carbohydrates:
17
g
|
Protein:
3
g
|
Fat:
17
g
|
Saturated Fat:
10
g
|
Cholesterol:
62
mg
|
Sodium:
55
mg
|
Potassium:
143
mg
|
Sugar:
12
g
|
Vitamin A:
715
IU
|
Vitamin C:
0.2
mg
|
Calcium:
123
mg
Patriotic Marshmallow Creamsicle Recipe