Reese's Stuffed Ice Cream Sandwiches
Reese's Stuffed Ice Cream Sandwiches. Reese's peanut butter cups are stuffed between layers of fluffy chocolate pudding and peanut butter cream. Chocolate graham crackers hold all of those sweet layers together!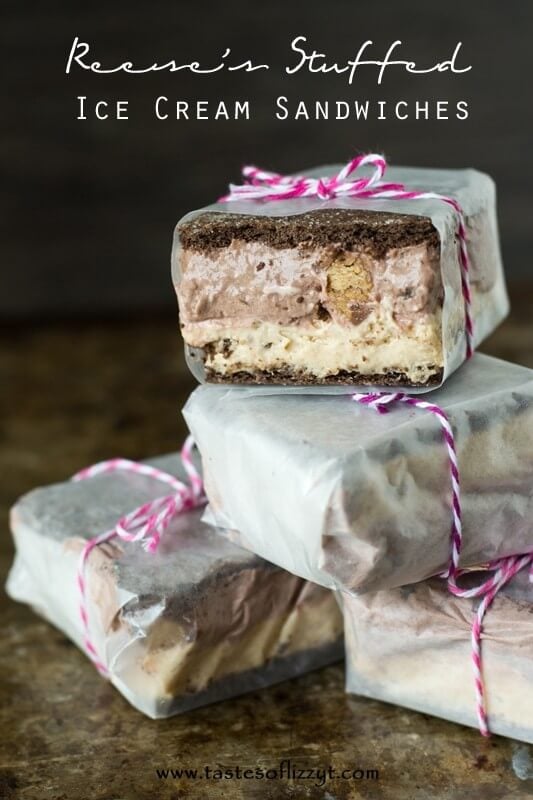 Reese's Stuffed Ice Cream Sandwiches
Summer is a busy birthday time in our family. I was already lamenting the fact that I now have a teenager. As I barely come to terms with that, Kinslee (my baby) is going to be turning 9 next week! Really…time can slow down any day now.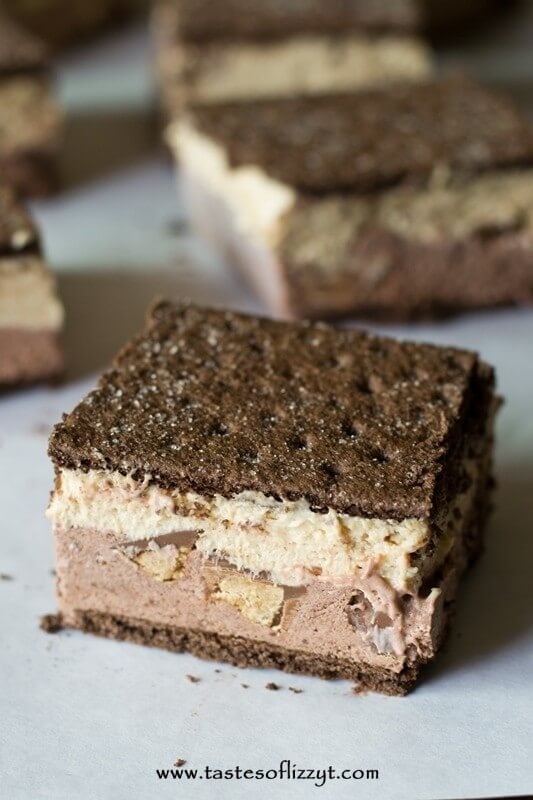 This week she had a sleepover with 3 of her little friends.  Yes, I'm crazy. A sleepover with four 9-year old screamy, giggly girls.  Evidently they were breakdancing at midnight to the credits of the new American Girl movie. Dancing so much that Kinslee pulled a muscle somewhere in her leg and is now limping. You know…just your normal, every day sleepover activities.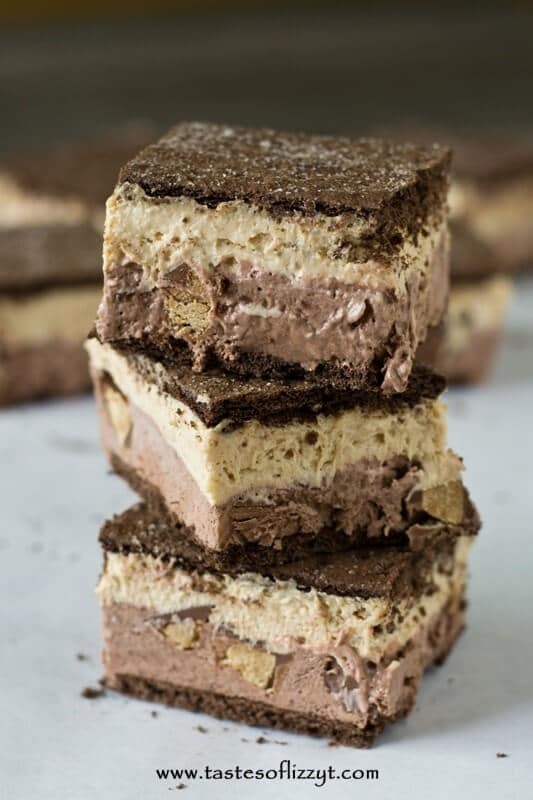 Anytime there is a sleepover at our house, the first thing we plan is the menu.  A new fun, delicious dessert and a sweet, start-your-morning-right breakfast are musts on the list.  Today I'm sharing with you Kinslee's birthday dessert treat. (On Monday I'll share with you her sweet breakfast, so stay tuned!)
These Reese's Stuffed Ice Cream Sandwiches aren't really "ice cream" at all. Have you ever heard of pudding grahamwiches?  They are about the simplest summer treat ever made by mixing pudding with Cool Whip and freezing between 2 layers of graham crackers and freezing.
Kinslee wanted a chocolate and peanut butter version with Reese's peanut butter cups inside. She is my daughter after all.
Here's the layers:
1. Honey Maid chocolate graham crackers. I love the sugar sprinkled on top of these!
2. Chocolate pudding mixed with creamy Cool Whip. Feel free to use sugar free pudding and light Cool Whip if you'd like to cut back on calories just a bit.  This is by no means a "diet" dessert, but if you'd like to save a few calories, go for it.
3. Chopped Reese's peanut butter cups.  You could leave them whole if you'd like, but they will be frozen and may be hard to bite into. We quartered our cups so they would be more bite-size.
4. Peanut Butter Cream. You make this by mixing softened cream cheese and peanut butter together. Then you'll mix in some powdered sugar and more Cool Whip. I could eat this stuff alone by the spoonful. It's that good.
5. Repeat of layer 1….Honey Maid chocolate graham crackers!
If you have wax paper or parchment paper on hand, line the bottom of a 9×13 pan with the paper before you start your layers. Then you can easily pull out the bars and slice them up.
These no-bake bars will take about 5 hours to firm up completely, so be sure to plan ahead.
Oh yeah, and the little girls went crazy over the fact that I wrapped the sandwiches individually in wax paper. They each got their own frozen little treat. It's the little things that make kids smile!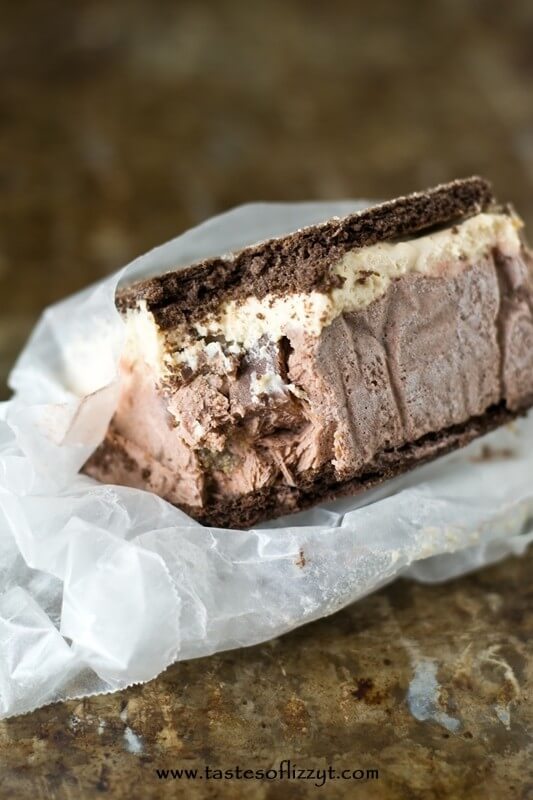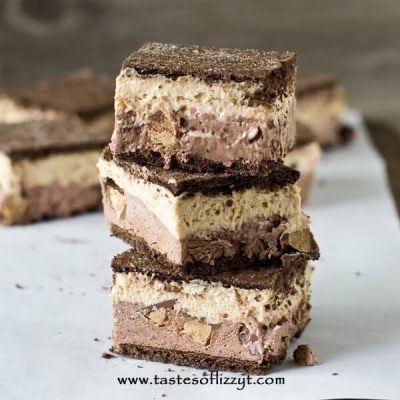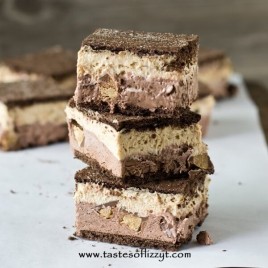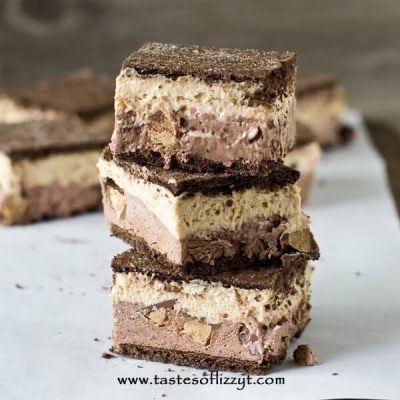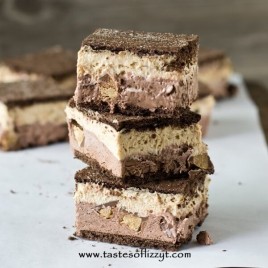 Reese's Stuffed Ice Cream Sandwiches.
Reese's Stuffed Ice Cream Sandwiches. There's a chocolate pudding layer and a peanut butter layer, with Reese's stuffed between, of course!
---
Ingredients
Chocolate layer:
3.4

ounces

chocolate pudding

2

cups

milk

8

ounces

Cool Whip whipped topping
Peanut butter layer:
8

ounces

cream cheese

softened

3/4

cup

creamy peanut butter

1

cup

powdered sugar

8

ounces

Cool Whip whipped topping

12

ounces

Reese's miniature peanut butter cups

unwrapped and quartered
Instructions
Line a 9x13 pan with parchment paper or wax paper. Place 9 of the graham crackers in the bottom of the pan, breaking or cutting the crackers to fill in the bottom completely.

In a medium-sized bowl, mix together the pudding and the milk. Whisk together until the pudding is smooth. Fold in 8 ounces of Cool Whip. Using a rubber spatula, spoon this filling on top of the graham crackers and spread it out so it is even.

Sprinkle the quartered Reese's peanut butter cups on top of the chocolate pudding.

In a medium size bowl, cream together the softened cream cheese and the peanut butter. You can use a stand mixer, handheld mixer, or just use a spoon and mix well until it is all combined. Mix in powdered sugar. Lastly, fold in the Cool Whip. Spread this on top of the Reese's cups layer.

Gently press the remaining graham crackers into the top of the layered bars. Break or cut the crackers as needed to fit.

Freeze the bars for at least 5 hours before cutting and serving.
Nutrition
Calories:
343
kcal
|
Carbohydrates:
38
g
|
Protein:
7
g
|
Fat:
19
g
|
Saturated Fat:
8
g
|
Cholesterol:
16
mg
|
Sodium:
320
mg
|
Potassium:
225
mg
|
Fiber:
1
g
|
Sugar:
27
g
|
Vitamin A:
220
IU
|
Vitamin C:
0.1
mg
|
Calcium:
83
mg
|
Iron:
1
mg