You'll love how easy these Amish Buttermilk Biscuits are. They come together in less than 30 minutes!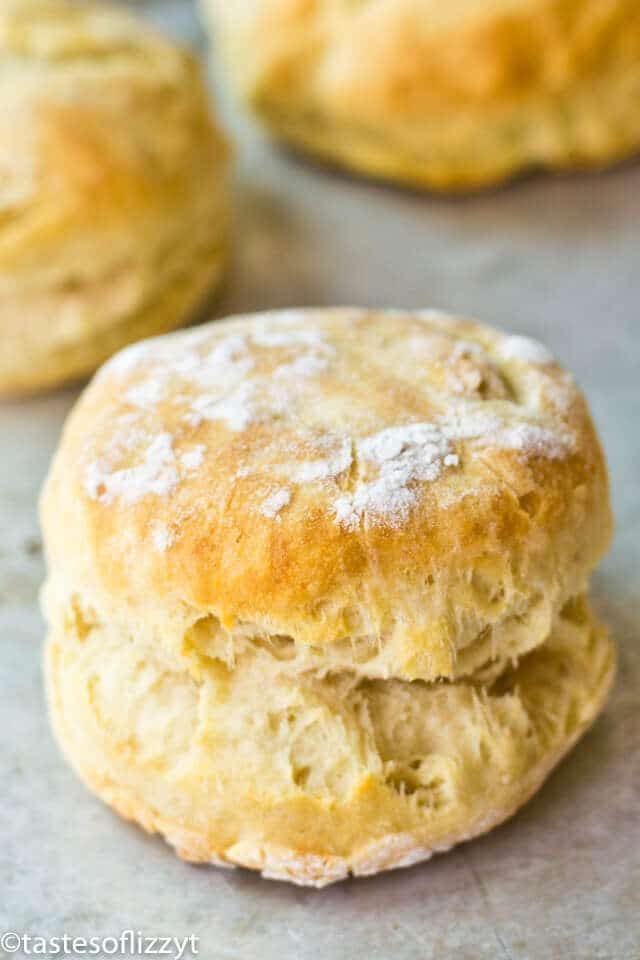 Homemade Biscuit Recipe
This is another one of our favorite Amish recipes from the Amish Cooking
 Cookbook. You remember that delicious Amish Shortcake I posted awhile ago, don't you? This is one of those quick, easy, side dishes-a simply perfect addition to any meal that you can whip up in about 5 minutes. Flour, salt, baking powder, soda, shortening, and buttermilk is all you need. 6 basic ingredients!
These buttermilk biscuits can be eaten for breakfast as a biscuits and sausage gravy, lunch or dinner, alongside a simple side dish. If you are lucky enough to find any in the house the next morning, you'll want to heat one up and spread on some butter and honey. Mmmmm. Not much better than melted butter and honey on a biscuit.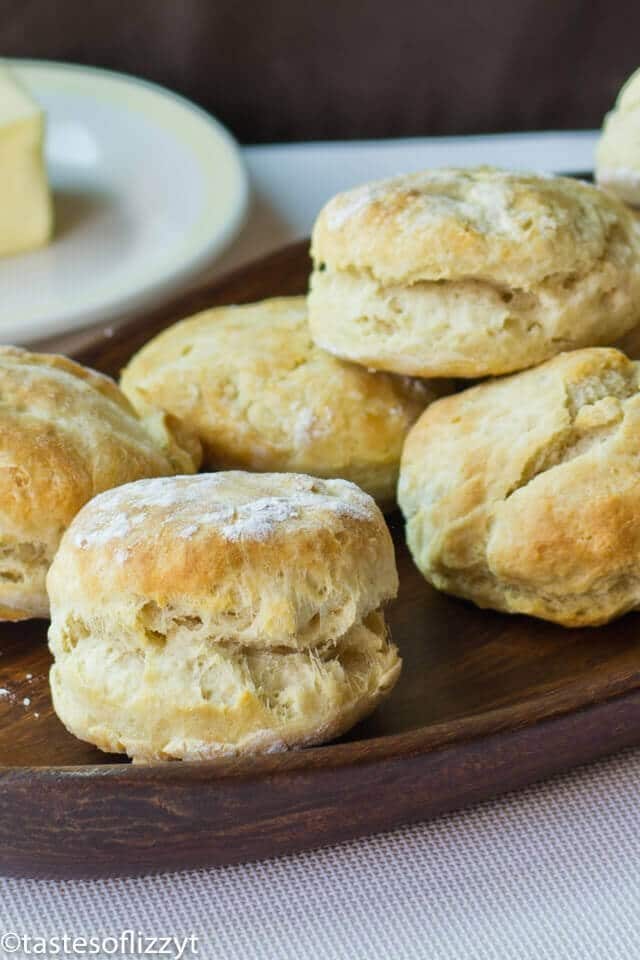 Buttermilk Biscuits
These easy homemade Amish Buttermilk Biscuits are definitely not your normal biscuits.  They are slightly crispy on the outside, but chewy and soft on the inside. The texture comes from buttermilk so this is definitely not an ingredient you'll want to leave out.
Don't have buttermilk on hand? That's OK…we never have it on hand either. But you can easily make buttermilk with milk and vinegar.  Just put one tablespoon of vinegar in a measuring cup.  Fill up the rest of the cup with milk and let it sit for 5 minutes.  Voila… 1 cup of buttermilk!  If you have half & half or heavy cream, you can use those in just the same way. If you need more than one cup for a different recipe, just make the same way, adding 1 tablespoon of vinegar to each cup of milk.
Shortening or Butter in Biscuits
For this recipe, we've used both shortening and butter. We find that butter gives them a great flavor, but shortening helps them to have a better texture. You can even do a combination and use half shortening and half butter. Test the recipe and see which your family preferse.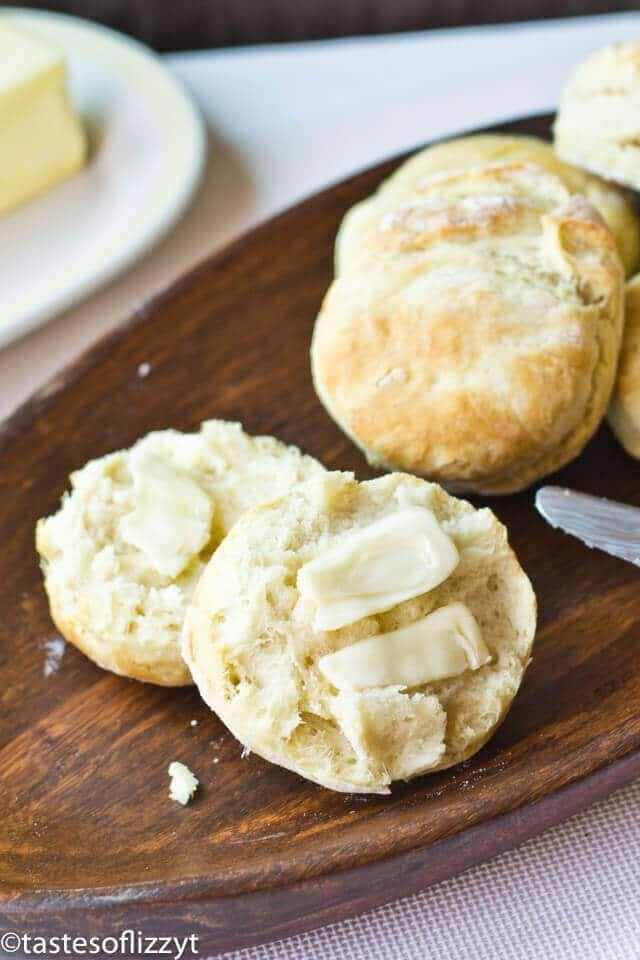 How to Make Biscuits
Here are our hints for making biscuits:
It's important to mix ingredients the least amount possible. Whisk the dry ingredients together first.
Cut in the shortening (or butter) using a pastry cutter. This allows the shortening to get distributed throughout. I like to chill the shortening first which helps the biscuits stay light and fluffy. If you choose to use butter, be sure that the butter is cold. The colder the ingredients are when they go in the oven, the better your biscuits will turn out. The cold shortening will melt and leave pockets of flakiness. Hungry yet?
Mix the buttermilk in just until the ingredients are combined. Be sure not to knead the dough or overmix it.
There are two ways you can form these biscuits. The fairly easy way is to roll out the dough to about 1/2 an inch thickness and use a round cutter to cut biscuits.  This will give you the perfect biscuit shape.  The super easy way is to drop the dough by rounded tablespoons onto a baking sheet. It's easier than rolling it out, and even though it doesn't get the perfect circle, it still tastes amazingly good. We normally take the lazier route and drop the batter in clumps on the baking sheet.
Tools for Making Biscuits
Pastry Cutter: I use this tool all the time. It cuts butter into flour perfectly for streusels, crusts and other pastries.
Pastry Mat:: This silicone mat keeps your cupboard clean and makes rolling out pastries so easy.
Biscuit Cutter: LOVE these handled cutters that come in different sizes.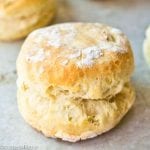 Amish Buttermilk Biscuits
You'll love how easy these soft, flaky Amish Buttermilk Biscuits are. They come together in less than 30 minutes. Hints for making them perfectly.
Ingredients
2

cups

flour

3/4

teaspoon

salt

3

teaspoons

baking powder

1

teaspoon

baking soda

4

tablespoons

shortening

(chilled)

1

cup

buttermilk
Instructions
Combine the dry ingredients together in a bowl.

Mix in the shortening until the mixture is crumbly.


Add the buttermilk and mix just until combined. The dough will be sticky.


Turn out the dough on a floured surface. Roll out to 1/2 inch thickness. Use a biscuit cutter to cut about 10 biscuits, rerolling the dough as needed.


Place biscuit on a greased baking sheet.


Bake at 425 degrees for 15 minutes.

Recipe Notes
If you're in a hurry, drop these by rounded tablespoons into a greased pan. They won't be a perfect biscuit shape, but they cook up just as nicely and tastes just as good!
Nutrition Facts
Amish Buttermilk Biscuits
Amount Per Serving
Calories 152
Calories from Fat 54
% Daily Value*
Total Fat 6g 9%
Cholesterol 2mg 1%
Sodium 310mg 13%
Potassium 180mg 5%
Total Carbohydrates 20g 7%
Protein 3g 6%
* Percent Daily Values are based on a 2000 calorie diet.