Tastes of Lizzy T participates in affiliate advertising programs. We may earn a commission when you make a purchase through links on our site.
Gather the family around the breakfast table with these homemade biscuits and gravy. A savory, freshly seasoned sausage gravy recipe with ground pork.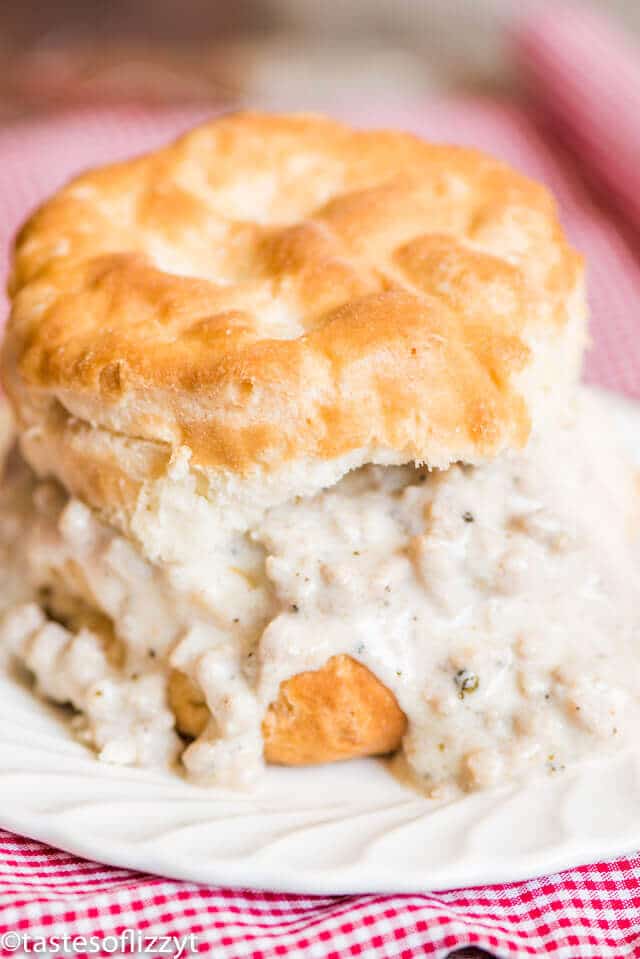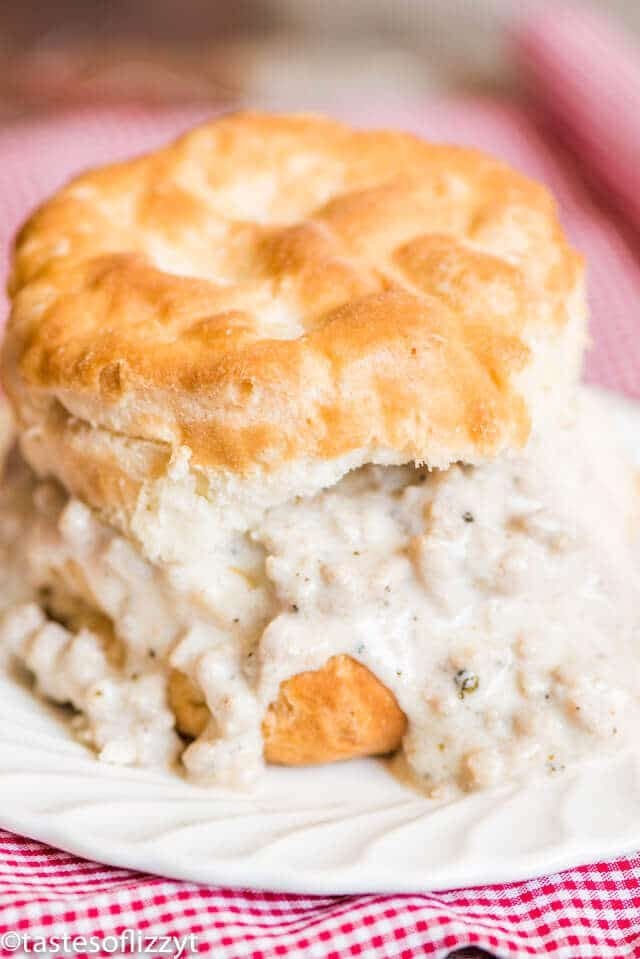 Sausage Gravy Recipe
Thanks to the Ohio Pork Council for sponsoring this post. As always, all opinions are my own.
Biscuits and gravy hold a special place in my heart. My grandpa's favorite breakfast ever was a big plate of homemade sausage gravy and biscuits. I have an old cookbook full of his family's recipes, and among them is this sausage gravy recipe. It's officially called "milk gravy with sausage" and has a note underneath that his family (11 siblings total!) had this every day for breakfast. They would make the gravy with evaporated milk and use lard in the biscuits. The kids would take turns making the gravy while their mom made the biscuits. Can't you picture it?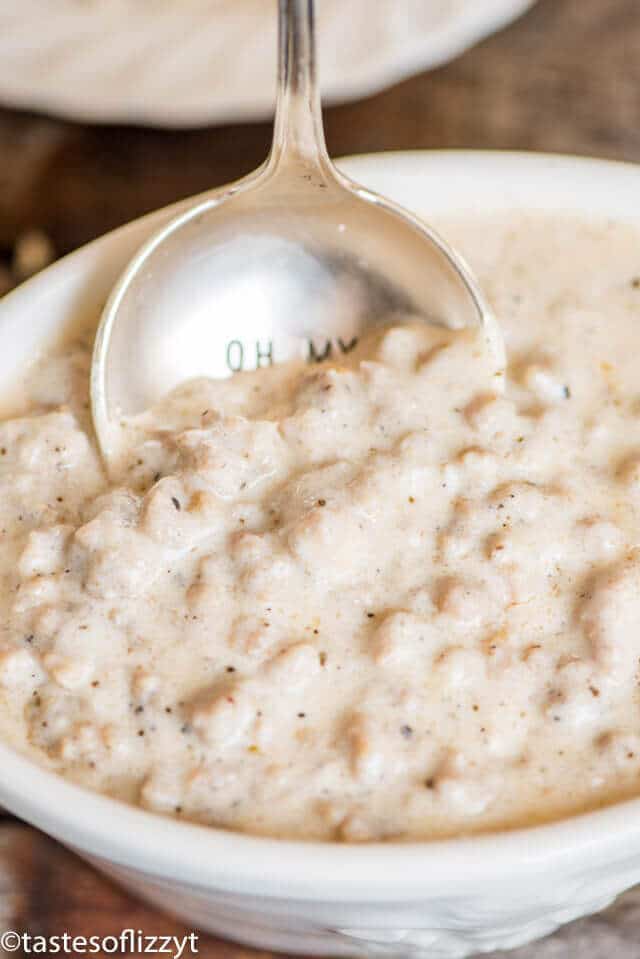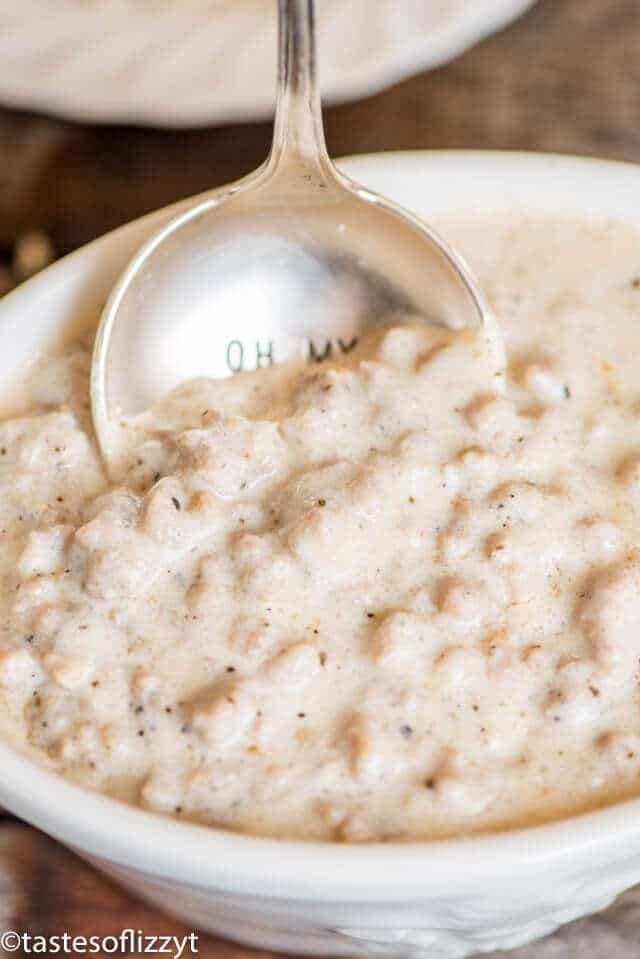 How to Make Sausage Gravy from Scratch
When you make sausage gravy, you can always use prepackaged sage sausage. I like to use ground pork so I can control the amount of spices that go in…adding more of the flavors that I like for a uniquely homemade taste. Making your own homemade sausage seasoning is easy. It's simply a mixture of ginger, sage, salt and pepper. Use both black pepper and a dash of cayenne for a pop of flavor.
It takes an extra 2 minutes to add the seasonings yourself, but you'll find that from-scratch flavor is 100% worth it!
Make Sausage Gravy with Milk and Flour
The base of sausage gravy is milk and flour. The recipe in my family cookbook actually calls for "sweet milk". This means a high-fat milk. I find that we like whole milk the best, but if you'd like less calories and fat, you can try a lower fat milk. It helps to warm the milk before adding it into the flour mixture so that it doesn't take as long to heat through.
How to Thicken Gravy
Everyone likes gravy a different consistency. Some are happy with runny gravy and others want it so thick it sticks to the serving spoon. Flour will often thicken gravy enough for many, but if you're having trouble getting the gravy as thick as you'd like, make a cornstarch slurry. This is a simple mixture of cornstarch and water, whisked together and then drizzled into the hot gravy. Stir it, give it 3-5 minutes to cook and watch that gravy thicken right up.
Gravy will also thicken as it cools, so be sure not to add too much flour or cornstarch.
What to Serve with Sausage Gravy
The classic thing to serve sausage gravy on is biscuits. Tall, fluffy, warm biscuits. Mmm…It doesn't get much better than that.
I however, have a crazy infatuation with sausage gravy over fried potatoes…or baked potatoes…or even mashed potatoes. Potatoes and gravy? A win.
I will also eat gravy over eggs, cornbread muffins or cornbread stuffing. And Kinslee? She eats sausage gravy like soup. All she needs is a bowl and a spoon. She must take after her great-grandpa!
How to Reheat Sausage Gravy
I like to reheat sausage gravy quickly and easily in the microwave. If you'd like, you can put the leftover gravy in a sauce pan and heat it over very low heat, stirring often so the gravy doesn't burn.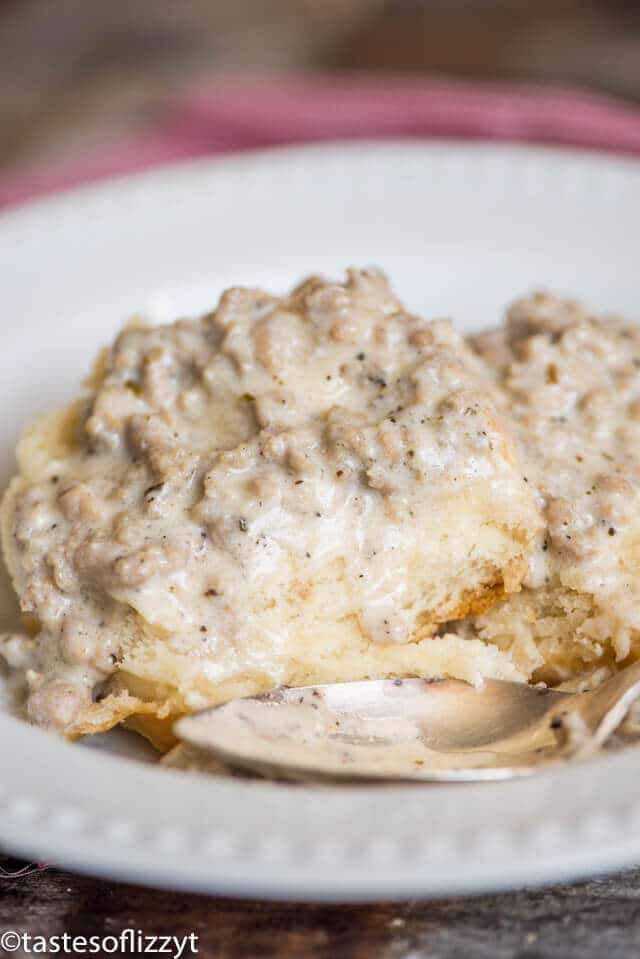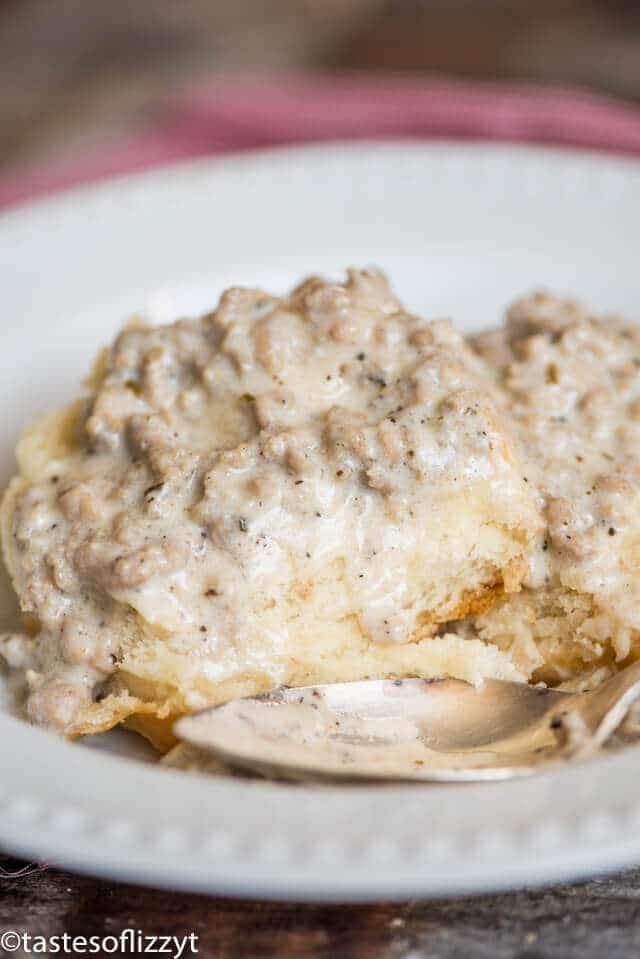 Whether you're looking for a lazy Saturday morning breakfast or a special brunch during this holiday season, give this sausage gravy a try!
Follow Ohio Pork on Facebook, Instagram, Pinterest and Twitter for recipe inspiration!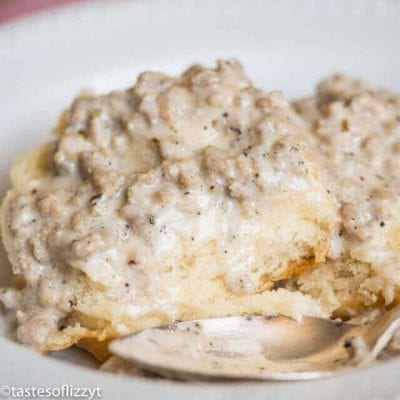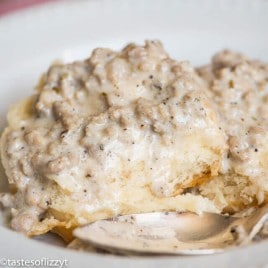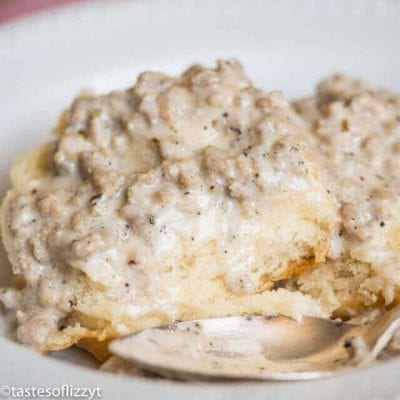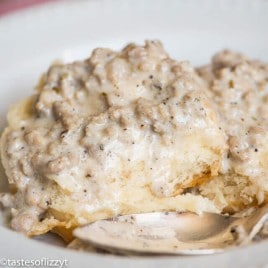 Sausage Gravy Recipe
Gather the family around the breakfast table with these homemade biscuits and gravy. A savory, freshly seasoned sausage gravy recipe with ground pork.
---
Ingredients
1 1/4

pounds

ground pork

1

teaspoon

ground ginger

1

teaspoon

ground sage

1 1/2

teaspoons

salt

1 1/2

teaspoons

pepper

1/4

teaspoon

cayenne pepper

2-3

tablespoons

butter

(optional)

1/4

cup

all-purpose flour

4

cups

whole milk

(warmed)

2

teaspoons

cornstarch*

(optional)

2

teaspoons

water*

(optional)
Instructions
Cook the ground pork in a skillet over medium-heat.

As the pork browns, add the ginger, sage, salt and pepper.

Once the pork is crumbled and browned, remove it from the skillet to a bowl and set aside.

You'll needs about 3 tablespoons of fat in the skillet after you cook the meat. If your pork is lean, you may need to add tablespoons of butter to equal about 3 tablespoons total of fat.

In the skillet over medium heat, add flour to drippings/butter and mix it well.

Slowly add the warm milk, whisking constantly until the gravy starts to thicken, about 10-15 minutes.**

Add the sausage back into the skillet and season with salt and pepper to taste. Let the sausage gravy simmer for 3-5 minutes, stirring often.

Serve warm over hot biscuits.
Notes
*If the gravy is not getting as thick as you'd like, whisk together two teaspoons of cornstarch and two teaspoons of water in a small cup. Drizzle the mixture into the gravy and stir. Cook for 3-5 minutes until the gravy has thickened.
**The calories shown are based on the recipe making about 4 cups of gravy, with 1 serving being ½ cup of gravy. Since different brands of ingredients have different nutritional information, the calories shown are just an estimate.
Nutrition
Calories:
304
kcal
|
Carbohydrates:
9
g
|
Protein:
16
g
|
Fat:
21
g
|
Saturated Fat:
9
g
|
Cholesterol:
70
mg
|
Sodium:
553
mg
|
Potassium:
369
mg
|
Sugar:
6
g
|
Vitamin A:
310
IU
|
Vitamin C:
0.5
mg
|
Calcium:
149
mg
|
Iron:
0.9
mg